With no permanent homes and little employment opportunities, snake catchers are easy targets for middlemen looking for cheap, seasonal labour
By Anuradha Nagaraj
TIRUVANNAMALAI, India, Aug 23 (Thomson Reuters Foundation) - As Devi and Selvam cut across the fields of Tiruvannamalai to reach their hut in Embalam village in the southern Indian state of Tamil Nadu, the young couple stop transfixed outside an unfinished house.
"In a few months, this will be our home," said Devi, a stone quarry labourer who is aged in her late 20s.
"For the first time we will live in a house where the thatch roof doesn't fly off in the rains and there is a proper door, instead of a torn cloth we hang to ensure some privacy."
Devi and Selvam, members of the once-Nomadic Irula tribe known for snake catching skills, will be among the first residents of Abdulkalam Puram, a "rural gated community" outside Vandavasi in Thiruvannamalai district.
The complex, which will house nearly 300 people once completed, is a first-of-its-kind project to rehabilitate families from the vulnerable community identified as a "high risk" category of people often trapped in debt bondage, one of the most prevalent forms of human trafficking in India.
There are an estimated 463,000 bonded labourers working in 11 industries in Tamil Nadu, according to the non-profit International Justice Mission, most duped into offering themselves for work as security for a loan or debt inherited from a relative which can take years if not decades to repay.
According to government data, there are over 100,000 Irula living in Tamil Nadu, many of them victims of debt bondage, for despite a 1976 ban on bonded labour, the practice remains widespread at brick kilns, rice mills and brothels.
Last year, the Indian government announced plans to rescue more than 18 million bonded labourers by 2030 and increase compensation for rescued workers by fivefold as part of its efforts to tackle modern slavery.
But with the Irula people, who are traditionally snake catchers and live in make-shift homes by water, it has been hard to ensure they don't fall back into slavery, say campaigners.
With no permanent homes and little employment opportunities, they are easy targets for middlemen looking for cheap, seasonal labour, they added.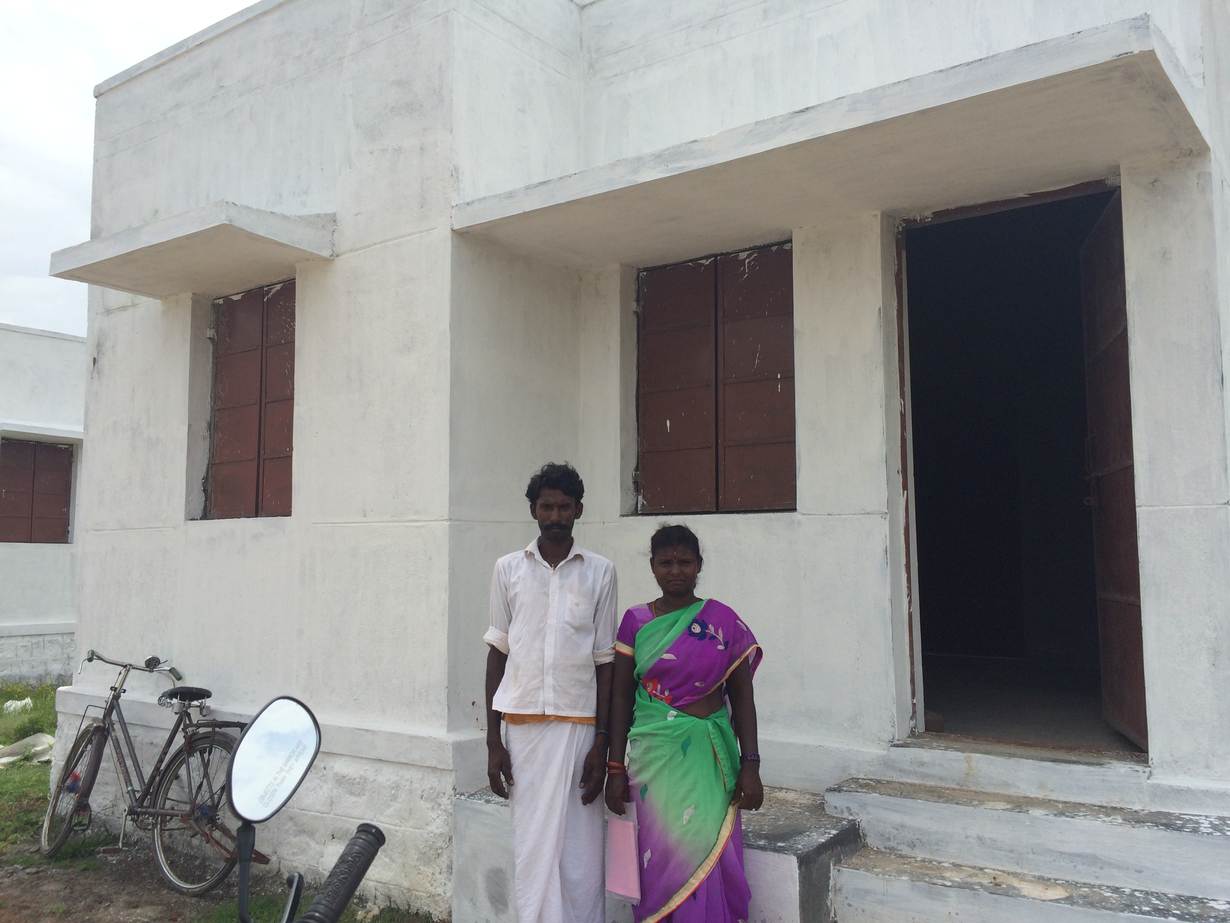 "FANTASY HOMES"
The rehabilitation project, one of the most comprehensive such plans in the country, was the brainchild of Prabhushankar Thangaraj Gunalan, a junior bureaucrat in the Tamil Nadu government, who was shocked by the Irulas being left without homes in the aftermath of floods in 2015.
In charge of a region known as a source for cheap labour, Gunalan, 34, went back to his office and started mapping out a new idea to help prevent people falling back into bonded labour.
"There were hundreds who were being rescued and sent back home and the onus of their rehabilitation was falling on us," Gunalan, a medical doctor by training, told the Thomson Reuters Foundation.
"When they came back, they didn't have a home we could send them to. The existing rehabilitation process was piecemeal. I wanted to create something sustainable."
Over several few months, in what Gunalan describes as a "Farmville kind of fantasy mission", he drew a map of Abdulkalam Puram, named after former Indian President APJ Abdul Kalam who wanted to provide rural communities with urban amenities.
Envisaged as a self sustaining rural gated community, Abdulkalam Puram will generate solar power, have a cattle shed, a fodder farm, a community centre, toilets for every two bedroom home and an integrated Irula livelihood centre.
The nearly 2 million Indian rupees ($31,000) first phase of the project is near completion and will accommodate 43 families.
LIVELIHOOD TRAINING
The project, which has seen rare coordination between multiple government agencies, has become a talking point in the region.
"It is visionary to say the least," says Sathish Sivaprakasam, a revenue inspector overseeing the project.
"The entire space will be self sufficient. And it has been put on the fast track. These are like dream houses for the Irulas."
To ensure residents of Abdulkalam Puram also have employment, a livelihood centre is planned in phase two with students from the Madras Christian College in Chennai helping settle and retrain former bonded labourers.
A venom extraction unit, traditional medicinal herbs nursery, charcoal making unit and brick kilns will tap into the inherent strengths of the community and generate employment.
Devi and Selvam find the process "quite unbelievable".
"It looks nice," they say as they watch the houses being painted and try to visualise a cattle shed behind their home.
For Gunalan, that is a compliment.
"It's been two years since I first thought of the project and today there is this satisfaction that something has been accomplished," he said. "The Irulas are getting what is rightfully theirs."
($1 = 64.0450 Indian rupees)
(Reporting by Anuradha Nagaraj, Editing by Belinda Goldsmith; Please credit the Thomson Reuters Foundation, the charitable arm of Thomson Reuters, that covers humanitarian news, women's rights, trafficking and climate change. Visit www.trust.org)
Our Standards: The Thomson Reuters Trust Principles.