"We are not living, we are just surviving"
By Umberto Bacchi
MURATOVE, Ukraine, Dec 13 (Thomson Reuters Foundation) - Ukrainian pensioner Mariya Semiriad has a cold house, a painful hernia, little to eat and no money to buy enough food, wood and painkillers for the winter.
Her barren home lies on a muddy side-road of Muratove, a small, secluded village in a wooded area of eastern Ukraine's Luhansk region - only a few kilometres from the frontline separating government forces from pro-Russian separatists.
"We can't afford anything anymore because of this war," Semiriad told the Thomson Reuters Foundation as she sat on a single bed facing a wood-burning stove with a coat wrapped around her shoulders.
"We are not living, we are just surviving."
The 70-year-old settled in what was her sister's country shack with her husband Vladimir in 2014 - the year the conflict erupted - hoping to weather out fighting that had damaged their home in the nearby city of Stakhanov, now in rebel hands.
More than three years later, the conflict is dragging on and the elderly couple has joined the millions that the United Nations says have exhausted their resources and are struggling to make ends meet.
Older people are bearing the brunt of violence that has killed more than 10,000 people, including 2,500 civilians, and forced 1.6 million to flee their homes since 2014.
Nearly a third of the 3.4 million people in need of humanitarian assistance are over 60 years of age.
"Ukraine has the dubious distinction of being the (world's) oldest humanitarian crisis," said Neal Walker, the U.N.'s top representative in Ukraine.
Like most European countries, Ukraine has an ageing population, with 16 percent of people over 65 in 2017 - a much higher rate than in other war-torn nations, like Syria or Yemen, where the figure stands below 5 percent.
As violence broke out when Luhansk and neighbouring Donetsk rebelled against Kiev's pro-Western government in 2014, many young people left, while the elderly stayed behind.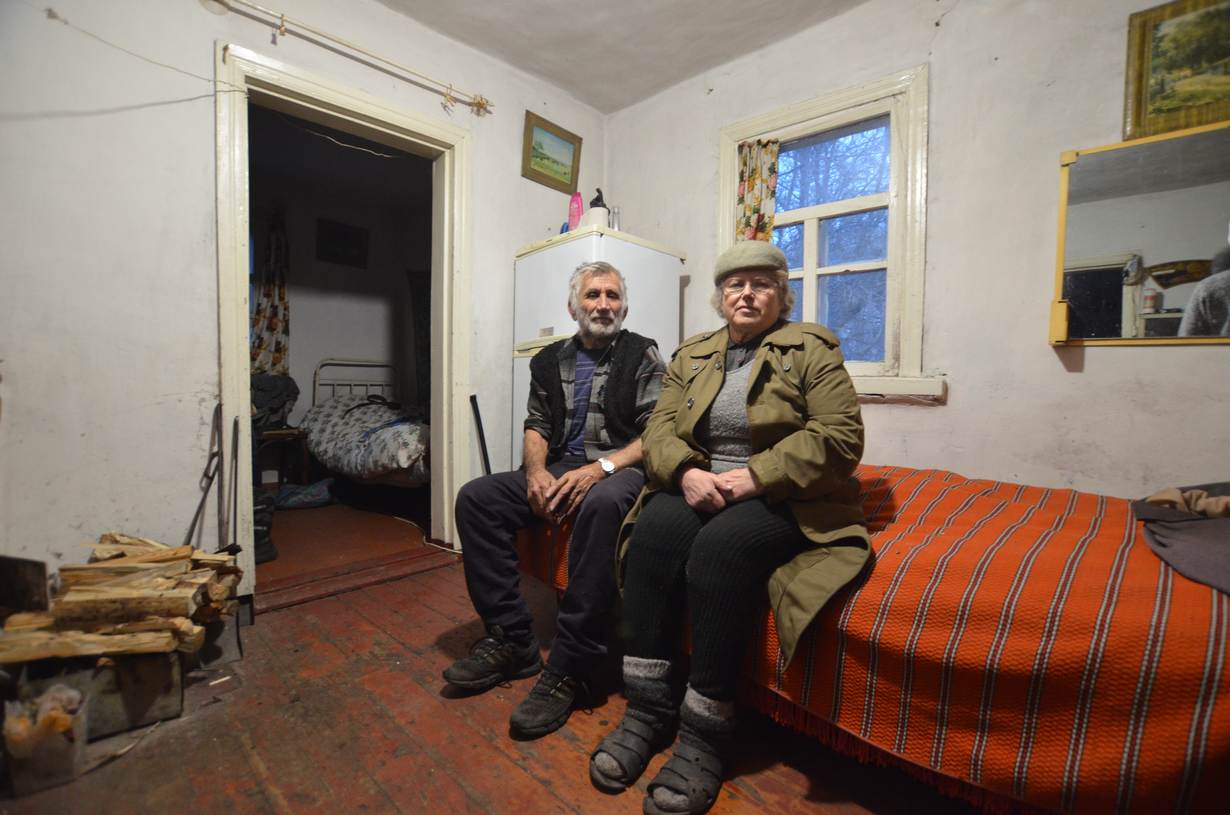 LITTLE WOOD, LITTLE FOOD
Most survive on meagre pensions, which have been eroded by fast-rising prices of food and utilities.
Semiriad's two children lost their jobs to the violence and are now unable to support their parents, who earn a combined monthly pension of 4,500 hryvnias ($165).
The sum is barely enough to cover their needs.
They are already 1,000 hryvnias in debt to the local woodseller as they burn logs in their stove to stave off the well-below-zero temperatures.
Semiriad said her hernia has been worsening but she can't afford therapy or to take painkillers regularly.
She has also had to cut down on food. The number of people going hungry in eastern Ukraine has doubled to 1.2 million in 2017, according to the U.N.
"I cry every day. I am not used to living like this," she said, sitting beside her 78-year-old husband under their house's corrugated iron roof.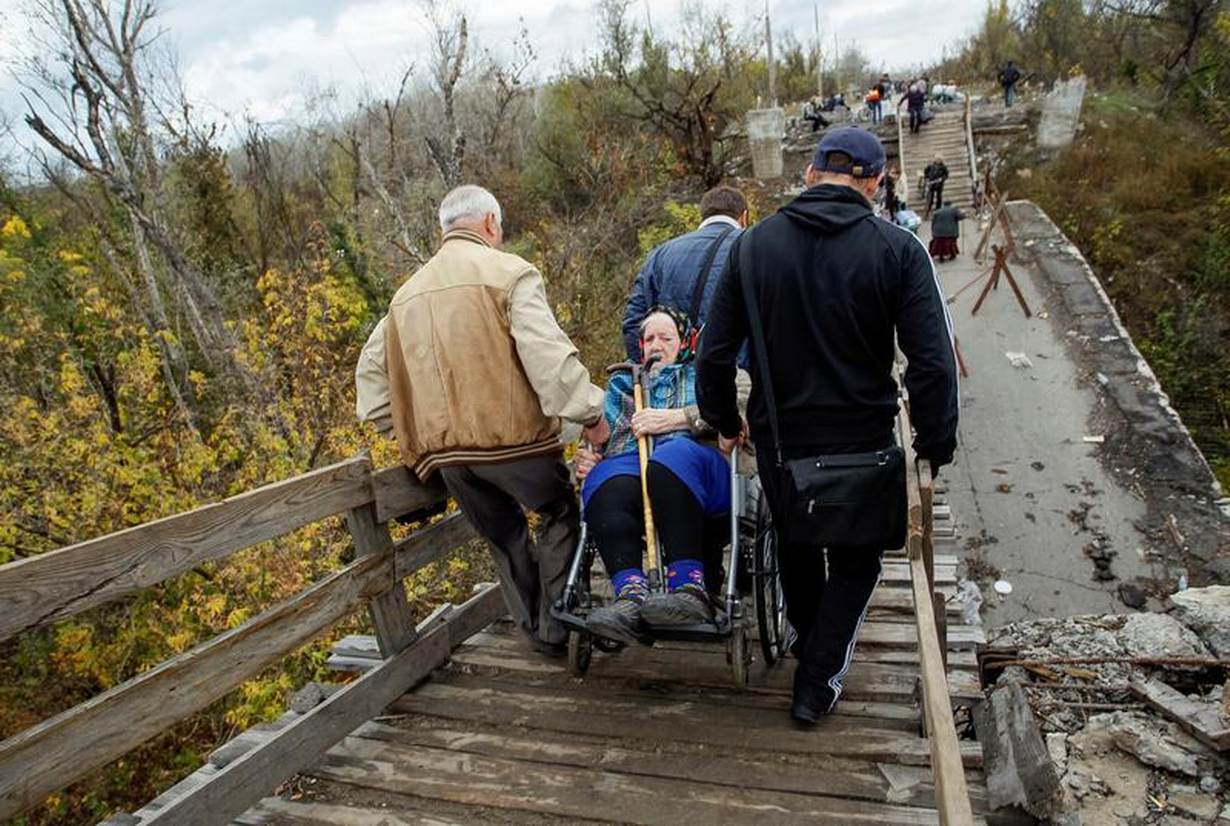 PENSION CHECKPOINT
For hundreds of thousands of people living in rebel-held territory, it's an arduous journey just to pick up their pensions.
To receive payment they have to register as internally displaced persons on the government side - even if they have a liveable home on the rebel side - and regularly cross the frontline to withdraw their entitlement.
Ukraine's ministry for temporarily occupied territories and internally displaced people was not immediately available to comment.
In the whole Luhansk region, there is only one crossing point - a bombed out, pedestrian-only bridge on the Seversky Donets river.
Every day thousands of people queue for hours on both sides of the Stanytsia Luhanska crossing, exposed to the cold, snow and wind.
"We left (home) at 5 a.m. and arrived here at 9. I don't know how long it will take to cross," said Alexandra Petrovna, 80, as she sat inside a temporary Red Cross shelter, while her daughter waited in line.
"I am not worried, I am focused on the result (of getting the pension)," she added, a walking cane in one hand and a cup of hot tea in the other.
Outside a stream of people walked across the no man's land carrying their belongings in bags and trolleys. Two men wheeled a coffin draped in purple.
Up to 100 people a day come into the Red Cross shelter to warm up and get their blood pressure checked. Many show signs of stress, anxiety and hypertension, say volunteers.
"When temperatures drop some get hurt as they slip and fall because of the ice," said Red Cross volunteer Tatiana Mironenko.
At least 14 civilians died or suffered from serious health complications whilst queuing in 2017, the U.N. says.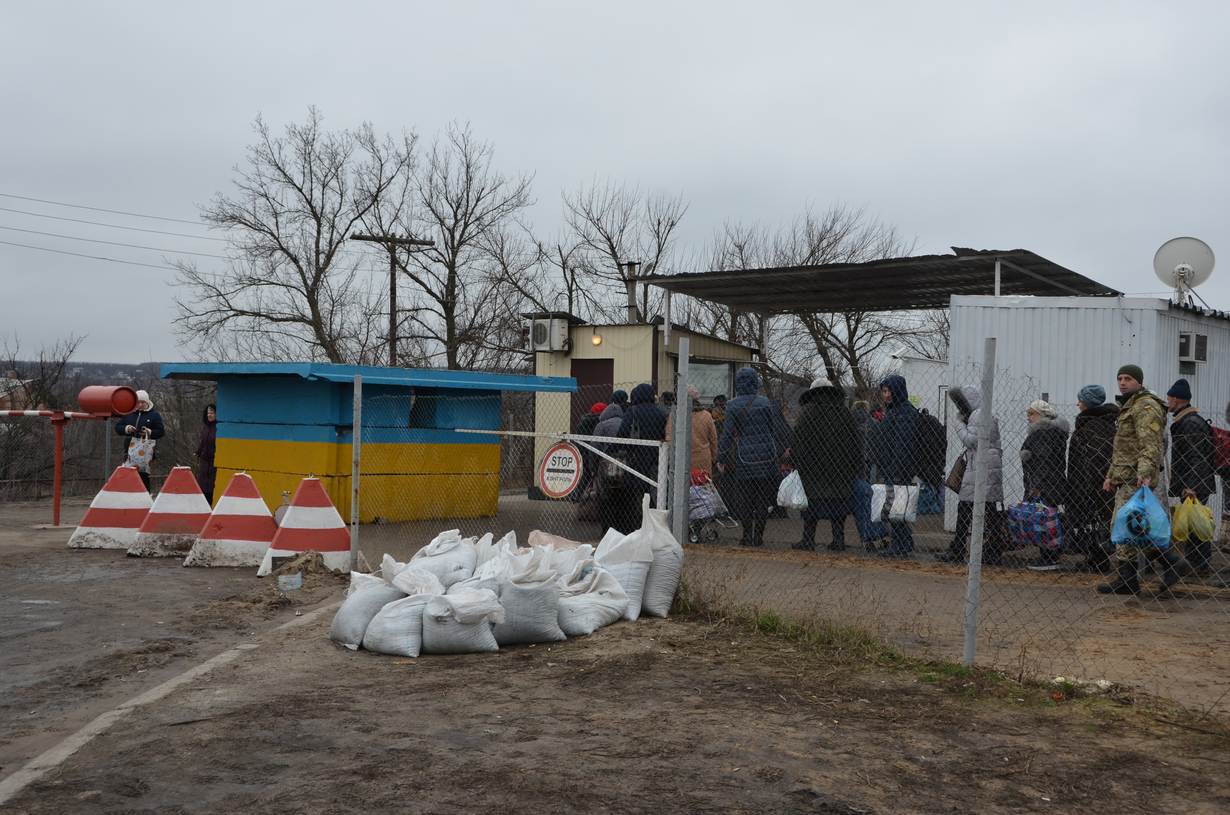 FUNDING SHORTFALL
Reaching all those in need is a daunting task for aid groups facing a shortfall in funding.
In 2017 the U.N. received less than 30 percent of about $200 million it asked to tackle the crisis. Last week, the U.N. World Food Programme (WFP) said it would stop providing food aid due to dwindling resources.
"Governments tend to view this as a political crisis ... but it is also a humanitarian crisis," said Walker.
Access to people in need has also been difficult.
Only a minority of those displaced live in collective centres - set up across the country, often in disused buildings.
Most have found accommodation in empty houses, sometimes hosted by family and friends. They have a roof over their heads but are spread out in often out far-flung villages.
"The challenge is to establish their location and number, make a proper assessment of their needs and get to them," said Yanna Thay, of the U.N. Office for the Coordination of Humanitarian Affairs (OCHA).
Up to 200,000 people live close to the frontline, under threat from fighting, with limited access to humanitarian aid and basic services - unable or unwilling to abandon their homes.
Lyudmila Vladimirova, 82, held out for three years before surrendering her frontline home near the city of Horlivka - despite the building being repeatedly hit by shellfire.
"During nights of shelling I would take cover in the bath tub under a wooden panel," she said. "I prayed not to die".
She moved out in October, when, with most windows smashed, no heating or water, the house became inhabitable.
She has since found shelter in a small nursing home in Chasiv Yar, but in losing her home she also lost hope.
"I want to go back in spring ... I have relatives buried there," she said. "It's time for me to die".
(Reporting by Umberto Bacchi @UmbertoBacchi, Editing by Ros Russell.; Please credit the Thomson Reuters Foundation, the charitable arm of Thomson Reuters, that covers humanitarian news, women's rights, trafficking, property rights, climate change and resilience. Visit http://news.trust.org)
Our Standards: The Thomson Reuters Trust Principles.