How the Thomson Reuters Foundation got a rare invitation to visit the Uru-Eu-Wau-Wau tribe - who only came into contact with outsiders 40 years ago
I was headed to Aldeia Nova, one of nine villages held by the Uru-Eu-Wau-Wau, a 300-person tribe living across 1.8 million acres in the upper Amazon basin.
I had initially planned to go to Uru-Eu-Wau-Wau territory to report on the tribe's use of drones to document deforestation but when I learned of an important tribal meeting to discuss new ways to fight back against illegal loggers - with members coming in from six villages – the story gained a fresh urgency.
Few get the chance to meet the Uru-Eu-Wau-Wau, who only came into contact with outsiders about 40 years ago.
Before making the trip I emailed a letter of request to Ivaneide Bandeira, who had worked with the Uru-Eu-Wau-Wau for over 25 years for the local environmental non-profit Kaninde.
She told me I would only be able to visit Uru-Eu-Wau-Wau territory with the tribe's formal permission so he printed out my letter and hand-delivered it to Bitate, a 19-year-old Uru-Eu-Wau-Wau tribal leader.
Six days later, Bandeira emailed me a photo of a typed letter signed by Bitate.
"The Uru-Eu-Wau-Wau people cordially opens up its villages so the guest can visit," it read.
In the letter Bitate explained that his people had always suffered from invaders but the situation had become worse since 2019, "putting our lives and the future of our people in even greater risk".
As I prepared to leave, Bandeira called to say that if I reached Aldeia Nova by Feb. 17 I would have a unique opportunity to attend the all-village meeting.
In one way, the long drive from Porto Velho to Aldeia Nova was every reporter's dream: I was travelling with a source who had no choice but to answer my questions. My driver, Awapu, was a 28-year-old tribal leader.
But getting there wasn't easy. Ahead of us lay several hundred kilometres of precarious dirt roads and wooden bridges that seemed ready to collapse under the weight of the rented Ford Ranger. We had no mobile connection and no quick way to reach civilization in the case of an accident.
We drove through a seemingly endless landscape of deforested land that had been turned into grazing fields for cattle, stopping at least a dozen times to push open animal fences erected by farmers.
"This used to be our territory," said Awapu, looking into the distance where patches of Amazon rainforest were visible.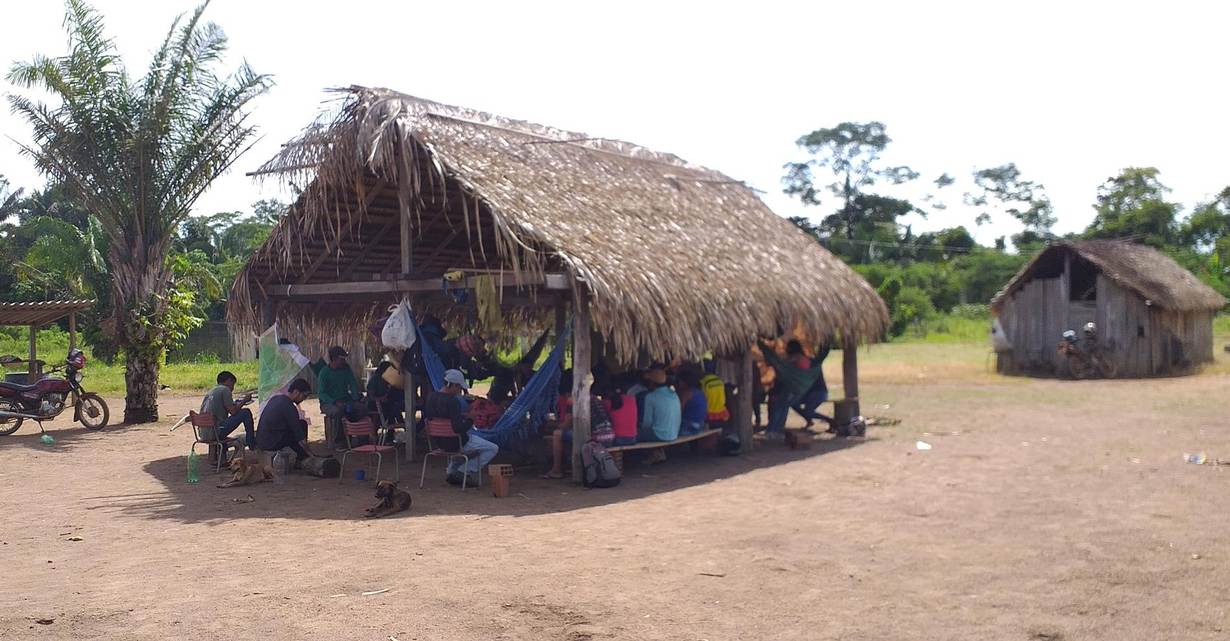 The sun descended as we drove on and soon only the headlights of our car broke the darkness. If a cow wandered into the road, Awapu would need to act fast.
Along the way we listened to hours of songs called "sertanejos," the Brazilian equivalent of country music. You either love it or hate it. Awapu loved it. I was less impressed.
As we approached Aldeia Nova, the forest closed in on us, signaling we were now on land protected by the Uru-Eu-Wau-Wau. We arrived tired and hungry, with the village - a small cluster of wood and straw huts and a couple brick buildings built by the state government - shrouded in darkness and silence.
After a dinner of rice and wild pig, I got ready for bed, tying my newly-purchased hammock to one of the support beams of a "maloca", or wooden hut. I finally got to sleep after staring wide-eyed at the starry sky.
I had not come to Aldeia Nova unprepared. Along with my hammock, I had packed sunblock, rope, and bug repellent for the reporting trip - though the repellent did nothing to keep my hands and neck from becoming targets for mosquitoes.
Before making the journey, I had also been given some advice about what not to do.
A local journalist had told me that indigenous men tended to be jealous so I shouldn't talk to women alone or greet them with a kiss on each cheek as is the custom in Rio de Janeiro. Handshakes only.
In the end, although there were many women in Aldeia Nova - most of whom were busy cooking or taking care of children - I only spoke to one: Awapu's wife.
On the day of the meeting, Aldeia Nova was packed with visitors from neighbouring villages. For some getting there meant a long motorcycle trip on bumpy dirt roads; others had travelled hours in a car borrowed from the local non-profit.
Animals grazed freely: I spotted wild pigs, chickens, parrots, dogs, and a medium-sized exotic bird called Jacamim.
I was excited to begin interviewing members of the tribe, but it soon became clear that most of my reporting would have to be based on observation alone. When I tried talking to an older tribesman, he walked past me as if I did not exist.
Children, on the other hand, were curious about me. One boy, aged about 12, told me a tale of his encounter with an onca, a type of Amazonian jaguar, and how he survived it. His advice? "Don't run."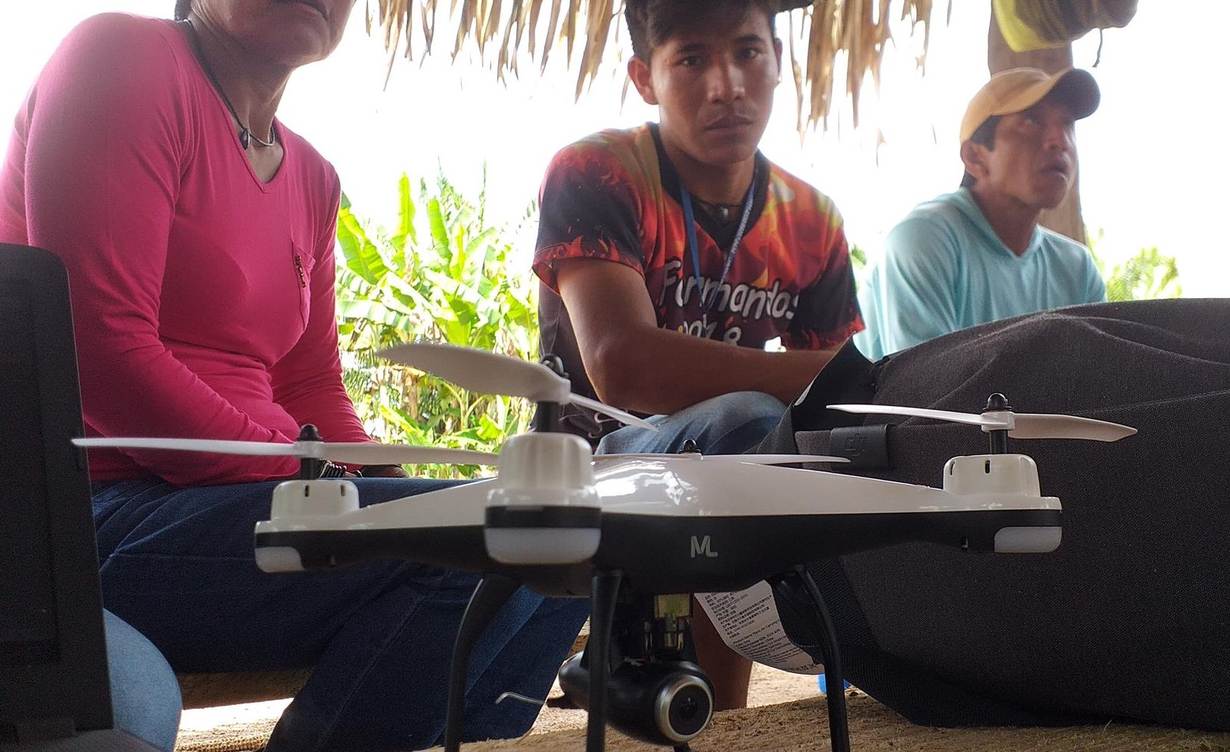 During the day, I watched as Bandeira, Bitate and Awapu made presentations to some members of the tribe, introducing them to a range of technology including a laptop, a high-definition camera, walkie-talkies, a GPS device, and a pair of drones.
The Uru-Eu-Wau-Wau plan to use this arsenal to document land invasions and illegal logging activities on their territory. The goal is for at least three people in each of the nine villages to be fully trained to operate the tech.
For many in the tribe, it was their first time handling any of this equipment. The younger indigenous people eagerly picked up and started testing the devices; one young woman was able to operate a drone right away.
At the meeting, the tribe decided to organise a trip to Brasilia, Brazil's capital, to meet with congressmen and other authorities to discuss the critical threats to their land.
Plans were also made for tribe members to carry out inspections of their territory throughout the year, to expel illegal loggers and monitor deforestation.
The meeting ended in the afternoon. It was decided we would spend the night in Jamari, a Uru-Eu-Wau-Wau village about a three-hour drive away, before heading back to Porto Velho.
By the end of my visit, some of the older tribesmen had started to warm up to me. At the end of the second day, in Jamari, some felt comfortable enough to tell jokes around me. One man, who previously responded to my questions with silence, had even started smiling at me, as if acknowledging my presence.
Bitate was my driver for the trip to Jamari, and like Awapu, he seemed eager to talk. As he plugged his phone into the car's sound system, he smiled.
"Don't worry, I don't like sertanejo."
Our Standards: The Thomson Reuters Trust Principles.