Even as needs are rising steadily, the 2016 appeal has received only a quarter of the total requested so far
By Megan Rowling
BARCELONA, June 28 (Thomson Reuters Foundation) - The United Nations has raised its 2016 humanitarian funding appeal to a record $21.6 billion from $19.7 billion, partly due to new disasters including a cyclone that battered Fiji and an earthquake that hit Ecuador, as well as the deepening impact of El Nino.
The money will go to help 95.4 million people hit hardest by conflicts and natural disasters in 40 countries, although a total of 130 million are in need of aid, the U.N. Office for the Coordination of Humanitarian Affairs (OCHA) said.
But even as needs are rising steadily, the 2016 appeal has received only a quarter of the total requested so far, leaving a gap of $16.1 billion, OCHA said, releasing the revised figures on Monday in New York.
"Underfunding jeopardises the lives of people affected by conflict and disaster," U.N. Emergency Relief Coordinator Stephen O'Brien wrote in a mid-year report on humanitarian aid.
Inadequate contributions from rich governments mean U.N. and other aid agencies cannot meet the needs of 13.5 million people whose lives have been overturned by the Syria war, for example.
Nor can they provide enough assistance after elections in politically fragile Central African Republic, where up to half the population will suffer from acute malnutrition this year.
"The global appeal will support millions of mothers to feed their malnourished children," O'Brien said in a statement.
"It will help doctors give life-saving care to children injured by bombing. It will help pastoralists keep their cattle alive. And it will help protect women and girls from sexual abuse and violence," he said, urging donors to give more.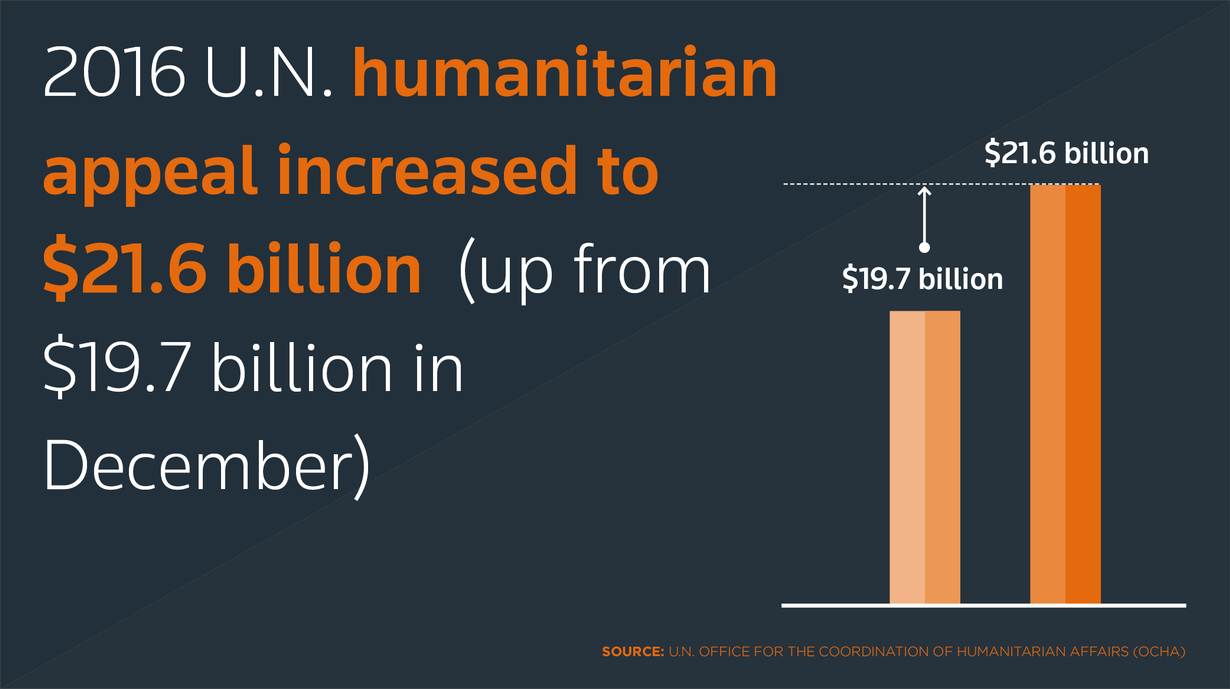 OCHA said requirements have grown for ongoing crises - such as drought and other lasting impacts of the El Nino weather phenomenon, which has now ended, in southern and eastern Africa, Central America and the Pacific.
There is a shortfall of $2.5 billion needed to help 60 million people affected by El Nino in 22 countries, OCHA said.
So far in 2016, the least-funded aid plans include appeals for Central African Republic at only 14 percent, Zimbabwe at 9 percent, and Gambia, which has received no funding since 2015.
OCHA said the increase in people forced to flee their homes due to war and persecution - now at 65.3 million - was "testing the capacities of the humanitarian system and its donors".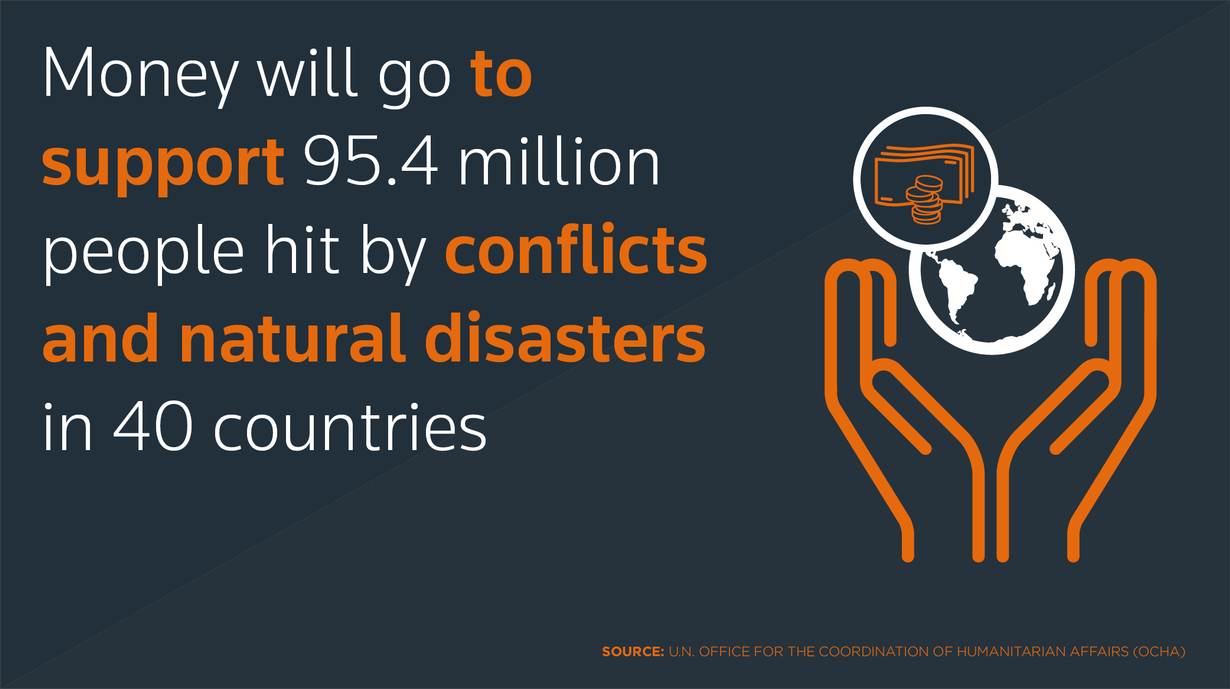 In recent months, the U.N. agency has drawn attention to the Lake Chad Basin spanning Cameroon, Chad, Niger and Nigeria.
It is the fastest-growing displacement crisis in Africa as the activities of Boko Haram militants force people to flee, but also one of the most under-funded emergencies, OCHA says.
Other major humanitarian crises requiring funding include the impacts of conflict in Yemen, South Sudan, Sudan and Iraq.
The OCHA report outlined measures decided at May's World Humanitarian Summit in Istanbul to boost aid by making existing funds go further, using insurance against disaster risks, and tapping into new sources like Islamic bonds.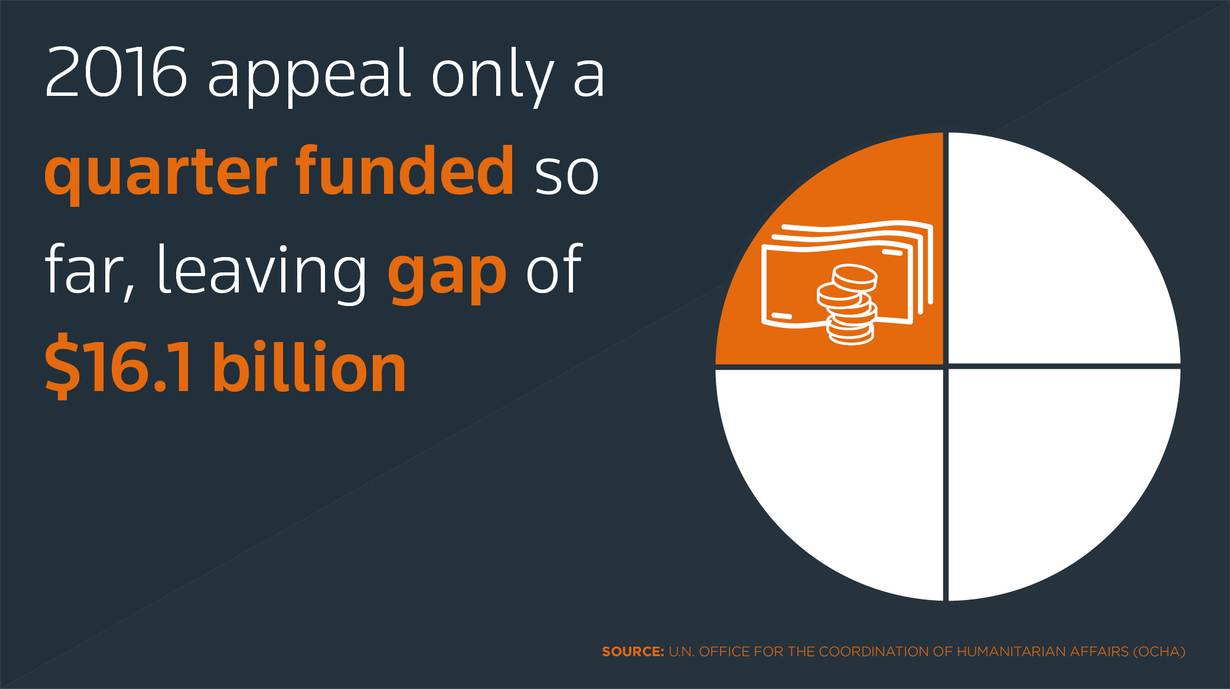 According to UK-based analysis group Development Initiatives, the amount requested through U.N. appeals in 2015 stood at $19.8 billion, a slight drop from the previous year.
But contributions fell by considerably more, leaving an unprecedented shortfall of 45 percent ($8.9 billion).
Overall, including money flowing outside the U.N. appeals system, international humanitarian assistance reached a record high of $28 billion in 2015, rising for the third year in a row.
(Reporting by Megan Rowling; editing by Katie Nguyen. Please credit the Thomson Reuters Foundation, the charitable arm of Thomson Reuters, that covers humanitarian news, women's rights, trafficking, corruption and climate change. Visit http://news.trust.org)
Our Standards: The Thomson Reuters Trust Principles.