"Their desperation makes them take greater risks, such as sending their children away for what they think are better lives, or even selling their kidneys"
By Rina Chandran
KATHMANDU, July 26 (Thomson Reuters Foundation) - Hundreds of Nepalis who had borrowed money to rebuild their lives after two earthquakes left them homeless are at risk of being trafficked or duped into selling their kidneys to pay off their debts, an international development organisation said.
Nepal received $4.1 billion in pledges from donors for reconstruction after quakes last April and May killed 9,000 people, injured at least 22,000 and damaged or destroyed more than 900,000 houses in the Himalayan nation.
More than a year on, reconstruction has been slow with unrest over a new constitution adding to the delays. Unable to find work, hundreds of Nepalis are deep in debt, the Asia Foundation said on Tuesday.
"Their ability to pay is very limited and indebtedness makes them more vulnerable to exploitation," said Nandita Baruah, Asia Foundation's deputy country representative in Kathmandu.
"Their desperation makes them take greater risks, such as sending their children away for what they think are better lives, or even selling their kidneys," she told the Thomson Reuters Foundation in an interview.
"We're going to see an uptick in people moving out to earn money as their debts become due. Some of them will be trafficked," Baruah added.
Nepal's economy is highly dependent on remittances sent back by its migrant workers, which make up about 30 percent of its gross domestic product.
Following the earthquakes, hundreds of migrant workers returned to Nepal to help their families.
Many are likely to have paid their employers to be allowed to return home, going without wages for several months while spending money on rebuilding, Baruah said.
"These are workers who pay 200,000-500,000 rupees ($1,850-$4,640) to go abroad in the first place, and are very likely still paying off that debt," she said.
"The quakes exacerbated their indebtedness," she said.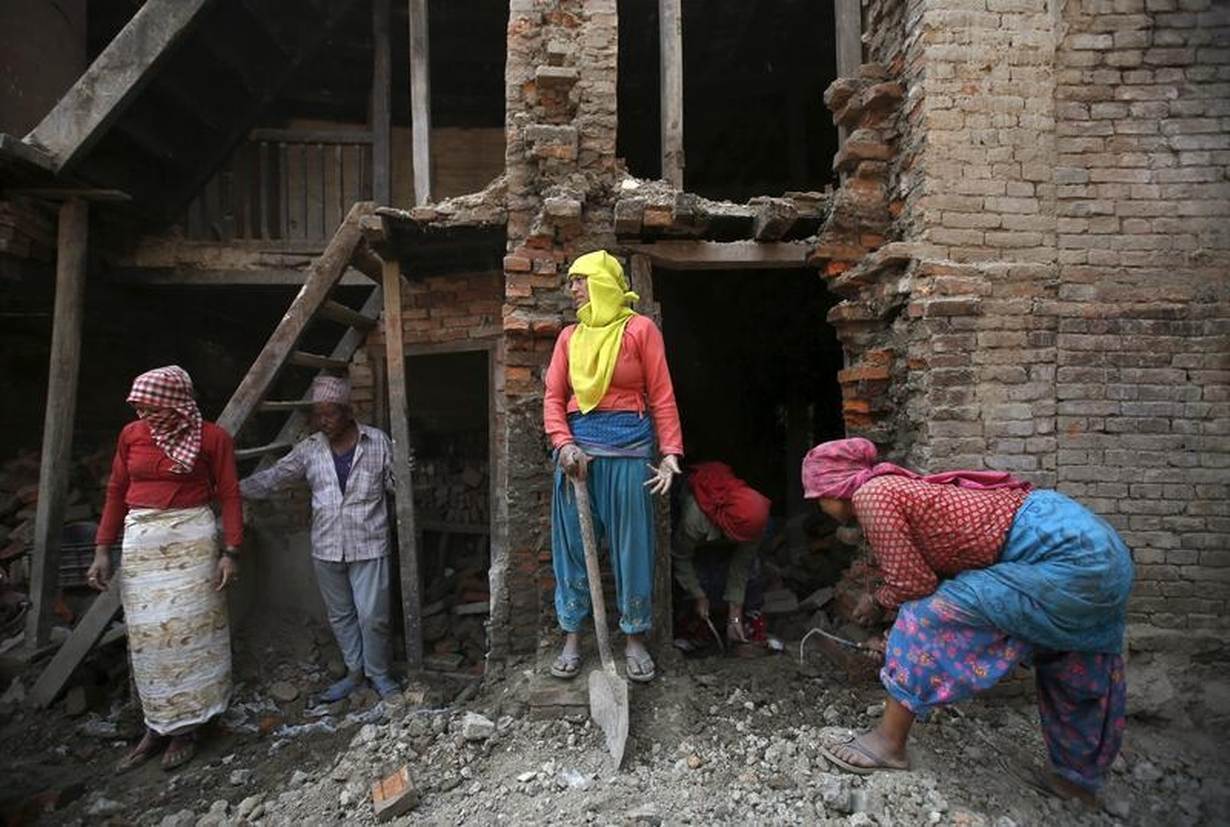 BORDER CHECKS
Activists say there are signs of an increase in the number of Nepali women and children being trafficked after last year's disaster.
Anti-trafficking charity Maiti Nepal said it stopped 745 women and children - suspected victims of human trafficking - at the Nepal-India border in the three months following the earthquakes.
That compares with 615 such interceptions in the three months before the quakes, their data showed.
Nepal is both a source and a destination country for victims of human trafficking with some 8,500 Nepalis trafficked every year, according to the country's human rights commission.
Women are typically trafficked for sex work, domestic work and forced marriages to India, the Middle East, China and South Korea - while men are made to work in construction, as drivers and in hotels in India, the Middle East and Southeast Asia.
Some victims are duped into selling their kidneys and brought to India, where a chronic organ shortage has fuelled a black-market trade in illegal transplants, activists say.
Nepal's economy is forecast by the Asian Development Bank to have grown only about 1.5 percent in the fiscal year to mid-July after reconstruction delays and trade disruptions. A recovery is dependent on the pace of reconstruction, it said.
"Now, the aid will also stop flowing. We're going to see more migration, more trafficking," said Baruah.
"Those who have taken on debt don't have options," she said.

($1 = 107.752 Nepali rupees) (Reporting by Rina Chandran @rinachandran, Editing by Katie Nguyen. Please credit the Thomson Reuters Foundation, the charitable arm of Thomson Reuters, that covers humanitarian news, women's rights, trafficking, corruption and climate change. Visit news.trust.org to see more stories.)
Our Standards: The Thomson Reuters Trust Principles.