"I like it here, especially for my children. It's safe, everyone is friendly, and we're determined to stay"
By Natasha Bowler
REYKJAVIK, Jan 25 (Thomson Reuters Foundation) - Valgerour Halla came into the world under unusual circumstances. The four-month-old was born in Reykjavik to Syrian asylum seekers who were so thankful they gave her an Icelandic name.
"One of our closest friends here, an Icelandic friend, is called Valgerour Halla," said her 36-year-old father Wael, who comes from western Syria. "She's helped us a lot, like all Icelandic people, so this was our way of saying 'thank you'."
In an interview with the Thomson Reuters Foundation, the family described an arduous flight from war in Syria, the long journey across Europe and how they chose a cold fishing island deep in the Arctic circle to start anew.
"I like it here, especially for my children. It's safe, everyone is friendly, and we're determined to stay," said Wael.
Wael and his wife, Ferayl, arrived in summer 2015 with two older daughters, Jana, 5, and Julie, 4. Their youngest daughter, Valgerour Halla Aliyadah, was born last September. It took several weeks for Wael to be able even to pronounce her name.
"My kids are always teaching my husband how to say Icelandic words or they translate for him with neighbours," said 19-year-old Ferayl. "Now when they play together, they speak in Icelandic, but we still speak to them in Arabic."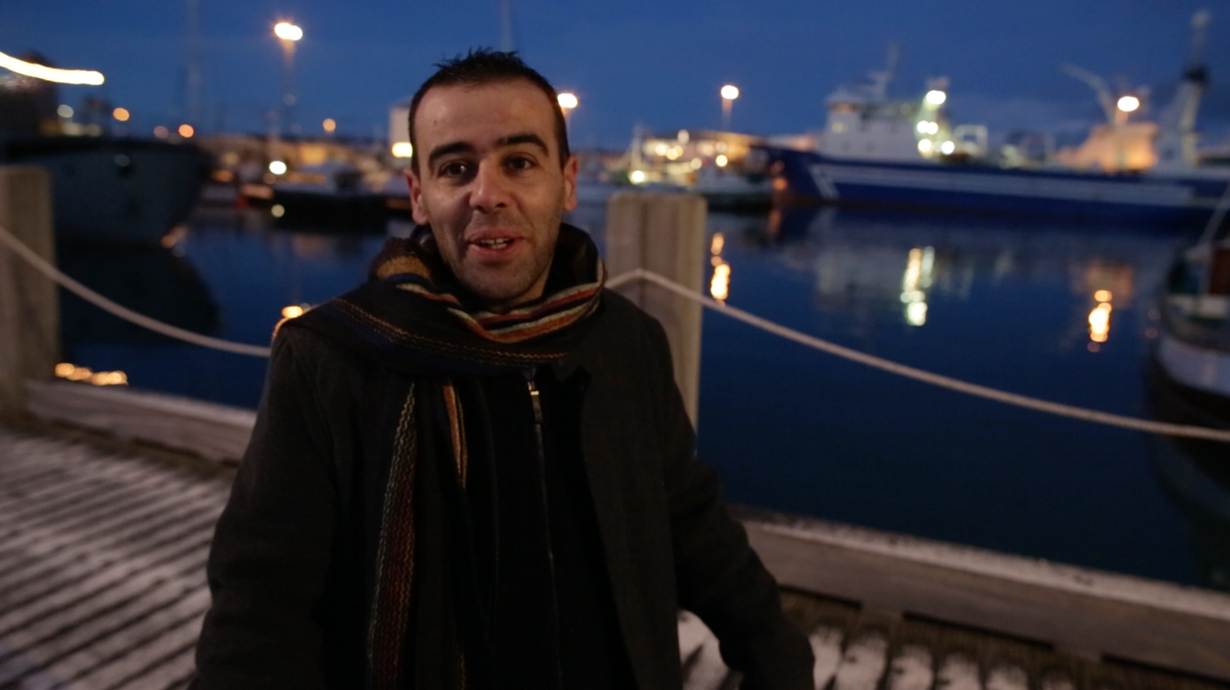 Ferayl misses Syria but she laughs readily and credits the Icelandic people with making the transition so much easier.
"The last two Christmases the Icelandic people have sent the girls hundreds of presents," she said. "We definitely have two homes now: one in Syria and one in Iceland."
LONG TREK TO SAFETY
The family left their Syrian hometown of Tartus in 2013. As Sunni Muslims from a predominantly Alawite city, they feared for their safety. So Wael decided to act.
"If I'd stayed in Syria, I would've been forced to join the army," said Wael. "I don't like fighting, I don't like war, so we left. I don't think I'll live in Syria again. I might stay here all my life. The future looks very bright now."
Travelling with other young families, the family crossed the Turkish border on foot, eventually reaching Istanbul. Next they paid a smuggler to take them to Greece, where they lived for 14 months.
"We had no home, no money. We slept on the streets," Wael said. "We didn't get a single euro of aid from the Greek government. But as soon as the border opened, we flew to Iceland."
Like Luxembourg and Norway, Iceland is in Europe's Schengen passport-free travel zone - not the European Union - a fact that enabled the family to fly in unchecked.
Since 1956, Iceland has accepted fewer than 600 refugees. In 2016, just 16 Syrians were granted asylum in the country.
Home is now a two-bedroom apartment in Reykjavik's most expensive quarter, a short walk from the picturesque harbour. It is modest but comfortable.
Daily life is a world away from Syria.

Reykjavik can get just three hours of sunlight a day in winter, with temperatures frequently reaching sub-zero.
"When I told my family in Syria I was moving to Iceland, they couldn't understand why," said Wael. "They said 'it's cold and very far away' but actually it's good here. The air is clean, it's safe and you can choose the work that you do."
POLICE STIR ALARM
Things didn't look so bright on day one of their new life.
When the Aliyadahs first landed at Reykjavik airport, it was three in the morning, and they didn't know what to do or where to go. Then the local police found them.
"I thought they were going to arrest us. But instead they opened up an office in the police station so we could sleep there overnight. The next day, they took us to a hotel. The Red Cross helped us a lot as well," said Wael.
"We hoped our ordeal was over then. But it wasn't yet."
Several months later, their request for asylum was refused. Iceland's government decided to send them back to Greece, so the couple reapplied, this time appealing directly to the public.
"Our case got a lot of publicity," Wael said. "More than 5,000 Icelandic people fought for us to stay. People who didn't know me or my family helped us. That was very nice."
Icelandic Immigration press officer órhildur Ósk Hagalín said the application was rejected as the family already had asylum in Greece but the decision was overturned by the Appeals Board.
"We were told to issue the family residence permits based on humanitarian grounds," said órhildur.
The local school that Julie and Jana attend also fought hard for them to stay, with headmistress Halldora Gudmundsdottir leading the efforts.
"As a family, you fall in love with them very quickly and the girls were so eager to stay ... We thought it was absurd to send them back to Greece," said Gudmundsdottir.
"We look forward to having Valgerour Halla at our school also. You don't get a more Icelandic name than that."
(Reporting by Natasha Bowler; Editing by Lyndsay Griffiths; Please credit the Thomson Reuters Foundation, the charitable arm of Thomson Reuters, that covers humanitarian news, women's rights, trafficking, property rights and climate change. Visit http://news.trust.org to see more stories.)
Our Standards: The Thomson Reuters Trust Principles.