Double homicide comes amid a resurgence in violence from drug cartels and follows a spate of killings of journalists and activists
By Tracy Barnett
GUADALAJARA, Mexico, May 25 (Thomson Reuters Foundation) - National, state and local officials warned the Mexican government of increasing violence and the need for extra security in the state of Jalisco, where two indigenous brothers were shot dead last week.
The double homicide of the brothers, both members of the Huichol tribe and leaders in a battle for restitution of indigenous land from local ranchers, comes amid a resurgence in violence from drug cartels and follows a spate of killings of journalists and activists this year.
One of the dead men, Miguel Vázquez, told the Thomson Reuters Foundation last October tensions over a century-old land dispute and the growing presence of drug cartels had been a serious concern for some time.
His brother Agustin died in hospital after armed men shot him on Saturday evening, while Miguel was gunned down as he was leaving the hospital that night.
A preliminary investigation by state authorities blamed a criminal cell located nearby on the border of Zacatecas and Jalisco states, the Jalisco prosecutors' office said in a statement on Sunday without offering details.
Jalisco, in western Mexico, is home to the New Generation Cartel, which the state's governor, Aristoteles Sandoval, has described as Mexico's biggest drug-trafficking organisation.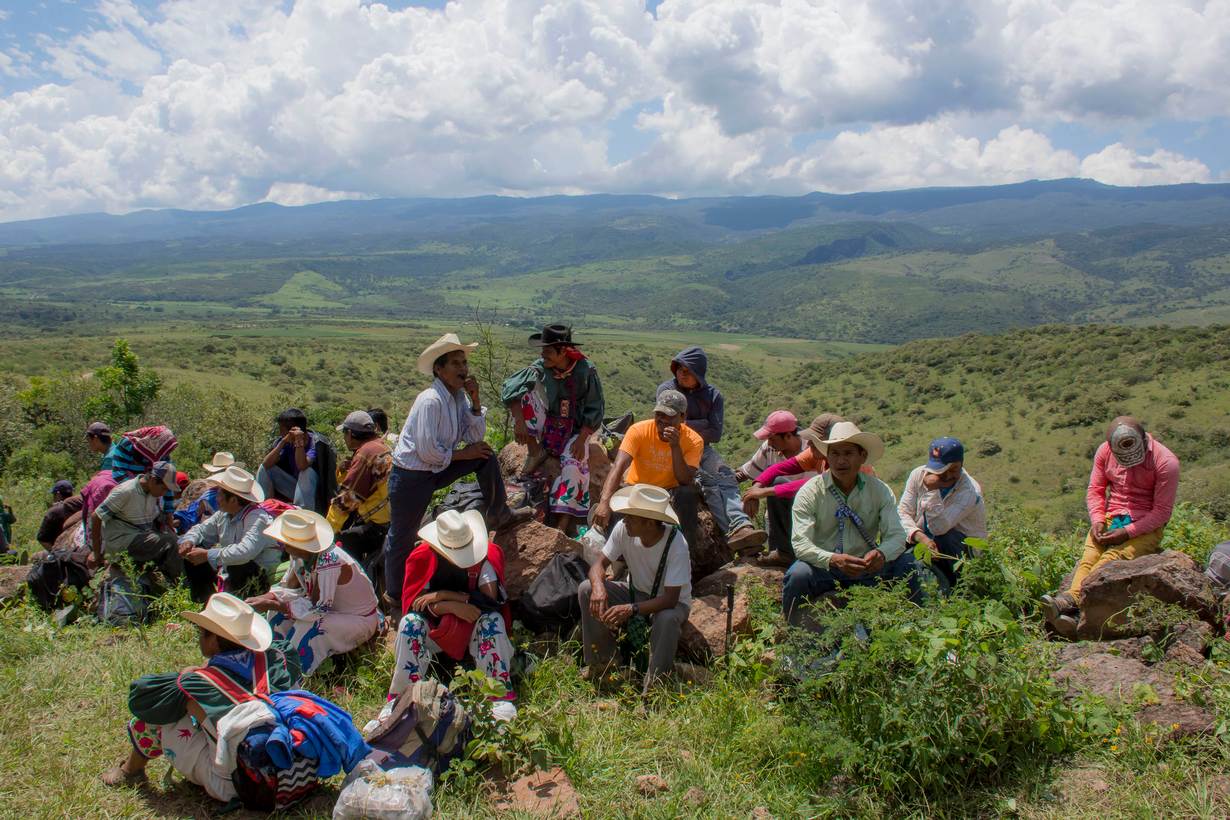 LIVING IN FEAR
The tribe is living in fear in the wake of the homicides, said Santos Hernandez, the public lands commissioner for the Huichol territory of San Sebastian Teponahuaxtlán and Tuxpan de Bolaños.
"Nobody feels like working or travelling in their cars – they are watching all of us and our families," he told the Thomson Reuters Foundation of cartel operatives in the area.
The government has been extremely slow to respond to problems, he said.
Since the homicides last weekend, authorities have sent in a special force to the far-flung area. Hernandez said he hopes it will staff checkpoints on the roads and maintain a permanent presence.
"This has been the community's concern. We have asked for this, and they haven't responded. Now with what has happened, I think we have the right to more vigilance," he said.
The Mexican government and Jalisco state government did not immediately respond to requests for comment.
A land dispute over 10,000 hectares (24,710 acres) of native land has been simmering in the region for years after a long series of legal challenges ruled in favour of the Huichol.
Vazquez had helped repel cattle ranchers that encroached on Huichol lands. His brother, Agustin, also defended tribal lands.
Two separate congressional resolutions, one at the federal and one at the state level, were passed in recent months urging the state government to provide greater security in the region and asking for allocation of federal funds to be set aside to address agrarian conflicts.
Carlos Castañeda, House Minority Speaker in Mexico's national parliament for the Citizen's Movement Party, said state government officials should have intervened in the region a long time ago.
"The easiest thing is to say that it's an isolated case," said Castañeda.
"However, it seems like too much of a coincidence that this assassination took place in the middle of a very prolonged land dispute that has left the zone in permanent conflict."
Miguel Vazquez and other Huichol told the Thomson Reuters Foundation last year they had been threatened and harassed by neighbouring ranchers angry about a court order that the land be re-possessed.
Mexican ranchers and indigenous people urge government to solve land conflict
In March, Vazquez said the tribe was seeking to organise an armed self-defence group and that they were preparing to take action on another restitution claim.
Alfonso Hernández, inspector for the State Commission on Human Rights, visited the community on Tuesday to debrief residents on their rights as victims and entitlement to collective damages.
"This is a native people that has a communal sense of identity, so it affects the community as a whole, because they see their customs and traditions threatened," he said.
Miguel, Hernández said, was the community leader who had worked longest and hardest for the recovery and defense of his people's territory.
"He was held in very high esteem and recognition. This is a wound to the heart of the community," he said.
(Reporting by Tracy Barnett; Editing by Astrid Zweynert @azweynert. Please credit the Thomson Reuters Foundation, the charitable arm of Thomson Reuters, that covers humanitarian news, women's rights, trafficking, property rights and climate change. Visit news.trust.org)
Our Standards: The Thomson Reuters Trust Principles.