"People think fruit falls off trees into buckets, are all the same size, shape and colour and available all year round"
By Anna Pujol-Mazzini
LONDON, Nov 6 (Thomson Reuters Foundation) - On Thursday nights, while London sleeps, big cardboard boxes appear in frontyards and behind bins.
What's hidden inside changes every week - from twisted cucumbers to misshapen pears to undersized squash - all delivered to environmentally conscious consumers.
"Our mission is to fight food waste and reclaim perfectly good produce from being thrown away," Emilie Vanpoperinghe, who founded social enterprise Oddbox in 2016, told the Thomson Reuters Foundation.
"People think fruit falls off trees into buckets, are all the same size, shape and colour and available all year round."
Oddbox delivers wonky fruit and vegetables from farms and wholesalers to homes across south London - produce supermarkets have rejected for being the wrong size or shape.
They are among a growing number of social enterprises that are tackling food waste in Britain.
Each year, millions of tons of food and drinks destined for supermarkets are thrown away in Britain, from misshapen vegetables that don't make the cut to the stale bread left unsold at store bakeries.
While some of its European neighbours, such as France or Italy, have national measures to fight food waste, British supermarkets rely on charities and food banks to redistribute out-of-date but edible food.
And the country still has among the lowest levels of food redistribution on the continent.
PEOPLE OVER FUEL
The waste of food and drinks can happen anywhere from farms where fruit and vegetables are produced to the processing plants where ready meals and snacks are made, to supermarket aisles.
In Britain, only two major supermarkets make public how much waste they produce, making it difficult to assess the full extent of the problem, campaigners say.
Often, waste that occurs on farms or in consumers' homes as a result of sales deals such as "two for ones" is not included in the statistics, according to campaigners.
To avoid tipping more into landfills, supermarkets can send unsold food to charities while it is still edible, use it to feed animals or compost it to produce clean energy.
But campaigners say it is cheaper for stores to turn food waste into fuel - which the government subsidies - than to feed the people who need it.
In Britain, over 8 million people - or the equivalent of the entire population of London - struggle to put enough food on the table, according to the Food Foundation.
"We've got much, much greater demand than we've currently got supply (of food)," said Lindsay Boswell, who heads FareShare, Britain's main food redistribution charity. He says FareShare only accesses 5 percent of supermarket food waste.
"Just across the channel, in France, they redistribute at least 10 times the food that we redistribute," Boswell told the Thomson Reuters Foundation by phone.
France last year introduced a law requiring supermarkets to give their unsold food to charity. Farmers and businesses can also get tax breaks when they donate food.
"We're calling for a level playing field where it doesn't cost more for a farmer or producer to keep that food fit for consumption and get it to people in need," Boswell added.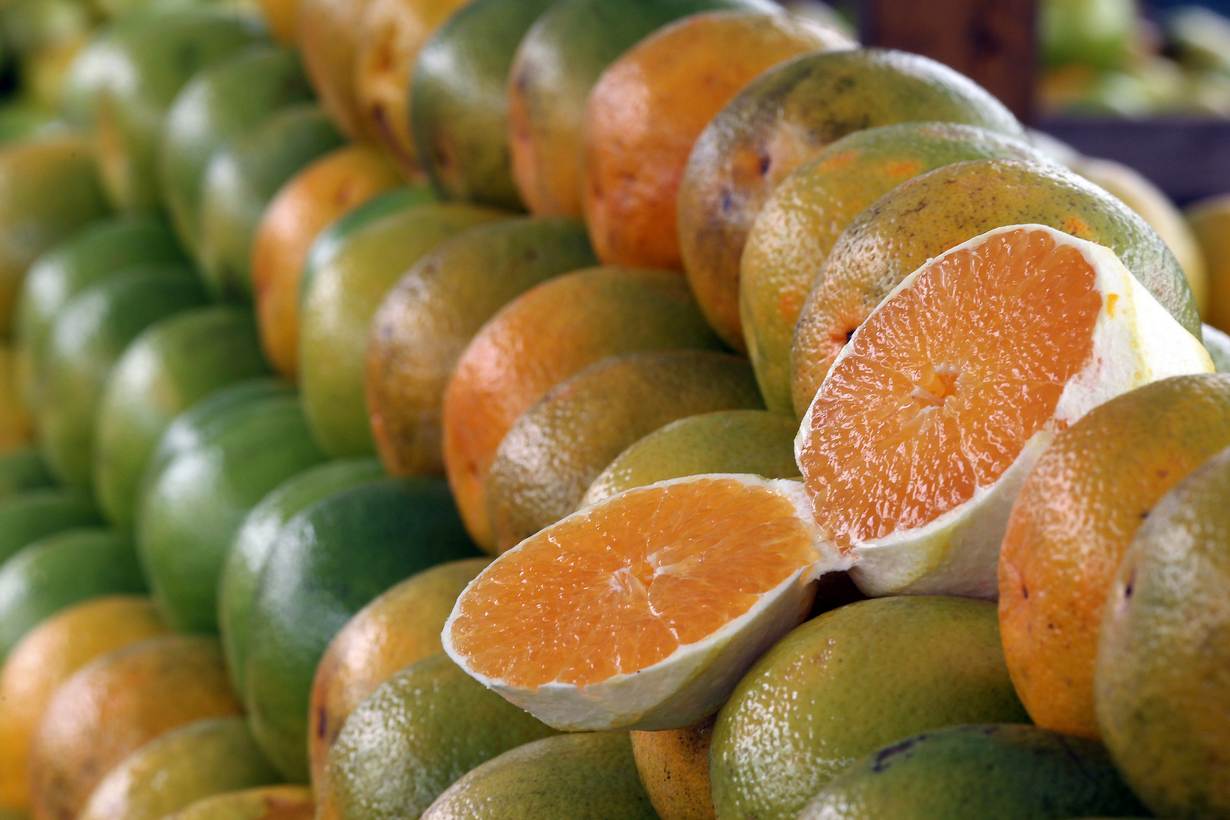 GREEN MANDARINS
Supermarkets themselves are increasingly working to reduce their food waste, as consumers grow more aware of the issue.
Between 30 and 40 percent of food produced around the world is never eaten, because it is spoiled after harvest and during transportation, or thrown away by shops and consumers.
Food releases planet-warming gases as it decomposes in landfills. The food the world wastes accounts for more greenhouse gas emissions than any country except for China and the United States.
Many stores have launched ranges of 'wonky' vegetables to cut the amount of food which never leaves farms because of strict cosmetic standards.
Earlier this month, supermarket giant Tesco started selling green mandarins after warmer weather in Spain stopped the skins from turning orange.
"This is an issue that customers, colleagues and suppliers really care about," Mark Little, head of food waste reduction at Tesco, told the Thomson Reuters Foundation.
A study published in March showed that reducing food waste could save businesses money, as they gain additional income from selling food saved from the bin, benefit from lower waste management costs and save money by not buying food that would have otherwise been lost.
For every dollar spent on reducing food waste, companies save an average $14, the study said.
But FareShare estimates that 400,000 tons of edible food in supermarkets' supply chains end up binned every year.
WONKY CUCUMBERS
Many social enterprises like Oddbox have flourished in Britain in recent years, bringing food that would otherwise be wasted to consumers across the country.
In Leeds, campaigners opened the first pay-what-you-feel food waste supermarket, where anyone can buy food and drinks destined for landfills and pay with time, money or skills.
While Olio, a food-sharing app, allows consumers to put online the food they don't use, allowing neighbours to pick it up for free. Volunteers can also pick up food destined for the bin from local cafes and stores and put it on the app.
Some British social enterprises are selling beer made from surplus bread, jam, fizzy drinks and fruit jerky from fruit and vegetables which would otherwise be thrown away.
Others, such as bio-bean, are making green energy from used coffee grounds.
"It's one of the largest problems facing the UK today, socially, environmentally, economically and morally," Tessa Cook, Olio's founder, told the Thomson Reuters Foundation.
"Where there are large problems there are equally large opportunities and social entrepreneurs are responding to that."
(Reporting by Anna Pujol-Mazzini @annapmzn, Editing by Ros Russell. Please credit the Thomson Reuters Foundation, the charitable arm of Thomson Reuters that covers humanitarian news, women's rights, trafficking, property rights, climate change and resilience. Visit http://news.trust.org)
Our Standards: The Thomson Reuters Trust Principles.