The Clothing Bank teaches unemployed mothers how to set up their own ventures using unwanted stock donated by retailers
By Inna Lazareva
JOHANNESBURG, Dec 6 (Thomson Reuters Foundation) - Juggling paperwork, car keys and an always-beeping cellphone, Inet Situole, a 33-year-old in a crisp white blouse, runs a fashion boutique with more than 100 customers a month – a far cry from a decade ago, when she worked as a maid while trapped in an abusive marriage.
Despite working seven days a week cleaning and cooking in an attempt to save some money, at the end of the month Situole would invariably find herself with nothing.
"My husband would take all the money and spend it," she told the Thomson Reuters Foundation. He also beat her and was unfaithful, she said.
When she left him, Situole - an orphan since birth - was terrified of what lay ahead for her and her toddler. "I felt like dying," she said. "I didn't have anyone to run to."
But in 2015, her prospects were transformed after she joined a scheme to help unemployed mothers set up their own businesses.
The Clothing Bank (TCB) was launched in 2010 in Cape Town by two businesswomen, Tracey Chambers and Tracey Gilmore.
Gilmore started out by giving unemployed friends smart outfits to wear to job interviews - but it wasn't working.
"While sourcing the clothing was quite easy, finding opportunities for the women to get employment was really non-existent," she said.
At about 28 percent, South Africa's unemployment rate is among the highest in the world.
Lack of education is a key barrier to finding work, with less than a third of South Africans completing secondary school, according to a 2011 census.
Chambers and Gilmore decided to combine business and entrepreneurship training with clothing to create a venture that could help tackle joblessness among mothers.
More than a third of South Africa's households are run by single mothers, a 2015 study by Statistics South Africa showed.
"We've always believed that if you influence and change a mother's life, you change an entire family," said Tracy-Leigh Kinsey who runs TCB's Johannesburg branch.
"You change generations - and that's why we focus specifically on mothers with dependent children."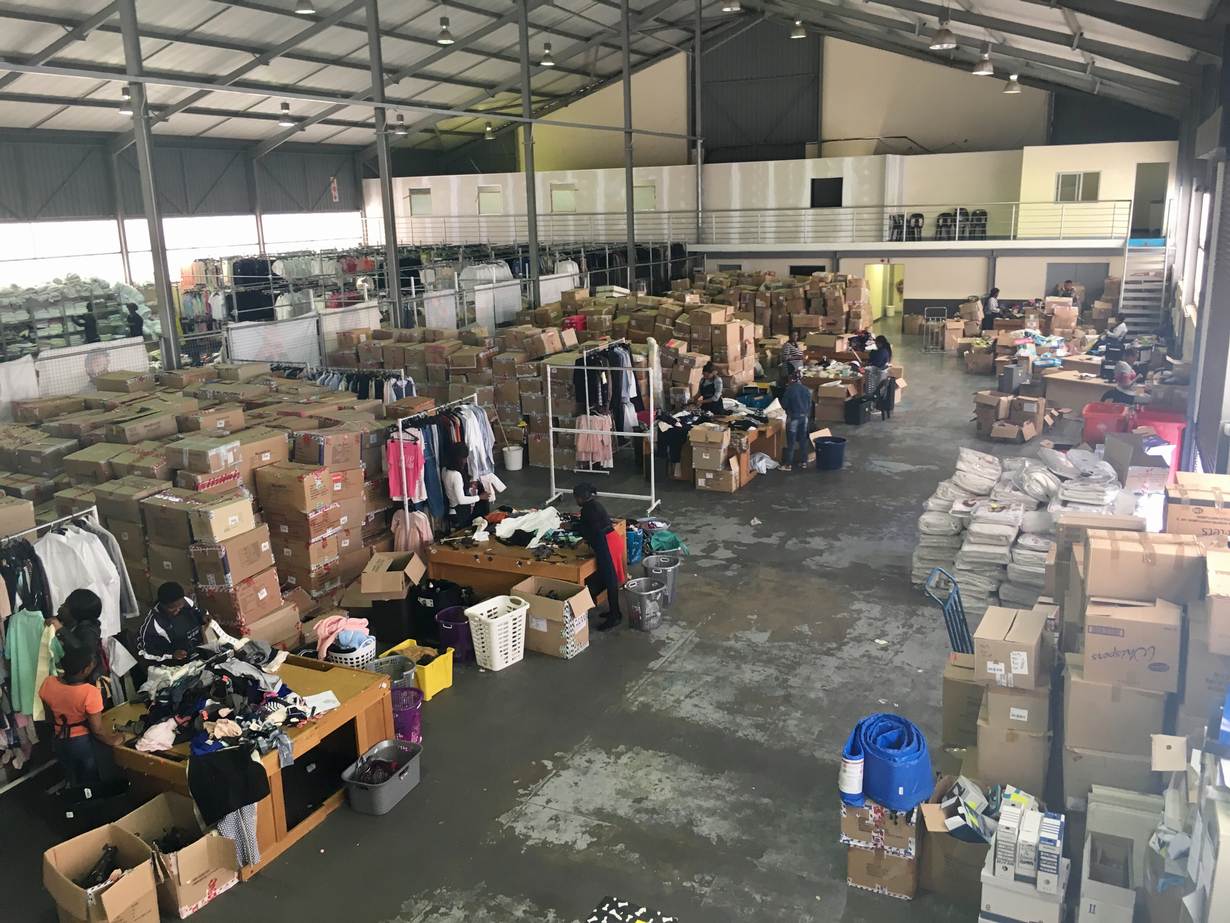 BUSINESS IDEAS
Once selected, the women follow a two-year programme that allows them to study and earn a living at the same time.
"There was a huge amount of excess clothing stock in the retail supply chain," Gilmore said. "That's how we came up with the idea of using (it) as a tool to teach unemployed women to run businesses."
The women buy the surplus clothing - customer returns or end-of-season merchandise - at discounted prices from TCB, setting up small fashion businesses and growing them as they make a profit.
After the training, women are free to apply their new skills in any sector, Kinsey said.
"We push them quite hard to start their second business while they're still here, so that they have something up and running, so that they are sustainable," she said.
Graduates from TCB's five branches across the country have gone on to establish crèches, cleaning businesses, laundromats, cafes and catering firms, often operating initially out of their living rooms or rented shipping containers.
Building on the success of the clothing-based scheme, TCB has branched out into other areas in recent years, such as beauty salons.
Unemployed men are also being trained to repair household appliances, from toasters to fridges, using broken stock from retailers. At the same time they learn business and computer skills to help them go it alone.
TCB has also experimented with setting up small franchises such as coffee shops or early childhood learning centres, and recruiting people to become self-employed business owners.
Today, Situole mentors some of the students who are launching their own ventures.
"Some come and see me for advice," she said. "I'm proud of this, as at the end of the day I'm helping someone to put food on the table."
"FAST FASHION"
Key to the success of The Clothing Bank are donations from major South African retailers. In the Johannesburg branch, women are busy sorting through a warehouse crammed with last season's dresses, shoes and household appliances.
"We do everything from collecting to de-branding the stock, to fixing it and making sure it's useful," said Kinsey, adding that it relieves suppliers of the hassle of disposing of it.
"It's important we're reusing this waste in a way that is helping people that aren't as privileged, or who are living in poverty," she said.
What to do with excess clothing stocks is becoming a controversial global issue.
Some have branded the clothing industry - especially "fast fashion" - as one of the most polluting industries in the world, not least for its contribution to climate change.
Making 1 kg of fabric generates on average 23 kg of planet-warming greenhouse gases, according to a study by global consultancy McKinsey.
In recent weeks, Danish and Swedish media have reported that some fashion giants are sending garments to be incinerated, sparking criticism from environmentalists and politicians.
Gilmore said retailers should seek green ways of dealing with unwanted stock, such as giving it to programmes like TCB.
By doing so, South African retailers can also earn points on their "Broad-Based Black Economic Empowerment" scorecard, a government programme to redress the inequalities of apartheid, which provides competitive advantages to certified businesses.
"They have an incentive to give us that stock," said Gilmore.
Woolworths, a major South African retailer, has donated almost 1.6 million items over the past seven years.
Gilmore said TCB's model could be replicated in Europe, to create business opportunities for refugees.
"It's just getting people to be open to the possibility," she said.
(Reporting by Inna Lazareva, editing by Megan Rowling; Please credit Thomson Reuters Foundation, the charitable arm of Thomson Reuters, that covers humanitarian news, women's rights, trafficking, property rights, and climate change. Visit www.trust.org)
The Thomson Reuters Foundation is reporting on resilience as part of its work on zilient.org, an online platform building a global network of people interested in resilience, in partnership with the Rockefeller Foundation.
Our Standards: The Thomson Reuters Trust Principles.