Vinesh Phogat's family was captured in the Bollywood blockbuster film 'Dangal', where a man trains his daughters to become wrestlers
By Annie Banerji
NEW DELHI, Aug 21 (Thomson Reuters Foundation) - India swelled with pride on Tuesday after Vinesh Phogat became the country's first woman wrestler to win gold at the Asian Games, with congratulations pouring in from her family, politicians and Bollywood celebrities.
Vinesh, 23, beat Japan's Yuki Irie in the final of the 50kg category to clinch the title late Monday in Indonesia, sparking celebrations by her coaches who hoisted her up and ran a victory lap around the wrestling mat.
"Nothing can match the feeling of winning a Gold for #India and all the wonderful people of our country whose blessings and wishes give me strength," Vinesh posted on Twitter on Tuesday, with a photo of her and her coaches and waving the Indian flag.
The grappler won a bronze medal at the Asian Games four years ago.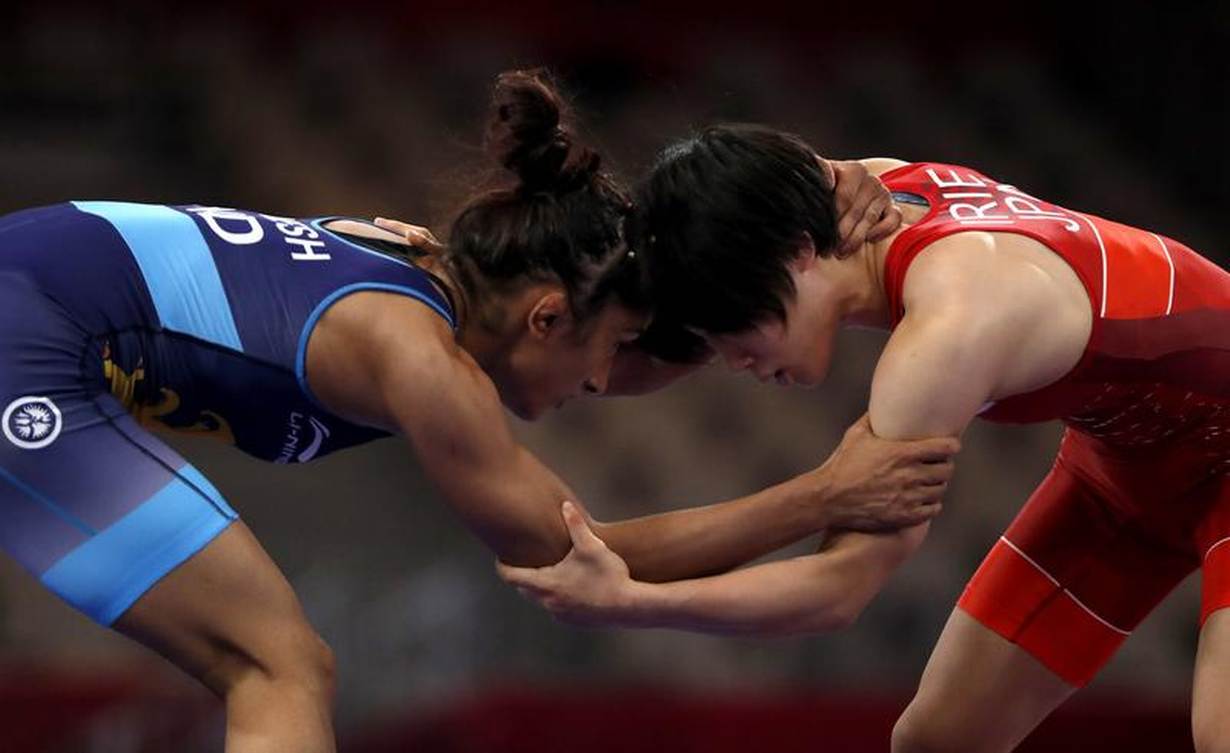 Her cousins Geeta and Babita Kumari Phogat are former Commonwealth Games champions, and their extraordinary rise from one of India's most conservative states was captured in the Bollywood blockbuster film "Dangal" in 2016.
The northern state of Haryana, where the Phogats hail from and the film is set, has a reputation for being conservative and male dominated, with some of the highest rates in India of violence against women.
The film - Bollywood's highest grossing movie of all time - is based on Vinesh's real-life uncle, wrestler Mahavir Singh Phogat, played by actor Aamir Khan, and his struggle to turn his daughters Geeta and Babita into world-class wrestlers.
Vinesh also initially trained under her uncle.
"Not only me, but all of India is proud of her. Look at what our girls can do - from wrestling in mud pits to Olympics, Commonwealth and now Asian Games," Mahavir told the Thomson Reuters Foundation by phone.
"These victories show that Indian girls, no matter where they are from, can be stars, can outshine boys. This will definitely encourage more girls to join sports."
Phenomenal feeling to see all the hard work, sweat, and long hours spent on the mat paying off! Nothing can match the feeling of winning a Gold for #India and all the wonderful people of our country whose blessings and wishes give me strength 🇮🇳💪🙏🥇 pic.twitter.com/hkKisxk3Ci

— Vinesh Phogat (@Phogat_Vinesh) August 21, 2018
Vinesh's on-screen uncle, Aamir Khan, congratulated her late Monday and tweeted a popular dialogue from the film: "Mhaari chhoriyan chhoron se kam hai ke!", which translates to: "My girls are no less than boys!"
Prime Minister Narendra Modi also took to Twitter to wish Vinesh, saying her "repeated success will surely inspire upcoming athletes."
Vinesh started the Asian Games by defeating China's Sun Yanan - an opponent against whom she had suffered a leg injury in the 2016 Olympics.
"Someone has said an athlete becomes strong after injury and I feel I indeed have become stronger than before," Vinesh told reporters after her winning bout.
She has enjoyed a stellar season, claiming a gold medal at the Commonwealth Games in April and another at the Spanish Grand Prix wrestling tournament last month.
(Reporting by Annie Banerji @anniebanerji, Additional reporting by Amlan Chakraborty in Jakarta; Editing by Jared Ferrie; Please credit the Thomson Reuters Foundation, the charitable arm of Thomson Reuters that covers humanitarian issues, conflicts, land and property rights, modern slavery and human trafficking, gender equality, climate change and resilience. Visit http://news.trust.org to see more stories)
Our Standards: The Thomson Reuters Trust Principles.