We gathered voices and images from climate protests around the world
Adults downed tools and office keyboards, and took to the streets alongside students in an unprecedented wave of youth-led climate protests around the world on Friday.
Globally, more than 5,200 "climate strike" events were due to take place in some 156 countries, with about a fifth of those planned for the United States alone, organisers said.
Alexandria Villaseñor, 14, co-founder of the U.S. Youth Climate Strike movement, said Friday's wave of demonstrations was expected to be "the largest global mobilisation in climate action that has ever been seen in history".
Climate campaign group 350.org noted that more than 4 million people had walked out of school, work or home to join the day's climate strikes. "We're not through. More actions are coming this week," it added in a tweet.
Swedish teen activist Greta Thunberg, a figurehead of the youth climate movement, led the main protest in New York City, which allowed children to miss school to attend, joined by trade union activists and others.
The protests came ahead of a U.N. summit in New York on Monday, at which the U.N. secretary-general has called on countries to present concrete plans for how they will ramp up action to meet international targets to rein in climate change.
Here are some on-the-ground reports from Thomson Reuters Foundation correspondents at Friday's demonstrations in different countries, some of them on the frontlines of climate change:
MEXICO CITY, MEXICO
Hundreds of young people took to the streets of Mexico City on Friday as part of a global protest demanding that world leaders take concrete action on climate change.
Protesters marched from the iconic Angel of Independence statue down Reforma Avenue, towards the central plaza chanting "We want a future, not hydrocarbons!" and "Not one degree more, not one species less!".
The marchers, who had come mostly from local high schools and universities, also carried signs bearing slogans like "Climate Emergency" and "Time is running out".
Seven-year-old Luca Sauceda had come with his mother and grandmother because, he said, he was concerned for the planet's future.
"The Earth is dying," he said. "And all the boys and girls ... aren't going to be able to live (here) anymore."
Luca's grandmother, Hilda Higuera, 72, stood nearby holding a sign that read "We want a future for our grandchildren".
"We're very worried," she told the Thomson Reuters Foundation. "Now that young people are taking more direct action, we have to support them so they don't feel alone."
Curly-haired Luca agreed. "It's cool to be doing this with my family because we're going to save the planet," he said.
Standing nearby, seasoned climate activist Guillermo Fuentes held a sign bearing an image of Mexico's President Andres Manuel Lopez Obrador with vampire fangs and a Coca-Cola bottle. "AMLO Sell Out," the sign read, referring to the president's initials.
"We thought he was going to be a more sensitive president, who would do what the people wanted," Fuentes, 37, said of the leftist leader who won a landslide election last July.
"Now it's not just Mexico, but the whole planet that's asking for action on the environmental crisis, and he's just turning a blind eye."
Lopez Obrador, who vowed to revive the state-owned oil company Pemex, has been criticized by environmentalists for his renewed focus on fossil fuels.
The leftist's oil plans include building a new $8 billion refinery in southern Mexico, modernising existing refineries and reversing the country's decline in crude production.
Maria Aguilar, 27, was similarly disillusioned.
"We know the planet is in serious danger," she said. "But the problem is that neither the government, nor society, nor industry are doing anything."
Marches like these - the largest she had seen in Mexico - could make a difference, she hoped.
"I don't know if we can change things, but it does exert pressure," she said. "The more of us there are, the more pressure there'll be ... It's going to be very complicated, but I do have hope."
(Reporting by Oscar Lopez)
NAIROBI, KENYA
In the Kenyan capital Nairobi, about 1,000 people brought traffic to a halt in the city's central business district as they marched to the environment ministry to demand that their government and global leaders take action to tackle climate change.
The protestors - who included civil society groups, environmentalists, local business owners and students - shouted slogans and sang songs, as onlookers came out of their stores and officers, and drivers and passengers peered out of their windows.
"What do we want? Climate Action! When do we want it? Now!" shouted the protestors, many dressed in red or white T-shirts and waving banners which read "The seas are rising and so must we!" and "Stop Ecocide!".
They presented a petition with over 1,000 signatures to senior officials with a list of demands such as making funding for climate change adaptation a priority, ending fossil fuel subsidies, providing green public transport, and ensuring Kenya is powered with 100 percent renewable energy by 2020.
Maureen Some, 18, a student and founder of WildNow Foundation.
"Today is the global climate strike and I think it's time, as youths, for us to take charge as we are actually facing a crisis - not a problem - a crisis when it comes to climate change. I want to make sure that people are aware that if we don't solve it, we are putting our next generation in a crisis."
"I hope that government leaders take initiatives and come up with solutions to this. That's what we expect. We want to safeguard our future and this lies with our leaders so we want our voice to be heard by them."
Samia Omar Bwana, board member of environment group Decoalise
"I am here as part of a global revolution to call for world leaders to wake up. Our world is in crisis and we have to act now, not tomorrow.
"It's not just for us today, but for the children of the future. We are transient beings on this planet and we have a responsibility, and we hope world leaders will wake up to that.
"I want the world leaders not to just speak with one voice, but also to take action to implement policies. While they have created targets for themselves for 2020, they haven't met that target, and how are they going to act in order to rein in those who don't want to reach those targets?"
Betty Maina, principle secretary, Ministry of Environment, addressing protestors outside her office
"Your actions are concurrent and in conformity with the government. We are committed and have take this action very seriously through policies implemented by the government such as the expansion of forest cover.
"We are also very proud that Kenya is one of the countries leading in renewable energy. So we walk the talk, and we will all walk together to ensure we realise climate action now."
(Reporting by Nita Bhalla)
NEW DELHI, INDIA
Hundreds of students and young activists gathered in central New Delhi on Friday to demand action on climate change ahead of a U.N. summit next week.
With pumped fists in the air, students and protesters chanted slogans like "The Earth is dying, stop denying", while holding posters and banners calling to save the planet.
A dozen other major cities, including India's financial capital Mumbai and IT hub Bangalore, hosted similar strikes across the country.
Students rolled out a towering effigy of 10-headed Hindu demon king Ravana that represented the climate strike at New Delhi's protest to show the "evils of climate change".
Manya Nandi, 15, wearing her green-and-blue school uniform
"I'm here today because I'm fighting for my future because climate change is going to affect every inch of my life. I don't want to be handed a planet by the older generation that is toxic and hot, and on its way to complete destruction.
"I want them to do something and take action right now because by the time I'll be old enough to take action it will be too late. I want there to be a better planet for me, my brother and the future generations to come.
"I don't want to see plastic ever again. I want there to be more trees. I want people to stop confusing development for progress. I want them to stop cutting down forests and putting up these big ugly buildings in the name of progress - not when it's at the sake of our future.
"I want to save a world that is run on clean energy. I want to see a healthier planet, not one that is being destroyed.
"In some way, there is some hope in me because I'm here today and I'm fighting for the world that I wish to live in to become a reality."
Promila Chaturvedi, 79, who held a sign that read "Bring down emissions, not democracy"
"I've come here today to save our planet. So that we can live, so that my grandchildren's children can live happily, healthily, peacefully.
"I've lived a long time and just in my lifetime, I'm witnessing everything dying. Ice melting, trees dying, animals and insects being wiped out. We have to do something before everything is finished off.
"I survive on hope. And my hope is that governments will start using their brains soon and think about the earth, not industrialisation.
"We want environment first. If there is no sustainability, how can we expect any kind of development?"
Aman Sharma, 16, who earlier this year launched a petition on Change.org demanding the government declare a climate emergency
"The fact that I'm here is shameful in itself. I mean think about it - you have children out on the streets, with posters in their hands and slogans on their lips.
"Protesting for a livable planet, I mean how ridiculous is that? We're having to come out and tell the government 'please give us access to clean water, clean environment and healthy, green life that can sustain us in the future'.
"India needs to stop framing its conservation policies to meet industrial and financial objectives rather than environmental standards. We need to reach net zero carbon emissions by 2030. There is no excuse for that. There is no viable option or alternative for that.
"We need to stop fossil fuel expansion by 2020.
"Unfortunately, I'm having to live in a society where coal plants are valued more than my life and my future.
"I think the most important thing to do right now is for policymakers to speak to us. To involve the children and get them a decision-making hand in something that is going to affect them so, so much in the future."
(Reporting by Annie Banerji)
JOHANNESBURG, SOUTH AFRICA
In Johannesburg, South Africa's biggest city, hundreds of students, activists and ordinary citizens gathered outside the Gauteng Legislature building demanding urgent climate change action from government.
Environmental activists from surrounding towns were present, challenging the government to move away from coal mining which they believe is polluting their environment and damaging their health.
Jade More Sim, 31, teacher
"We are here for our baby so he can enjoy the things we have enjoyed in our lifetime. It was a hard choice to decide to have a baby to begin with. We enjoy wildlife and nature - will he have anything left to enjoy?
"We can recycle and eat less meat, but unless government and corporates get on board we won't see real solutions in our lifetimes."
Paul Leeuw, 47, activist with Ekurhuleni Environmental Organisation
"We are here to tell government that they have not heard our cries. We are not consulted on mining in our communities. We are here to tell them enough is enough. Coal mining is destroying our health. People are sick. We want clean energy."
Nick Burman, 30, PHD student in chemical engineering
"I am here because we need to force policy change. We need to move away from dirty energy. The burning of coal leads to health issues like respiratory problems. This is an environmental crisis but this is also a public health crisis."
(Reporting by Kim Harrisberg)
KARACHI, PAKISTAN
In Pakistan, climate marches were held in 34 cities across the country, including Karachi, Lahore and Islamabad.
In the historic gardens of Karachi's iconic Frere Hall, between 4,000 and 5,000 students gathered for a rally, breaking into shouts of "saaf mahol" (clean environment), "darakht lagao" (plant trees) and "kachra uthao" (clean up the garbage).
Rimsha Ali, 15, a student at Fatima Jinnah Government School, took to the stage to talk about how air pollution was preventing children from going out to play.
"We have grown up without clean air to breathe or safe water to drink," she said, demanding justice from the adults.
Organisers read out a set of pledges, cheered by the crowd who promised to work on implementing them at home, from recycling waste to stopping the use of plastic.
On a sweltering day, amid music and dance, Shifa Naeem, a psychiatrist, said she found the atmosphere "energising".
"Our generation has really messed up the planet and I feel very guilty; I am here to support these young people," said the grandmother.
As an "eternal optimist", she believes younger people "are more conscious of their surroundings", and so when they reach decision-making positions, "better sense will prevail", she said.
Sitting quietly at the back of the crowd was Sofia Qureshi, a serious-looking 12-year-old, who described herself as a "mini version" of Greta Thunberg, whose videos she had watched.
Qureshi eyed the litter in the garden with pain, especially the plastic. "I want to raise awareness about this among my peers," she said, adding her school principal had given her some assembly time to speak out.
"Since the last three years I have become very conscious of this," she said, adding that her family uses cloth bags at home to avoid plastic.
In Islamabad, Rina Saeed Khan, a local environmental journalist, said the turnout was about 2,000 people.
"It was very organic in Islamabad and not headed by anyone and (with) no funding by anyone. I loved the fact that there was diversity," she said.
People from the transgender community and boy scouts joined in alongside politicians, including the minister of state for climate change, said Anam Zeb, who helped mobilise the crowd.
In Lahore, environment lawyer Rafay Alam said about 1,500 people demonstrated, describing it as a "great atmosphere!".
(Reporting by Zofeen Ebrahim)
TBILISI, GEORGIA
Up to 100 people, mostly young students, gathered outside the city hall in Tbilisi, Georgia, joining global strikes demanding stronger action to tackle climate change.
Protesters said they were out on the streets in solidarity with climate demonstrations around the world, but also to air concerns about the local environment.
Some held signs reading "There is no planet B" and "Less meat, less heat".
"We are demanding more investment in public transport in Tbilisi," said Giorgi Ptskialadze, a 19-year-old art history student and spokesman for climate action group Georgian Young Greens.
Other matters of concern were the encroachment of public parks and green areas by development projects and the construction of dams in mountainous regions that are opposed by local residents, he said.
"We cannot breathe in this city because air pollution is toxic," said Mari Tsulaia, an 18-year-old student from Tbilisi. "There are not any green areas and our government doesn't care about it."
(Reporting by Umberto Bacchi)
Editing by Megan Rowling; Please credit the Thomson Reuters Foundation, the charitable arm of Thomson Reuters, that covers humanitarian news, women's and LGBT+ rights, human trafficking, property rights, and climate change. Visit http://news.trust.org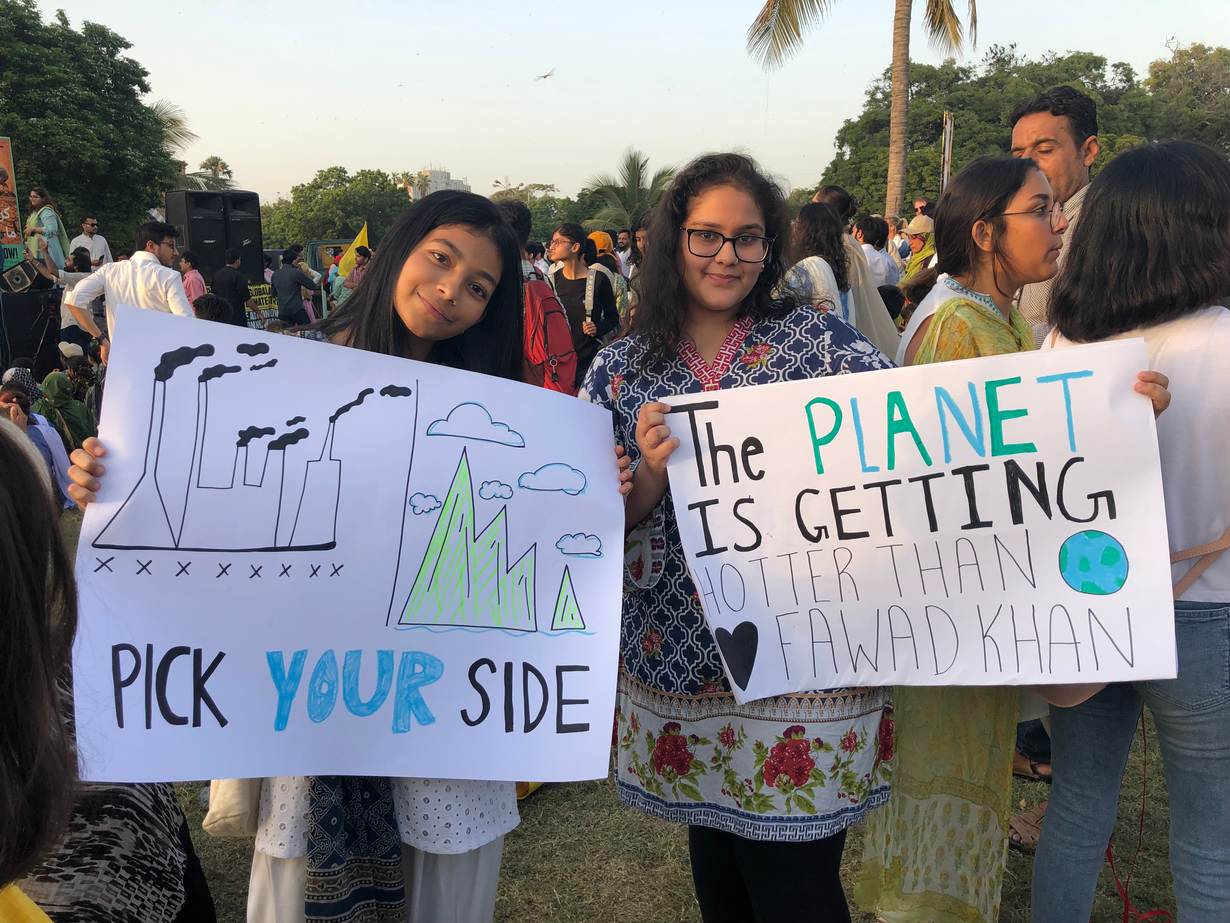 Our Standards: The Thomson Reuters Trust Principles.