Dumping of raw sewage and open defecation has caused sickness among families in Ghana's growing capital city
By Sophie Mbugua
ACCRA, April 13 (Thomson Reuters Foundation) - At the heart of Ghana's capital, on the shores of the Atlantic Ocean, sits Lavender Hill, a former dumping site for raw sewage better known for its aroma of human waste than fragrant flowers.
For decades, cesspit tankers emptied their cargoes of sewage here, collected from across the Accra metropolitan area, while residents traditionally used the site for open defecation.
Some 500 metres away in Jamestown village, 32-year-old Maxwell Lamptay fishes every day in water locals say is contaminated with faeces.
"I do not disclose that I have fished here," said the father of three. "In Accra people refuse to buy the fish when they know it's been caught in this area".
In Jamestown, hundreds of people share public toilets, with the majority defecating openly along the beach.
Ghana approved a revised environmental sanitation policy in 2010 that was meant to put an end to the tradition of emptying untreated sewage into the ocean, now more than a century old.
But the practice continued as the government provided no alternative methods of disposal.
Now it is hoping a new modern wastewater treatment plant, which started operating in November, will finally allow the restriction to be enforced. The site by the sea where the tankers used to dump their load has been blocked off.
Haidar Said, managing director of Sewerage Systems Ghana Limited, said work began on the new plant at Lavender Hill in 2012, in an effort to tackle waterborne diseases and stop the discharge of raw sewage into the ocean.
Under a partnership between a group of companies and the ministries of local government and rural development, Sewerage Systems Ghana and its private-sector partners run the sewage treatment facility, with the government paying a management fee.
The plant also produces biogas from solid waste in the sewage, and in turn uses that gas to generate electricity.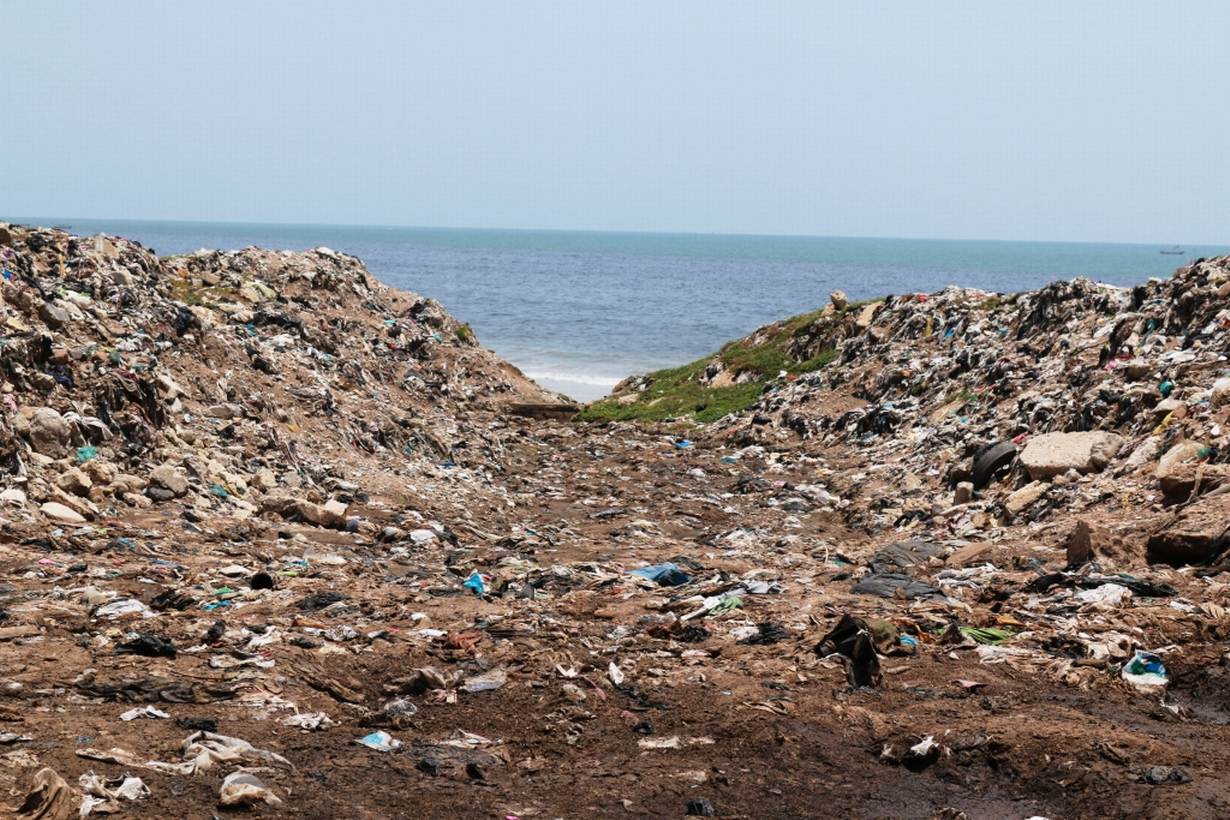 CHOLERA RISK
The world's population produces an estimated 9.5 million cubic metres of human excreta and 900 million cubic metres of municipal wastewater every day, according to a 2016 report by the U.N. Environment Programme.
Meanwhile, more than 80 percent of the world's wastewater is released into the environment without being treated, according to the U.N. World Water Development Report 2017 – a figure that tops 95 percent in some of the poorest countries.
Ghana, like many sub-Saharan African nations, is an economy on the move. Between 2000 and 2011, it recorded an average annual growth rate of 7.5 percent.
Its expanding population, along with industrialisation and urbanisation, has increased the amount of waste generated and put tremendous pressure on landfills.
According to U.N. data, some 5 million people in Ghana still lack toilets and practice open defecation.
For over 45 years now, the West African nation has suffered recurring cholera outbreaks. In 2014, the Ministry of Health recorded more than 15,000 cases, resulting in around 130 deaths in eight out of its 10 districts.
But the situation may be improving - for 2016, the World Health Organization reported 596 cases in only two districts.
Lamptay's two children got sick with cholera in 2014.
"It was the worst diarrhoea my family has suffered in the more than 10 years we have lived here," he said. Because the Lavender Hill dump is close to settlements, children are prone to picking up infections, he added.
Naa Amerley Sawa, a 47-year-old mother of four from Korne Gonno, some 800 metres from Lavender Hill, spent around 430 cedi ($101.78) to treat her 13-year-old daughter when she got sick with cholera several months ago.
She and her children also fall ill with frequent bouts of malaria.
"This neighbourhood has an influx of mosquitoes and houseflies," she said. "Malaria and cholera have become common - every household suffers from one of them."
LOW INVESTMENT
Joy Hesse Ankomah, a senior programme officer at Ghana's Environmental Protection Agency, said only seven of the country's 44 sewage treatment plants are functioning properly.
Companies will recoup the cost of building the new wastewater treatment plant at Lavender Hill - nearly $40 million - from the government's monthly fee of around 2.4 million cedi over the next 15 years.
The plant has the capacity to accommodate around 2,400 cubic metres of liquid waste - 300 to 400 truckloads per day – and is now receiving about two-thirds of that. Each truck pays a small fee of 20 cedi to offload at the plant.
The plant generates 0.5 megawatts of electricity per hour, which it uses for its own operations. It is now self-sufficient in power and plans to produce electricity for commercial use, according to Said.
"The aim is to improve the sanitation levels in Ghana," said George Kwesi Rockson, research and development director at Zoomlion Ghana Limited, which manages some 95 percent of municipal waste in Ghana's 10 regions and is also working on the new plant.
Around 80 percent of health cases are related to sanitation and environmental problems, he noted. But managing waste is not a priority among many sub-Saharan African governments, he added.
"We have failed to understand that investing properly in waste could resolve our increasing health burden," he said.
Currently, less than 0.1 percent of Ghana's GDP is invested in the waste management sector, said Rockson.
"Waste only gets attention during major disasters such as cholera outbreaks," he said.
CLEANER AIR AND WATER
The new Lavender Hill plant releases ultraviolet-treated water into Korle Lagoon, which empties directly into the sea, hoping to clean the lake's water over time.
The rest of the treated water is used for irrigation at the plant and washing equipment.
As African cities gear up to pursue the Sustainable Development Goals and reduce their planet-warming emissions, Rockson believes waste management can reduce methane emissions, black carbon and other hazardous gases from landfills.
Lamptay said the air quality, which used to be unbearable, has already improved in Jamestown.
"The few pit latrines we have are being emptied, and our garbage at the communal collection point is being collected for free," he said. "I can't wait for the day it will rain and not flood - maybe that will bring cholera infections to an end."
($1 = 4.2250 Ghanaian cedi)
(Reporting by Sophie Mbugua; editing by Megan Rowling. Please credit the Thomson Reuters Foundation, the charitable arm of Thomson Reuters, that covers humanitarian news, climate change, resilience, women's rights, trafficking and property rights. Visit http://news.trust.org/climate)
The Thomson Reuters Foundation is reporting on resilience as part of its work on zilient.org, an online platform building a global network of people interested in resilience, in partnership with the Rockefeller Foundation.
Our Standards: The Thomson Reuters Trust Principles.