El Salvador's first and only youth orchestra has become a safe haven for hundreds of children living in gang-controlled areas
By Anastasia Moloney
SAN SALVADOR, May 9 (Thomson Reuters Foundation) - The sweet sounds of classical music float across a sunny courtyard as a group of teenagers pluck the strings of violins and cellos.
But beyond the high gates enclosing the courtyard of the Don Bosco Industrial Polygon Centre, home to El Salvador's first and only youth orchestra, the sounds most likely to be heard are of gunshots.
The centre on the eastern side of the capital San Salvador is surrounded by gang-infested areas where daily turf wars have made the small Central American nation among the world's most deadliest.
On the road leading to the centre stands a teenage girl with red hair, a sign she is a gang member, a mobile phone glued to her ear, checking every person and car that enters.
But inside the building, there are no such controls. The orchestra has become a safe haven from the surrounding violence for hundreds of children who live in gang-controlled neighbourhoods.
The Don Bosco Youth Symphony Orchestra and Chorus aims to keep teenagers off the streets and away from the gangs by offering them an alternative to gang life and culture.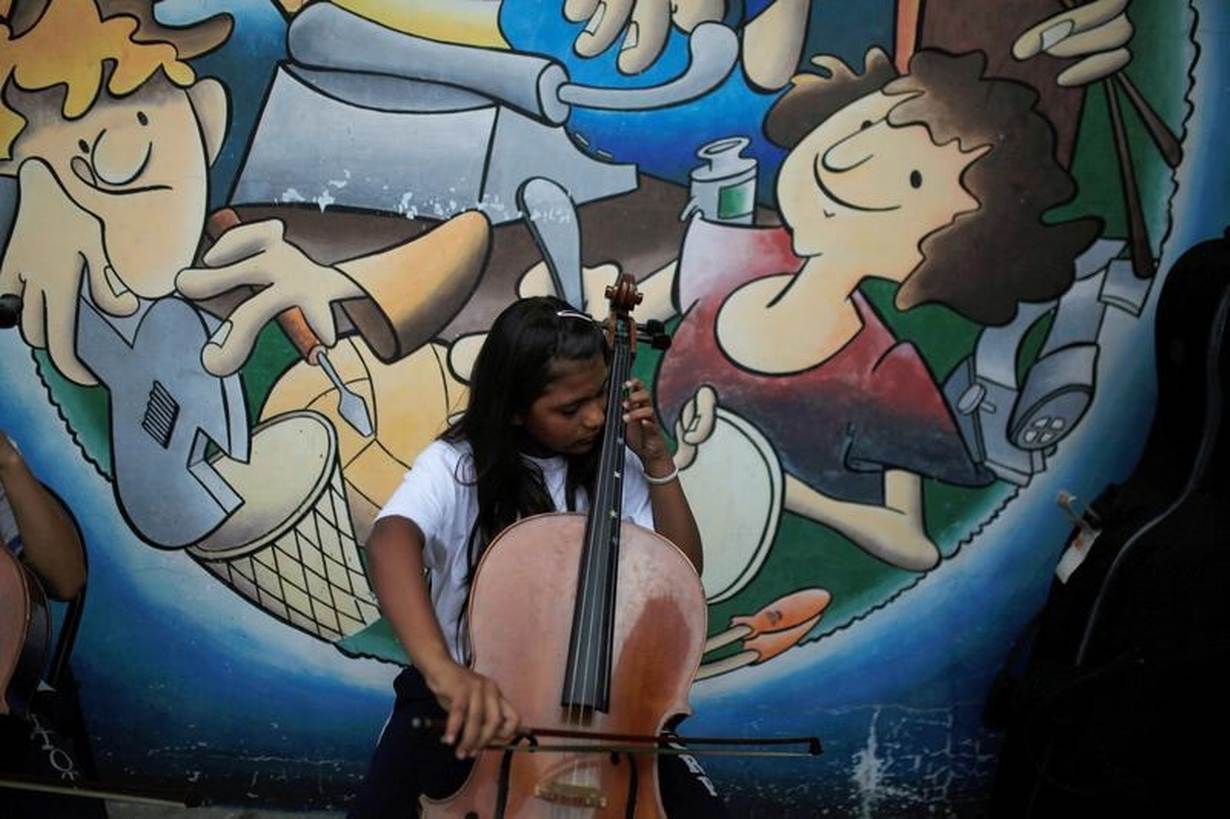 Through music and being part of an orchestra, teenagers find a sense of identity and purpose, countering some of the push factors that cause young people to join gangs.
"There are few spaces and options for children in poor neighbourhoods dominated by gangs," music coordinator Daniel Ayala told the Thomson Reuters Foundation.
"The levels of violence we have reached is absurd. It's senseless. For me violence is also about having a child stuck at home because it's too dangerous for them to be on the street. And the street means gangs."

BEING IN PARADISE
Five years ago, Ayala and other musicians went to perform at 60 schools in deprived areas across San Salvador, hoping to spark interest among budding musicians and form an ensemble.
Schoolgirl Maria Elena Cruz remembers being instantly hooked. She had never seen or heard a classical instrument.
"As soon as they took the violin out of its case, I loved it. It has such a lovely melody," the 14-year-old said.
Cruz said she and her younger brother have hidden under their beds several times during the last year to escape gang crossfire, with bullets whizzing past the windows of their home.
Playing the violin takes her away from the violent reality of daily life, Cruz said, and she is determined to become a professional musician.
"When I play the violin I'm not here. I go to a different world, a different place. It's like being in paradise," said Cruz with a beaming smile.
The many hours of practice over the past five years, two hours every day after school, is paying off.
Last year the teenager was one of 130 orchestra members who went on a concert tour in Washington, performing a repertoire from Bach and Mozart to jazz and salsa.
"I never thought a person like me, coming from where I do, would have been given the opportunity to play in the United States in front of so many people. People applauded and congratulated me. It felt so good," she said.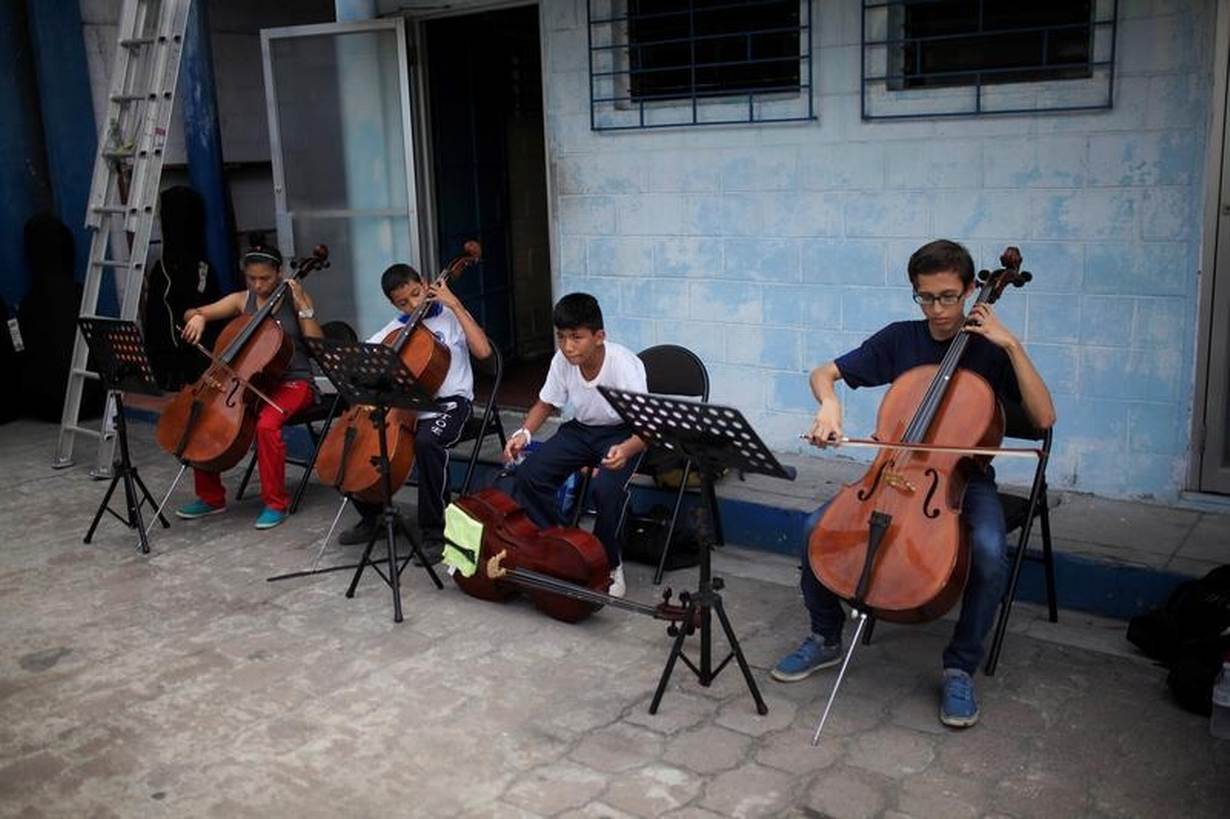 MARKED TERRITORY
Growing up in gang-ridden neighbourhoods, the 350 members of the orchestra and choir aged from 9 to 21 know only too well how gangs lure young people into their ranks.
It often starts with a gang member asking something like: "Have you eaten today? Would you like a donut? Would you like to earn 25 cents by going to the shop to buy me a cigarette?"
Children usually start working for gangs as watchmen, then they become drug dealers, arms couriers and collect extortion payments. As they move up the ranks they get involved in more violent crime, including murder and armed robbery.
Surviving in El Salvador, one of the world's most violent countries outside a war zone, means following certain rules.
It is dangerous, even fatal, to venture into another neighourhood controlled by a rival gang, even to see a friend or relative.
The letters "MS" of the Mara Salvatrucha gang, and graffiti of its bitterest rival Calle 18, are scrawled on buildings, marking gang territory.
"We all know exactly where we can and cannot walk," said one cellist. "When taking the bus to get to rehearsals, I have to go through neighourhoods controlled by different gangs. I always panic when the bus stops and someone gets on."
The orchestra's musicians come from communities ruled by different gangs. On the street this can be a matter of life or death but in the orchestra such distinctions don't count.
"I tell my students I don't ask and I don't care where you come from," said Ayala, a guitarist.
"Our identity is through our orchestra. It's what gives us a sense of belonging. It's the music and playing together in harmony that's the most important thing," he said.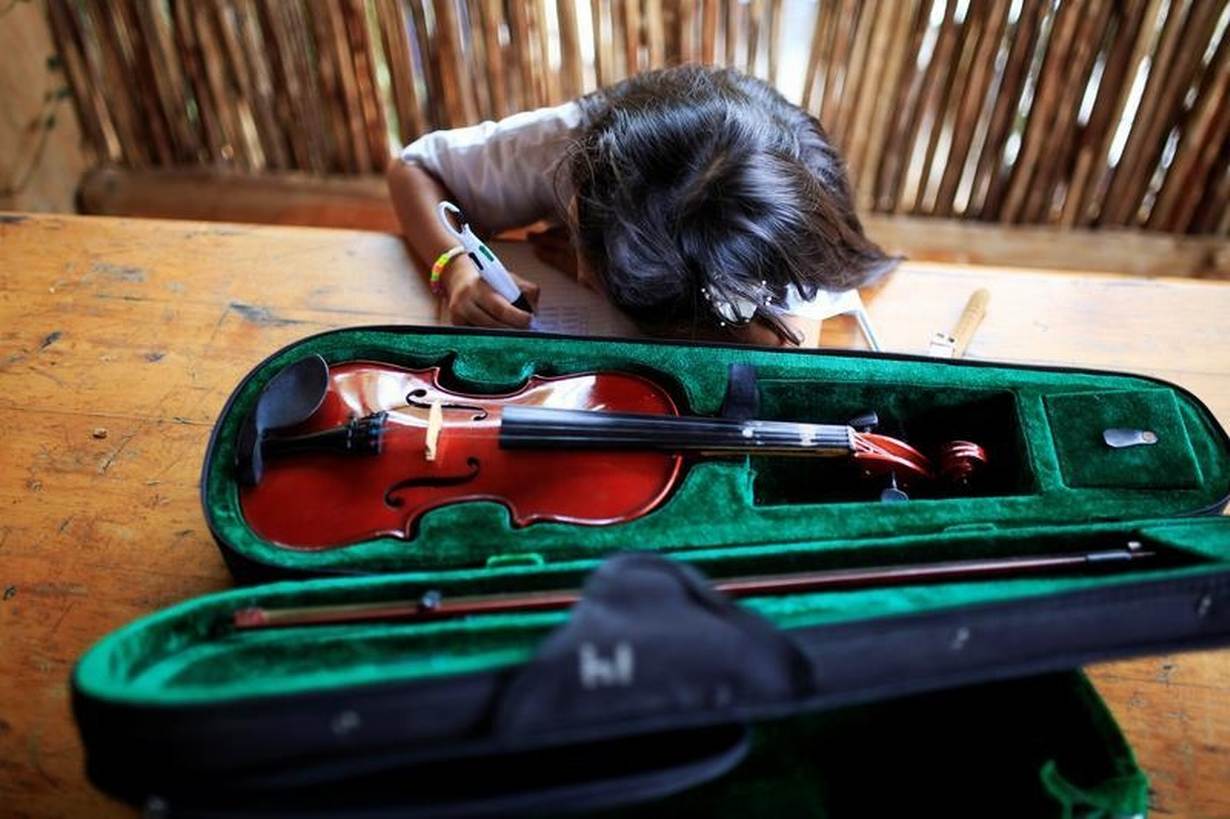 The orchestra has performed 40 recitals across El Salvador and its conductor, Bryan Cea, says through music children acquire a sense of pride, discipline and confidence, values that can act as a deterrent against them joining gangs.
"We are not just teaching young people how to play an instrument but we are teaching them that here you can achieve and solve things through hard work and perseverance," Cea said.
"Parents have told us their children are happier and their school grades have improved," he said.
Violin player Blanca Sanchez, 14, says being a member of the orchestra gives her a certain amount protection from the gangs.
"I think the gangs leave me alone because they know I'm part of the orchestra and so I'm not a threat to them," she said.
Since the programme began in 2011, around 1,000 children have taken part for free in the orchestra and choir but funding has almost ran out, Ayala said.
Up until mid-2014 the programme had been sponsored by a $1 million grant from the Japan Social Development Fund overseen by the World Bank.
"We've had to cut staff salaries by half," he said. "But we carry on because despite everything we believe in the future of our country and we have to do something for El Salvador."
(Reporting by Anastasia Moloney, editing by Ros Russell.; Please credit the Thomson Reuters Foundation, the charitable arm of Thomson Reuters, that covers humanitarian news, women's rights, trafficking, corruption and climate change. Visit http://news.trust.org)
Our Standards: The Thomson Reuters Trust Principles.