A third consecutive year of drought in one of the world's poorest countries has left some one million people hungry
By Katie Nguyen
TSIHOMBE, Madagascar, June 1 (Thomson Reuters Foundation) - Like many people in Madagascar's parched south, Ranotongae had been hoping for the heavens to open up and ease the country's poorest rainy season in 35 years.
So when a few showers fell last month in Androy, one of the hardest-hit areas, the 44-year-old ran outside to plant cowpeas and sweet potatoes, scattering seeds and pushing vines into the moistened earth.
But the rains did not return - and the food has run out.
For the last three months, Ranotongae and her eight children have relied on one meal a day of maize and beans provided by a group of nuns. The sisters started the feeding programme in February, after hearing that villagers were dying of starvation.
"I come here every day. This is the only thing we get to eat," Ranotongae said as she waited patiently with scores of other women and children to be called forward to receive the rations.
A third consecutive year of drought in one of the world's poorest countries has left more than 1.1 million people unable to feed themselves in the semi-arid south of Madagascar, where cacti, sisal plantations and scrubland dominate the landscape.
The drought has all but dried up rivers. During a rare downpour, villagers driving carts drawn by zebu cattle emerged on the region's main road to fill jerrycans and drums with rainwater collected from the highway's crater-sized potholes.
One old woman, who had neither a cart nor a jerrycan, sat on the road, legs stretched out, dipping a collection of plastic water bottles into the puddles that had formed.
Aid officials say the hungry are now often eating their seeds, rather than planting them. Families with acutely malnourished children sometimes share supplements designed to help them, blunting the effectiveness of the treatment.
"What I see here is what we often call a silent emergency," said Dina Esposito, a senior official at the U.S. Agency for International Development and former director of USAID's food assistance programme, Food for Peace.
"It's not on the front pages of the paper. It's not always immediately visible," she said during a tour of USAID-funded projects in Madagascar.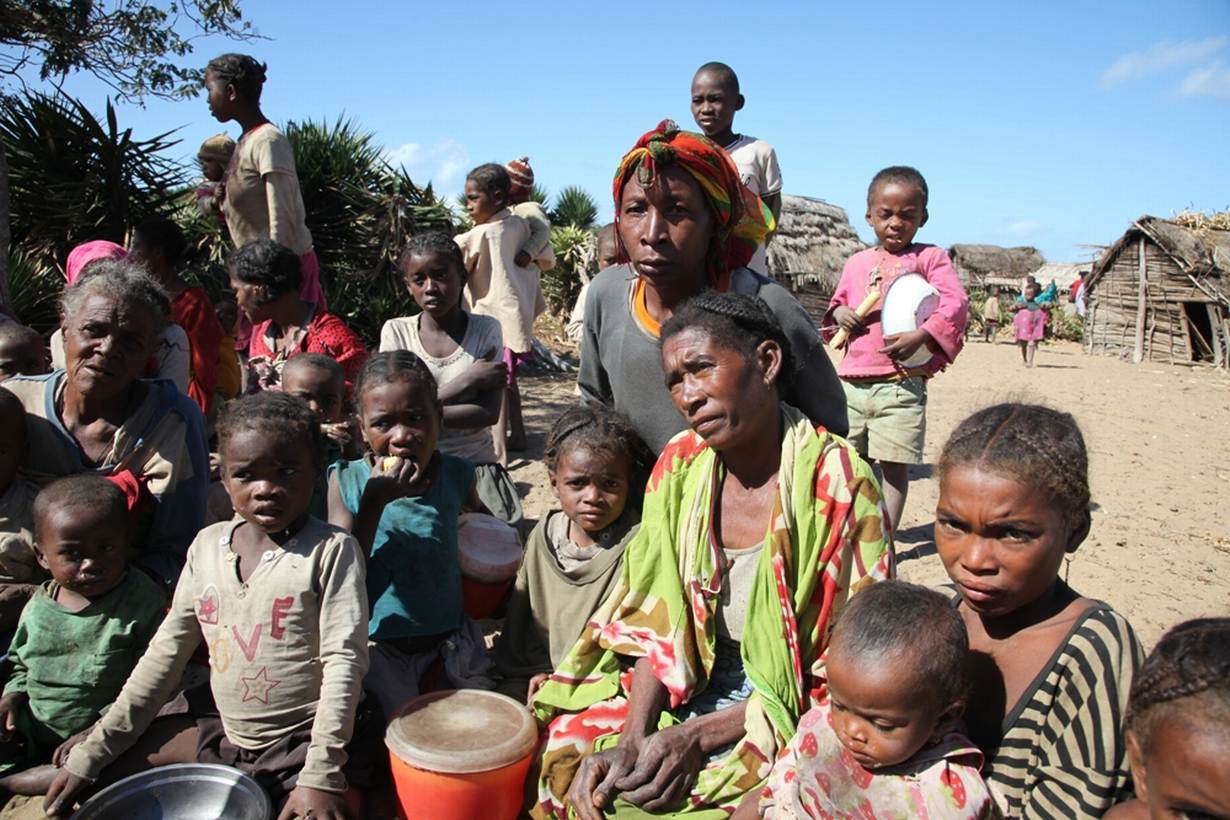 EL NINO'S BITE
El Nino, a warming of sea surface temperatures in the Pacific, has aggravated dry conditions and a worsening food crisis not only in Madagascar, an island 400 km (250 miles) off the coast of mainland Africa, but also across the wider southern African region.
More than 31 million people are affected by food shortages, from Angola to Zimbabwe.
Delayed planting and shrivelled crops are expected to lead to a grain deficit of at least 8 million tonnes in the region. Even South Africa, usually a net exporter of grains to its neighbours, has been forced to import maize, its staple food.
Malawi and Zimbabwe, among others, have declared the drought a national disaster.
Aid officials said it would help Madagascar to issue an appeal for international assistance. The country is still recovering from a political crisis sparked by a 2009 coup that drove away donors.
"It would definitely help in drawing attention and bringing in resources," Esposito said, speaking days after USAID announced it would provide $8 million to help the drought response.
Harrison Randriarimanana, a special adviser to Madagascar's president, said it was possible the Southern African Development Community (SADC), of which Madagascar is a member, may issue an appeal for the region as a whole.
In Madagascar, the U.N. World Food Programme (WFP) and other aid agencies already are helping with food distributions, projects to help farmers cultivate what they can, and efforts to provide food in exchange for clearing land or fixing roads.
Southern Madagascar's people are said to have a reputation for toughness, befitting a population that usually survives with little rain. But one ruined harvest after another has weakened the ability of many to recover, while pushing others to extremes to acquire food.
"People have already lost a lot of their capacity to cope," said WFP Country Director Willem van Milink.
"They lost a lot of their goods and assets, and sold a lot of them, so it has become increasingly difficult for them to face the drought," he told the Thomson Reuters Foundation.
As the nuns' feeding programme got underway, a young girl was rushed forward, bleeding and silent.
Her grandmother said the child had accidentally tipped over herself a pot of cassava bubbling over a fire. The girl had been left behind while her mother went to a nearby market, where she was later found offering sex in exchange for money to buy food.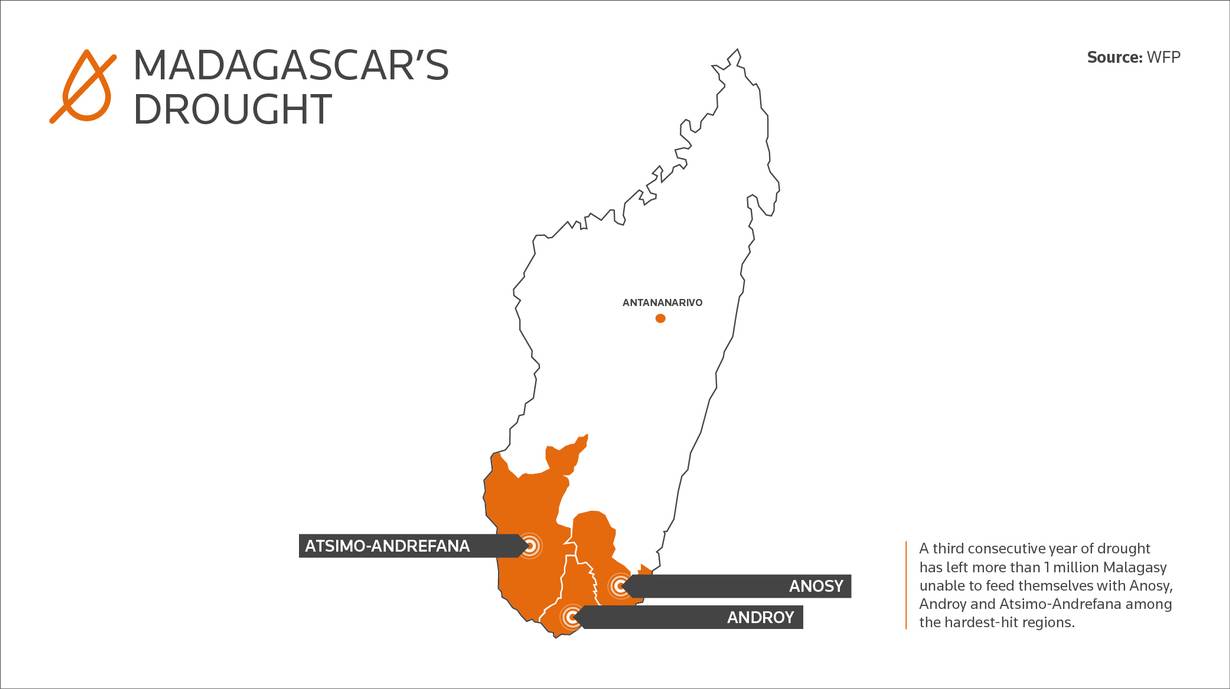 WIDESPREAD STUNTING
Even in relatively normal times, many Malagasy struggle to eat enough food - and the right kind.
Nine in 10 people live on less than $3.10 a day, and the country has one of the highest rates of chronic malnutrition in the world. Virtually one in two children are stunted, and little progress has been made over the past 20 years in reducing that.
Even parts of the more well-off Central Highlands report stunting rates of 60 percent, baffling aid workers and development experts who suspect cultural practices may be responsible.
They wonder if mothers stop breastfeeding too soon or if people are contracting - and passing on - diseases from open defecation.
Malagasy pay a heavy price for malnourishment. It costs the economy an estimated $1.5 billion, or 14.5 percent of its GDP, every year in terms of additional burdens on the health system and schools and losses of workforce productivity, a study led by the African Union Commission shows.
For almost 20 years, Ankilimafaitsy primary school in Ambovombe district has run a feeding programme, offering students a daily meal of maize and beans. The school's director Seraphine Sasara says her pupils are noticeably thinner after the summer break.
"They put on weight when they come back to school. It takes about a month before they are ready to study," she said.
Pointing to a small vegetable patch tended by teachers and students, Sasara said: "We try to provide for ourselves. We can't rely on WFP forever."
But it is hard for the south to shake off its aid dependence - not least because it lies far from the help of the capital, Antananarivo, more than 1,000 kms (620 miles) away.
Largely cut off by poor roads, the region has long been neglected as a result of its remoteness, aid officials say.
The south needs not just international aid to help battle the drought, but more attention from the capital, said World Bank Country Manager Coralie Gevers.
"The government also has a role to play," she told the Thomson Reuters Foundation. "There is a long tradition in this country of spending most of the budget on the capital and surrounding areas."
Spending in Madagascar's south on healthcare is just a third of that in the capital, per capita, she said.
"The health centres can't deal with a crisis when it comes because they have very little to start with. This has to change too," she added.
(Reporting by Katie Nguyen; editing by Laurie Goering. Please credit the Thomson Reuters Foundation, the charitable arm of Thomson Reuters, that covers humanitarian news, women's rights, trafficking, property rights and climate change. Visit http://news.trust.org to see more stories)
Our Standards: The Thomson Reuters Trust Principles.