High temperatures and low rainfall are driving greater losses of forest
By Athar Parvaiz
DEHRADUN, India, June 7 (Thomson Reuters Foundation) - Since the end of April, fires in parts of India's northern states of Uttarakhand and Himachal Pradesh have destroyed or damaged 26,000 hectares of forests, and killed three people, officials say.
The forest fires, touched off by timber smugglers, poachers and farmers, have been a particular problem this year as a result of high temperatures and low rainfall, experts say.
Nationwide, the country is losing an average of a million hectares to fires each year, according to a 2014 report from the government's National Institute of Disaster Management (NIDM).
The losses, combined with those from surging illegal logging, mean India has lost 2,511 square kilometres of dense and moderately dense forest since 2013, according to the Environment Ministry's 2015 Forest Survey of India report.
That loss is a significant worry for a country trying to dramatically reduce its climate-changing emissions. As part of pledges made toward a new global deal to curb climate change, agreed in Paris in December, India has said it will increase its ability to store carbon in forests and land by up to 3 billion tons by 2030.
But criminal activity, extreme weather and flawed data all stand in the way of India's quest to go greener, experts say, and the problem in Uttarakhand illustrates how hard achieving those goals may be.
NO ACCIDENTAL FIRES
Experts and forest officials in Uttarakhand say that whenever drought settles in, the number of forest fires rises exponentially.
"Abnormally high temperatures for two consecutive years and low precipitation have made Uttarakhand's forest moisture deficient, thereby turning it into a tinderbox," said B.P. Gupta, a forest fire officer in Uttarakhand.
Daytime temperatures from October to May were about 2 degrees Celsius higher than normal on 70 percent of days, said Bikram Singh, the state's director of meteorology. The region also had below-average rainfall in 2014 and 2015, he said.
With conditions perfect for setting forests ablaze, timber smugglers hoping to cover their tracks, poachers looking to drive out animals and farmers hoping to clear new ground see an opportunity.
"There is no such thing as accidental fire," said Manoj Chandran, additional secretary for forest and social welfare in Uttarakhand. Almost all the fires are man-made, he said.
"Sometimes timber smugglers (start fires) to wipe away evidence of tree-felling. Contractors who don't get contracts for resin extraction also set parts of forests on fire out of jealousy," he said.
Other culprits include farmers trying to extend their fields into forest areas, said Harsh Bhardan Naithani of the Forest Research Institute in Dehradun.
According to the National Institute of Disaster Management report, people today illegally occupy around 1.5 million hectares of forest land for agricultural purposes. The farmers often set fire to fallen pine needles to make the ground less slippery and encourage the growth of grass for their cattle, Naithani said.
The Uttarakhand forestry department has 1,100 fire stations across the state, each manned by five or six fire fighters trained in spotting and stopping fires, said Jai Raj, the principal chief conservator of forests. About 12,000 village committees also help douse fires when they are discovered, he said.
Even so, few suspects are ever caught. "It is difficult to identify the culprits and file cases against them because they run away from the scene," Raj said. "But we conduct inquiries and sometimes we get clues about the culprits that help us identify them."
So far this year, the department has launched 10 court cases against people alleged to have started fires.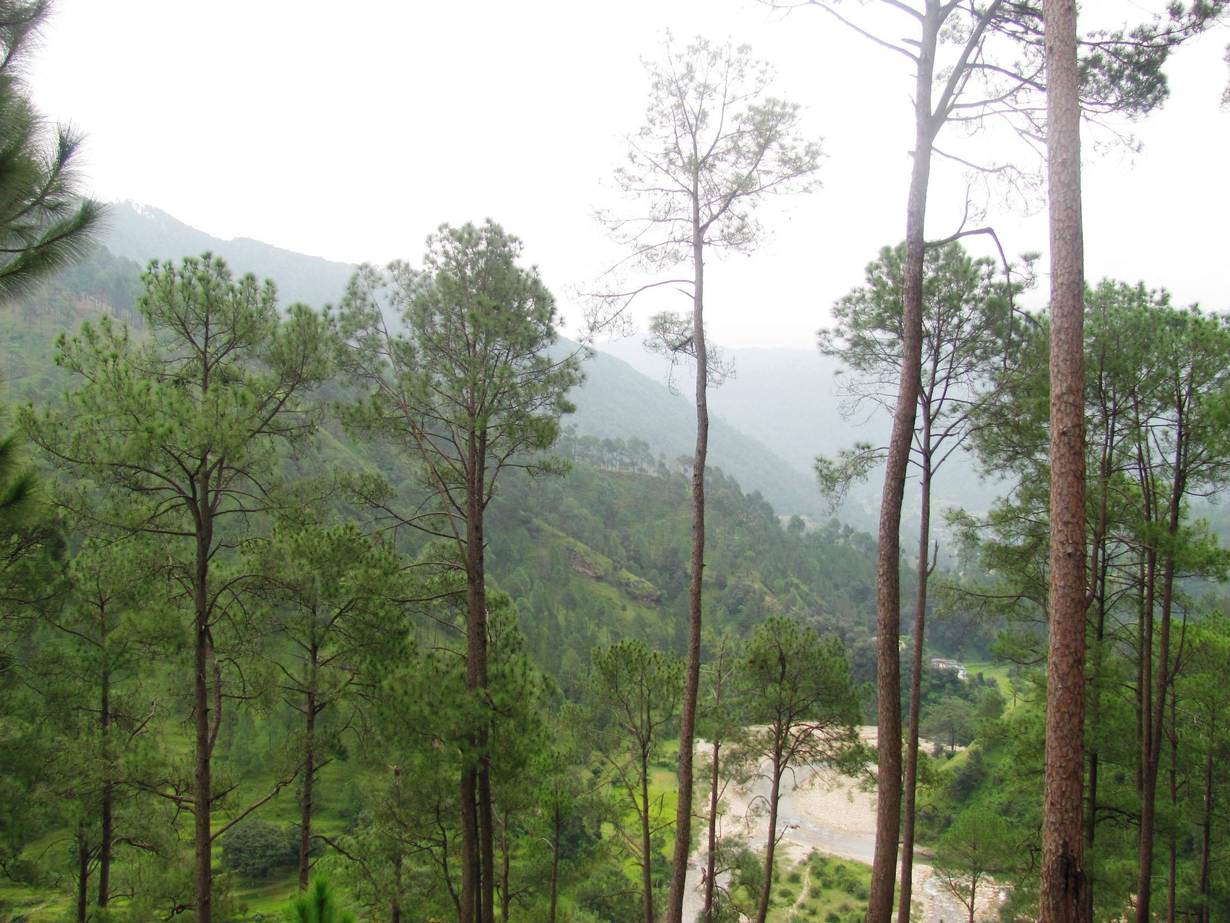 MISLEADING MAPS?
Lack of accurate data is another problem in protecting India's forests, said Shakil Romshoo, head of the Earth Sciences Department of Kashmir University. He believes that, at the moment, inaccurate data diminishes the sense of urgency to tackle the issue.
"If you go by the maps and statistics of the Forest Survey of India, you are given to understand that forest cover in India is increasing," he said. "But we have observed that the technique used for this estimation is flawed because it doesn't make the distinction between less dense and dense forests."
According to Romshoo, the technique used for forest surveys in India doesn't record the illegal felling of trees which has thinned out - but not completely destroyed - many forests across the country.
"Since there are some trees there, the survey maps treat them as forests, which make these surveys quite misleading," he said.
Forest Survey of India (FRI) authorities contend that their surveys are accurate.
"FRI prepares its forest-cover reports by comparing remote sensing images with ground sampling," said Mukul Trivedi, the FRI's co-director of forest surveys. He said the department's forest surveys are more than 90 percent accurate.
But continuing losses of forest are clear, Romshoo said. If the country hopes to achieve its carbon storage goals, it has to focus both on stopping the destruction of its forests and replacing what has already been lost.
In a study published in Geocarto International in May, Romshoo and co-authors calculated that, between 1980 and 2005, the Lidder forests of Indian-administered Kashmir lost around half a megaton of carbon stocks due to deforestation and forest degradation.
"India needs to undertake massive afforestation programmes, (given) the way forest cover in India is diminishing," he said.
(Reporting by Athar Parvaiz; editing by Jumana Farouky and Laurie Goering :; Please credit the Thomson Reuters Foundation, the charitable arm of Thomson Reuters, that covers humanitarian news, climate change, women's rights, trafficking and property rights. Visit http://news.trust.org/climate)
Our Standards: The Thomson Reuters Trust Principles.