As water supplies dry up, solar-powered wells can help
By Danstan Kaunda
KAZUNGULA, Zambia, June 8 (Thomson Reuters Foundation) - Munji Malambo and his younger brother used to wake up at 5 a.m. every day to fetch water for their family and livestock. With the nearest working well over two kilometres away, the boys often missed school as they carried enough water home.
That changed when, earlier this year, the government installed a solar powered-borehole at Malambo's school, the Simukombo Primary School, in southern Zambia's drought-prone Kazungula District.
Now the local community has quick and easy access to clean groundwater. And Malambo, 16, and his 200 classmates can spend their days learning instead of toting water.
The new well is part of a government project to bring water to the Ndemena and Mabole communities, both of which are among the hardest hit by drought in the district.
The aim of the project, launched in 2015, is to build the resilience to climate change of a county suffering prolonged and unpredictable droughts.
"Before this (borehole) we used to walk long distances every morning to get water before coming back to go to school," Malambo told the Thomson Reuters Foundation. "Most of the shallow wells in the area had dried up and the closest one was two kilometres away. Sometimes the water would get very dirty and not safe to drink."
The Ndemena Water Supply Community Project, funded by the Zambian government through the country's Climate Change Secretariat (CCS) - an agency tasked with developing climate resilience and adaptation in the country - has since installed three solar-powered boreholes in the district, at a cost of 20,000 Zambian kwacha ($2,050) each.
Dug 50 to 60 meters into the ground, the boreholes hold pumps that run on energy from 300-watt solar panels and carry water up into 10,000-litre tanks.
Those involved in the project hope that over 200 such solar-powered boreholes will be installed in selected areas of the country within the next two years.
Chama Nambeye, a spokeswoman for the CCS, said the wells will help the country move toward overcoming some of the challenges brought on by climate change.
According to Zambia's Ministry of Finance, floods and droughts have cost the country $13.8 billion over the last 30 years. Water - too much or too little - is at the heart of many of the country's climate-related problems.
Ensuring that drought-prone regions have sustainable access to water is "essential," Nambeye said.
"These boreholes are not only inexpensive to operate, but also have low maintenance costs, which makes them ideal for rural communities," she said.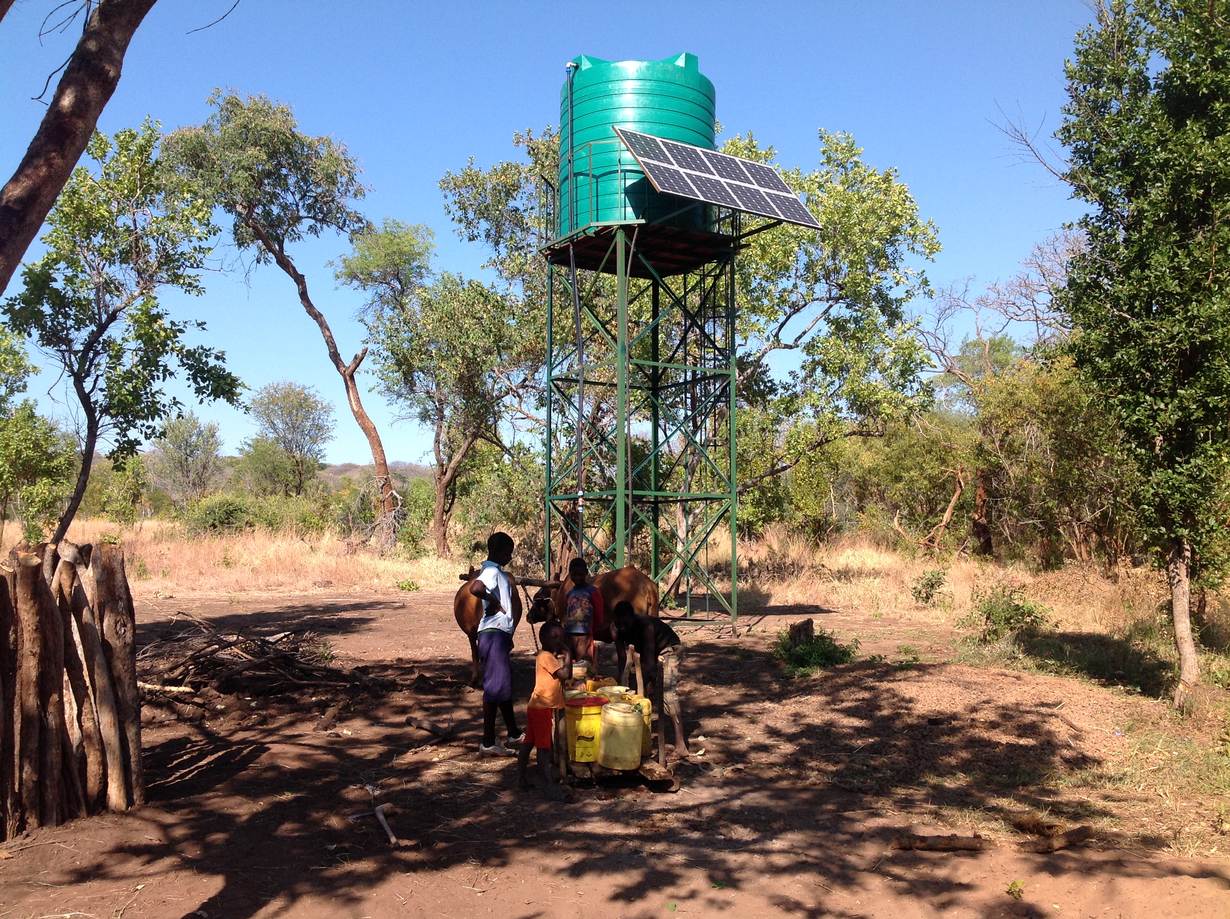 TEMPORARY FIX?
Kazungula District normally receives little rainfall - an average of 600 mm (24 inches) annually. With the added impact of last season's El Nino-induced drought, the district's 2,500 inhabits are struggling to find enough water for their families and their cattle, officials say.
The solar-powered boreholes offer benefits beyond simply quench a community's thirst, their backers say.
The head teacher at Simukombo Primary School, Richard Simfukwe, said that since the well began operating, the rate of waterborne diseases within the community has fallen, while class attendance has improved to above 70 percent.
"Drought this year has worsened compared to the last three seasons, but the provision of a water supply near the school means reduced class absenteeism because (students) have enough time to stay in the school," Simfukwe said.
But there are doubts that the boreholes can continue to provide enough water throughout the year to an ever-growing number of people in need. According to USAID's Famine Early Warning Systems Network, the current season is Zambia's driest in 35 years.
The most recent statistics from the World Food Programme (WFP) show that over 14 million people in southern Africa face growing hunger as a result of drought sweeping across the region.
In Kazungula, water levels are dropping in a nearby river and shallow wells have dried up, forcing more locals and their livestock to walk to Simukombo Primary School to get their water.
"The challenge of constantly providing water to both humans and some 2,000 cattle within the community is still there," said Simfukwe, who is also a livestock farmer.
WaterAid Zambia, a non-government organisation, argues that solar-powered boreholes are not necessarily enough to protect rural communities from increasing drought.
"As we move towards the dry season in the coming month or two, we will definitely be water insecure as a country, particularly when small streams and rivers dry up," said Pamela Chisanga, WaterAid country representative for Zambia.
She said that in some areas of the county even boreholes drilled 60 metres deep are at risk.
"We should find other options of getting a water supply to rural communities other than drilling boreholes everywhere," she said.
She said making communities aware of the need to protect forests in order to preserve rainfall was key.
"Because of lack of energy, we have a lot of trees being cut down for charcoal. This has an impact on natural water bodies such as rivers and springs and on ground-water recharging," Chisanga said.
(Reporting by Danstan Kaunda; editing by Jumana Farouky and Laurie Goering :; Please credit the Thomson Reuters Foundation, the charitable arm of Thomson Reuters, that covers humanitarian news, climate change, women's rights, trafficking and property rights. Visit http://news.trust.org/climate)
Our Standards: The Thomson Reuters Trust Principles.