World could see a 50 percent increase in lightning this century as a result of global warming, scientists say
By Syful Islam
DHAKA, June 22 (Thomson Reuters Foundation) - Bangladesh has seen a near-record number of deaths this year from a phenomenon that appears to be worsening with climate change: lightning strikes.
So far this year, 261 people have died from lightning in the country, putting the South Asian nation on track to beat last year's 265 deaths. Most lightning deaths usually occur during the warm months of March to July.
India has seen a similar surge in lightning deaths, with 93 people killed just in the past two days, officials said.
The problem has prompted Bangladesh's government to add lightning strikes to the country's list of official types of disasters, which includes floods, cyclones and storm surges, earthquakes, drought and riverbank erosion, among others.
As a result, the government now compensates lightning strike victims or their families with sums between 7,500 and 25,000 taka ($95 to $310). Through mid-May the government had paid 1.5 million taka ($18,400) in claims this year to families of 81 people who died because of lightning.
MORE HEAT, MORE RAIN
Scientists say warmer conditions associated with climate change are causing more water evaporation from the land and ocean, increasing clouds and rainfall and the potential for lightning storms.
"The months of April, May and June are the hottest in Bangladesh and the moist air quickly rises upward to meet with dry north-westerly winds to cool and form large storm clouds," Dipen Bhattacharya, a physics and astronomy professor at Moreno Valley College in California, told the Thomson Reuters Foundation.
"Some specialists think that as the world warms up, we should expect more explosive lightning events  rather than a gradual increase," he said.
During the three-day period of May 12 to May 14, 67 people died from lightning strikes in Bangladesh. Altogether, 132 people died in May after being hit by lightning, according to the Foundation for Disaster Forum, a Dhaka-based disaster preparedness network.
Altogether, 1,476 people have died from lightning in Bangladesh since 2010, Bangladesh Meteorological Department data shows.
According to a 2014 University of Berkeley study, lightning strikes are expected to increase by 12 percent for every degree Celsius of warming, with a 50 percent rise in lightning expected by the end of the century.
According to Bangladesh's Met Office, prior to 1981, the country saw lightning strikes on average nine days each May. Since that time, the country has seen strikes an average of 12 days each May.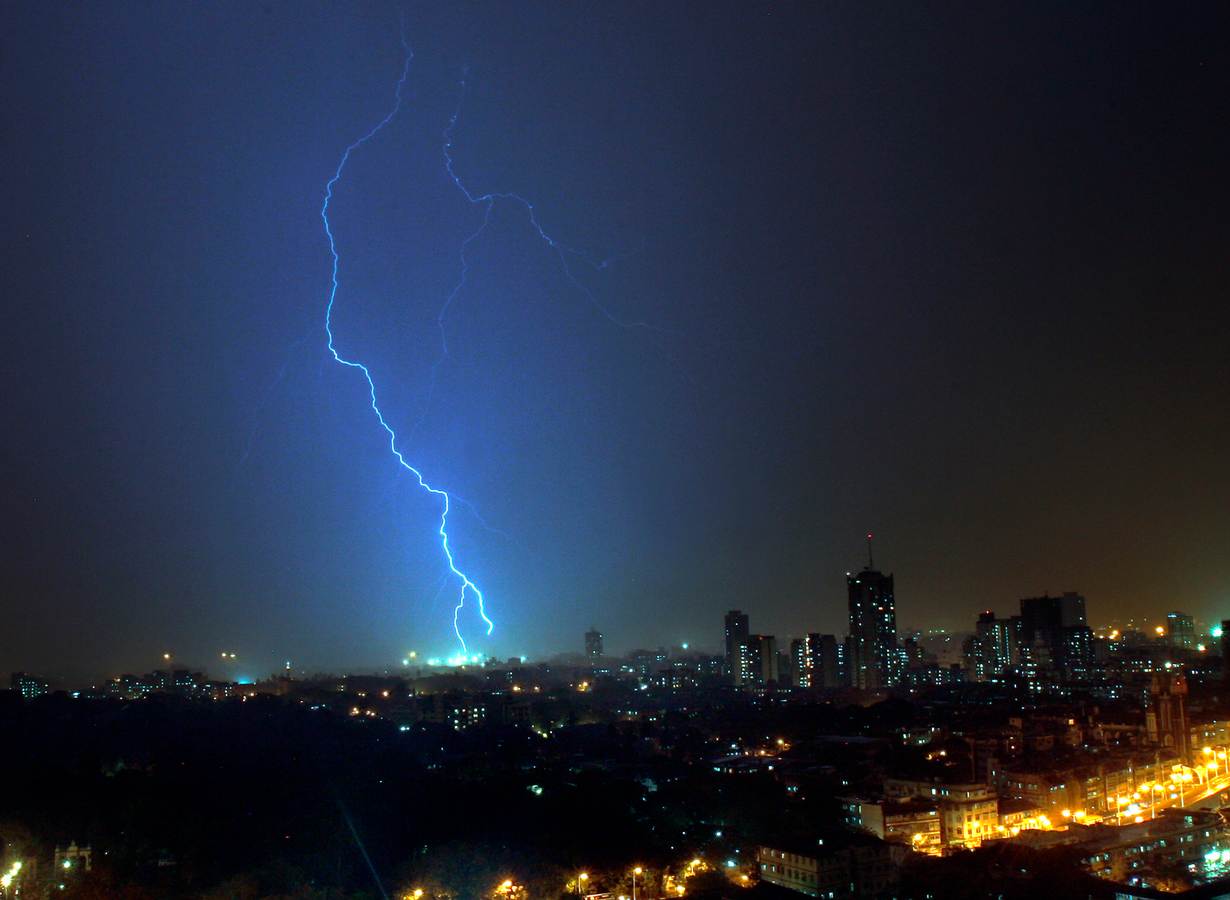 LOSS OF TREES
Experts in Bangladesh and internationally say the rise in fatal lightning strikes may also be related to the country's population growth and to deforestation, which has led to the disappearance of many tall trees that earlier would have drawn lightning strikes.
Now fatalities often involve farmers using metal farm equipment in open fields, or people standing near metal cell phone towers or electrical power towers, experts said.
Some said they believed cell phone use also might be leading to more lightning fatalities, but other experts said that link is unlikely.
Lightning continues to kill people who take shelter under trees during electrical storms as well, they said.
Atiq Rahman, executive director of the Bangladesh Center for Advanced Studies, told the Thomson Reuters Foundation that it would not be wise to blame the rise in deaths directly on climate change.
But A.Q.M. Mahbub, an earth and environmental science professor at the University of Dhaka, said rising global temperatures over the last century were driving a range of changing weather phenomenon, including stronger tropical cyclones, thunderstorms, floods, droughts and heatwaves.
"The increased numbers of lightning strikes may be due to global warming but it needs further research to be confirmed," he said.
He said the United States, which once saw 200 to 300 lightning deaths a year, had managed to dramatically reduce that toll by making people aware of the risks of standing in open areas during thunderstorms.
In Bangladesh - or anywhere where storms threaten - "people should take shelter immediately in any (building) and farmers should flatten themselves to the soil when they meet any possibility of thunderstorm to avoid incidents," he said.
(Reporting by Syful Islam; editing by Laurie Goering :; Please credit the Thomson Reuters Foundation, the charitable arm of Thomson Reuters, that covers humanitarian news, climate change, women's rights, trafficking and property rights. Visit http://news.trust.org/climate)
Our Standards: The Thomson Reuters Trust Principles.