In India's mountainous Jammu and Kashmir state, landslides - and the fear of them - is driving growing problems
By Ashutosh Sharma
UDHAMPUR, India, June 23 (Thomson Reuters Foundation) - When a landslide swallowed up the mountain village of Saddal in September 2014, Neemu lost his wife and a child, along with his terrace farm and livestock.
He and his surviving son were evacuated to a nearby village in Udhampur district to join over 130 other families who had also lost homes and family members to landslides triggered by relentless heavy rain.
But for the growing numbers of people in Jammu and Kashmir that have been displaced by landslides or have moved to avoid risk zones, creating a new life in a new place has proved difficult. Many are struggling not just with poverty and a lack of farmland and services but also with mental illness brought on in part by their losses.
"There is no one in Neemu's family who could perform certain rituals to help his dead family members rest in peace," one villager told the Thomson Reuters Foundation.
As a result, Neemu now struggles to cope mentally, the neighbour said, and has turned from a self-sufficient farmer to someone who roams the streets begging for alms, with his child riding piggyback.
Experts fear such problems are set to rise as a growing number of people in the mountains of Jammu and Kashmir carrying out a gradual but desperate migration to other parts of the region, fleeing landslides or the risk of them.
Many end up homeless, with no access to healthcare and no reliable source of income, local people say. That creates lasting stress, and many complain of depression and nightmares.
For some, the psychological damage is so severe they cannot find a way to cope.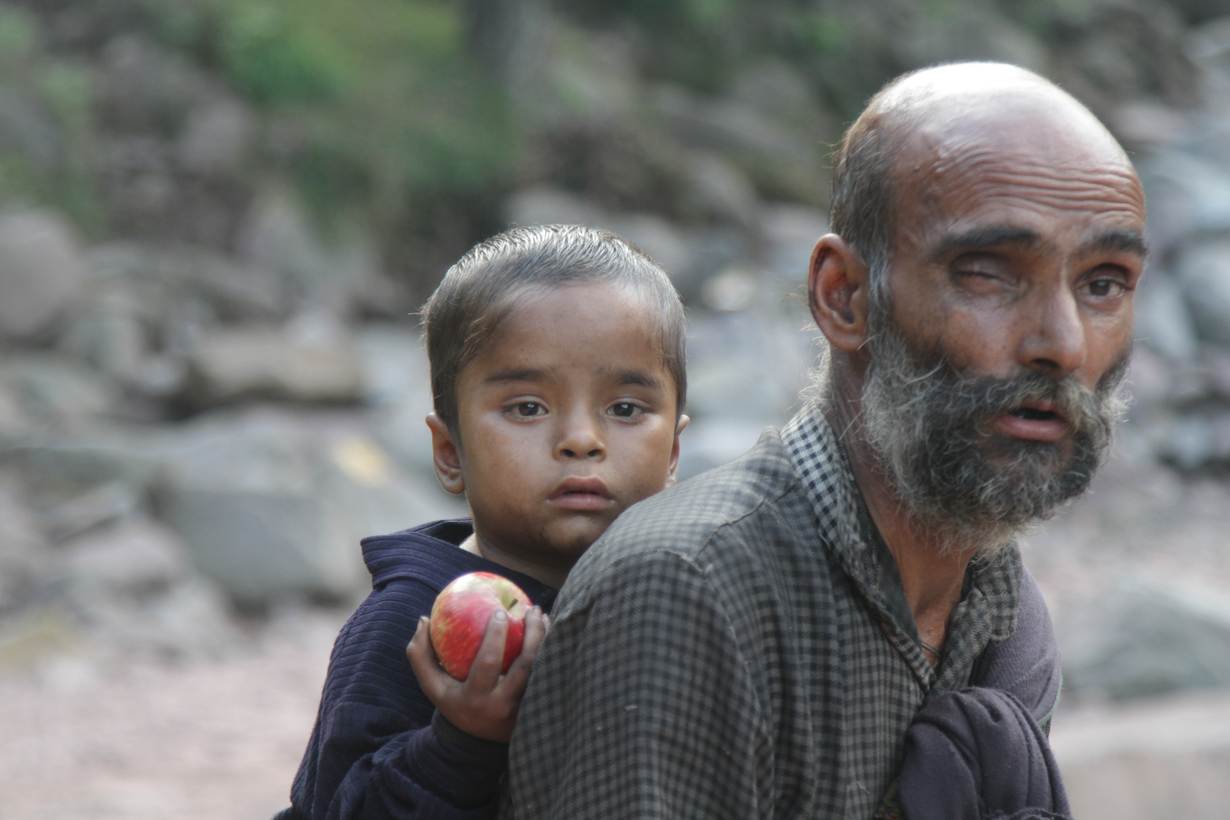 'SPIRITS OF THE DEAD'
According to displaced villagers now living in Sui Chakhar camp, on the outskirts of Udhampur town, Neemu's is not an isolated case.
"My brother and his wife get possessed by the spirits of their dead family members regularly," said Bansi Lal, 41, whose brother lost two daughters, his father and another brother in the landslide.
Bansi said his brother and other relatives had recently gone back to Saddal to perform rituals and set up moray - stones engraved with symbolic figures of the dead - in the hopes of escaping aatya, the wrath of his family's angry souls.
Other villagers have developed speech problems or have started experiencing what Bansi termed "attacks of insanity" after losing their families and livelihoods in the landslide.
Without sufficient help from the government to rebuild their lives, displaced villagers are seeking help wherever they can.
"Those who are accepting the advice of the dayala (local faith healer) are getting relief," said villager Kunj Lal, 55. But others are suffering, he said.
EARTHQUAKE RISK
Landslides in Jammu and Kashmir state "have almost doubled during the past 20 years," said G.M. Bhat, a geologist and rector at the Bhaderwah campus of the University of Jammu. Continuing deforestation and badly planned development have contributed to the problem, he said.
According to Bhat, more prolonged periods of rainfall, associated with climate change, are destabilising slopes. The state also sits in a region of high seismic activity, and earthquakes often trigger landslides.
A study published in April by the Geological Society of America predicted the Jammu region could see an earthquake of at least magnitude 8.0 in the future, which study authors said could endanger a million lives.
The earthquake risk to people in the region is "large and probably underappreciated," the authors wrote.
In some mountain villages "people live at risk of getting crushed under landslides but have nowhere to go," Bhat said.
In the wake of the September 2014 tragedy, the government created the State Disaster Management Authority (SDMA) to help prepare for and respond to earthquakes, floods, avalanches and landslides that hit Jammu and Kashmir state.
But experts argue that the authority - made up of government officials, bureaucrats and police - lacks the resources and expertise it needs to do its job.
"The SDMA lacks a heart," said Bhat. What it needs, he said, is a research wing, employing scientists and technical experts, to develop effective plans to cut rising disaster risks.
SEEKING MORE HELP
Two years after the 2014 landslide, villagers said as many as 20 bodies still have not been found. In several cases, rescue workers only retrieved severed body parts, they said.
The government insists that is not the case.
"Forty people were killed in the landslide and 36 bodies had been recovered when the rescue operation was called off," said Angrez Singh Rana, additional deputy commissioner for Udhampur. Families were given 500,000 rupees ($7,500) for each family member who died, he said.
But villagers insist the government needs to do more, and quickly.
Of the 134 families who fled Saddal and adjoining areas, about 51 are living in Sui Chakhar village in poverty, without toilets or safe drinking water. Despite the tragedy they suffered, the farmers said they still had to repay bank loans they had taken to purchase seeds, fertiliser and livestock as they tried to restart their livelihoods.
At the camp, many of the displaced said the government should give them more money to help rebuild their shattered lives.
Others want the government to help them heal in other ways. Some families, who have continued digging at the landslide site in hope of retrieving the bodies of lost family members, want the government to bring in men and machinery to retrieve all the bodies. They also want a temple built in memory of the deceased villagers.
"Before the landslide, we were self-sufficient. There was a certain dignity in that life as we had houses, farms, livestock and a sustainable livelihood," said villager Kunj Lal. "The disaster and official apathy has turned us into paupers." (Reporting by Ashutosh Sharma; editing by Jumana Farouky and Laurie Goering :; Please credit the Thomson Reuters Foundation, the charitable arm of Thomson Reuters, that covers humanitarian news, climate change, women's rights, trafficking and property rights. Visit http://news.trust.org/climate)
Our Standards: The Thomson Reuters Trust Principles.