* Any views expressed in this opinion piece are those of the author and not of Thomson Reuters Foundation.
The fund's board should not prioritise large-scale, business as usual investments but focus on solutions for the poor
The Green Climate Fund (GCF) board will meet at the end of June in Songdo, South Korea, to select from a pipeline of projects and programmes to reduce carbon emissions and build climate resilience in developing countries.
But given the small number of projects allocated funding so far and the length of time to disperse the money, the GCF is under growing pressure to spend the targeted $2.5 billion of its $10.3 billion pot by the end of 2016.
This gives rise to concern that conventional large-scale infrastructure projects will be prioritised over smaller, decentralised, innovative solutions benefiting people living in poverty, such as off-grid energy services for rural communities.
The GCF board must take bigger risks, supporting entities that can channel funding to reach local communities and build capacity among institutions so they are agile enough to integrate climate and development initiatives.
Skewed spending
A new report by IIED and HIVOS - which crunches over a decades' worth of data on how far international public climate funds are targeting decentralised energy access - shows this risk of skewed spending is all too likely.
In the energy access sector, policy and investment is still far too focused on large-scale grid extension, rather than the myriad of small-scale off-grid and mini-grid services, often quicker and cheaper to deploy.
The GCF board has so far approved eight projects worth $170 million with the latest projects worth $207 million to be considered at the board's 13th meeting.
Looking at the eight projects already approved, how far has the GCF delivered its promise to invest in innovative, smaller-scale activities that bring real benefit to those hardest hit by the impacts of climate change?
Good news for adaptation funding
Most projects approved in the last tranche and those being considered in the next round focus on adaptation. This sends an important signal that funding is being allocated both to projects helping countries adapt to climate change and those reducing greenhouse gas emissions.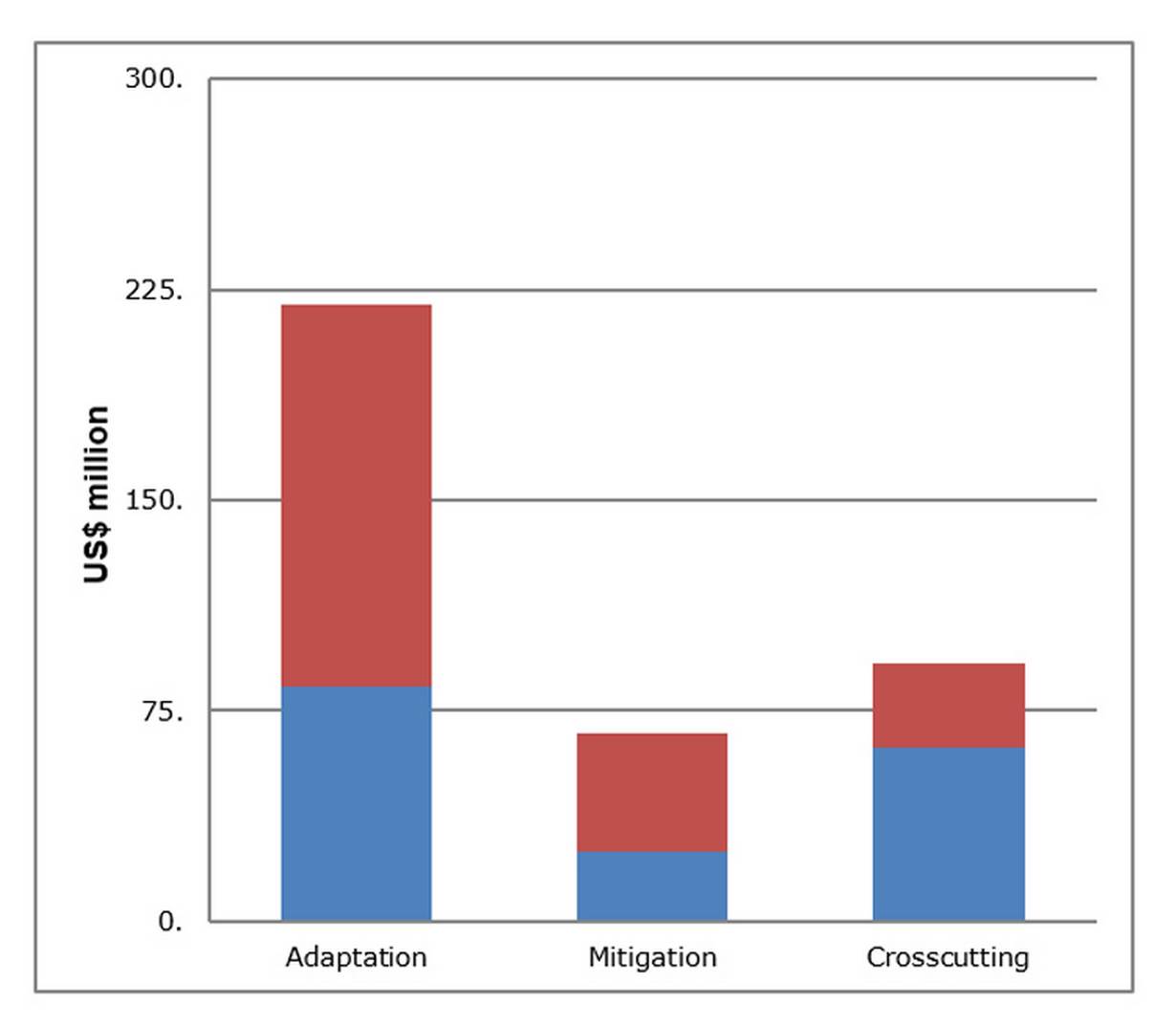 Balanced allocation for low- and middle-income countries
Almost half of the projects signed off in 2015 were approved for Least Developed Countries (LDCs) and Small Island Developing States (SIDS). Although there are more projects from middle-income countries in the upcoming tranche, the total share for LDCs remains relatively high. This is a welcome trend for these vulnerable countries as most international climate finance to date has been allocated to higher- or middle-income countries.
Large-scale investments still dominate
Most funds still focus on large-scale investments rather than local community projects; sub-national priorities once again remain on the decision-making fringe.
This trend prevails in energy projects. A quarter of projects considered for the next round focus on building energy systems that are more efficient. Efficiency is important, but it is striking and worrying that only one of the projects cover decentralised renewable energy investments.
Recurring trends
Other climate funds show the same pattern. The Climate Investment Funds (CIFs) and the climate strategies of multilaterals development banks focus on large-scale investments through bigger funds such as the Clean Technology Fund (CTF) in middle-income countries. These overshadow small-scale community focused investments.
A new report published by IIED and HIVOS shows only three percent of international climate funds have targeted decentralised energy projects compared with 40 per cent of funds going to the energy sector, most of which are being spent on large-scale grid-based electricity in middle-income countries.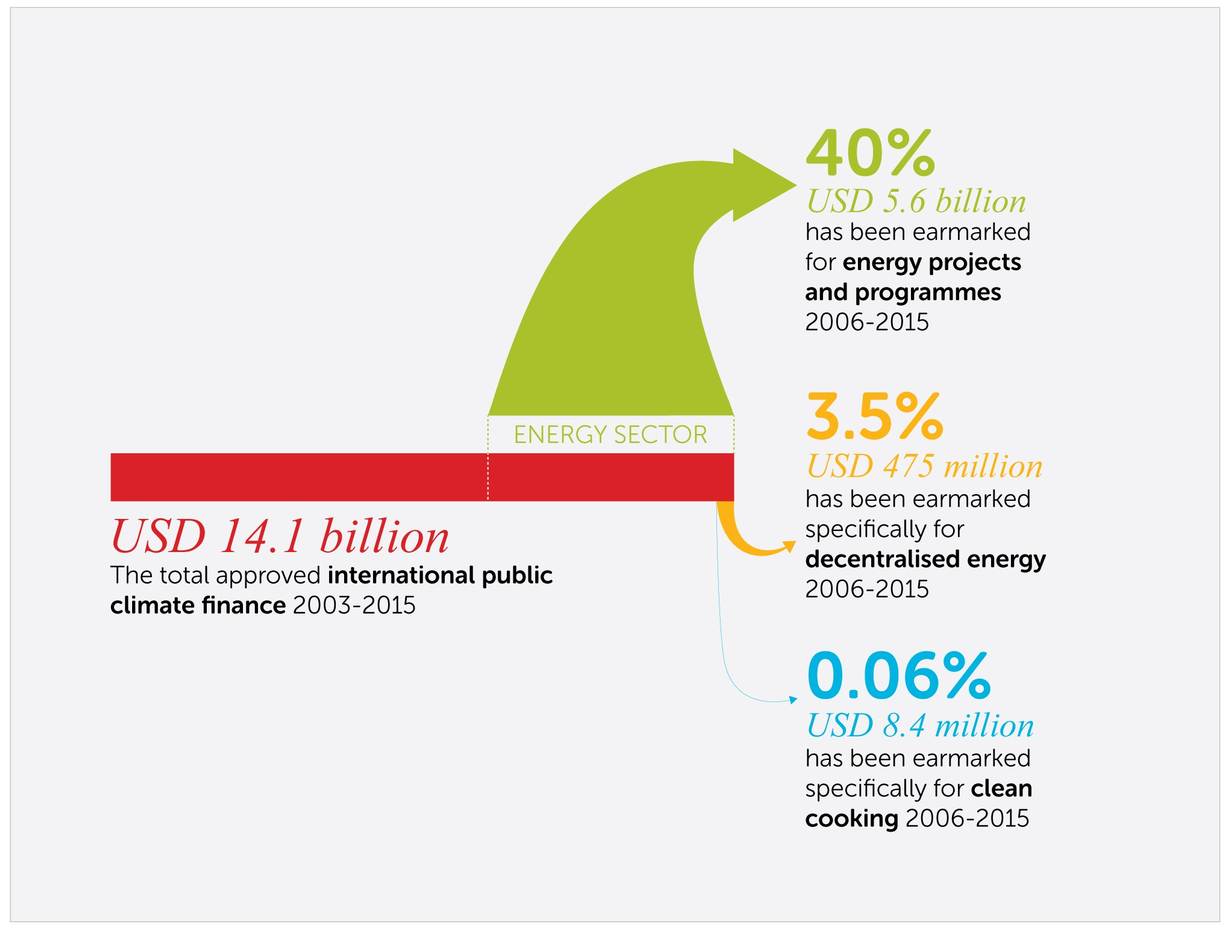 The International Energy Agency estimated in 2011 that additional $23 billion per year is needed for financing decentralised energy. Yet our number crunching found that international public climate finance channels an average of $51 million a year – or just 0.2 percent of what is needed.
Climate finance can't fill all the funding gaps, but it surely can do better than this?
International agencies trump local actors
While there is clear need to engage national and local agencies that are closer to communities most vulnerable tolimate change, the majority of projects are being channeled through international agencies. Of the GCF's existing projects, almost 90 percent of spend is through multilaterals like UNDP, World Bank and Inter-American Development Bank, rather than national or regional agencies.
A further three year extension of the CIFs announced last week in Mexico will accentuate this trend of bulk funding through multilateral development banks.
A forthcoming IIED report emphasises how the current international financing architecture meets the demands of powerful international funding agencies but restricts access for local projects that safeguard the poor and vulnerable.
A promising sign is the GCF board's simplified processes for approving proposals for certain activities, in particular small-scale activities. This is on the agenda for discussion at the meeting next week.
Neha Rai and Sarah Best are researchers specialising in climate finance at the London-based International Institute for Environment and Development.