Nearly 700 of Colombia's 1,096 municipalities are thought to be contaminated by landmines
By Anastasia Moloney
SAN RAFAEL, Colombia, July 12 (Thomson Reuters Foundation) - Kneeling down in the middle of a minefield, Noralba Guarin uses a spade to scrape away the hard red earth on a remote wooded hillside in southwestern Colombia.
Sweating under her protective anti-explosive vest and shatterproof mask, she searches for landmines, a deadly legacy of 52 years of civil war in Colombia, one of the most mine-scarred countries in the world.
"I never imagined I'd be looking for mines," said the widow and mother of two young children as she hacked away at vegetation near the village of San Rafael in Colombia's province of Antioquia.
War forced Guarin to flee her home twice, once aged 13 to avoid being forcibly recruited by rebels from the Revolutionary Armed Forces of Colombia (FARC), and years later when rebels threatened her again when she was heavily pregnant.
Now Guarin works for the British-based Halo Trust, a demining group, clearing the mines the FARC planted in their fight against government troops.
"At the start of the day, the first thing you think is that I know that here in front of me, there could be mines where I haven't yet cleared," she told the Thomson Reuters Foundation.
"I have to be cautious and careful and follow what I've been taught and trained to do to the letter," said the 26-year-old, who started her demining job a year ago.

HISTORIC CEASEFIRE
In the surrounding rolling countryside guns have fallen silent and the bombing raids have stopped following a bilateral ceasefire signed in June between the government and rebels.
This brings Colombia ever closer to signing a full peace accord to end half a century of war and Latin America's longest-running insurgency. A final deal is expected within weeks.
But as Colombia emerges from decades of war, the enemy remains - in the form of landmines that lurk beneath the soil.
Getting rid of mines in Colombia - a land of mountains and jungle terrain - is a key challenge facing the battered nation and is a crucial for rural development and tackling poverty.
It's a task experts estimate will take a least a decade.
After Cambodia and Afghanistan, Colombia has the third highest number of landmine casualties, with 11,440 people, including civilians, children and soldiers killed or injured by landmines since 1990, government figures show.
Most of the landmines have been planted by FARC fighters in rural areas to push back army troops and destroy their morale.
The drug-running FARC rebels have also planted mines in and around coca fields - the raw ingredient of cocaine - to protect their valuable crop.
Often made from empty glass bottles of rum, coffee and tuna cans, and plastic tubes filled with sulphuric acid, homemade mines have been a cheap, and easy to make, weapon of war.
The government says nearly 700 of Colombia's 1,096 municipalities are thought to be contaminated by landmines.
Now with the historic ceasefire three weeks in, hopes have been raised that the FARC will stop laying landmines for good.
It paves the way for mine clearance to speed up and expand as security improves in areas once controlled by the rebels.
"We hope with the peace agreement we can move into more areas," said Alex Greenall, Halo Trust's senior operations officer in Colombia.

SLOW PACE
As part of the peace effort, a pilot programme started last year involving guerrilla fighters working alongside army soldiers to identify and clear a small number of minefields. Such efforts are likely to increase once a peace deal is signed.
In addition, the Colombian military has been carrying out its own demining operations for more than a decade. It says all of the mines it planted over the years have now been cleared and the army has found and destroyed 5,262 mines since 2004.
Colombia's president, Juan Manuel Santos, this year pledged to make the country free of mines by 2021 and said there will be 10,000 people working on mine clearance by next year.
But near San Rafael, thick vegetation makes mine clearance hard going. Nearby electricity towers interfere with metal detectors and workers must use simple gardening tools.
Guarin and the 27 other civilian deminers working for Halo Trust in this area clear an average of just 6.8 square meters each day, roughly half of what can be cleared in easier terrain using a metal detector.
"It's 90 percent gardening. The terrain, vegetation and logistics of accessing areas make it slow pace," Greenall said.
The other challenge is that no one knows exactly where and how many mines there are or how much it will all cost, he said.
It means Halo Trust staff go from village to village, from house to house, gathering information from villagers about the possible whereabouts of mines to piece together a detailed map.
On the hillside Guarin's colleague, Wilmar Gil, is scouring for mines. Beside him two sticks mark the spot where landmines have been found since demining started here in May.
For him the work has a personal poignancy. Gil was 14 when he heard the screams of his father who stepped on a landmine while tending his cassava crops one day in 2005.
The mine tore off his father's ankle, forcing doctors to amputate his leg below the knee.
"I was nearby and heard an explosion, then my father screaming help, help! He almost bled to death," said Gil, 25.
"I was drawn to the job because of what happened to my father. It made my very sad seeing him like that. I think that this is something very, very inhumane. It's very barbaric."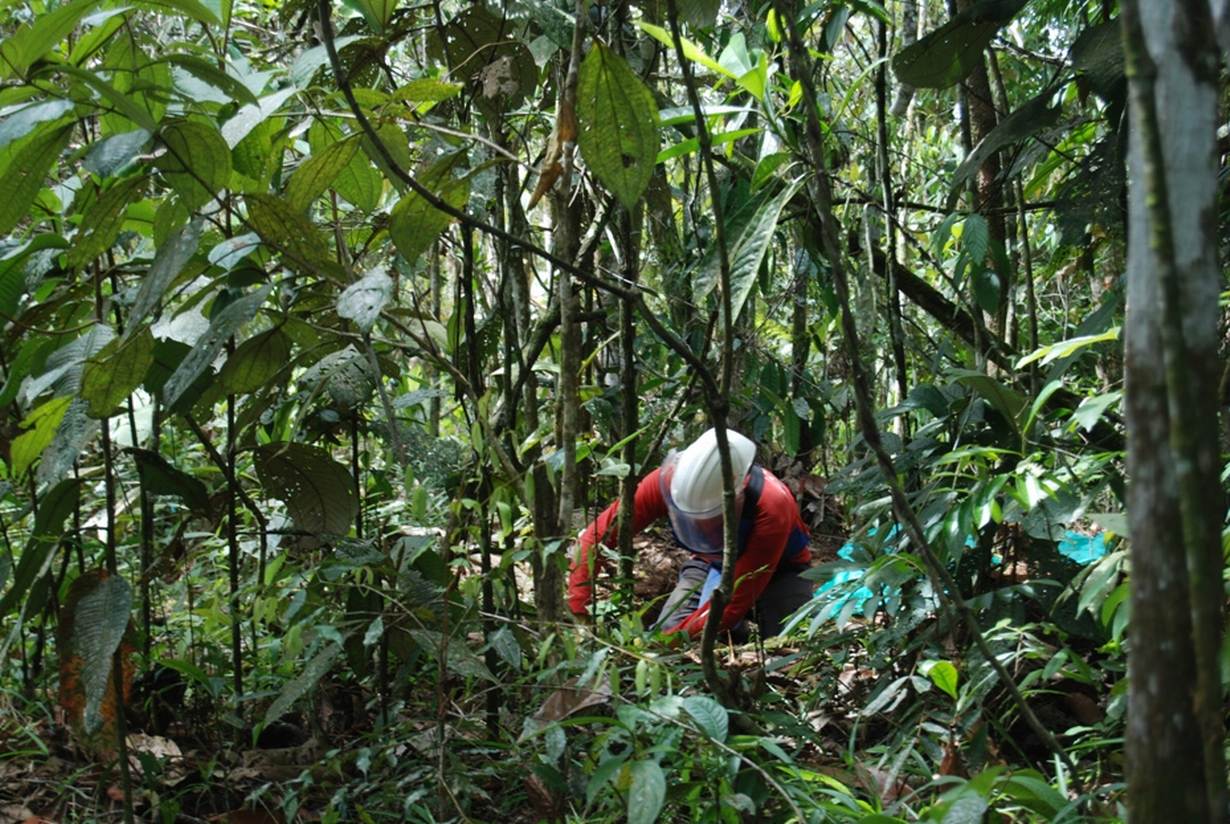 CATALYST FOR RURAL DEVELOPMENT
A peace deal could pave the way and encourage more of Colombia's 6.7 million displaced people to finally return home. But unless swathes of land are cleared of mines, many farmers and their families will be too afraid to go back.
For Juan Romero, an ex-combatant who belonged to an illegal armed group for four years and laid down his weapons in 2006, clearing mines is a chance to contribute to building peace.
He is one of nearly 20 ex-combatants, from all sides in the war, employed by the Halo Trust as mine clearers.
Romero, who declined to give his real name, started clearing mines last year and has so far found one.
"Before we were actors in the conflict," the 32-year-old said. "Now we are actors of peace, actors of construction and transformation."
(Reporting by Anastasia Moloney, editing by Ros Russell; Please credit the Thomson Reuters Foundation, the charitable arm of Thomson Reuters, that covers humanitarian news, women's rights, trafficking, corruption and climate change. Visit http://news.trust.org)
Our Standards: The Thomson Reuters Trust Principles.