"We're softly encouraging people to see the value of their own energy, not just the energy they consume"
By Lin Taylor
LONDON, July 18 (Thomson Reuters Foundation) - It was in Morro da Mineira favela, in Rio de Janeiro, that British engineer Laurence Kemball-Cook first saw how his floor tiles could make a difference.
Children were playing soccer as their families cheered them on - a typical scene, except the match was being played at night in an area normally off-limits to slum dwellers after dark.
Under their feet were 200 tiles that Kemball-Cook and his team had installed with funding from oil giant, Shell.
As the children ran up and down the pitch, their kinetic energy was being stored in batteries, and along with solar panels, used to illuminate the field.
"The parents saw that their kids were taking part in a real-life science experiment and how inspiring it was," said Kemball-Cook, founder and chief executive of Pavegen, which produces the tiles that convert footsteps into electricity.
The project was unveiled by Brazilian soccer legend Pele, who called it a first in the world, according to media reports.
Nearly two years on, the soccer pitch is still being powered by children's footsteps, and there are now over 100 Pavegen installations in more than 30 countries.
The tiles have been laid down in London's Heathrow Airport, Sandton City shopping centre in Johannesburg, and another soccer pitch in Lagos, Nigeria.
POWERED BY FOOTSTEPS
Kemball-Cook, who is confident his tiles will last a lifetime, will also see them installed outside the White House in Washington DC later this year.
"We've got an aim to cover every city in the world with our tiles to provide a tangible off-grid energy source," he told the Thomson Reuters Foundation.
There are still around 1 billion people in the world without access to electricity. Ensuring they are able to access to affordable, reliable energy that does not harm the planet is a concern for many policymakers and social entrepreneurs alike.
Instead of using sunlight or wind power, which varies in availability, Pavegen tiles work by converting the downward weight of a person's footsteps into electricity through an internal flywheel.
Each step generates five watts of power but the more the flywheel turns, the more power it produces, which is why Pavegen tiles work best in high traffic areas, Kemball-Cook said.
But for all the successes, Kemball-Cook said his concept was birthed from failure, after he struggled to design a new type of streetlight for British energy provider Eon.
"I failed to do so and hung my head in shame and left Eon," said the Loughborough University graduate, who devised his first Pavegen tile shortly after in 2009 from his London bedroom.
Nearly 130 prototypes later, Kemball-Cook launched a new version of the product in May. Known as 'V3' and triangular in shape, he said it can produce 200 times more energy than the original square-shaped tile.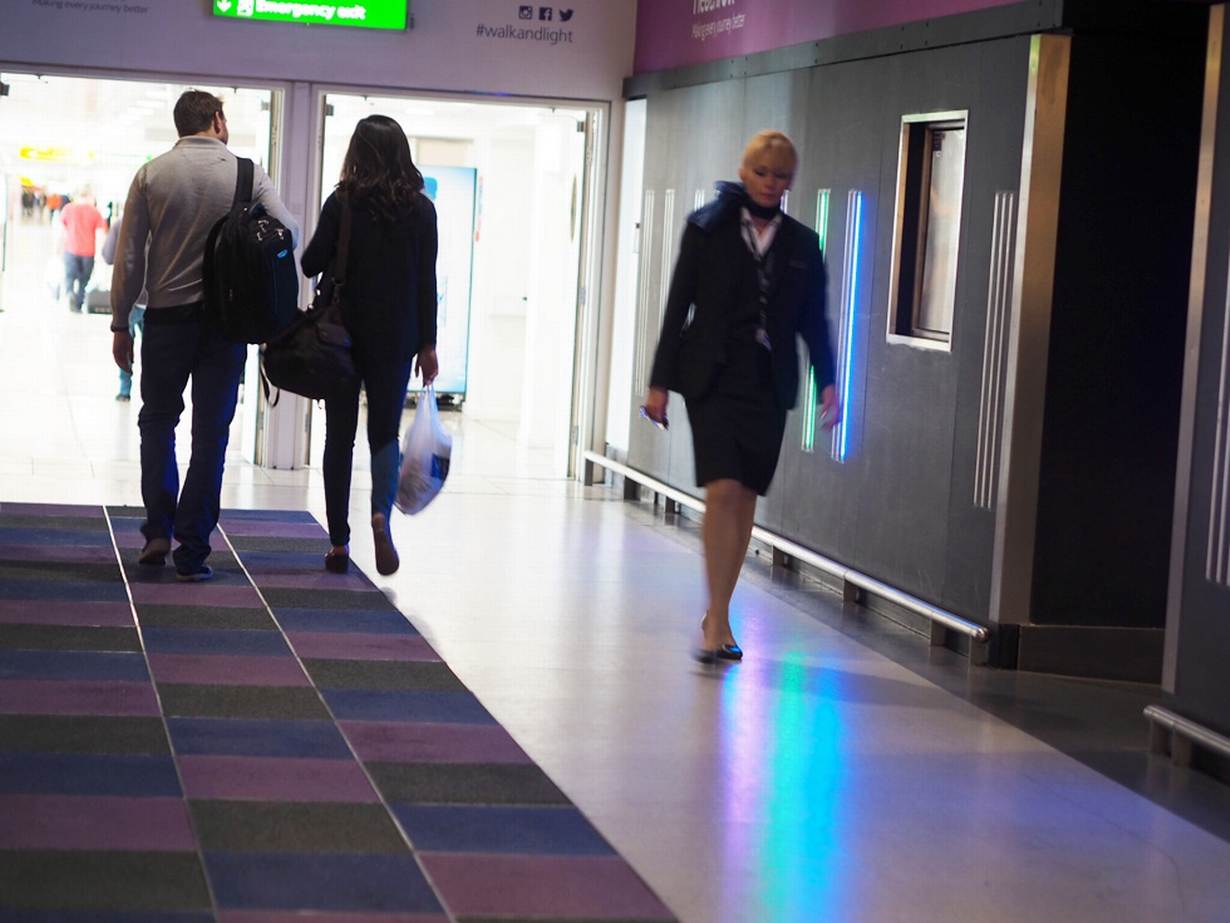 STEPS AND SOCIAL MEDIA
To encourage people to care about renewable energy, the tile collects data and connects with smartphones to track the amount of energy produced through footsteps.
In May, Kemball-Cook partnered with ex-Apple marketing executive Jeff Martin, founder of Tribal Planet, which builds mobile platforms that rewards consumers for doing "social good".
Through Martin's technology, people walking on Pavegen V3 tiles can use their footsteps to redeem rewards at retailers or make donations through their phones - incentives to keep users engaged even if they lose interest in clean energy or climate.
"In a social media world, you have to do it that way to make it sustainable otherwise people forget about it and move onto the next thing," Martin told the Thomson Reuters Foundation.
"We're softly encouraging people to see the value of their own energy, not just the energy they consume," he said.
Kemball-Cook said integrating Pavegen tiles into slums, roads, shopping centres and sport stadiums around the world were all firmly in his sights, adding that creating sustainable cities for future generations was his main priority.
"Communities doing something as simple as walking can now change their communities," he said. "People are the solutions."
(Reporting by Lin Taylor @linnytayls, Editing by Katie Nguyen.; Please credit the Thomson Reuters Foundation, the charitable arm of Thomson Reuters that covers humanitarian issues, conflicts, global land rights, modern slavery and human trafficking, women's rights, and climate change. Visit http://news.trust.org to see more stories)
Our Standards: The Thomson Reuters Trust Principles.