Most countries are at high risk of using slave labour in their supply chains, with North Korea ranked worst in the world
By Lin Taylor
LONDON, Aug 11 (Thomson Reuters Foundation) - Almost 60 percent of countries are at high risk of using slave labour in their supply chains, according to a new global index launched on Thursday, which also ranked North Korea as having the worst record of slave labour in the world.
By assessing incidents of human trafficking or slavery, national laws, and the quality of law enforcement across 198 countries, risk analytics company Verisk Maplecroft found that 115 countries were at high or extreme risk of using slaves.
"Few countries in the world are actually immune to modern slavery," said Alex Channer, lead analyst for human rights research at Verisk Maplecroft.
Nearly 46 million people around the world are living as slaves, forced to work in factories, mines and farms, sold for sex, trapped in debt bondage or born into servitude, according to the 2016 Global Slavery Index by rights group Walk Free Foundation.
Modern slavery has become a catch-all term to describe human trafficking, forced labour, debt bondage, sex trafficking, forced marriage and other slave-like exploitation.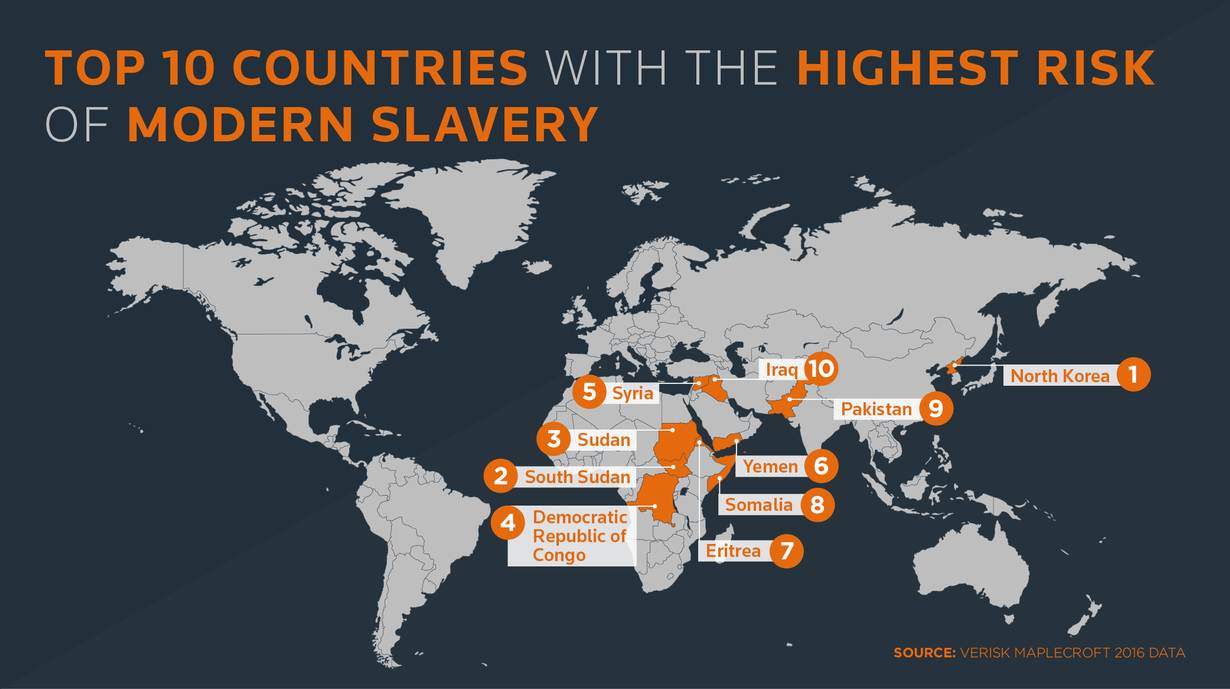 Channer said Verisk Maplecroft's index aims to help businesses identify countries most at risk of slave labour.
The issue has received increasing attention in recent years with exposes in sectors as diverse as fishing, mining and textiles.
Last year, Britain passed an anti-slavery law requiring companies with a turnover of 36 million pounds ($47 million) or more to report what they are doing to eradicate slavery from their supply chains.
After North Korea, the report ranked South Sudan, Sudan and Democratic Republic of Congo (DRC), one of the world's largest producer of cobalt which is used in electronics, as countries with the most slave labour.
Heavyweight exporters India and China had an 'extreme risk' of using slaves in their supply chains, along with DRC and Ivory Coast, a leading cocoa bean producer, the report said.
The European Union had a 'medium risk' of using slaves, while Britain, Germany, Denmark and Finland were the only four major European economies that had a low risk of slave labour.
"In general, most countries have moderate to excellent legal framework. But where they vary is how effective they are at actually implementing those laws," said Channer. ($1 = 0.7650 pounds)
(Reporting by Lin Taylor @linnytayls, Editing by Katie Nguyen.; Please credit the Thomson Reuters Foundation, the charitable arm of Thomson Reuters that covers humanitarian issues, conflicts, global land and property rights, modern slavery and human trafficking, women's rights, and climate change. Visit http://news.trust.org to see more stories)
Our Standards: The Thomson Reuters Trust Principles.