Most people killed by cluster bombs died in Syria, Yemen and Ukraine
By Magdalena Mis
LONDON, Sept 1 (Thomson Reuters Foundation) - More than 400 people were killed by cluster bombs in 2015, most of them dying in Syria, Yemen and Ukraine, which have not signed up to a treaty banning the weapon, an international anti-cluster bomb coalition said on Thursday.
Cluster bombs, dropped by air or fired by artillery, scatter hundreds of bomblets across a wide area which sometimes fail to explode and are difficult to locate and remove, killing and maiming civilians long after conflicts end.
FACTBOX-The deadly legacy of cluster bombs
They pose a particular risk to children who can be attracted by their toy-like appearance and bright colours.
In 2015, cluster bombs killed 417 people, more than a third of them children, the Cluster Munition Coalition said, adding that the actual number of casualties was likely to be much higher.
"The suffering is still continuing and civilians continue to be the predominant victims of cluster bombs," said Jeff Abramson, programme manager at Landmine and Cluster Munition Monitor, which is part of the coalition.
"Unfortunately now we're seeing a new spate of people being injured at the time of attack, which is something that needs to be condemned very strongly," he told Thomson Reuters Foundation by telephone from Geneva.
Abramson did not give figures for 2014, saying data was constantly being revised due to difficulties in gathering it, especially in conflict zones like Syria.
The majority of cluster bomb casualties in 2015 were in Syria (248), followed by Yemen (104) and Ukraine (19), the coalition said in a report.
None of these countries are signatories of the Convention on Cluster Munitions, which prohibits the use, stockpiling, production and transfer of the weapons, it said.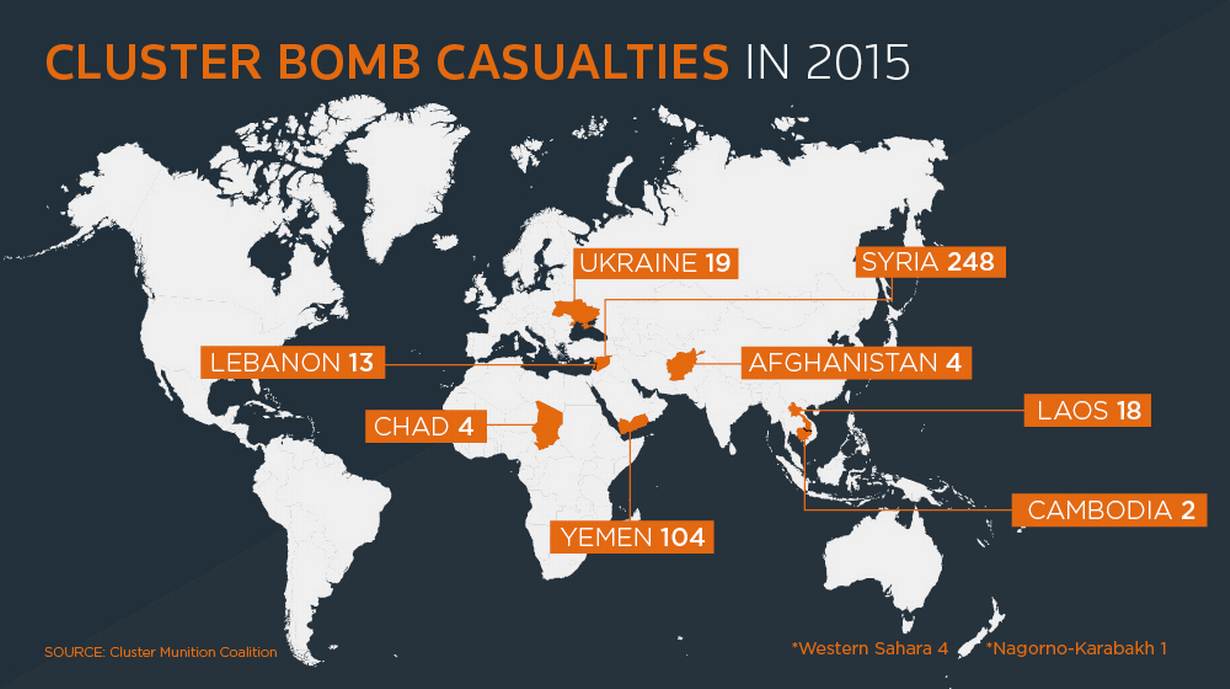 The Convention, which came into force in 2010, also requires the destruction of stockpiles of cluster bombs and clearance of contaminated areas.
Since August 2015, five more countries - Colombia, Iceland, Palau, Rwanda and Somalia - have ratified the Convention, while Cuba and Mauritius acceded, bringing the total number of states that have signed or accepted the treaty to 119, the coalition said.
Casualties were also recorded in Laos, Lebanon, Afghanistan, Western Sahara, Chad, Cambodia and Nagorno-Karabakh.
The report was published ahead of the Sixth Meeting of states Parties to the Convention on Cluster Munitions that will be held in Geneva on Sept. 5-7.
(Reporting by Magdalena Mis; Editing by Katie Nguyen.; Please credit Thomson Reuters Foundation, the charitable arm of Thomson Reuters, that covers humanitarian news, women's rights, corruption and climate change. Visit news.trust.org)
Our Standards: The Thomson Reuters Trust Principles.