The term social entrepreneur started being more widely used in the 1990s amid a drive by co-operatives and community enterprises wanting to use businesses to create social change
By Astrid Zweynert
LONDON, Sept 15 (Thomson Reuters Foundation) - The United States is the best country for business leaders seeking to tackle social problems, according to the first experts' poll on the top nations for social entrepreneurs, but the survey found most people do not know what they do.
The Thomson Reuters Foundation poll in the world's 45 biggest economies found almost 60 percent of social enterprise experts said there was a lack of public awareness about social entrepreneurs.
While there is no universally accepted definition, a social entrepreneur can be described as someone who applies commercial strategies to tackle social and environmental problems, prioritising social good while pursuing financial gain to sustain their venture and its impact.
Unlike a conventional business leader, who is motivated by maximising profit for shareholders or the company's owners, a social entrepreneur reinvests profits into the business for the benefit of a community.
Social entrepreneurs can operate for-profit businesses or non-profit organisations.
They come from all kinds of backgrounds and are seeking to deliver social solutions in many different ways - from improving communities, breaking the cycle of re-offending, solving health or education issues, or reducing isolation amongst elderly.
"Social entrepreneurship is about more than a healthy bottom line," said Anne Katrine Heje Larsen, founder and CEO of KPH, a Danish incubator for start-ups focused on social innovation.
"It's about doing business that makes a positive difference for others and for society. But it does not mean that it is bad business. On the contrary, the case is often a very good business that also creates a community value that increases with the company growth."
Here are some key distinctions between social entrepreneurs and traditional business leaders.
Social entrepreneurs should:
- Have a clear social and/or environmental mission
- Generate the majority of their income through trade
- Reinvest the majority of their profits
- Be accountable and transparent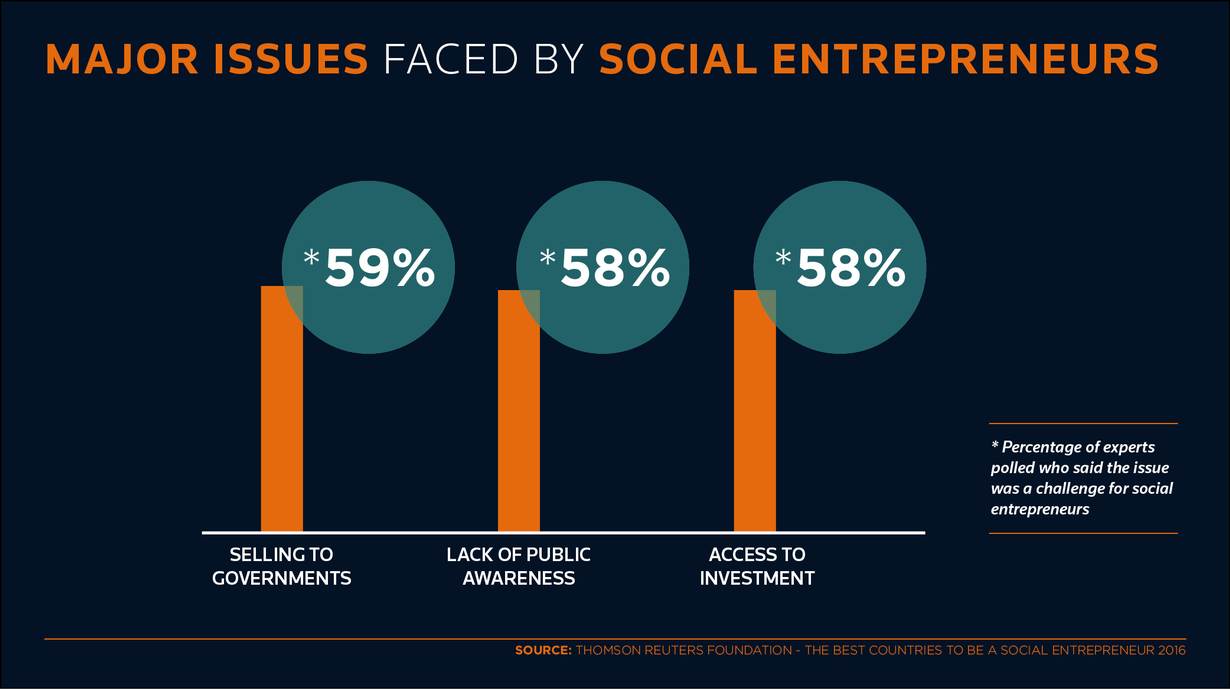 The term social entrepreneur started being more widely used in the 1990s amid a drive by co-operatives and community enterprises wanting to use businesses to create social change and an increase in conscious consumerism.
As public funds have come under increasing pressure from shrinking economic growth, governments have also become more aware of the potential of social entrepreneurs to promote a more equitable and sustainable society.
U.S. President Barack Obama set up the White House's Office of Social Innovation and Social Innovation Fund, while in Britain the government pioneered innovative social finance tools, such as social impact bonds and social investment tax relief.
Some of the most famous social businesses include Grameen Bank in Bangladesh, which makes small loans to the poor, d.light, which designs affordable solar-powered devices for people without access to reliable energy sources, and The Big Issue newspaper sold by homeless people.
SOURCES: Social Enterprise UK, Skoll Centre for Social Entrepreneurship, Social Enterprise Alliance, UnLtd, the Global Social Entrepreneurship Network (GSEN).
(For the full results of the 2016 poll on the best countries for social entrepreneurs go to poll2016.trust.org)

(Reporting by Astrid Zweynert, Editing by Belinda Goldsmith; Please credit the Thomson Reuters Foundation, the charitable arm of Thomson Reuters, which covers humanitarian news, women's rights, trafficking, property rights and climate change. Visit news.trust.org to see more stories)
Our Standards: The Thomson Reuters Trust Principles.