If children are taught how to respond to disasters and climate change, the whole community benefits
By Mushfique Wadud
KURIGRAM, Bangladesh, Nov 30 (Thomson Reuters Foundation) - Bangladeshi teacher Monjurul Islam was talking to his class of 10-year-olds about how the planet is heating up, when Mosammat Ferdousi stood up and asked: "We are experiencing heavy floods in the last few years - is this linked to climate change?"
Islam told his pupils climate change "might be a reason", adding scientists believe the country's increasingly frequent floods and lightning strikes could be linked to global warming.
"Most of my students know about climate change, its impacts and what they should do," said Islam, head teacher at Char Bazra Uttarpara Primary School in Bozra village, in the northern district of Kurigram.
Ferdousi said she and her classmates had learned "we need to plant lots of trees" to combat climate change.
Their school is near the Teesta River, and during the monsoon season which lasts from June to December, it goes under water. River bank erosion is also a big problem here, and teachers fear their school might disappear into the river some day.
Every year, hundreds of schools in Kurigram district are inundated. In August, around 250 primary schools were closed for more than two weeks due to flooding.
"During monsoon, we need to shift the school to nearby high land," Islam said. "As this is a flood-prone area, we also teach students what to do during a flood," he added.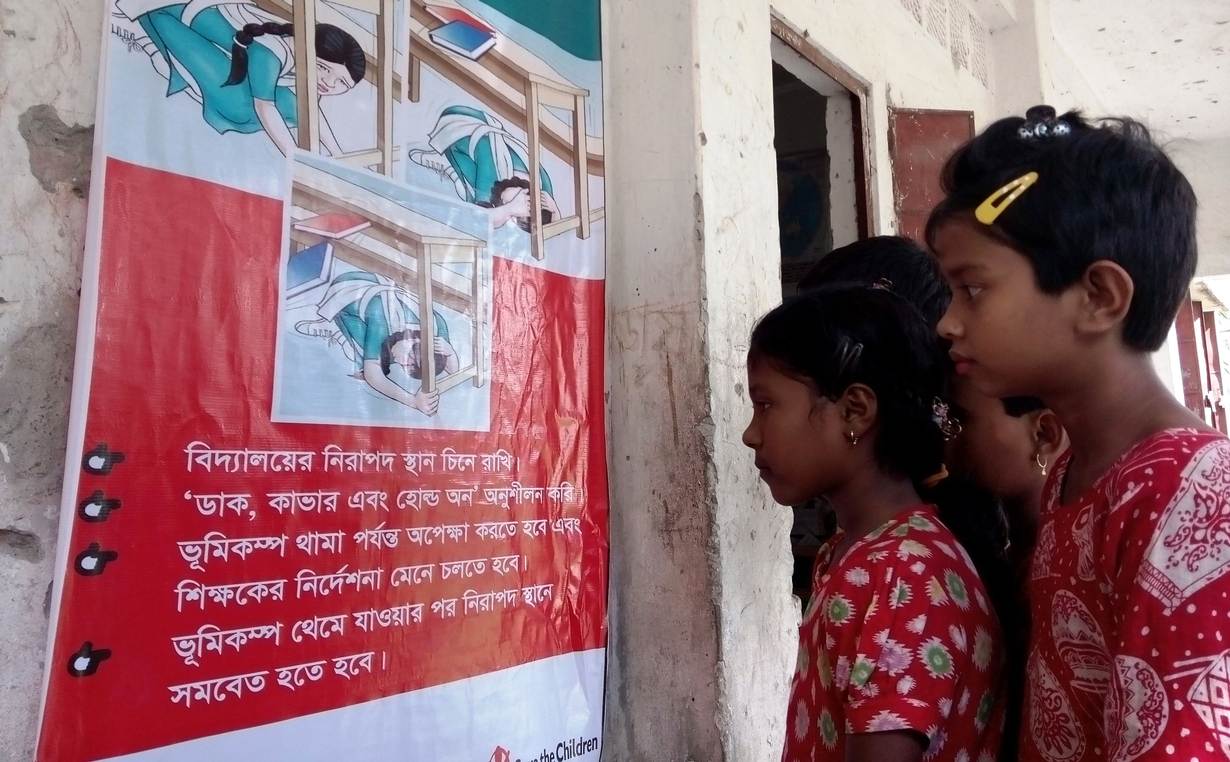 IN THE SYLLABUS
In Bangladesh, both the government and aid groups are working in schools to educate students about disasters and climate change.
The National Curriculum and Textbook Board has included climate change and disasters in the school syllabus since 2013. There are chapters on climate change and disasters in the books used by children aged between 10 and 15, in classes five to 10.
In addition, some humanitarian agencies run disaster management programmes in schools. International charity Save the Children, for example, is leading such a project in three disaster-prone areas, funded by the European Commission and assisted by local NGO Rangpur Dinajpur Rural Service.
It is being implemented in 50 schools covering some 4,600 pupils, including Char Bazra Uttarpara Primary.
"Students and their guardians are very enthusiastic about learning disaster management as they benefit from it in any major disaster," said project technical officer K.M. Alamgir Hossen.
Every year, thousands of Bangladeshi schools are affected by floods. This August alone, more than 1,000 primary schools were flooded in northern and central regions of the low-lying nation.
At Char Bazra Uttarpara Primary School, Class Three teacher Khadiza Begum has taught her students what to do when flooding hits. She asked them if they would drink floodwater.
"No, Madam," the whole class chanted. "Flood water can cause diarrhoea," one student replied.
Many posters in the school give practical instructions on how to act during floods, in the local language, including advice to stay away from electricity poles, find a safe place to go in advance, and store books up high.
Islam told the Thomson Reuters Foundation the school also conducts drills, where teachers show students how to perform first aid on those injured in floods or earthquakes.
COMMUNITY BENEFIT
Class Five student Tanjila Akhter said children pass on the information to their parents and neighbours.
"Most of my neighbours think I know a lot about floods and other such things, as they get benefit from me," she said.
Amina Begum, 35, whose daughter studies at the school, said she had learned a lot from her child.
"We experience floods every year. In the past, we did not have a plan for floods beforehand, but after my daughter told me we should have one, now we work out earlier where we will take shelter during floods, and how to take care of our essential possessions and livestock," she said.
"Our loss due to floods is insignificant compared to previous years," she added.
Jahangir Alam, a community leader and member of the school management committee, said the whole village is gaining from the school's disaster management programme.
"Children are change agents. When they tell their parents about what they have to do during a flood, their parents pay heed to the warnings," he said.
(Reporting by Mushfique Wadud; editing by Megan Rowling. Please credit the Thomson Reuters Foundation, the charitable arm of Thomson Reuters, that covers humanitarian news, women's rights, trafficking, property rights and climate change. Visit http://news.trust.org)
Our Standards: The Thomson Reuters Trust Principles.