With solar power and access to loans, "we are more productive than ever before. On average we can get $25 a day, even more," says one woman
By Kizito Makoye
BUNAMBIYU, Tanzania, Dec 6 (Thomson Reuters Foundation) - As the darkness falls on the plains around Bunambiyu, a remote village in Tanzania's northern Shinyanga region, Elizabeth Julius switches on her solar lantern to finish sewing clothes for her customers.
Not long ago, nightfall would have forced her to close her tailoring shop, or use a smoky kerosene lamp. But with the solar-powered lamp, Julius can now sew for as long as she wants.
"Solar energy has entirely changed my life. I use it at work and at home, yet it doesn't cost me anything," said the 29-year-old entrepreneur and mother of two.
"I often wake up at night to work because I need the money to support my family," she said.
Julius and her husband Zablon used to earn barely enough to meet the needs of their growing family, she said.
But three years ago, Julius secured a $500 bank loan to buy solar lanterns, which she sold to customers.
With the additional income earned, she then sought another larger loan to expand her tailoring business to include a barber shop, mobile phone charging facility and a consumer goods shop, all powered with solar energy.
Now "we are more productive than ever before. On average we can get 50,000 shillings ($25) a day, even more," she said.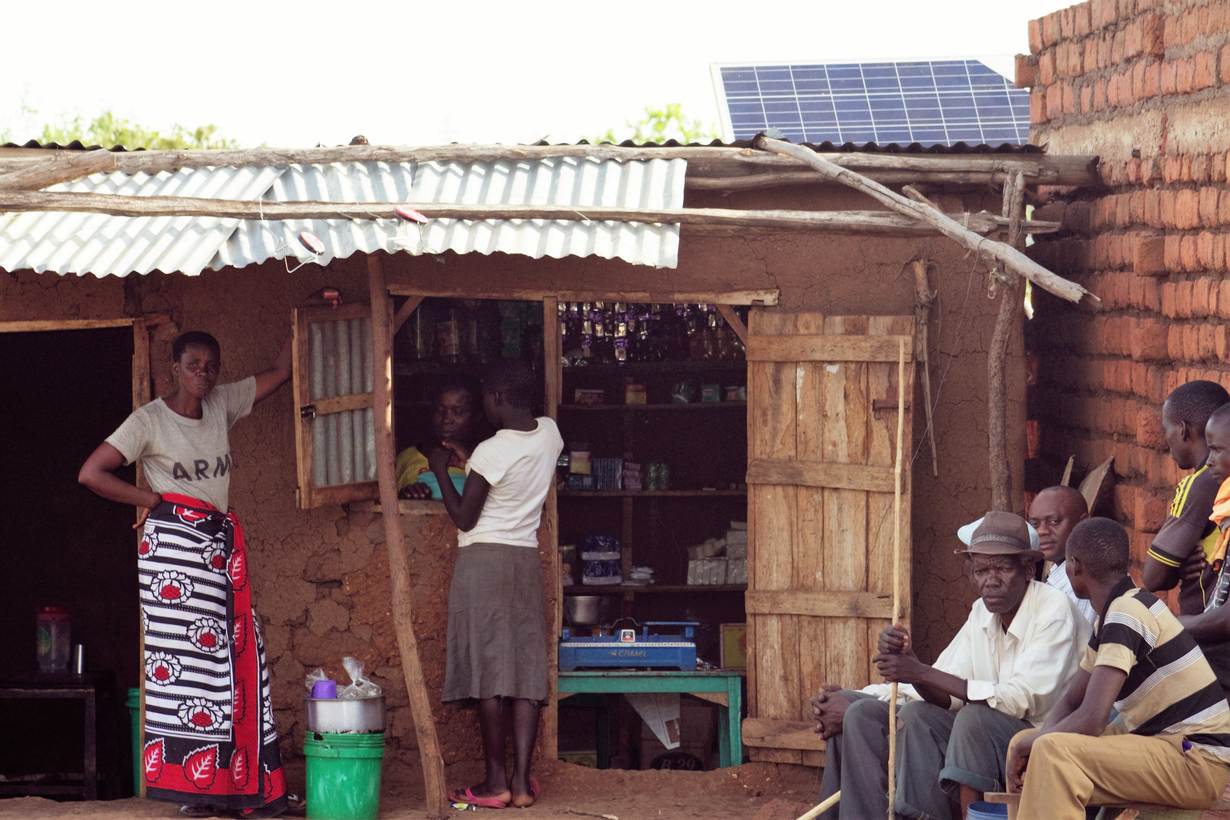 TRAINING FOR WOMEN
Julius' success is due in part to training from Energy 4 Impact, a London-based non-profit group that works in East and West Africa to improve access to energy. One focus of the group's work is lifting rural women from poverty through clean-energy entrepreneurship.
The group's new WIRE (Women Integration into Renewable Energy) value chain project aims to assist 400 women solar entrepreneurs by 2020 with training and finance, and help some of them provide 360,000 people in Kenya and Tanzania with access to clean cooking and solar lighting products.
The programme is part of the Partnership on Women's Entrepreneurship in Renewables (wPOWER) launched by the U.S. State Department in 2013.
Besides helping women grow their businesses, the effort aims to reduce climate changing emissions and deforestation for firewood, said Jerry Abuga, an Energy 4 Impact spokesman.
Godfrey Sanga, a programme manager for Energy 4 Impact, said helping women create clean energy businesses makes sense, as women are good at creating networks in rural areas and can spread the use of clean power.
Since 2013, 1,200 micro-businesses and 200 small and medium ones in East Africa have received help, and seen their sales rise an average of 32 percent a year, project officials said.
Julius said business management and technology training through the project was key to helping her scale up her business and her income.
"I have nothing to complain about. Virtually everybody in the village is happy with what we are doing and our services are exclusively solar," she said.
In Tanzania where only 21 percent of the population has access to grid electricity, according to Tanzania Ministry of Energy and Minerals, helping women become energy entrepreneurs is a useful way to improve lives of millions of people in rural areas, said Sanga, of Energy 4 Impact.
Almost 69 percent of the population in Kenya and 95 percent in Tanzania depend on firewood, charcoal and dung for cooking, the company said.
Smoky fires and kerosene lamps are a major source of household air pollution causing 14,300 deaths annually in Kenya and 18,900 in Tanzania, the company said.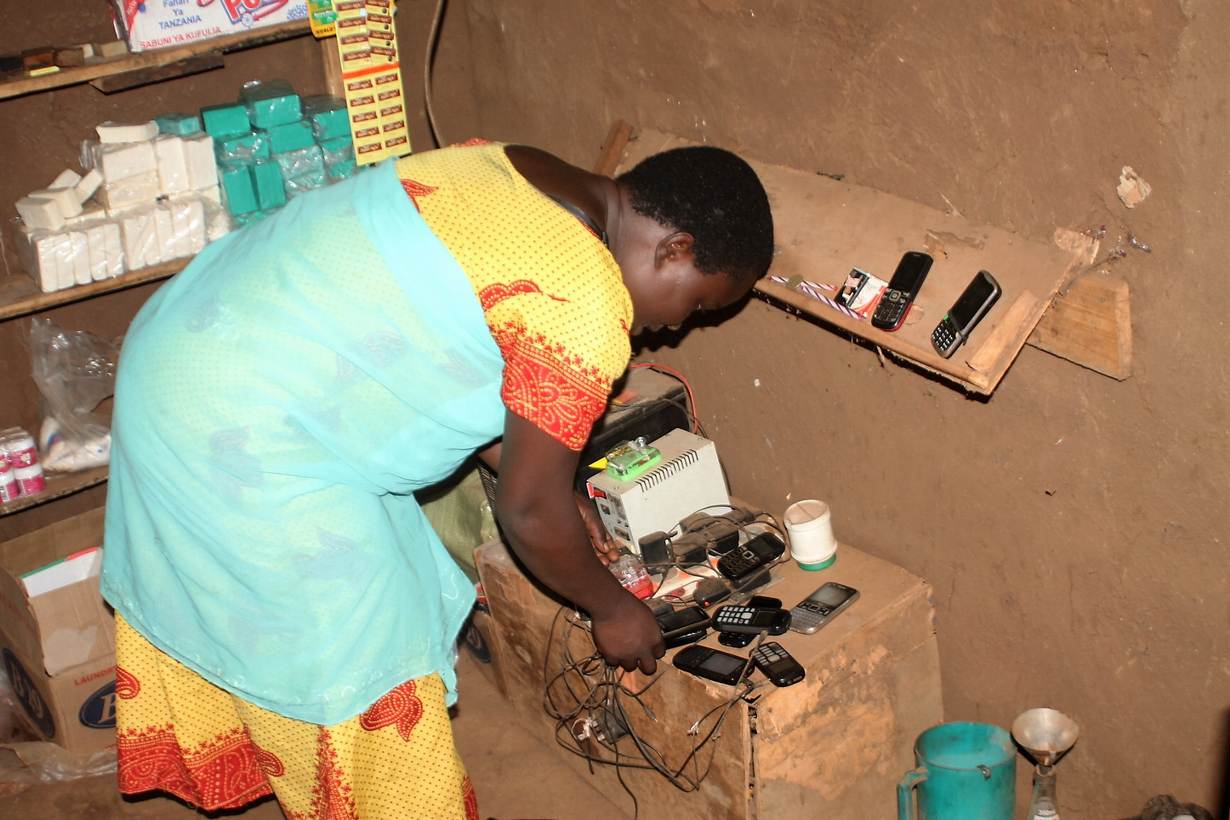 RELIABLE EQUIPMENT?
While the use of solar energy has been rapidly growing in Tanzania, getting quality equipment from reliable suppliers can still be a problem, Sanga said.
Growing interest in solar energy has attracted unscrupulous sellers, whose poor-quality equipment can then hurt confidence in switching to solar, he said.
"Poor quality and substandard or fake products is one of the main factors that is discouraging people from using the clean energy technologies, due to frequent failures and general poor performance," Sanga said.
The Energy 4 Impact effort helps make sure high-quality, reliable equipment - and the knowledge to maintain it - is available, he said.
The effort also aims to bring solar power to rural areas of Tanzania where many people still remain unaware of the technology. To boost interest, the project hopes to assist solar entrepreneurs in putting on roadshows, forums with women and youth groups, and media campaigns, he said.
"By showcasing successful businesses and demonstrating the benefits using the clean technologies in increasing productivity, incomes and saving costs, it is expected that many people will be interested in adapting and using them in their lives for themselves and their families," Sanga said.
(Reporting by Kizito Makoye; editing by Laurie Goering :; Please credit the Thomson Reuters Foundation, the charitable arm of Thomson Reuters, that covers humanitarian news, climate change, women's rights, trafficking and property rights. Visit http://news.trust.org/climate)
Our Standards: The Thomson Reuters Trust Principles.