Officials are removing taxes on imported rice, restricting reservoir use and looking for alternatives to hydropower as drought looms
By Amantha Perera
COLOMBO, Jan 18 (Thomson Reuters Foundation) - With rainfall in many areas just a third of that last year and many water reservoirs far below normal levels, Sri Lankans have begun holding traditional ceremonies to invoke rain - some with the participation of President Maithripala Sirisena.
But this time, national officials are also doing something new to prepare for what many fear could be the worst drought in decades: Developing plans, in advance, to deal with it.
Those include everything from allowing communities to take only drinking water from drying reservoirs to removing taxes on imported rice and looking for alternatives to hydropower to maintain the national electric grid.
"The change came about because we were able to predict the onset of the drought well in advance and with detailed information," said Lalith Chandrapala, the head of Sri Lanka's Meteorological Department.
The country has had clear signs since last October that drought was coming, officials say. During 2016, Sri Lanka had only one period of exceptionally high rainfall, with some areas receiving over 300 mm (11 inches) of rain in three days, leading to flooding and landslides.
Apart from that, rain was less than normal almost all year. "We have a rainfall deficit and it is likely to stay that way until the next monsoon" in June and July, Chandrapala said.
According to the Meteorological Department, in some districts rainfall has been 30 to 40 percent of normal levels. Some of these districts are also among the country's largest agriculture producers.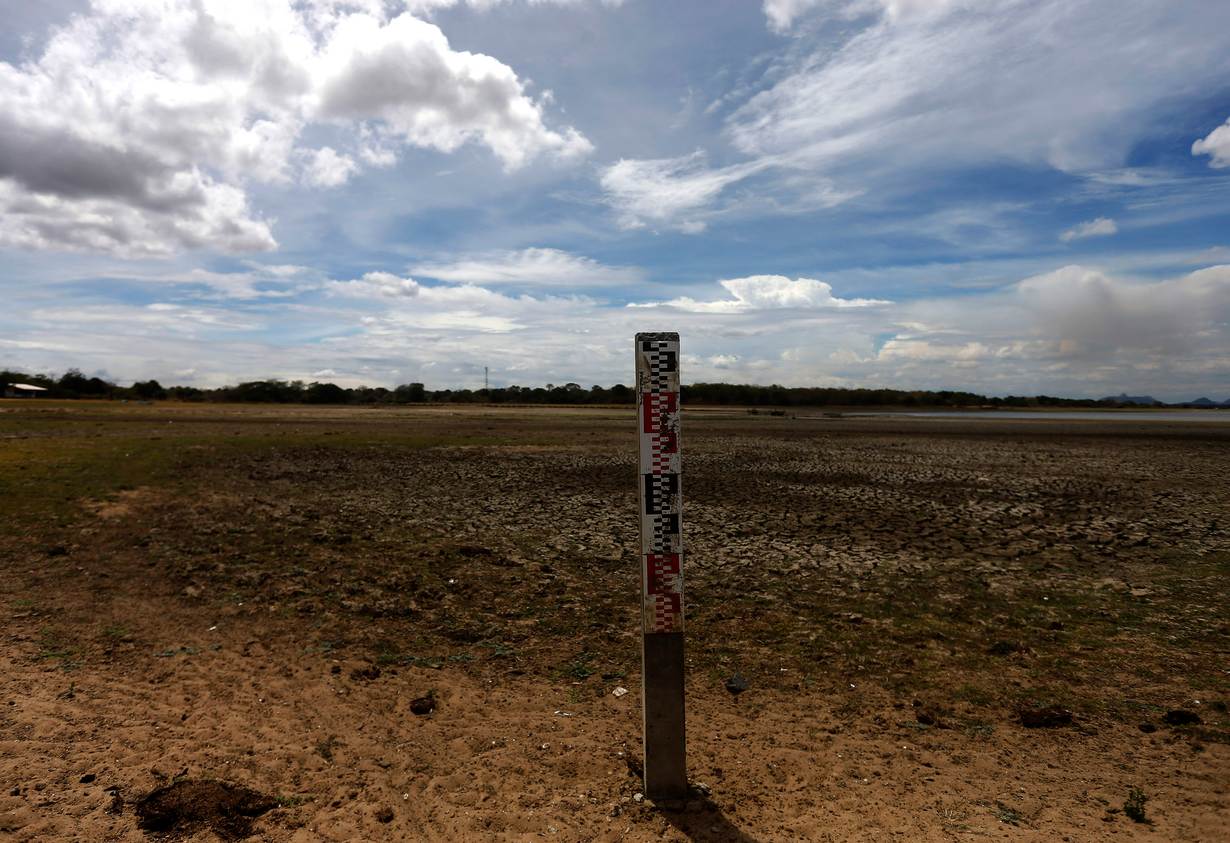 LESS RICE, LESS POWER
The lack of rainfall severely affected paddy rice production in the last growing season. According to the Disaster Management Center (DMC) only around 300,000 hectares out of a possible 800,000 were cultivated, largely because of a lack of irrigation water.
Reservoirs that will provide water for the next growing season, which starts in March, need to be at least half filled by that time to support a normal harvest. But DMC officials and Chandrapala said the country's main reservoirs were currently less than a third full.
"It nothing like I have ever seen before," said Ranjith Punyawardena, an agro-climatologist at the Department of Agriculture.
The lack of water is likely both to hurt agriculture and cut into supplies of vital hydropower. Already, as a result of drought, the country is getting 80 percent of its electricity from coal and oil and only 11 percent from hydropower.
Normally, at this time of year, the country would get at least 40 percent of its electricity from hydropower, according to the electricity board.
MAKING PLANS
To deal with the coming problems, Sri Lanka has set up a cross-ministry committee to come up with an action plan, said Minister of Disaster Management Anura Priyadarshana Yapa.
The committee includes high ranking officials representing agriculture, power, disaster management, finance and meteorology and has been meeting every two weeks, with meetings expected to become weekly from the middle of January on.
In an effort to stabilise rice prices in the market the government removed all taxes on rice imports on Jan. 7. Rice imports are expected rise in the next two months as available local stocks dwindle.
According to Ranjith Siyambalapitiya, minister of power and energy, the government is also prepared to enter into short term power-supply agreements with private companies to meet any further drop in hydropower production capacity.
The inter-ministerial committee is expected to launch a national power and water conservation programme as well.
The committee has recommended that water use from national reservoirs be strictly monitored, something that has not be done in the past. Water from some of the reservoirs already has been limited for drinking purposes only.
"This time we are taking some precautions. Hopefully they will help us ease the worst impact" of the drought, Chandrapala said.
(Reporting by Amantha Perera; editing by Laurie Goering :; Please credit the Thomson Reuters Foundation, the charitable arm of Thomson Reuters, that covers humanitarian news, climate change, resilience, women's rights, trafficking and property rights. Visit http://news.trust.org/climate)
Our Standards: The Thomson Reuters Trust Principles.