It is thought 3 million girls in Africa are at risk of FGM every year
By Emma Batha
LONDON, Jan 30 (Thomson Reuters Foundation) - There is a growing global drive to eradicate female genital mutilation (FGM) in a generation. Ministers, U.N. officials and campaigners from around the world meet in Rome on Monday for a major conference to discuss how to accelerate efforts to end the practice. Here are some facts.
In parts of Asia and Middle East, female genital mutilation a hidden ritual
An estimated 200 million girls and women worldwide have been subjected to FGM. In Africa, it is thought that 3 million girls are at risk every year.
FGM is known to be prevalent in 27 African countries, Yemen, Iraqi Kurdistan and Indonesia. But there is growing evidence that it may exist in many more Asian and Middle Eastern countries than commonly thought. It is also found in industrialised countries among some immigrant populations.
Countries where the practice is near universal include Somalia, Sudan, Eritrea, Djibouti, Egypt, Sierra Leone, Mali and Guinea.
There are several types of FGM. The ritual usually involves the partial or total removal of the external genitalia including the clitoris. The most serious type, known as infibulation, also involves the stitching of the vaginal opening. Other procedures include pricking or nicking the clitoris or clitoral hood.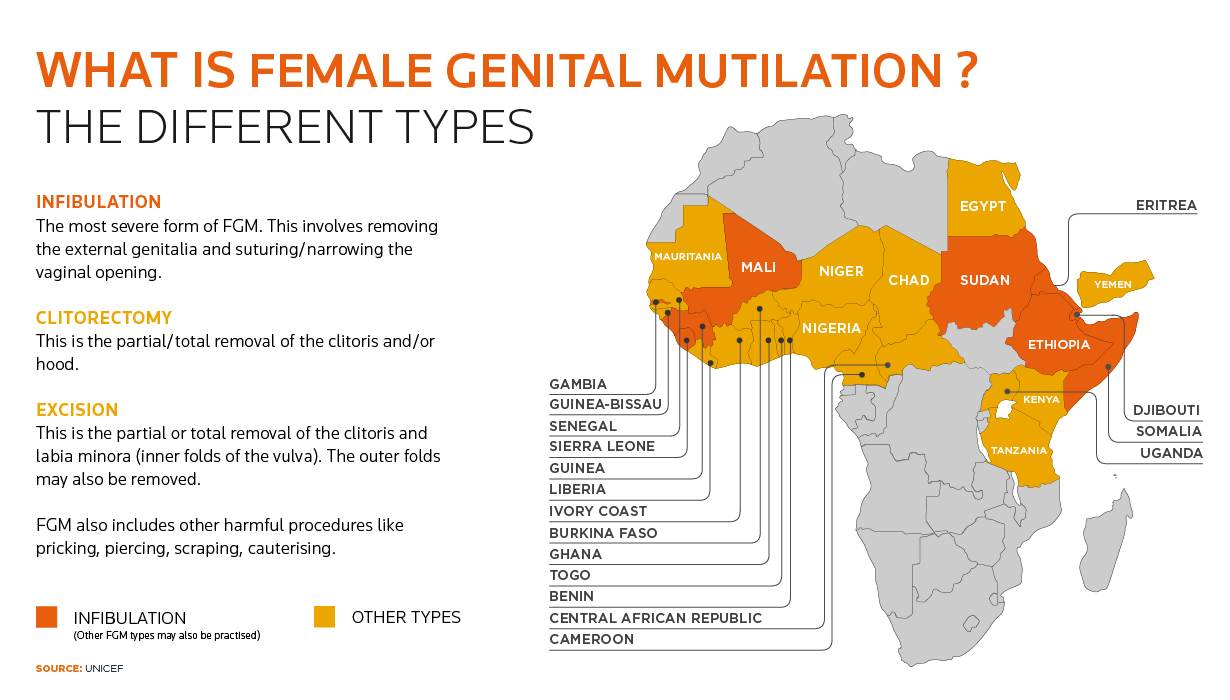 FGM is mostly carried out between infancy and 15, and is arranged by the women in the family.
It is usually performed by traditional cutters who may use anything from razor blades to scissors, broken glass, tin can lids or ceremonial knives. There is an increasing trend in some countries like Egypt and Indonesia for hospitals and clinics to perform FGM.
FGM is found among both Muslim and Christian communities. It is also practised by followers of some indigenous religions. People often believe FGM is required by religion, but it is not mentioned in the Koran or Bible.
FGM is underpinned by the desire to control female sexuality, but beliefs around the practice vary enormously. Religion, tradition and hygiene are some of the reasons given. Many believe it purifies the girl, brings her status in the community and prevents promiscuity. Uncut girls may risk ostracisation. FGM is sometimes mistakenly thought to increase fertility and make childbirth safer for the baby.
FGM can cause severe bleeding, pain, shock, recurrent urinary tract infections, cysts and infertility. It increases the risk of labour complications and newborn deaths. The procedure itself can prove fatal.
It has also been linked to post-traumatic stress disorder, depression and other psychological disturbances.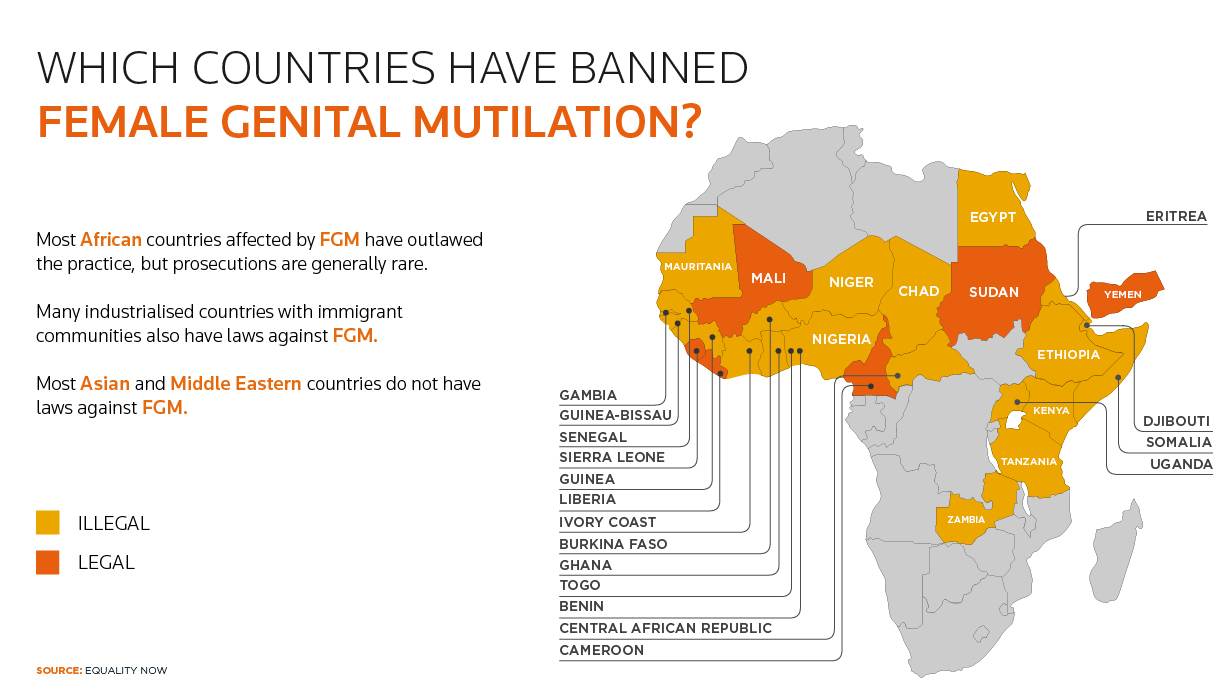 FGM has been banned by most African countries affected by the practice as well as many industrialised countries. But enforcement of the law is usually weak and prosecutions rare.
FGM also violates a plethora of international treaties. In 2012 the U.N. General Assembly adopted a resolution on eliminating FGM.
Sources: WHO, UNICEF, Equality Now
Our Standards: The Thomson Reuters Trust Principles.