Working on the lake gives women independence in a country where women are often destined to a life of servitude and denied the access to education, health and jobs
By Sue Carpenter and Belmaya Nepali
POKHARA, Nepal, Feb 15 (Thomson Reuters Foundation) - Batuli Bhujel weaves deftly through the colourful wooden boats and paddles into the shore of Phewa Lake in west Nepal, stepping lightly out of her boat and steadying it as she helps her young passengers off.
For years, Bhujel has paddled tourists out at dawn to be rewarded with majestic views of the snow-capped Himalayas reflected in the glassy waters.
But the 60-year-old wonders whether she will be able to do this work much longer.
"Quite often my whole body hurts, so I just rest for a day or two. If I had other sources of income, I would not have done this job," she said, tugging the boat onto firm ground.
Bhujel is one of only about 30 women among 250 men who row boats commercially on Phewa Lake, the leading attraction in Pokhara, a resort town 150 km (90 miles) northwest of the Nepali capital Kathmandu.
Working on the lake gives women like Bhujel some independence in a country where women are often destined to a life of servitude to their in-laws as well as denied the same access as men to education, health and jobs.
Parents, particularly in rural areas, often see no benefit in educating their daughters since they leave home to live with their husbands and in-laws after marriage.
Although school attendance numbers in Nepal are improving, only 66 percent of girls attend secondary school compared with 74 percent of boys, the U.N. children's agency UNICEF says.

"BADMOUTHED"
Like many others on the lake, Laxmi Nepali has never stepped inside a classroom.
Married at the age of 15, she is among almost 40 percent of girls in Nepal who are wed before their 18th birthday even though the legal age for marriage in the country is 20.
After giving birth to her son at the age of 18, Nepali's husband abandoned her. Shortly after, her parents took in their grandson but disowned their daughter.
"Deep inside I'm heartbroken, but I don't feel anything," said Nepali, whose second marriage also ended, leaving her to bring up a 10-year-old daughter alone.
The Phewa Boat Association, in charge of boat hire on Phewa Lake and nearby Begnas Lake, allows anyone over 16 to row their boats with no training, and offers equal pay to women and men.
Even though the association treats male and female workers as equals, women sometimes face discrimination from their colleagues and passengers.
Passengers - Nepali men, in particular - sometimes refuse to get in a woman's boat.
"The first thing they do is look at my face, and some get annoyed and go to another boat, saying they don't want to go with an old woman like me," said Bhujel. "It feels bad when people say nasty things but what can you do?"
Nepali, who said she used to be "badmouthed" and verbally abused over her job, recalled a group of boys who at first refused to allow a woman to row them across the lake.
They eventually hired her, persuaded by others who advised, "by appearance she looks like a woman, but she is like a man".
In 2015, she competed against male rowers in a boat race on Begnas Lake and came second, winning 3,000 rupees ($28) in prize money, about six times her daily earnings.
"I was given a lot of respect, even here," said Nepali, who eschews the traditional saris or tunics and trousers that other women wear for Western clothes.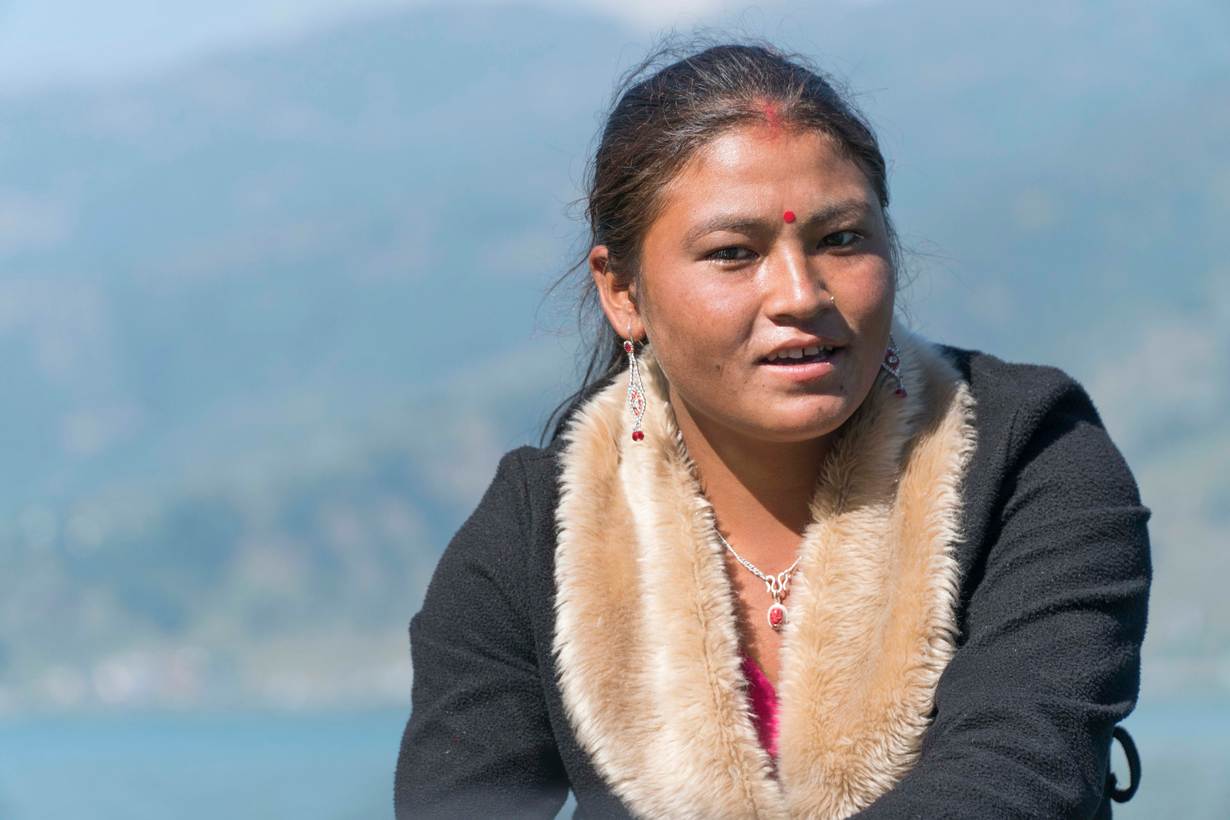 EARNINGS
Unlike the other women on Phewa Lake who only row small boats seating up to six people, Nepali operates the larger twin-hulled boats, earning fractionally more than the others.
The average fee paid by tourists for an hour on a boat is 500 rupees ($5) with the skipper getting just 100 rupees.
Boatwomen hope to earn around 500 rupees a day, plus tips, but sometimes they leave empty-handed.
When business is quiet, Bhujel, Nepali and the others may only get a turn every two or three days.
Foreign tourists tend to be the meanest tippers, Bhujel said.
"If they speak Nepali, we tell them we can't even get a cup of tea with 10 or 20 rupees but foreigners don't understand us. We don't understand them, so whatever little they give, we just accept it," she said.
To boost their earnings, especially after the devastating earthquake in 2015 led to a drop in tourist numbers, many of the boatwomen seek casual work elsewhere including on construction sites, breaking and carrying stones.
"I feel I have become like a man and even my heart has become like that of a man," said Nepali, stabbing the lake with her oar.
She sees education as the way out of poverty for her daughter, but it is a constant battle to make ends meet.
State schools are free for all children but parents still need to find money for uniforms and stationery. Sometimes they are forced to pay annual admission and exam fees.
"I don't have any dreams for myself but I have dreams for my daughter, to provide her with an education so that she does well," Nepali said.
"My wish is that people look at her and say, no matter how I am, I have raised my daughter well." ($1 = 107.8300 Nepalese rupees) (Editing by Katie Nguyen. Please credit the Thomson Reuters Foundation, the charitable arm of Thomson Reuters, that covers humanitarian news, women's rights, trafficking, property rights and climate change. Visit http://news.trust.org to see more stories)
Our Standards: The Thomson Reuters Trust Principles.