British Museum scheme aims to equip Iraq with digital and excavation skills necessary to salvage artifacts and rebuild ancient sites
By Sally Hayden
LONDON, Feb 20 (Thomson Reuters Foundation) - Standing in front of two ancient Assyrian statues, eight Iraqi archaeologists discuss not only the homes some have fled, but also how to avoid explosives when they finally go back to work.
They're in London as part of a British Museum scheme aimed at equipping Iraq with the digital and excavation skills necessary to salvage artifacts and rebuild ancient sites Islamic State fighters have attempted to destroy.
Jonathan Tubb, head of the British Museum's Iraq Emergency Heritage Management Training Scheme, told the Thomson Reuters Foundation the project began as an attempt to do something positive when nothing was possible on the ground.
"We could actually prepare people... for the day when these sites would be released again, liberated, and ensure that those people have all the necessary skills and tools to cope with the most appalling destruction," he said.
The archaeologists each undergo three months of theoretical training at the British Museum and three more months of practical work at sites at Tello and Darband-i Rania in Iraq.
Zaid Sadallah, an archaeologist from Mosul in northern Iraq, fled his home when Islamic State fighters captured the city in 2014. An employee of the Mosul Museum, he headed with his family to nearby city Erbil.
In February 2015, he watched in horror as Islamic State videos were posted online showing men attacking the artifacts in the museum - some antiquities from the 7th century BC - using sledgehammers and drills.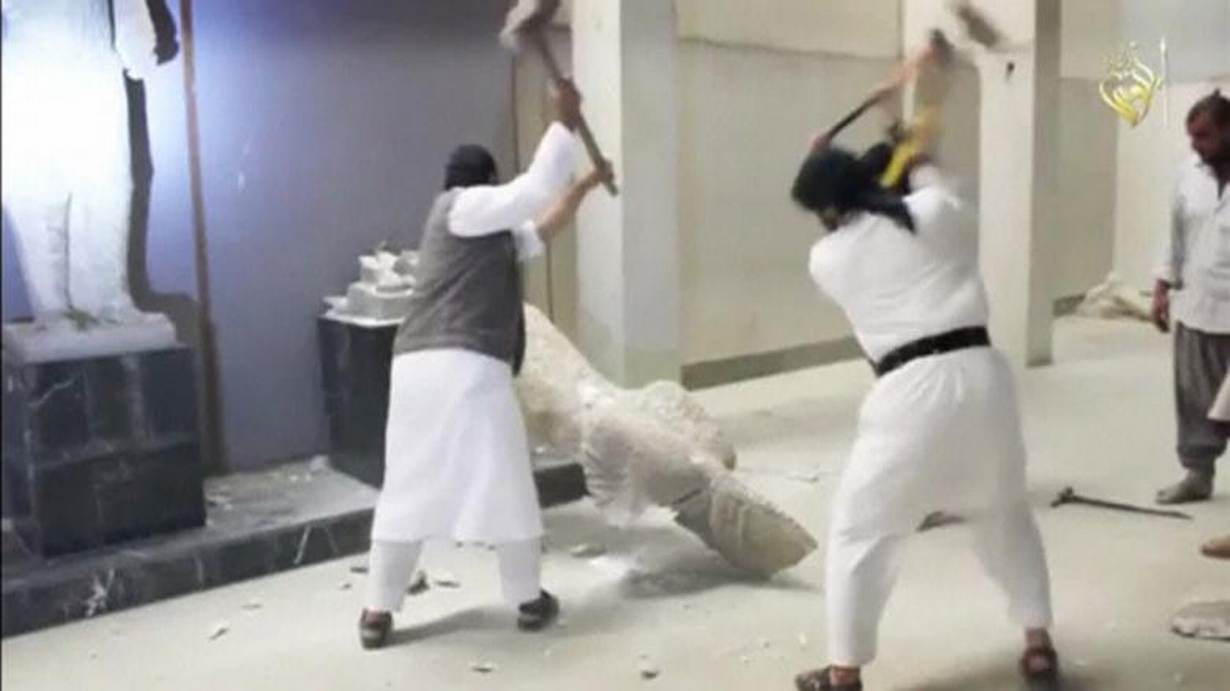 "We have destruction all over the city. They killed more people and damaged more antiquities," said Sadallah, in London for training. "(Now) we want to rebuild the city, remake Mosul."
Islamic State espouses a fiercely purist school of Sunni Islam, deeming many other Muslims to be heretics. Its fighters have destroyed Shi'ite and Sufi religious sites and attacked churches and other shrines in the parts of Iraq and Syria under their control.
DIGITAL TECHNIQUES
The archaeologists are being taught to spot booby traps while excavating, as well as learning digital techniques like geophysical surveys, remote sensing, and how to use a multi-station - equipment that helps with mapping and measurements.
So far, Tubb said evaluations had started only in the ancient Assyrian city of Nimrud, a 3,000-year-old site on the banks of the Tigris River which Islamic State fighters bulldozed and looted in early 2015.
The site was recaptured in November 2016, shortly after the on-going offensive to retake Mosul began. Local archaeologists who returned found shattered stone carvings littered across the ground and bombs planted in the road leading to the site.
"We're constantly in touch with them now... That process of assessment is now in hand and they're discovering all the horrors," Tubb said.
As each new site is recaptured by the Iraqi army, Tubb said the first step should be to photograph everything that's left behind. "Look at every fragment you can find. Record it and number it before you take it away," he said.
"What we're hoping is that all the bits are there."
The importance of rebuilding these sites in the cradle of Mesopotamian civilisation cannot be overestimated, Tubb said.
"People in Iraq identify so much with their ancient past that if you obliterate that and try to eradicate it then you're effectively wiping out their identity," he said.
The training scheme is funded by the British government, which is giving 2.9 million pounds ($3.62 million) over five years. ($1 = 0.8018 pounds) (Reporting by Sally Hayden @sallyhayd, Editing by Ros Russell.; Please credit the Thomson Reuters Foundation, the charitable arm of Thomson Reuters, that covers humanitarian news, women's rights, trafficking, property rights, climate change and resilience. Visit http://news.trust.org)
Our Standards: The Thomson Reuters Trust Principles.