* Any views expressed in this article are those of the author and not of Thomson Reuters Foundation.
On 07 March 2017, Kenya will host its 4th devolution conference. No doubt, remarkable progress has been made in the few years devolution has begun in Kenya.
While economic forecasts for Kenya indicate a positive development trajectory, the forthcoming general elections must be seen as an opportunity to deepen and solidify the democratic process; the path that yields sustainable peace and equitable economic governance.
As the polls on 8th August 2017 approach, the main issue in the minds of all Kenyans, is how to consolidate devolution, the best gift that Kenya has had since independence.
But there are also concerns that election-related violence could easily derail that progressive course.
Many have made Kenya a case study, sadly, for the way society can disintegrate itself along ethnic identities in determining power and wealth sharing, including the art of exploiting long-running intercommunity tensions.
Factors that fuel cycles of elections related violence in Kenya include the proliferation and use of illicit arms and the wanton diversion of youthful energies away from constructive engagement.
The upcoming election will be the country's first polls with county governments in place. The 2010 Constitution heralded a new era of open and inclusive governance best epitomised by devolution, a system that is helping to bridge the development gap between rich and poor regions and brings service delivery closer to the people and empower local communities.
It is a chance for Kenya to benchmark from other countries especially in exploiting devolution to entrench cohesion and integration, and sustainably resolve all those outstanding longterm issues, before the polls and thereafter.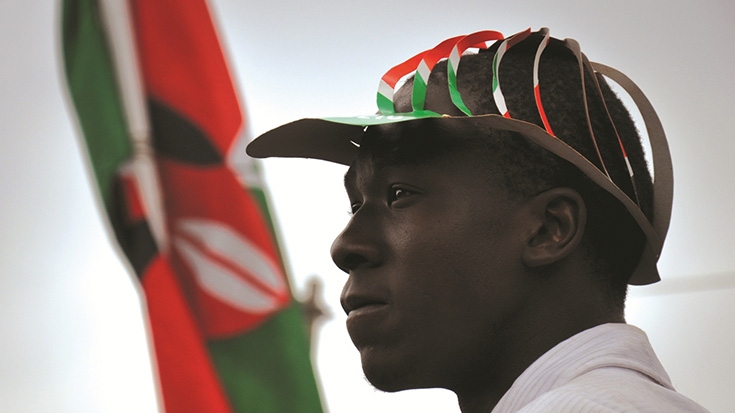 Kenya's decentralization is among the most rapid and ambitious devolution processes going on in the world. Photo: World Bank
After initial challenges, the experience of a country like Switzerland, indicates that devolution can turn diversity into an asset. Even with Switzerland's four cultural and linguistic traditions, devolution has consolidated mutual respect and understanding and enabled each tradition to bring its very best to the table for the common good.
Equally, Kenya is blessed with over 40 cultural and linguistic traditions. Just imagine the wealth of ideas and solutions that go with that. Just imagine how many creative political solutions Kenyans can find if that diversity is fully utilized. Devolution may enable Kenya to use its diversity more consistently and in a more constructive way in order to solve political and economic challenges.
In short, devolution may create the right environment for ethnic diversity to become a strength, rather than a driver of division and obstacle to longer term sustainable development.
It would be the appropriate environment for the pursuit of societal transformation as envisioned by the Sustainable Development Goals (SDGs). Peace is a cross-cutting theme of the 2030 Agenda, with Goal 16 dedicated to "Promote peaceful and inclusive societies for sustainable development, provide access to justice for all and build effective, accountable and inclusive institutions at all levels".
A major reason for optimism is that devolved governments give all Kenyans the chance to be closer to politics revolving not around ethnic loyalty, but concrete issues that concern them directly.
Devolution is bound to enhance a mindset of responsibility and citizenship. Decision-making moves closer to the people, closer to issues relevant to them in their daily lives.
A potentially positive side effect in terms of elections and peace is furthermore the fact that the often divisive presidential election becomes somewhat less the epicenter of attention.
Additionally, devolution creates opportunities for local indigenous conflict detection, prevention, and mediation mechanisms to flourish. Development partners, including UNDP and Switzerland, are working with government counterparts at the national and county levels on conflict prevention and strengthening early warning mechanisms to stem cross and intra-county conflicts.
While we celebrate the great achievement of devolution in Kenya in such a short period of time, we also need to highlight some of the challenges ahead.
It is increasingly apparent that local governments cannot tackle local socioeconomic and environmental problems alone. Coping with these problems will require that responsibilities be shared and actions taken by a host of actors, including national governments, local governments, the UN and development partners, non-governmental organizations (NGOs), and the private sector.
Thus, all stakeholders need to put a high priority on strengthening the institutional capacity of local governance and plans to not only develop and administer policies and regulations, but also to build consensus on the approaches taken to resolve socioeconomic, political and environmental problems at the local levels.
In countries where devolution – or federalism – has matured over the years, the roles and responsibilities of local and central government have been negotiated and defined.
Kenya stands at the very beginning of this exciting journey, with the "extraordinary promise of the 2010 constitution" on the horizon.
Patience and commitment are of the essence to make devolution work for everyone, thereby giving birth to a state where communities cohere for inclusive prosperity and "leave no one behind".
Dr Ralf Heckner is the Swiss Ambassador to Kenya and Siddharth Chatterjee is the United Nations Resident Coordinator to Kenya.