Drought-hit farmers are hoping for their first bumper harvest in years, but army worm pests and floods are lowering expectations
By Busani Bafana
GWANDA, Zimbabwe, March 20 (Thomson Reuters Foundation) - After plenty of rain, Isaac Siziba's maize fields looked set for a bumper harvest this season, similar to the one he gathered in 2014, before Zimbabwe suffered a long and punishing drought.
But last month army worms invaded Siziba's 4-hectare farm in Gwanda District and munched through his maize. Now he expects just a fifth of the harvest he had counted on.
"We were happy with the good rains this year, which means a bumper crop, but I am not sure anymore because of the worm," said the 49-year old farmer, pointing to holes gnawed in the leaves of his tassled maize plants.
"I am disappointed," he admitted. "The pest is eating everything."
Struggling farmers in Zimbabwe had been hopeful of finally getting a good harvest this month, following the first heavy rains in nearly three years.
But a variety of new problems, from flooding in some regions to the arrival of a destructive Latin American army worm, now threaten to cut harvests and expectations for recovery, the government and development agencies say.
Zimbabwe could still meet its goal of harvesting the 2 million tonnes of grain the country needs this year, if it can stop the army worm invasion, officials say. But the pest may have affected up to 130,000 hectares of the country's staple maize crop, the U.N. Food and Agriculture Organization (FAO) said.
That is about 11 percent of the country's planted maize crop of 1.2 million hectares, according to Joseph Made, Zimbabwe's minister of agriculture, mechanisation and irrigation.
Tropical storm Dineo, which hit Mozambique in February, also triggered floods in southern Zimbabwe, leaving more than 240 people dead and close to 2,000 homeless. Earlier this month Zimbabwe's government declared a national disaster and appealed to international donors for $100 million to repair infrastructure.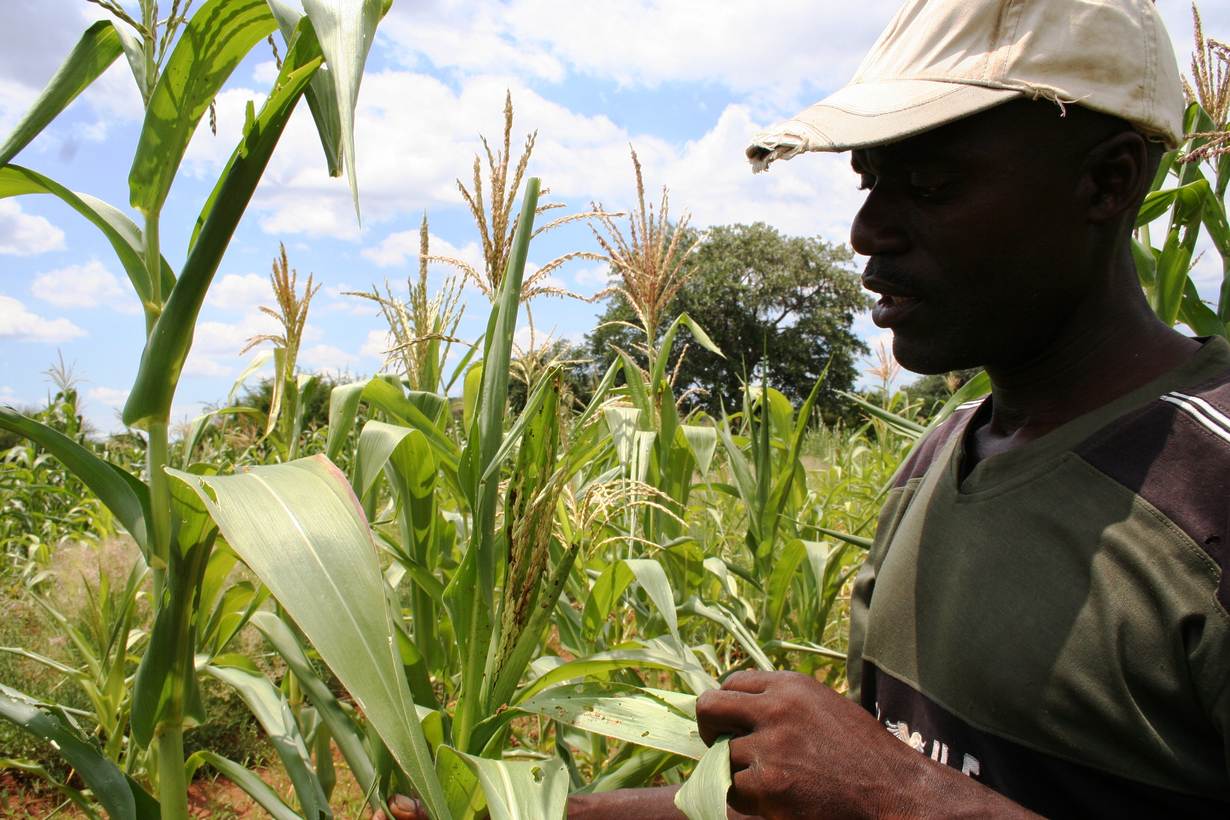 MAIZE PLANTING UP
Made, the agriculture minister, told parliament recently that 55 percent more maize had been planted this season compared to last year, when severe drought put many farmers off planting altogether.
The government has budgeted $140 million to buy 800,000 tonnes of maize from farmers through the national grain agency, the Grain Marketing Board, he said.
However, Eddie Cross, a member of parliament and an economist, told the Thomson Reuters Foundation in a telephone interview from Harare that the country was still a long way from achieving food security, even though the harvest would be the best in recent years.
Last year, Zimbabwe declared a drought disaster and appealed for $1.6 billion in food aid and humanitarian assistance to help at least 4 million people get by until the next harvest in March 2017.
More than $200 million was spent on grain imports, mainly from Zambia, after a harvest that fell far short of national requirements, according to the Zimbabwe Reserve Bank.
Zimbabwe currently has strategic reserves of 250,000 tonnes of maize – enough to last six months, Made said this month.
Last week, Zimbabwe's Vice President Emmerson Mnangagwa, who also chairs the Cabinet Committee on Food Security, told local media that the government has stopped grain imports in anticipation of a bumper crop.
BETTER – BUT HOW MUCH?
Farmers and experts say they are confident this year's harvest will be better than last year's – but how much better remains unclear.
"At the national level, signs are that there will be a good crop. However, at individual level, there will be problems," particularly with the army worm pest, David Phiri, the southern Africa representative of FAO, told the Thomson Reuters Foundation.
Phiri said the pest – which has attacked six other countries in southern Africa besides Zimbabwe – was a serious threat to recovery in the drought-hit region. His organisation is helping governments in the region put in place plans to contain the pest.
Governments agreed to create a regional task force to monitor the outbreak at an emergency meeting in Harare in mid-February. The pest is particularly difficult to control as it is a new arrival in southern Africa.
The Southern Africa Development Community (SADC), in a regional humanitarian appeal, said nearly 1.7 million tonnes of maize was needed for immediate food assistance in the region until the March harvest.
Maize farmer Siziba said recurring problems with the crop may force him to rethink how he farms in the future.
The army worm pest "is turning our celebration into misery," he said. Now, "we will stick with breeding goats. That is our reliable crop." (Reporting by Busani Bafana; editing by Laurie Goering :; Please credit the Thomson Reuters Foundation, the charitable arm of Thomson Reuters, that covers humanitarian news, climate change, resilience, women's rights, trafficking and property rights. Visit http://news.trust.org/climate)
Our Standards: The Thomson Reuters Trust Principles.