Conservation of medicinal plants is a key concern in Kenya
By Justus Wanzala
BUSIA, Kenya, March 28 (Thomson Reuters Foundation) - Colletta Anyango saunters around a large, well-kept garden, carefully identifying and plucking the leaves of plants ranging from herbs and vegetables to fruit bushes and trees. Some have shed their leaves in defence against the dry weather typical of western Kenya early in the year, while others are lush green.
Anyango belongs to Farmers With a Vision, a community organisation based in Busia County that created the garden for medicinal plants, which it processes into treatments and other products.
The group's aim is to help preserve these plants, not only to fight diseases but also for the purpose of research, while producing income for its members.
They make anti-fungal and bacterial soaps, oils, ointments, mosquito-repellent jelly, anti-malarial tea, and black stones to extract snake-bite venom, marketed under the registered label Didasco Products.
They also sell detergents, washing-up powder, liquid floor cleaner and disinfectants.
Anyango, who is involved in sales, said uptake is high. The high cost of conventional medicine, coupled with inadequate public health service delivery, has driven people towards herbal medicine, she added.
The group members, who number more than 30, have one communal garden, while individuals cultivate their own gardens too. They receive training to plant, care for and harvest the medicinal and fruit plants which are then made into products by members.
Mercy Odhiambo, who is in charge of promoting Didasco Products, said mosquito repellent is popular due to the high prevalence of the biting insects in Kenya.
"It is bought mostly by people who work on night shifts. It is obtained from the artemisia plant, which has properties for treating malaria, among other ailments," she explained.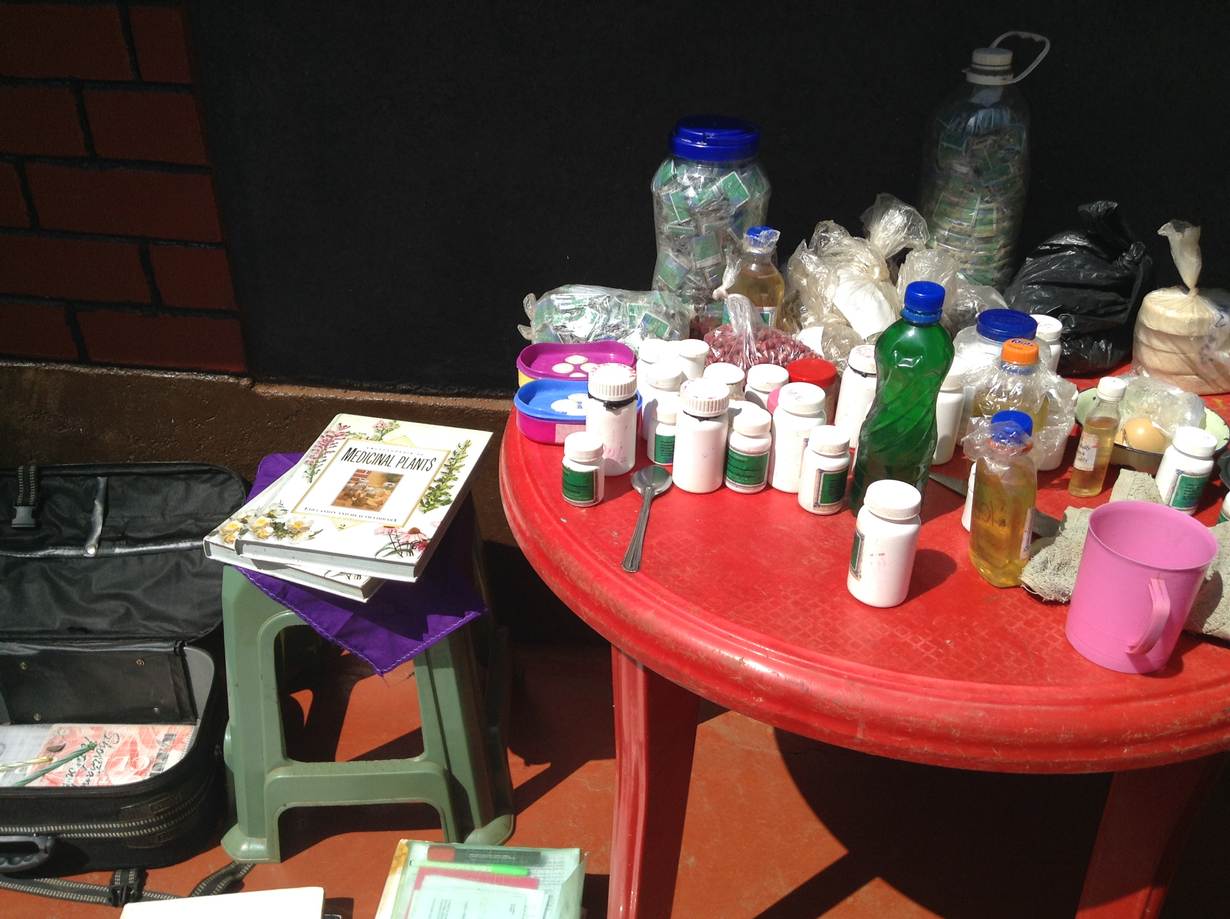 GROWING DEMAND
Grace Ngugi, head of economic ethnobotany at National Museums of Kenya (NMK), the state custodian of Kenya's natural and cultural heritage, said growing use of herbal treatments is an opportunity for the traditional medicine industry to expand.
To take advantage of that, more medicinal plant nurseries and gardens could be established, including contracting farmers to supply herbs, she said.
The development of urban markets for herbal medicines has increased the number of dealers selling both raw and semi-processed preparations.
But Ngugi highlighted potential challenges to safety and quality due to weak guidelines, regulations and standards for the products, practitioners and retailers.
Increasingly, recognition of traditional medicine by the scientific community and media is leading to its inclusion in government development plans and policies, she added. For example, the state is making an effort to register and license practitioners.
Farmers With a Vision CEO Didacus Odhiambo said the group is working to ensure standardisation and good practices in its production processes, and has approached the Kenya Bureau of Standards for certification.
The organisation is conducting joint seminars with Action for Natural Medicine, an international Christian group that raises community awareness about the use of medical plants, and is also working with the ministry of health, he added.
"We train people about the cultivation of different medicinal plants in gardens, as well as hygienic production of effective natural medicines from the plants," said Odhiambo.
Farmers With a Vision also works to identify and document herbs and other medicinal plants for posterity.
In the near term, it plans to purchase a soap-making machine for 200,000 Kenyan shillings ($1,946), and train several young people to use it so they can earn a living.
Group members have learned how to make perfumes but cannot buy the necessary equipment due to a lack of funding.
Overtures to banks and micro-finance institutions have been rebuffed because alternative medicine is treated with contempt, said Odhiambo.
WILD SPECIES THREAT
NMK's Ngugi said conservation of medicinal plants is a key concern in Kenya. Inadequate cultivation is causing over-harvesting of wild plants, leading to the depletion of some species such as the African cherry and sandalwood.
"Medicinal plants are collected and used without any regulation, opening them to indiscriminate exploitation and bio-piracy," she said. "Huge profits are made but never shared with the custodians."
NMK runs the Kenya Resource Center for Indigenous Knowledge, a research programme that is documenting medicinal plants in a database to capture local names and uses.
NMK also supports community groups involved in conserving medicinal plants by providing technical help to propagate plants and establish herb gardens, including at schools.
Kenya faces erosion of its indigenous knowledge on medicinal plants due to habitat loss as well as overexploitation and unsustainable use of traditional medicine resources as markets expand, Ngugi warned.
Traditional knowledge is not being adequately protected, while there is little transmission between generations, she said.
Addressing these challenges would open up opportunities for communities and make treatments more affordable, she noted.
A draft national policy on traditional medicine and plants would be a good starting point, if adopted, because it seeks to protect indigenous knowledge holders from exploitation and bio-piracy "by addressing questions on how economic benefits can best be shared", she added.
The Thomson Reuters Foundation is reporting on resilience as part of its work on zilient.org, an online platform building a global network of people interested in resilience, in partnership with the Rockefeller Foundation.
($1 = 102.7500 Kenyan shillings)
(Reporting by Justus Wanzala; editing by Megan Rowling. Please credit the Thomson Reuters Foundation, the charitable arm of Thomson Reuters, that covers humanitarian news, climate change, resilience, women's rights, trafficking and property rights. Visit http://news.trust.org/)
Our Standards: The Thomson Reuters Trust Principles.