"The gangs don't accept lesbians, gay boys or transgender people"
By Nelson Renteria
SAN JUAN TALPA, El Salvador, March 28 (Thomson Reuters Foundation) - Every time the neighbourhood dogs bark at night, Teresa, a 44-year-old transgender woman in El Salvador, wakes up in a panic.
"I think that someone is coming to kill me," said Teresa, a shopkeeper in the coastal town of San Juan Talpa. "I live in constant fear."
Three transgender people were killed in San Juan Talpa in February alone, police say, spreading fear through members of El Salvador's lesbian, gay, bisexual, transgender (LGBT) community.
The spate of murders puts a spotlight on the violence El Salvador's LGBT community faces, a problem rights activists blame on powerful street gangs and entrenched social prejudices.
Until recently, the LGBT community in San Luis Talpa, a town surrounded by fertile green hills an hour's drive from the capital San Salvador, had a softball team that used to play near the beach. But they have since stopped in fear they could be next in the firing line.
The town's latest victim was Elizabeth Castillo, a transgender woman, who police say was kidnapped in February after attending the funeral of two transgender women. Her body, showing signs of torture, was then found dumped on the roadside.
So far, no one has been arrested.
"The gangs don't accept lesbians, gay boys or transgender people. Diversity doesn't fit into their rules," said Teresa, who did not want to give her full name.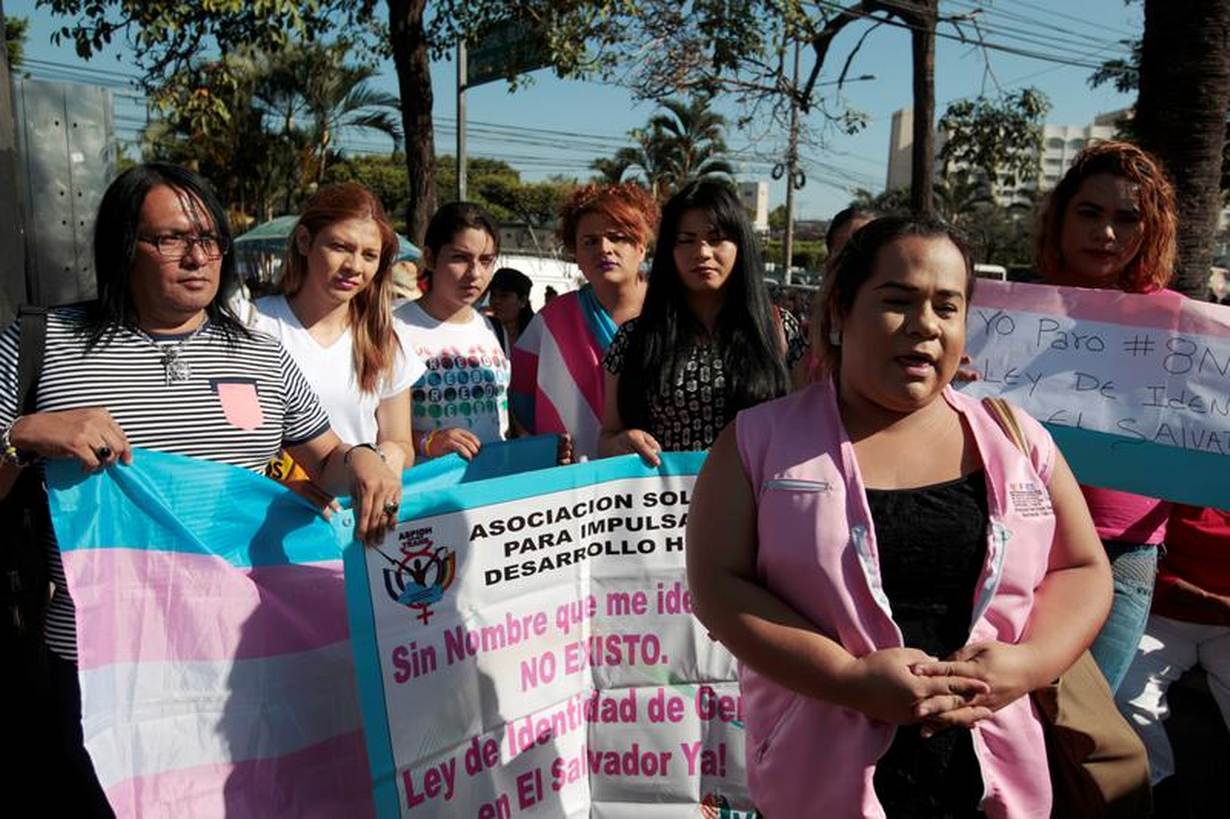 GANG VIOLENCE
El Salvador is one of the world's deadliest countries outside a war zone. Entire city neighbourhoods are controlled by two powerful gangs - Barrio 18 and its rival Mara Salvatrucha.
To maintain control, gang members extort money at gunpoint, rape women and girls and murder.
Not only are LGBT people victims of general gang violence, like other Salvadorans, they are also persecuted because of their sexual orientation.
Same-sex marriage is not recognised by law, and transgender people are not allowed to change to the gender they identify with on public documents.
The country's influential Roman Catholic Church and most evangelical churches publicly condemn gay marriage and sex.
"They are criminalizing us," said Karla Avelar, head of rights group, Communicating and Training Transwomen (COMCAVIS). "They use the word of God and the Bible to judge us. It's destroying us."
Last year, 25 members of the LGBT community were killed across the small country of six million, and seven transgender people have been murdered so far this year, according to Vanda Pignato, the government secretary for social inclusion.
"I'm very worried and not only because of the recent murders in San Luis Talpa," Pignato said.
"We have to understand that the LGBT community are citizens like all of us," she told the Thomson Reuters Foundation.
But intolerance in the socially conservative nation is an obstacle to change. A 2013 survey by the U.S.-based Pew Research Centre found nearly two thirds of Salvadorans believed society should not accept homosexuality.
A 2012 government survey also found that some Salvadorans view homosexuality as an illness that should be cured.
Two in every five LGBTI people of the 400 surveyed said they had undergone some kind of therapy, of which half had been recommended by a psychologist.
FLEEING FOR THEIR LIVES
Tens of thousands of Salvadorans are driven from their homes every year to escape gang violence and poverty, and LBGT people are also fleeing the country in fear of their lives.
The United Nations Refugee Agency (UNHCR) calls the exodus from El Salvador and other Central American nations - Honduras and Guatemala - plagued by gang violence a "refugee crisis".
This year in San Juan Talpa, around 40 transgender people have fled their homes, according to COMCAVIS.
"Many transgender people have been forced to migrate to other countries to safeguard their own lives," said Avelar of COMCAVIS, who has survived two murder attempts.
Across El Salvador, at least 136 LGBT people have fled the country since 2012, she said, seeking refuge in Europe, the United States and Mexico.
"LGBT people who seek asylum have faced serious risks and are doubly discriminated against," said Francesca Fontanini, UNHCR's spokeswoman in Mexico.
Across the region, violence against the LGBT community is widespread. Latin America is the world's deadliest region for LGBTI people, according to research group, Transrespect versus Transphobia Worldwide (TvT).
The Inter-American Commission of Human Rights (IACHR) said it received reports of at least 41 attacks and murders of LGBTI people across the region this year.
"This situation is disturbing and unsustainable," Francisco Eguiguren, IACHR rapporteur on the rights of LGBTI people, said in a statement last week. "There must be no impunity."
El Salvador has taken steps to better protect LGBT people.
In 2015 lawmakers recognised hate crimes motivated by gender or sexual orientation and imposed tougher jail sentences. But so far no one has been convicted under the law, activists say.
Meanwhile Teresa is mulling whether to leave her home and begin the overland journey to Mexico to seek refuge.
"With a doubt, I've thought about being far away from this country because staying here the gangs find you," Teresa said.
(Writing by Anastasia Moloney @anastasiabogota, Editing by Ros Russell.; Please credit the Thomson Reuters Foundation, the charitable arm of Thomson Reuters, that covers humanitarian news, women's rights, trafficking, property rights, climate change and resilience. Visit http://news.trust.org)
Our Standards: The Thomson Reuters Trust Principles.