* Any views expressed in this opinion piece are those of the author and not of Thomson Reuters Foundation.
Getting electricity in Afghanistan's Helmand Province is no simple matter. Afghanistan currently ranks 14th on the list of unelectrified countries, with 19 million people – more than half its population without power. Considered a fragile state, the country is still regularly rocked by violence, disrupting supply lines and daily life.
At Bost University, a privately-run training facility for medical staff in Helmand, electricity used to come exclusively from diesel-run generators. Using generators was expensive, unreliable and meant that the facility was at the whim of price fluctuations, unscrupulous suppliers and transport disruption from conflict.
Mohammad Qasim Nazari, the manager of Bost University hospital, recalls seeing these problems first hand.
"I remember when a doctor started shouting – 'we need electricity'," the generator is in the basement and he hadn't heard it power off as he was in the middle of a surgery. "He had to hold a portable light in one hand and the scalpel in the other as he ran towards the patient."
In early 2015 the hospital tried a new approach: rooftop solar panels. Bost partnered with Mercy Corps, an international NGO with funding from Britain's Department for International Development (DFID), to trial a new business model for energy in Afghanistan: a lease-to-buy arrangement for 240 solar panels with a battery pack and a diesel generator for back-up.
Bost University founder Ahmad Jan Popal was an early backer of the switch to solar, despite doubts about the new technology.
"I was not sure how it was going to work. It's a lot of money to invest and some staff members were not sure about the consequences," said Popal. But such was his belief in the potential of solar he became the sole investor in the project and it got the green light.
SAVINGS BENEFITS
Powering medical facilities in fragile states is a challenge: they consume large amounts of electricity, can be subject to peaks during emergencies and need to have power 24/7.
"We have comprehensive facilities – we host inpatients, we have labs and Bost is interconnected with teaching classrooms. For deliveries, we must have proper lighting. We need access to operational equipment to conduct certain surgeries," said Nazari.
Mercy Corps worked with a local energy consultancy to create a design capable of producing 210kWh per day, with 24 batteries holding 150kWh of stored energy. After a construction period where the team battled logistics and shipping challenges, the system was switched on for the first time in November 2015.
The installation was a success. It gives the hospital four more hours of power per day (8 a.m. -10 p.m.), and Bost now rarely use their generator. It is also cheaper: instead of spending up to $5000 a month on fuel, the hospital now spends around $4110 a month, and will own the system outright in one more year. The facility went from relying on generators 24 hours a day to only 2-3 hours per day.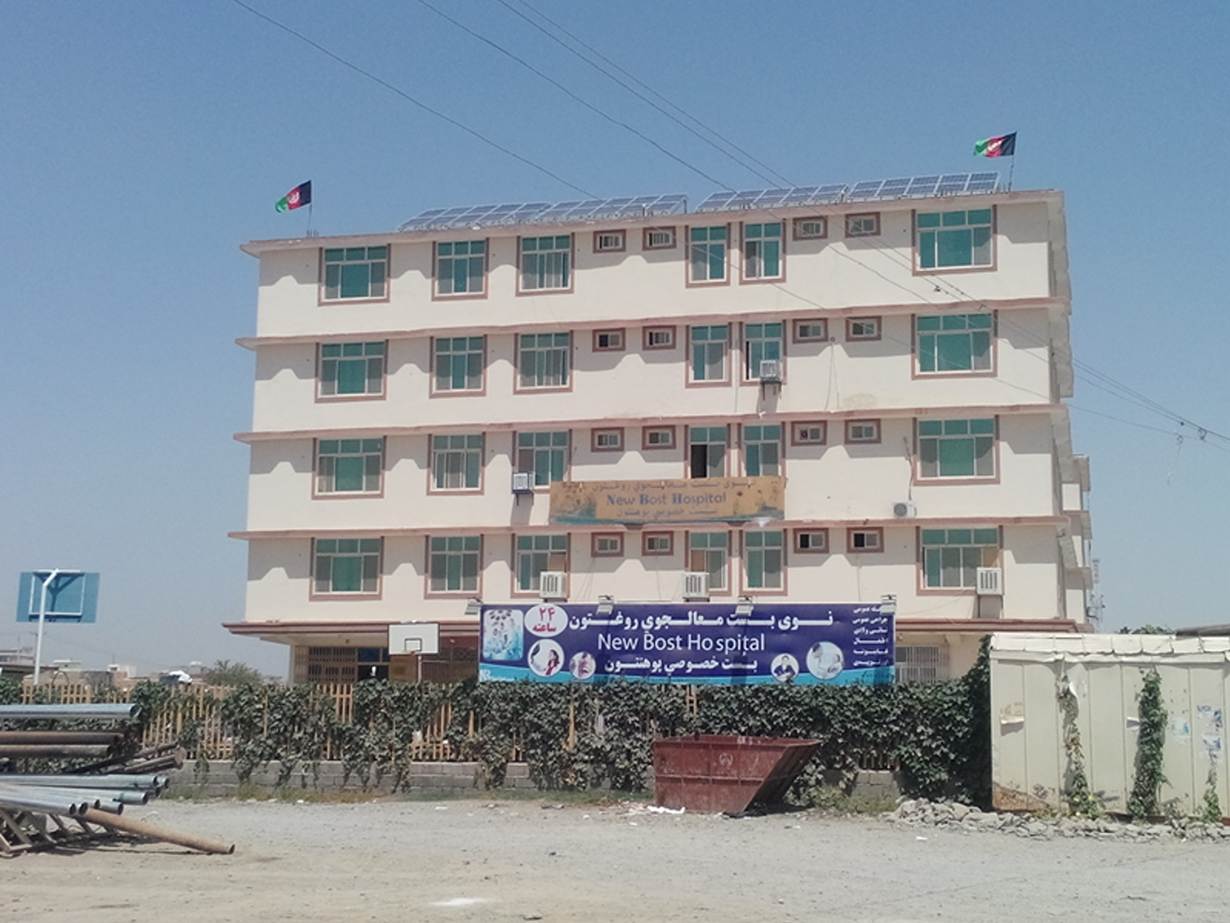 For Bost, the benefits of solar for medical facilities go far beyond cost. Nazari cites reduced noise and air pollution, ample power to perform lab and computer work, shorter patient wait times and a more sterile environment.
"We had a guy show up with a prescription, and there was a doctor that ordered a blood test that was extensive - 10 types of tests. If we were to call in the generator technician to get the generator started (like before) it would take 30 minutes alone to get the system going. It was very late and the hospital was on lights only.
With the solar, when this happened, we didn't need the generator, and we saved almost 3 hours. We were able to just process the patient and got his tests done very quickly," said Nazari.
DECENTRALISED RENEWABLE ENERGY
Afghanistan faces an uphill battle to achieve its target of 83 per cent electrification by 2030: the estimated cost is USD $7.5 billion, with a further USD $1.7 billion for transmission and distribution.
This is largely due to a focus on centralized generation and large-scale hydro. These estimates also don't cover the time-lag required to build large infrastructure in a fragile state.
In contrast, as seen clearly at the Bost hospital, decentralized energy can be deployed rapidly (the project took less than a year). The energy access dividend of providing life-saving health care immediately means that these systems could become the norm for rural medical facilities the world over.
"In the context of Helmand – the whole region is conflict affected," said Popal. "Factions are continuously trying to undermine the position of others. The grid is something they want to destroy – there are countless examples of where they deliberately destroyed the grid. So if you have islands of power, powered by solar panels, it is actually a godsend."
Despite recent challenges (the solar panels were temporarily removed from Bost's roof last year because of fighting), Popal is doubling down, with plans to move the facility to 100 percent solar power.
"Now we have power until 10pm, with the upgrades we can have power until 2am or 3am. We are spending USD $11-12,000 to make the shift – and are working on completing it the next one or two months," Popal said.
For Nazari, the shift to solar has given him hope for a new way of powering Helmand. "I love electricity, I am an engineer, I love the idea – it's like life, to have electricity and have access to it every day. You don't have to go out and turn generator on, just flip the switch and we have electricity for everything we do."
Peter Stevenson is country director, Mercy Corps Afghanistan and Joe Rafalowicz is partnerships manager at Power For All