When worsening floods can wipe out a crop, growing more things - from tumeric to pineapple - can build resilience
By Rafiqul Islam
FARUKPARA, Bangladesh, April 4 (Thomson Reuters Foundation) - For a long time, slash and burn agriculture was a way of life for Funghkal Bawn.
Like other farmers from the ethnic Bawn community, in the Chittagong Hill Tract area of Bangladesh, he used to clear a new strip of land every season on the slopes near his village of Farukpara. On it he grew a single crop such as paddy rice, pineapple, ginger or turmeric.
But two years ago, a flash flood triggered by torrential rains damaged his entire crop of rice, leaving him short of food and money to buy new seeds.
The setback forced Bawn to rethink his traditional method of farming and find a more sustainable way to grow crops, to hedge against the growing likelihood of extreme weather.
Now Bawn sows a mixture of traditional crops and other plants on the hill slopes, to minimise his losses if any natural disaster hits his crop land again.
Other farmers are following his lead to help improve their resilience against the worsening impacts of climate change.
"I started mixed cultivation of crops, including pineapple, ginger, mango and coffee together," Bawn told the Thomson Reuters Foundation.
He sows and harvests the crops at different times. If one is damaged by floods or erratic rainfall, there is a chance that another will survive, and he will be able to sell that one instead, he explained.
Ten of the 22 families in Farukpara's Bawn community are now practising similar mixed cultivation.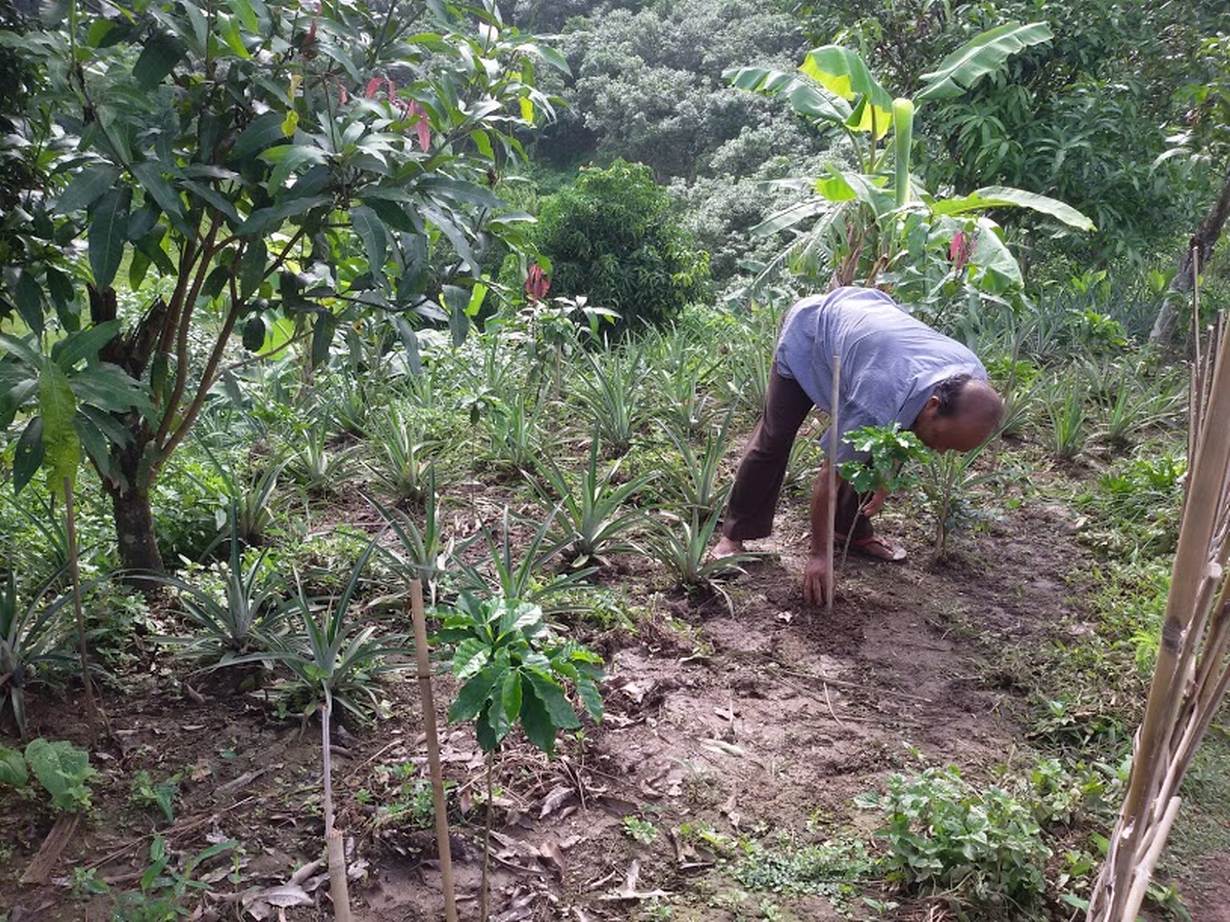 Zarmoy Bawn, one of Fungkhal's neighbours, said that along with traditional crops he has planted coffee saplings on his land. He hopes that once the trees start fruiting, he will be able to earn more money selling the cash crop.
Another farmer, Nu Ang Bawn, intends to plant coffee and mango saplings on her hill slopes from next season.
"Now I sow only ginger and pineapple on my land. But I want to start mixed crops cultivation from next season to get more benefit from farming," she added.
MORE HEAVY RAIN
Weather services and climate experts say the frequency of heavy rain is increasing in South Asia, including Bangladesh, while lighter rainfall is becoming less common.
The Chittagong Hill Tracts (CHT), situated in Bangladesh's south-east and bordering India and Myanmar, are the country's only largely hilly region, with slopes prone to problems in heavy rain.
A 2014 study by the Bangladesh University of Engineering and Technology found that rainfall has been increasing in recent decades, both during and before the annual monsoon. In 2007, the Chittagong region received 480 mm (19 inches) of rain in a single day, leading to flooding and landslides that killed more than 100 people.
Malik Fida A. Khan, deputy executive director of the Dhaka-based Center for Environmental and Geographic Information Services, a think-tank, said that as the rainfall pattern shifts in South Asia as a result of climate change, the hill tract area can expect monsoons to bring more intense rain over shorter periods.
This could lead to massive soil erosion and flash floods, he said.
Reducing the use of traditional shifting cultivation – which can lead to the removal of trees or plants that help hold soil and trap water on slopes – could help reduce risks, and not just in the hills, he said.
"As a result of soil erosion due to shifting cultivation, the streams, rivers and tributaries are rapidly silted up, resulting in flash floods in the CHT region," said Abdul Mannan, a programme officer for the Arannayk Foundation, a joint initiative of the Bangladeshi and U.S. governments that works on forest conservation and biodiversity in Bangladesh.
Mohammad Qudrat-E-Ghana, a director of Bangladesh's Department of Agriculture Extension (Horticulture), said there is great potential for growing fruit and other new crops to replace shifting cultivation in the hill tracts.
The agriculture department has opened 15 fruit tree centres in three hill districts, distributing high-quality saplings to farmers to encourage them to change their farming practices, cut soil erosion and slow land degradation.
He said about 60 percent of farmers living in the hill areas had already started making changes in how they grow crops. (Reporting by Rafiqul Islam; editing by James Baer and Laurie Goering :; Please credit the Thomson Reuters Foundation, the charitable arm of Thomson Reuters, that covers humanitarian news, climate change, resilience, women's rights, trafficking and property rights. Visit http://news.trust.org/climate)
Our Standards: The Thomson Reuters Trust Principles.