With village savings and loans associations, families have enough to eat and are putting away savings, even as they face more unreliable rainfall and climate change pressures
By Kieran Guilbert
TCHOURIDI, Niger, May 11 (Thomson Reuters Foundation) - Zeinabou Halidou cannot stop smiling and thumbing through a wad of banknotes as nearby several members of her village women's group operate machinery to grind nuts and produce soaps and oils.
The scene is a huge change from years past for the women in this farming and pastoralist community in western Niger, where droughts and poor harvests used to send desperate women into the bush in search of wild fruit to feed their families.
Now their families have enough to eat in bad times - and they are putting away savings, even as they face more frequent droughts, unreliable rainfall and other climate change pressures.
"The tools we've been given and skills we've gained have given us opportunities we could never have imagined," Halidou told the Thomson Reuters Foundation in her village of Tchouridi in Niger's Tillabery region, proudly displaying the women's products ready for local markets.
"We can now cope better with climate change, we can help our husbands and support our families...we feel more empowered and valued as women," she added, cradling a small blue box containing the equivalent of hundreds of dollars in CFA francs.
Halidou is one of millions of people worldwide who belong to village savings and loans associations (VSLA), according to CARE International, which helped launch the savings group in Tillabery.
The saving scheme sees people pool money together, lend it to their members, and charge interest.
The microfinance model has long helped communities too poor or remote to access regular banking services sustain or expand their small businesses - from farming to shops or manufacturing - and cover expenses such as school fees and medical bills.
However, the savings groups need more support if they are to succeed in countries like Niger, where most of the West African country's 20 million people work in agriculture, and where rising temperatures and increasingly erratic rainfall are wreaking havoc on farmers and herders, experts say.
More regular losses of crops to droughts and changing weather mean farmers need additional ways of making money to secure a reglar income. But the same loss of crops means they often have exhausted the savings they need to start new climate-smart businesses. A CARE project started in 2015, however, is providing savings groups with the help they need to bridge that gap, including tools, training and accurate information about the changing climate, to help them make better deecisions.
The initiative is part of the Building Resilience and Adaptation to Climate Extremes and Disasters (BRACED) programme, funded by the British government.
"By investing in VSLAs and supporting women to ... learn new skills separate from agriculture, they can become more resilient to climate change," said Penda Diallo, a senior resilience advisor with CARE.
BRANCHING OUT
The project is working to help 450,000 people in western Niger become better prepared for weather shocks in various ways, from improving climate information services to helping farmers find ways to better store their harvests and making savings groups better prepared to withstand pressures when crops fail.
The savings groups are traditionally self-managed and do not rely on external funding. Members collectively decide what interest rate to offer borrowers, who is eligible for a loan and what the money can be spent on.
But the groups are under pressure as a result of climate-related crop losses, and need investment and support - in the form of equipment, information and training - if they are to learn to prosper in the face of climate change, said CARE and local partners, who are working to set up more than 100 climate-resilient savings groups as part of the project.
In particular, the BRACED project is working with women to ensure they have access to and understand climate data to help them make better decisions. It is also connecting them with markets for their goods and training them in new livelihoods and how to run businesses.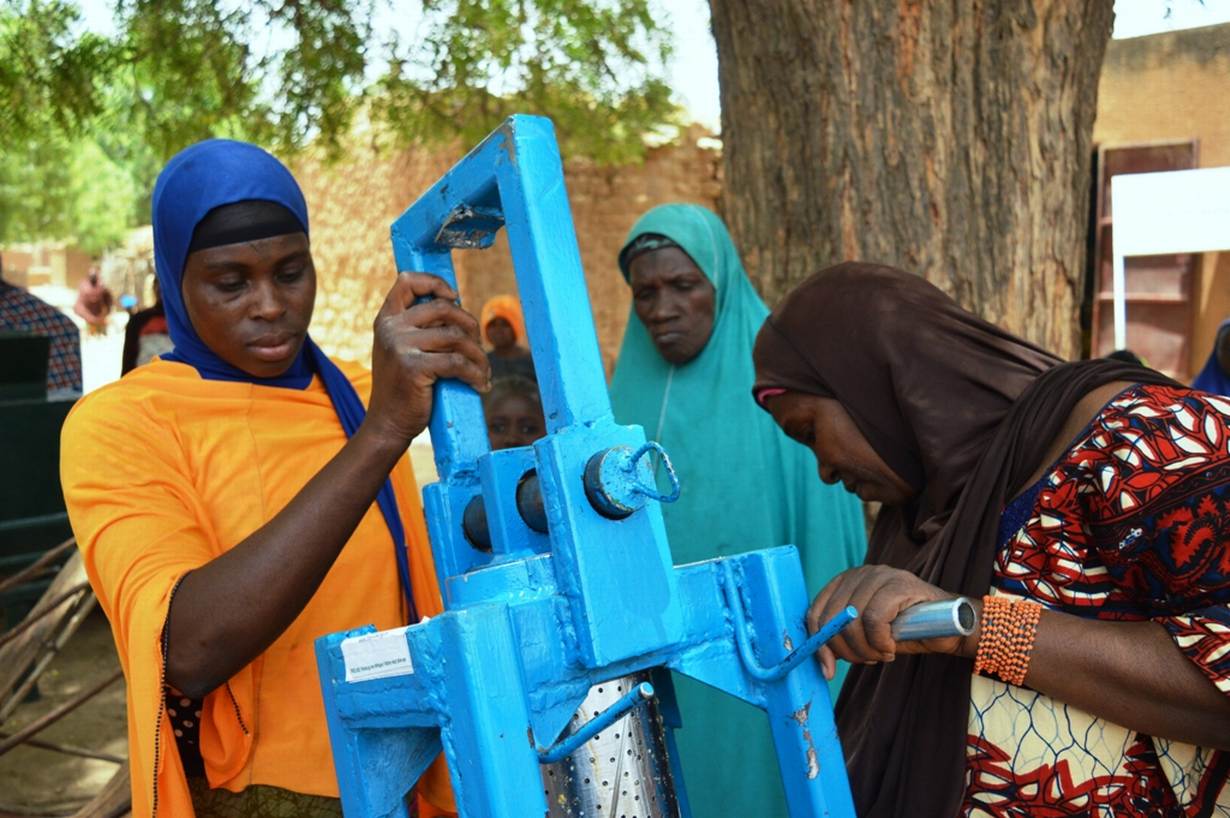 Huddled around an oil press in the heart of a crowded village in Tillabery, Roukaya Jibo and several of her peers gossip, laugh and crack jokes as they take turns to feed sesame into the device and pump out oil into plastic soda bottles.
"Making oils and soaps to sell at markets used to be alien to us," Jibo said, explaining how the women previously responded to poor harvests by dipping into their limited savings or making shawls from millet stalks and trying to sell them.
"We are still scared of climate change, but we now have solutions to help make sure we have some financial security, and enough to eat," she added between hearty pumps of the oil press.
With the vast majority of men in Tillabery region working in farming, women in savings groups play a crucial role in supporting their families financially as droughts and floods become more frequent and harder to predict, according to climate and development experts.
"The men approve of the women's work - whether it is turning moringa and baobab into health products or making jewellery - as it helps them in the lean season and after poor harvests," said Jigo Moumouni of the UK-based charity Tree Aid.
GROWTH AND GAINS
Sitting next to large boxes of soaps, oils and creams, women in savings groups in several villages said they were trying to find large-scale buyers for their products, which they currently only sell at local markets, in order to grow their businesses and make more money.
"Selling at the market makes us feel useful, but we need big buyers and more support and training to move forward," said Fati Boubacar, head of a union of 90 women working in three savings groups.
By supporting and investing in the groups, the BRACED project hopes to enable more groups to grow to a size where they are ready to open formal group bank accounts. That would allow them to invest in bigger ventures and would boost individual incomes, CARE said.
Making the groups more resilient in the face of climate change could also help them to stay together in the long term. Some savings groups disband early on because people move between communities, or because of disputes over investments. In some cases, men also oppose their wives' participation.
While savings groups aim to give women more economic power, the social impact that these women's groups have on communities in terms of health, education and the future of children is key, according to Moustapha Ibrahim of Plan International in Niger.
"VSLAs can build communities from a rights and development perspective," he said. "Women become more powerful in respect of their voices being heard, and by seeing their incomes improve."
For women like Halidou, being part of a savings group and understanding better how to tailor their businesses to deal with climate shocks has made their work "less of a gamble".
"Previously, we didn't know if we would make or lose money when it came to business ... we were in the dark," she said, laughing with other women as they recalled how their husbands used to interfere with their work, or insist they stay at home.
But "when you play your part, come home with money and provide for the family, your husband will let you go anywhere you want", Halidou added, grinning and winking as she shook her purse.
(Reporting By Kieran Guilbert, editing by Zoe Tabary and Laurie Goering.; Please credit the Thomson Reuters Foundation, the charitable arm of Thomson Reuters, that covers humanitarian news, women's rights, trafficking, property rights, climate change and resilience. Visit http://news.trust.org)
Our Standards: The Thomson Reuters Trust Principles.