Using human waste to make fuel briquettes tackles sanitation and health problems - and they even smell sweet
By Benson Rioba
NAKURU, Kenya, May 12 (Thomson Reuters Foundation) - Poultry farmer Josephine Mbithe used to get up three times a night to add charcoal to her stove just to keep her newborn chicks warm. But since she started using fuel briquettes made with human waste, the stove burns all night, leaving her to sleep in peace.
Mbithe is one of many Nakuru residents who have embraced the briquettes manufactured from human poo and sawdust collected around the town, northwest of Nairobi, in the Great Rift Valley.
Before the briquettes find their way into Nakuru's poor households, they undergo processes to ensure they are free from harmful pathogens that could cause diseases, and are safe to use.
Human waste - the main raw material for the briquettes - is collected from pit latrines and septic tanks around Nakuru by truck and transported to a waste water treatment plant run by the Nakuru Water and Sanitation Services Company (NAWASSCO), where the manufacturing takes place.
At the plant, the sludge is discharged into drying beds in a greenhouse, and left to dry for two to three weeks. The greenhouse heat reduces the moisture content from around 95 percent to below 20 percent, to prepare it for carbonisation.
The dried-out sludge is then treated at temperatures of about 700 degrees Celsius, with the accompanying sawdust carbonised at 300 degrees Celsius.
Next, the carbonised materials are ground into fine particles using a hammer mill, before being mixed together in an equal ratio using motorised equipment. Molasses is added as a binder, before the mixture is transformed into small, round balls in a rotating drum.
John Irungu, NAWASSCO's site manager, said impurities, harmful pathogens and the foul smell of the waste are removed during the carbonisation process, with the molasses adding a sweet aroma.
Margaret Japaso, a resident of Kaloleni neighbourhood in Nakuru town who uses the briquettes, said they burn longer with less smoke compared to firewood and charcoal. Initially she was worried about the smell, but her fears have been laid to rest.
WATER CONTAMINATION
Reinilde Eppinga, a sanitation advisor with SNV Netherlands Development Organisation, which is a partner in the briquette project, said only 27 percent of Nakuru residents are connected to the town's sewerage system, highlighting the need for a better way to dispose of the large quantities of human waste generated each day.
"Most (people) use pit latrines, and when these fill up, they are emptied, but nobody is asking where the human waste is taken to," she said.
The threat of water contamination in Nakuru is real, she added, as human waste is often dumped in storm drains and rivers, or is buried in low-income areas. In turn, faeces are finding their way into nearby Lake Nakuru, polluting the ecosystem.
Cees Lafeber, who works for Vitens Evides International, a Netherlands-based water operator that is collaborating on the sanitation project with the EU, SNV and NAWASSCO, said the briquette initiative helps protect the environment and forests, while improving sanitation.
It also generates income through sales of the briquettes by NAWASSCO, and reduces health risks from inhalation of smoke, he added.
In addition, the project is supporting households and landlords to construct more than 6,000 special toilets in poorer parts of Nakuru, as well as in schools, to help collect human waste.
"Unlike normal pit latrines, our latrines are designed not to allow water to seep into the ground," said Lafeber. "The toilets have a lining to contain the waste, and also a place where the waste can be collected with ease."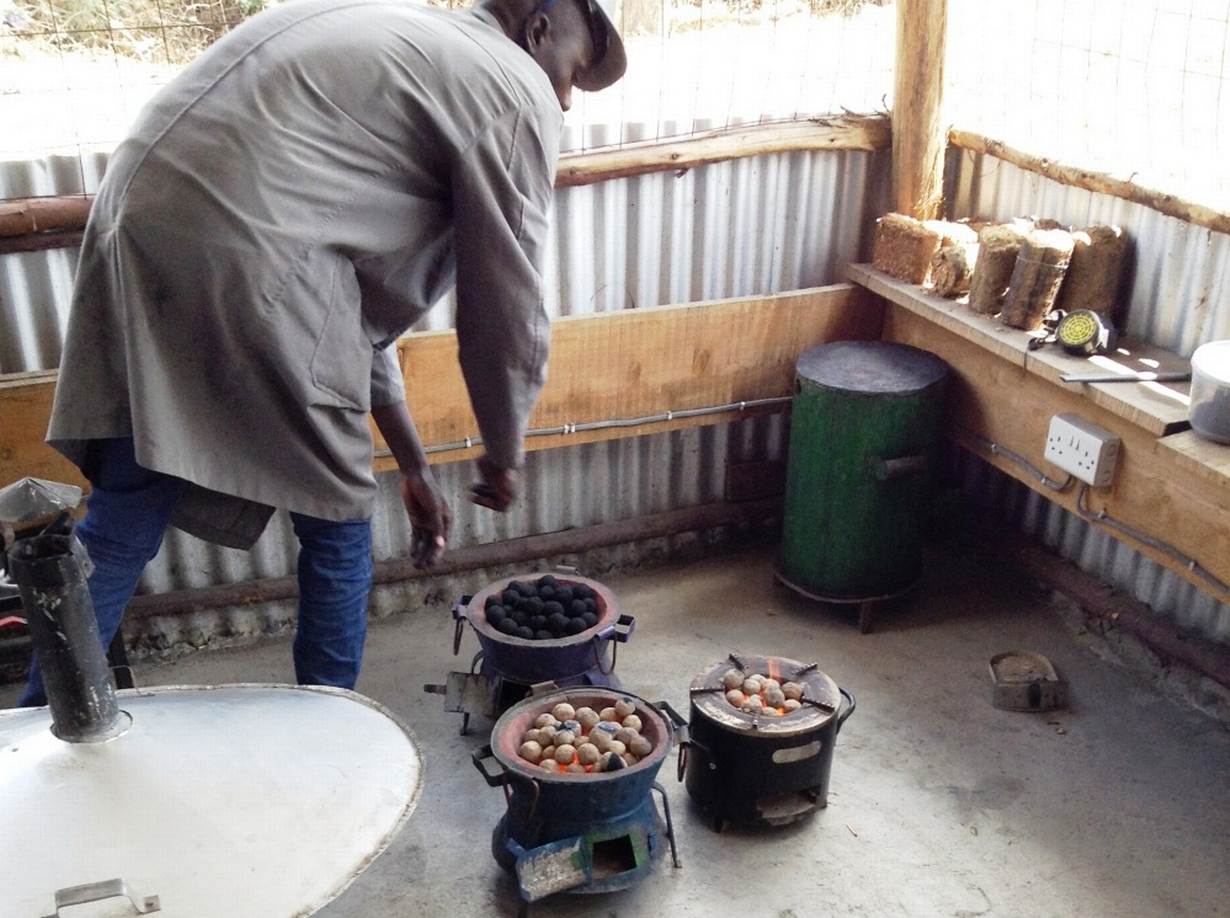 SANITATION LEVY
At first, it was hard to convince the local community to use the briquettes due to the taboo associated with human poo, Lafeber admitted. Now the efficiency of the process has sparked interest, not just among Nakuru residents, but further afield in other Kenyan counties and neighbouring countries such as Rwanda.
SNV sanitation advisor Lawrence Kimaru said the country's licensing bodies and the Nakuru County Health Department also had early reservations about the project, raising questions about how the waste would be collected, transported and treated in accordance with local laws and existing practices.
The project partners lobbied the Nakuru County Assembly for a comprehensive public health bill that addresses how to handle human waste, removing the legislative bottlenecks.
The site now produces two tonnes of briquettes each month, but NAWASSCO's Irungu said the plan is to scale up production to 10 tonnes a month, and eventually 10 tonnes per day.
That will require larger-scale equipment, including improved solar drying systems, a machine to remove water from the sludge, and an industrial carbonisation system.
NAWASSCO has proposed a levy on water bills to fund provision of sanitation services as part of the company's core activities, which it expects to be approved this year, Lafeber said.
Under it, Nakuru residents would pay 5 percent on top of their water bill, with which the company would be able to maintain the sludge collection and transportation system.
SNV's Eppinga said the briquette market is huge, with a study indicating it could cover around half of household fuel demand in Nakuru town, suggesting the current production site is unlikely to be able to fully meet demand.
"Briquette production from human waste is a viable option," she said.
If more water companies team up with social enterprises and other businesses, as well as the government and development groups, on the activity, "it may generate income for jobless youths in the country while providing clean and affordable sources of fuel for large populations", she added.
(Reporting by Benson Rioba; editing by Megan Rowling. Please credit the Thomson Reuters Foundation, the charitable arm of Thomson Reuters, that covers humanitarian news, climate change, resilience, women's rights, trafficking and property rights. Visit http://news.trust.org/climate)
The Thomson Reuters Foundation is reporting on resilience as part of its work on zilient.org, an online platform building a global network of people interested in resilience, in partnership with the Rockefeller Foundation.
Our Standards: The Thomson Reuters Trust Principles.