More than 21,000 women volunteers have created a national aunties network to help victims of sexual abuse, violence and early pregnancy rebuild their lives.
By Inna Lazareva
YAOUNDE, May 16 (Thomson Reuters Foundation) - With its sunset-like colours, Charnelle Lumière's painting would seem warm and happy, were it not for the limp body of a young girl hanging from a tree, suspended by a rope around her neck.
"This was me," the 27-year-old says in a voice barely louder than a whisper, staring at the painting, oblivious to the rumble of traffic outside the window in Cameroon's capital Yaounde.
Having been raped at the age of six by a 23-year-old friend of her brother, Lumière recalls how she kept crying, blood trickling down her legs, as her mother recoiled in shock.
Seven years later, Lumière finally mustered up the courage to run away when her uncle, too, began to sexually abuse her.
But when the 13-year-old sought shelter with a neighbour, she was allowed to stay only one night. "What happens in the family, should stay in the family, one should never interfere," she told Lumiere, and sent her home.
Aged 17, out of school and pregnant by a classmate who had harassed her into having sex with him, she decided to take her own life by hanging herself.
Luckily, her brother found her and cut her down from the tree with just seconds to spare.
Now she is back on her feet and on a mission to help a new generation of young people avoid the same abuses.
And she is not alone.
In Cameroon, more than 21,000 women volunteers in more than 350 groups around the country have come together as part of RENATA - the national aunties network - to help victims of sexual abuse, violence and early pregnancy rebuild their lives
"We call ourselves 'tantines' - aunties in French," said Cathy Aba, a 28-year-old spokeswoman of RENATA who was herself an victim of "breast ironing", a painful, dangerous practice designed to suppress a girl's physical development.
"Aunties, because an auntie is usually the person a young person can seek help and advice from on issues they can't talk to their parents about.
"We are all young mothers, and we are all survivors of abuse, so we know exactly what we are talking about," she said.
KEEPING IT IN THE FAMILY
In Cameroon, beatings, sexual abuse and rape, particularly within the family, are issues often swept under the carpet.
According to a study done by RENATA in 2009, nearly one in every 20 women in the central African country had been raped. Of those, almost every fifth attack was carried out by a family member.
Many more cases simply go unreported, said Flavien Ndonko, a medical anthropologist who helped set up RENATA in the 2000s and now works for the aid agency Care International in Cameroon.
"People never talk about it - and the perpetrators, they know that," said told the Thomson Reuters Foundation.
RENATA also conducted studies that revealed that 10 percent of victims in Cameroon were raped before they were 10 years old. So the "aunties" began an outreach programme in primary schools, targeting children as young as four and five.
"With the children, the first part of what we teach is about the private parts of their body, that no one should be touching them," said Lumière, who has given many talks in schools.
"But then you have the cases where one of the children tells me: 'Oh, auntie, but what if it's daddy who touches me down there?'
"Other times, you will notice the child listening, and would grow more and more quiet, won't ask anymore questions. and after you would approach him and say 'what's wrong', and they tell you."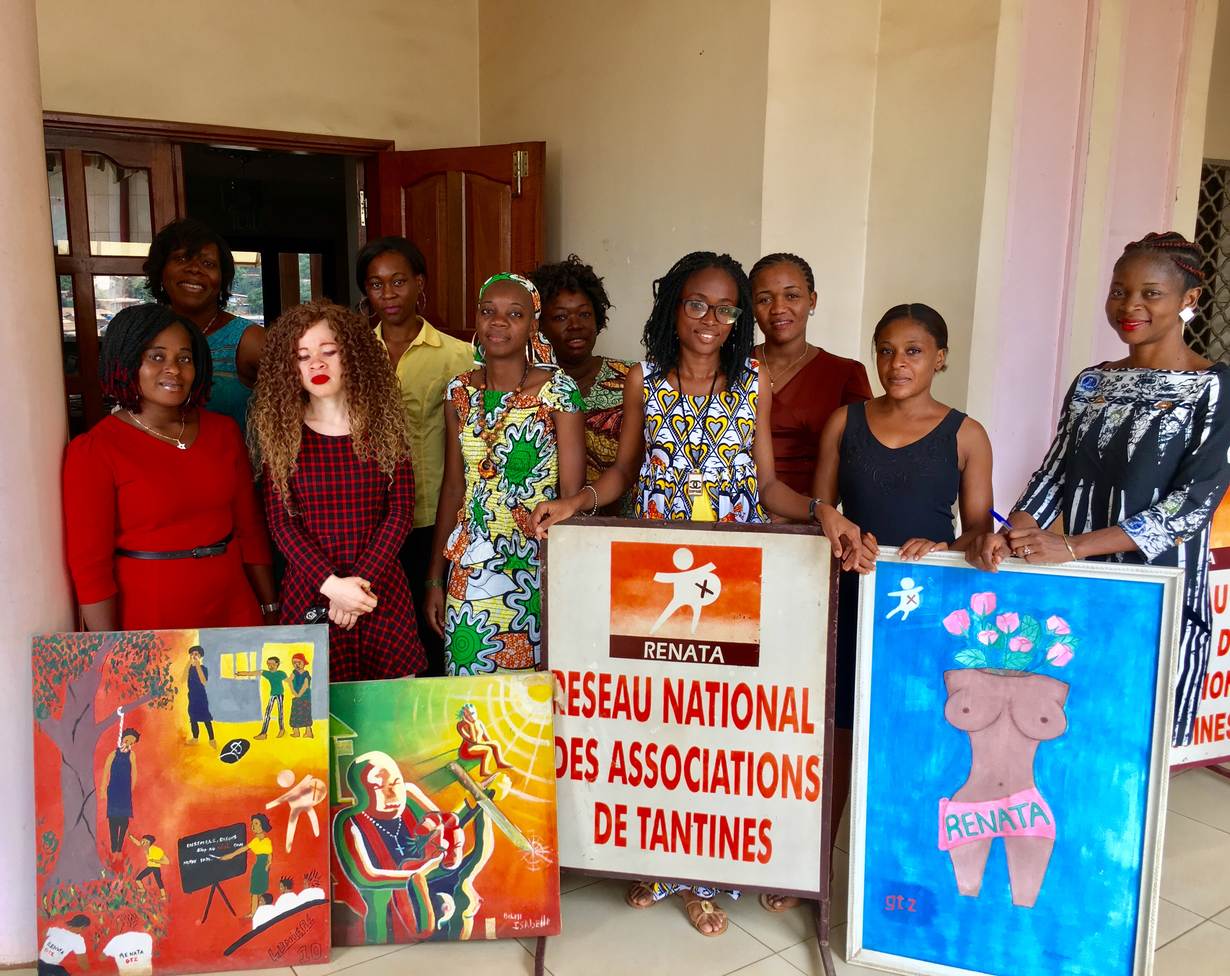 The aunties invite parents in to discuss cases, sometimes with psychologists, in an attempt to break the silence: "Often the families will say: 'Even if it happened, because it happened in the family, it stays in the family,'" said Lumière.
SEX WORKERS
At night some of the aunties can be found in the dark alleyways and brothels of downtown Yaounde's red-light district, talking to sex workers and distributing free contraceptives.
Although funded for many years by the German development agency GIZ, RENATA receives small grants from international donors, but is no longer fully sponsored by anyone.
So the aunties work as volunteers, often holding down second jobs as hairdressers, shop-stall owners, teachers, restaurant managers to make ends meet.
Some of their revenue is under threat following President Donald Trump's order to reinstate the global gag rule that bans U.S.-funded groups around the world from discussing abortion.
Aba, the RENATA spokeswoman, said despite their dwindling resources, she and the other aunties are determined not to give up.
"We won't lower our arms - we will continue, we will find other revenues. We will continue our fight," she said.
Their work is welcomed by Cameroon's government, grappling with low commodity prices and an influx of refugees fleeing conflict in Central African Republic and northern Nigeria.
"Civil society organisations like this are very important," Francisca Moto of the Ministry of Women's Empowerment and the Family told the Thomson Reuters Foundation.
In parallel, the government was trying to toughen up laws on sexual abuse and let Cameroonians know it is a crime that should not be ignored.
"The new penal code is harder on the issue than before," she said. There is also "increased awareness including among children in primary and nursery schools ... Silence is being broken by many families."
For Lumière and other aunties, there is still much work to be done.
"Many victims languish in silence due to feelings of guilt," she said. "I tell them it's not their fault. And ... by speaking out you can prevent the same people from doing it to others."
Above all, said Lumière, her work is an act of defiance after the abuse she endured.
"For me, success is the best form of revenge."
(Reporting By Inna Lazareva, Editing by Kieran Guilbert and Ros Russell; Please credit the Thomson Reuters Foundation, the charitable arm of Thomson Reuters, that covers humanitarian news, women's rights, trafficking, property rights, climate change and resilience. Visit http://news.trust.org)
Our Standards: The Thomson Reuters Trust Principles.