Sea levels rise in tremor aftermath
* Two die, scores injured in powerful Aegean quake
* Tremor causes small tsunami, minor coastal damage
* Greek resort of Kos and Turkey's Bodrum take brunt of quake
* Many tourists spend night in the open (Recasts with more quotes and colour)
By Vassilis Triandafyllou and Tuvan Gumrukcu
KOS, Greece/ANKARA July 21 (Reuters) - A powerful earthquake killed two people on the Greek holiday island of Kos in the early hours of Friday, sending tourists fleeing into the streets, and causing disruption in the nearby Turkish tourist hub of Bodrum.
A Turkish and a Swedish tourist, aged 39 and 22 years, died when the roof of a popular bar collapsed, Greek police said. Kos's port was put out of action and, across the strait, a small tsunami damaged vehicles parked near Bodrum's shore.
On Kos, around 115 people were injured, including tourists of various nationalities -- 12 of them seriously. More than 350 people visited hospitals in Turkey, though most had only light injuries.
The quake struck at 1:31 a.m. (2231 GMT), and many of Kos's tourists spent the rest of the night in the open as a precaution, hotel owners said.
"All of a sudden it felt like a train was going right through the room," said Vernon Hausman, a German holidaying on Kos.
"I told my son: 'Looks like an earthquake, so let's get the hell out of here.'"
Greek authorities said the 12 people seriously injured on Kos included tourists from Turkey, Sweden and Norway; four were transferred to Crete and three to Athens.
One person was in a critical condition, while a Swedish tourist lost a leg, the director of the hospital in Crete told Greek Skai TV.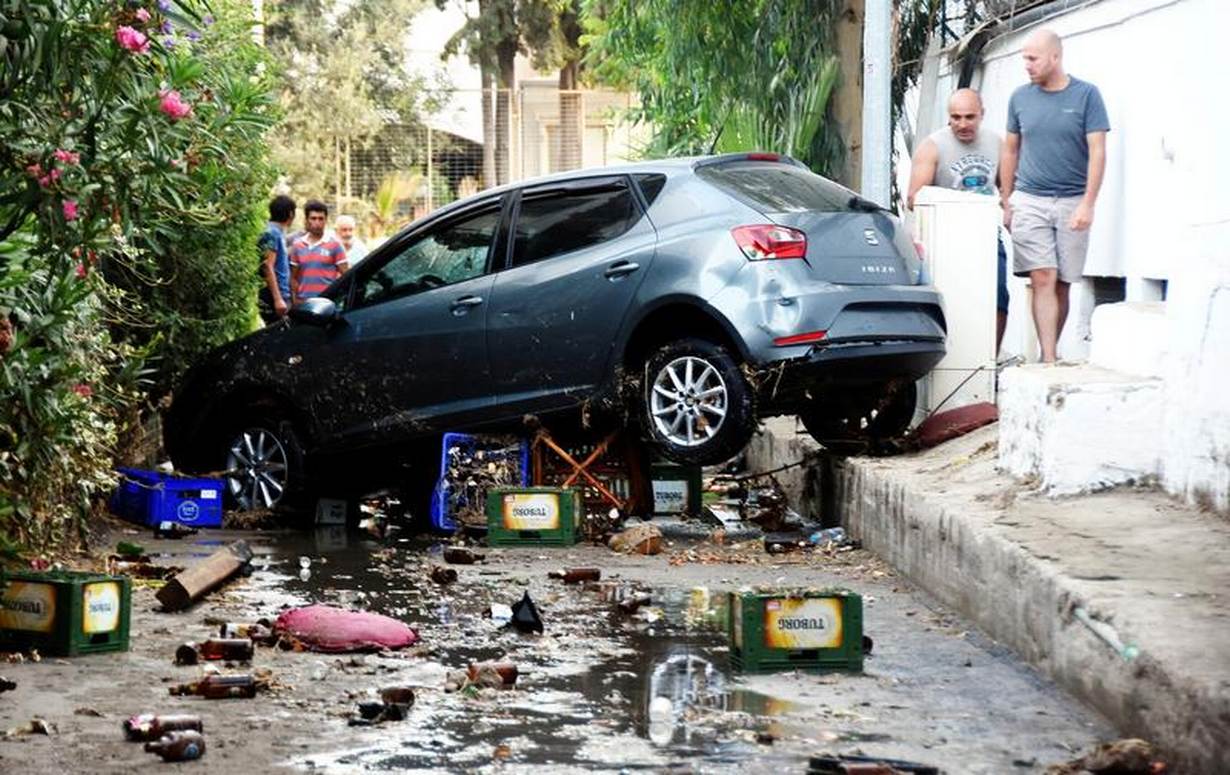 "LUCKY ESCAPE"
Turkish and Greek authorities put the magnitude at 6.3 and 6.6 respectively and reported several aftershocks, with one estimated at 5.1. The U.S. Geological Survey located the epicentre of the main quake in the Aegean Sea, 10 km (6 miles) SSE of Bodrum and about 16 km ENE of Kos's main port.
Hotel owners in Bodrum told Turkish broadcasters that some tourists were checking out.
"It was a lucky escape and it could have been much worse," said Issa Kamara, a 38-year old personal trainer at the Maca Kizi hotel in Bodrum's smart Turkbuku area.
Constantina Svynou, head of the hoteliers' association in Kos, told Greek state television that many visitors had spent the night outside their hotels.
"There are about 200,000 tourists on the island, we are at the peak season. Our first reaction was to calm the tourists, following basic rules and evacuating hotel buildings," Svynou said, adding that there had been no injuries at hotels.
Reuters video footage showed residents and tourists walking along the streets of Kos's main town among collapsed walls and debris. Long, wide cracks appeared in the asphalt on the quayside, which is near a tourist strip of cafes and bars.
"It was terrible ... our bed was shaking from the left to the right," said Jara, a 26-year-old Dutch tourist. "Everything was going crazy."
Kos's airport remained operational and Greek Deputy Shipping Minister Nektarios Santorinios flew there. But he said the main port was out of action.
"Passengers on ferries have been rerouted to the islands of Nisyros and Kalymnos," he told Greek SKAI TV.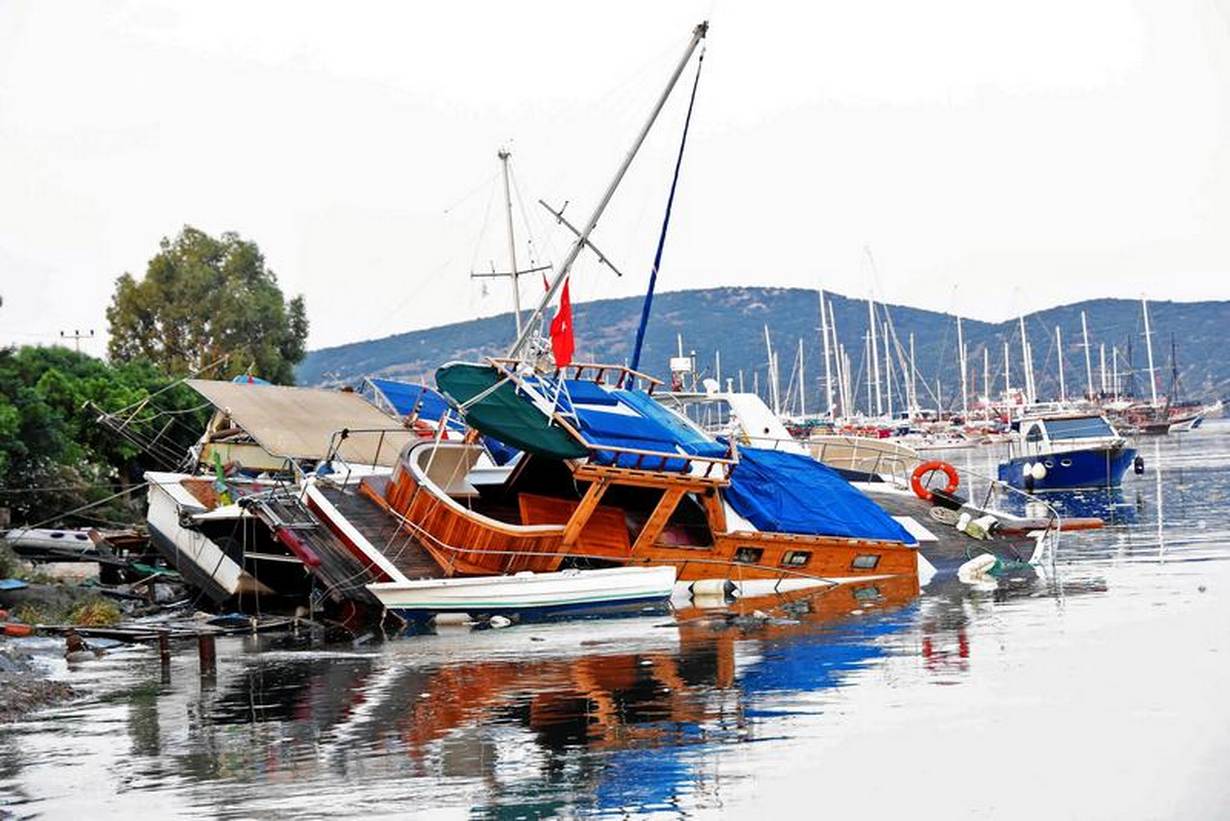 TIDAL WAVE
Police said most of the damage in Kos had been to older buildings.
A seismologist told Greek TV that there had been a tidal wave about 70 cm (28 inches) high.
Turkey's emergency authorities warned against aftershocks, but said there had been no casualties or major damage there. Some power cuts were reported, and a minaret in the town of Islamkoy was said to have collapsed.
The broadcaster CNN Turk said that, in Bodrum, 60 vehicles had been dragged along by the water. It also showed boats listing in a harbour. Several store owners told the broadcaster NTV they had suffered flood damage.
Turkey said it would evacuate around 200 of its citizens from Greece by boat.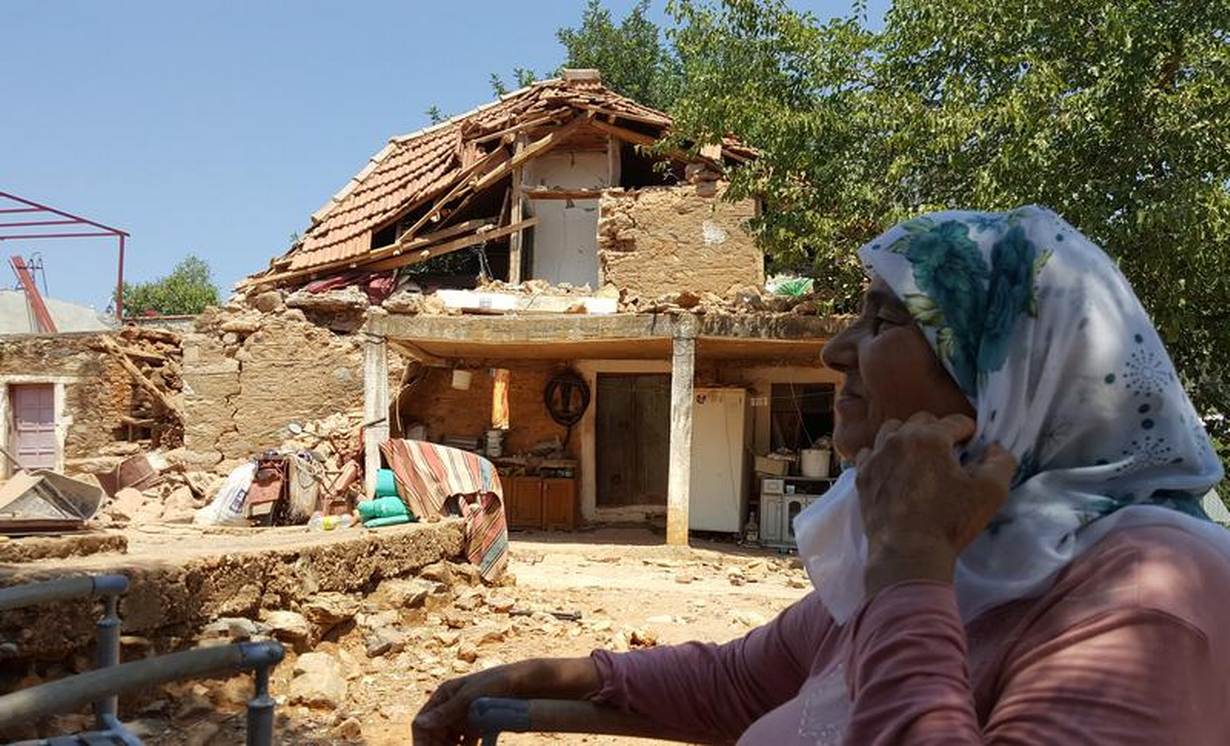 President Tayyip Erdogan said the fact that no lives had been lost in Turkey was a sign that "the measures we took have been effective".
Turkey's location between the Arabian tectonic plate and the Eurasian plate renders it prone to earthquakes.
In October 2011, more than 600 people died in the eastern province of Van following a 7.2-magnitude quake and powerful aftershocks. In 1999, two massive earthquakes killed about 20,000 people in Turkey's densely populated northwest.
The same year, a 5.9 magnitude quake killed 143 people in Greece.
(Reporting by Tuvan Gumrukcu in Ankara, Renee Maltezou, Michele Kambas and George Georgiopoulos in Athens, and Sandra Maler in Washington; Editing by Kevin Liffey)
Our Standards: The Thomson Reuters Trust Principles.