After centuries of oppression, anti-Roma racism, and rural poverty, two Roma actresses fightback through art and activism
By Claudia Ciobanu
BUCHAREST, Aug 17 (Thomson Reuters Foundation) - On a hot summer afternoon, two delicately framed women are pulling off a theatrical tour de force, playing out a real-life drama in a village courtyard close to Bucharest.
They are at the vanguard of a Roma revolution, a fightback - through art and activism - after centuries of oppression.
Their play, "Who killed Szomna Grancsa?", is based on the true story of a Roma girl who committed suicide after her parents stopped sending her to school, and explores the many complex reasons behind the tragedy.
The actors - Mihaela Dragan and Zita Moldovan - each play several characters in her young life: the 17-year-old who killed herself, her parents, teacher, village priest, neighbours and the journalists who covered her burial.
Their theatrical approach is a direct challenge to the more simple version of events told on Romanian television – that a young woman died because her parents, from one of Romania's traditional Roma communities, denied her an education.
The play instead explores the other daily pressures she had faced: anti-Roma racism in Romanian schools, rural poverty, women's oppression in Romanian society at large.
"Don't all women cry?" one female character asks rhetorically in a summation of the greater female lot.
The play is staged by Giuvlipen, a Roma feminist theatre company - a first for Romania - that was founded in 2014 by Dragan, Moldovan and director Mihai Lukacs.
The company members spoke to the Thomson Reuters Foundation on the sidelines of their latest play, which is a tough watch for any audience, Roma and non-Roma alike.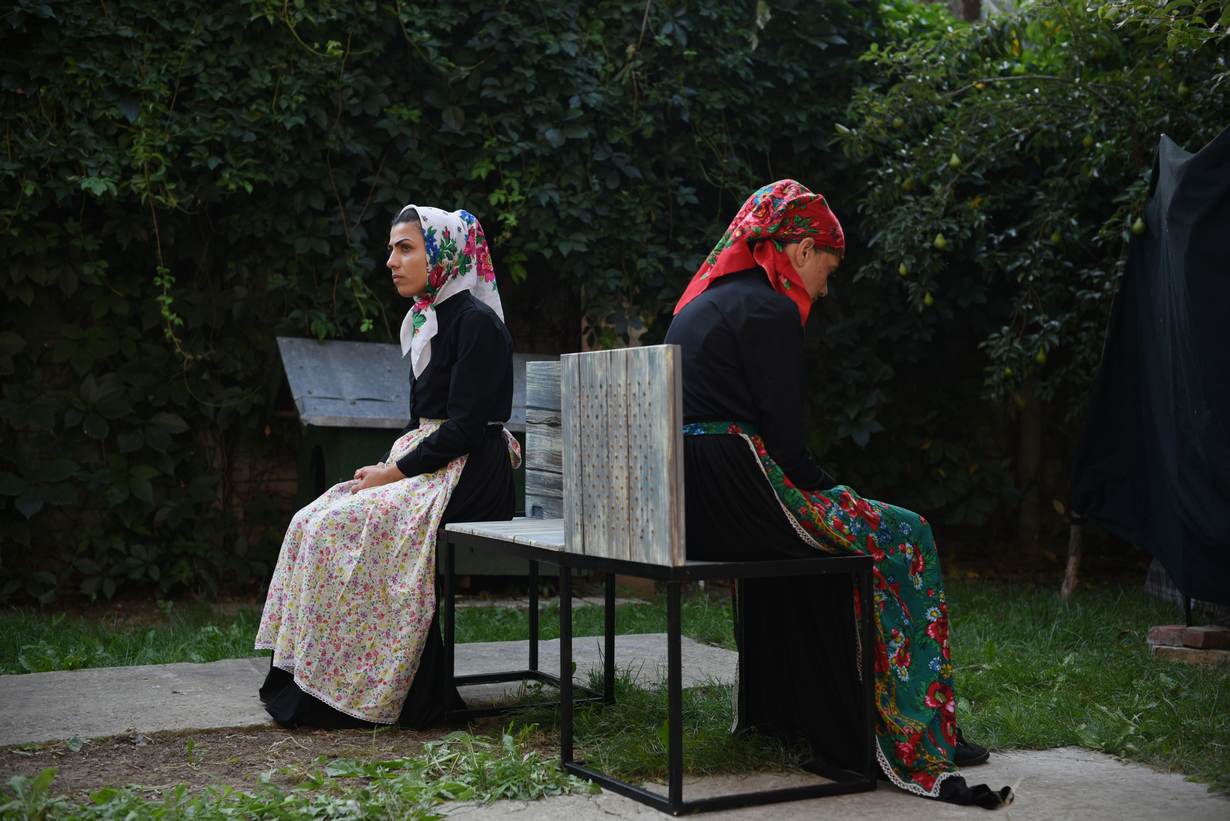 CHALLENGE PREJUDICE
Hot topics are the company's forte.
In "Gadjo Dildo", Giuvlipen addresses Roma women's sexuality. In one scene, three actors stand before a screen projecting the most common male stereotypes about Roma women - 'passionate', 'exotic', 'submissive' - poking fun at the labels and telling stories of Roma women who contradict them.
A gay character trying to court a female colleague is told, "I did not expect a cute Roma woman like you to be gay".
During a performance at Macaz theatre cafe in Bucharest, attended mostly by Bucharest's young intelligentsia, the actors engaged directly with the audience. They singled out a politician, a policeman and an anthropologist, highlighting power relations between them and Roma women.
A raw nerve was hit.
Members of the elite audience grew decidedly uncomfortable.
"The topics we address are causing debate and I feel that we are contributing to this change," said Moldovan. "We usually play with a full house, so people do really want to see what we are showing them. This is what gives me strength to go on."
Giuvlipen - a word created to mean feminism in the Romani language - addresses topics largely new to mainstream Romanian audiences, such as mental health, Roma or housing.
Non-Roma must confront their own racism; Roma must concede that patriarchy can govern their traditional communities.
Dragan and Moldovan have faced personal attacks and are under constant scrutiny for what they wear, say and do. If disarmingly sincere on stage, they are slow in an interview to reveal the emotions that fuel their provocative art.
"My work starts from discomfort, from things that hurt me, but then again, theatre is always born from conflict," said Dragan. "I am powerful when I act: for that hour, the audience is mine and listens to my story. They even pay money to listen. When I am on stage, my identity is revolutionary."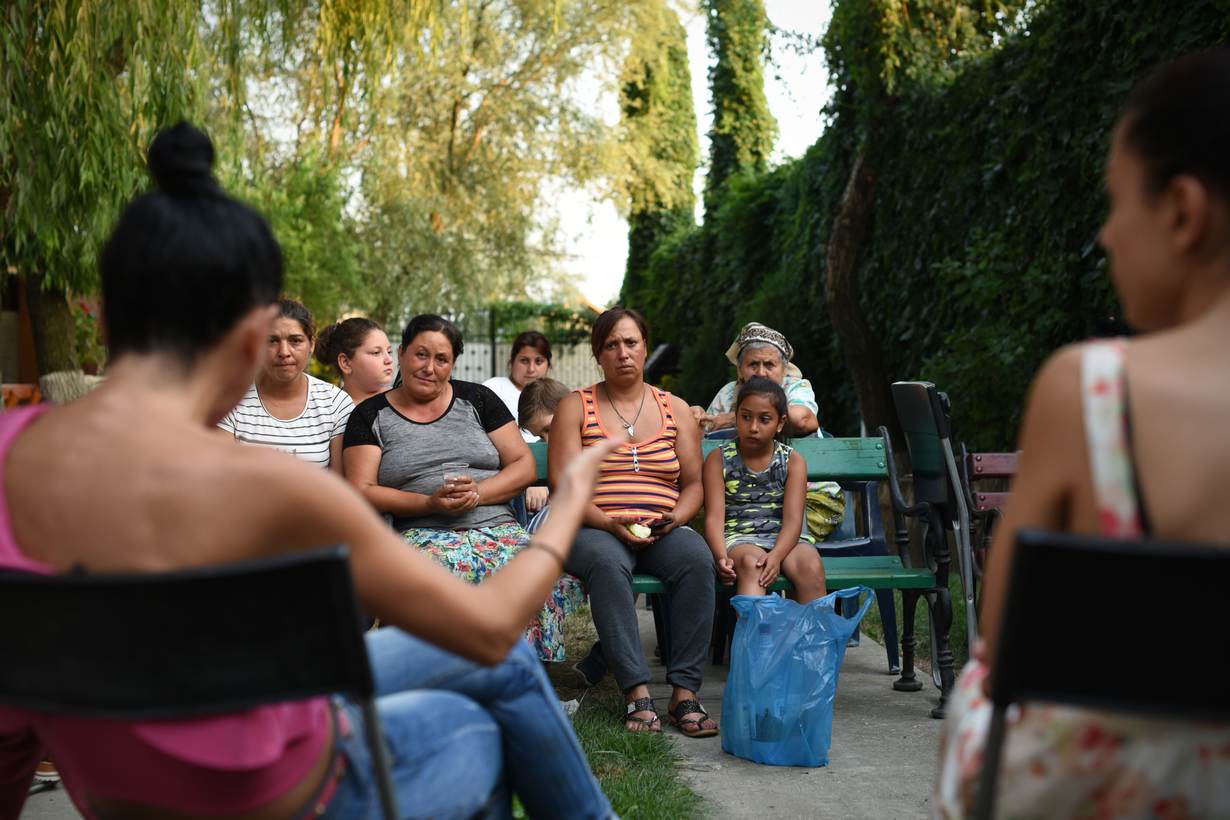 ROMA RISING
While the theatre company is unique, its emergence is part of a new pride in the Roma community and a wider fightback against centuries of oppression.
Romania is home to one of the world's largest Roma populations, totalling 2.5 million, according to some estimates.
Romanian Roma are a diverse population, spanning rich and poor, urban and rural, the traditional and the assimilated.
They are united by the widespread discrimination they face.
This means there is limited knowledge about the Roma's history and diversity; stereotypes are the norm.
Anti-Roma racism in Romania goes back to the Middle Ages, when noblemen and the Orthodox Church exploited the Roma as slaves; slavery was abolished only in the 19th century.
During World War Two, more than 25,000 Roma from Romania were deported to Transdniester, more than half dying there.
Today, the World Bank estimates 90 percent of Roma families in Romania live in poverty and are targets of racism, including discrimination in access to housing, healthcare and education.
Roma NGOs and activists have tried for decades to bring about change, but in recent years the voices of Roma people fighting discrimination have grown louder and some among the majority Romanians are now finally listening.
A grassroots movement of Roma people fighting evictions from their homes in the centre of Bucharest and other major cities emerged in recent years, supported by non-Roma activists too.
Non-Roma youth are re-evaluating their taste for 'manele', a type of Roma music, whose earlier rejection was at least in part motivated by racism.
Radu Jude's 2015 film 'Aferim!' brought the history of Roma slavery to wider circles, and non-Roma writers have created complex Roma figures in recent novels, films and journalism.
Giuvlipen is now campaigning for the opening of a state-funded Roma theatre, akin to those of all other major ethnic groups in the country. Romanian authorities have so far responded with a cold shoulder.
"We are fighting century-old mentalities," says Dragan.
"But in the last two, three years, there has been more debate. Racists get snubbed much more often and we feel more comfortable criticising racist attitudes."
(Editing by Lyndsay Griffiths. Please credit the Thomson Reuters Foundation, the charitable arm of Thomson Reuters, that covers humanitarian news, women's rights, trafficking, property rights, climate change and resilience. Visit news.trust.org to see more stories.)
Our Standards: The Thomson Reuters Trust Principles.