In predominantly Christian South Sudan, churches are seen as a safe haven - the custom has deep historical roots - and have become a place of refuge for civilians fleeing violence
By Stefanie Glinski
WAU, South Sudan, Aug 24 (Thomson Reuters Foundation) - Below a painted scene of African mud huts and a crucified Christ, eight-year-old Juma lies on a blue metal bed, recovering from malaria.
The chapel has been home for the past year, even though Juma's old place of residence is just two miles down the road. But it's not safe for him to go back. Now it lies empty and looted; many of his former neighbours have been killed.
Juma is among more than 10,000 people who have found refuge in the backyard of St Mary's Cathedral in South Sudan's Wau.
It is the country's biggest church, its brick dome rising above the surrounding houses and unpaved roads, the colour blending with the local red dust and soil.
Once used for preaching and workshops, the smaller chapels around the main cathedral and surrounding grounds have become a full-fletched city, one with its own shops, latrines, schools and a graveyard.
On Sundays, worshippers still attend services in the main cathedral, decorated with stained-glass windows and images of saints at the altar.
In the outside camp, hunger and fear abound.
"We haven't received food in four months," said Juma's neighbour Irene, who desperately wants to set up a small shop, but has no funds.
Her shelter is a few blankets and some plastic sheets, big enough to cover her bed, but barely waterproof during the current rainy season.
"I'm hungry, but I'm afraid to go home. Soldiers are still roaming the area and loot houses constantly. My brother died and my sister was raped in last year's attack. I'm scared of a similar fate. Many people have been assaulted and tortured. That's why I can't leave the cathedral camp."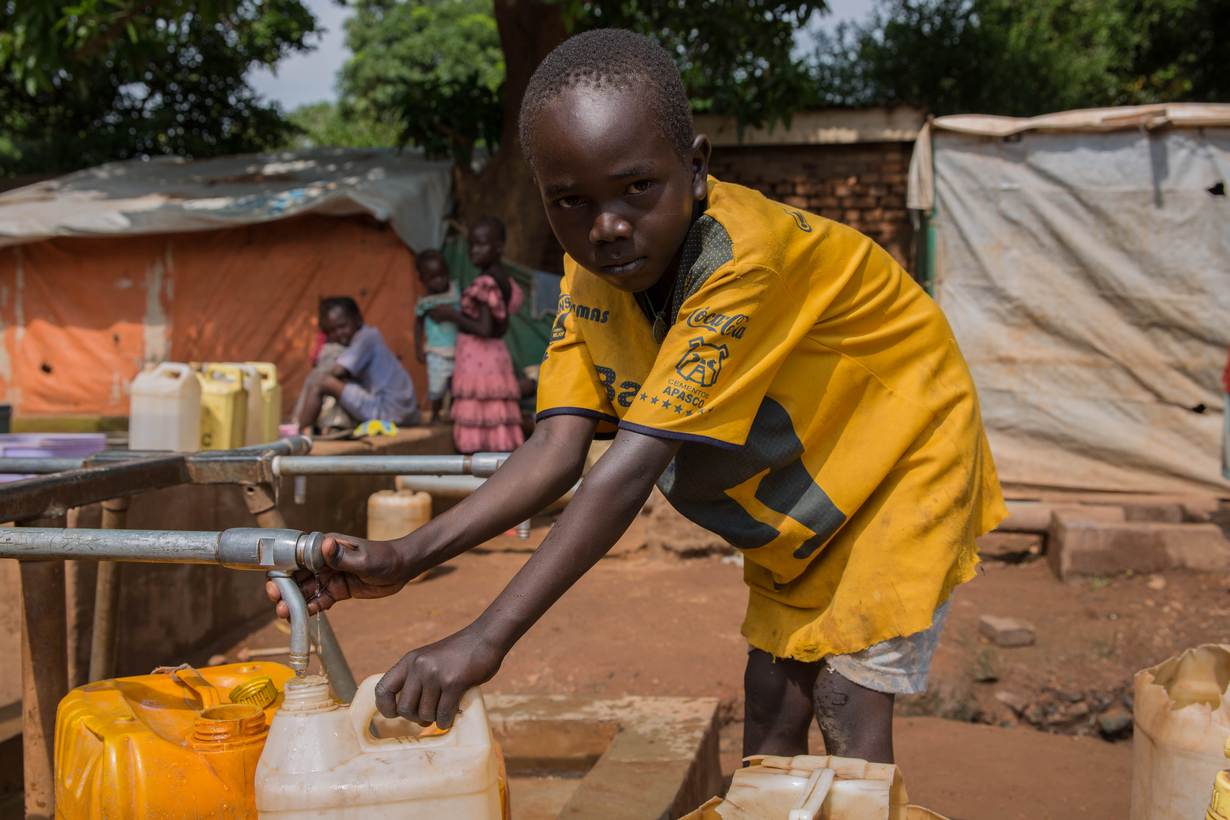 LAW OF THE GUN
Wau – about 400 miles northwest of the capital Juba – has a history of instability. Set up in the 19th century as a slave trade hub, Wau has since grown into the country's second biggest city, although security remains volatile.
Clashes between the government army and the region's native Fertit people had tens of thousands flee their homes last year. Renewed fighting this April saw hopes for peace ebb.
South Sudan erupted into civil war almost four years ago, shortly after the young country's birth in 2011.
On the surface, Wau has been seemingly quiet, but – less than 20 miles from one of the civil war's frontlines and host to several ethnic groups – it is a hotspot waiting to erupt.
"There is no law and order here, except for the law of the gun," an aid worker said on condition of anonymity. "Young militia, who often worked as cattle herders in the past, roam the area and loot whatever they can."
In April, three World Food Programme (WFP) staff members were killed by machetes and gunshots.
The organisation has since halted food distribution in several camps, including St Mary's, but continues to supply those living in the city's United Nations protected site (PoC).
"We have been unable to serve people outside the PoC as we did not have assurance of safety and security for our staff members," said WFP's communications officer George Fominyen.
He said distributions would resume once the WFP had safety assurances from the government.
Irene wasn't able to run to the PoC for safety when violence erupted last year - the towering cathedral was nearer home.
Her life in recent months has been one of begging for leftovers in the city's main market.
"Right now it's the only way I can survive. I used to work as a farmer, but going home to resume my job is not an option. I'm terrified to risk my life once again and I know I'm safe here," she told the Thomson Reuters Foundation.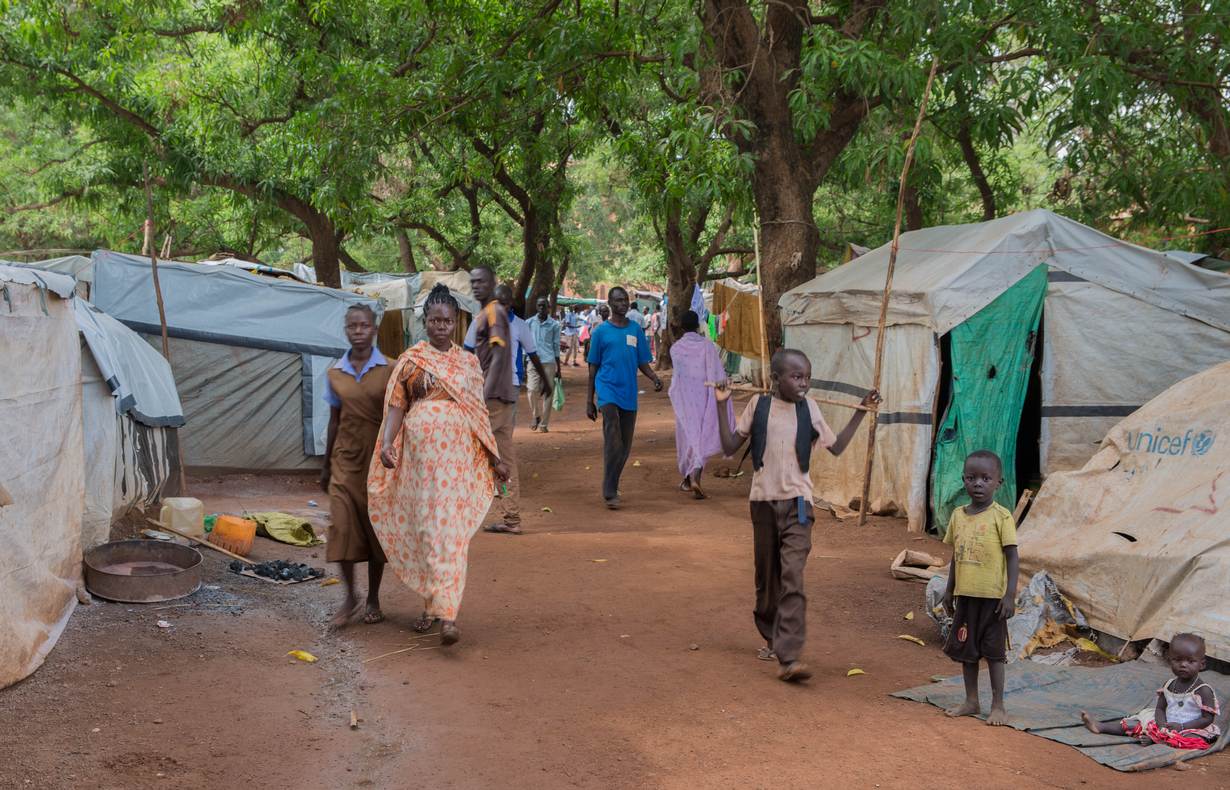 CHURCH AS SANCTUARY
In predominantly Christian South Sudan, churches are seen as a safe haven - the custom has deep historical roots - and have become a place of refuge for civilians fleeing violence.
"People flock to churches in times of insecurity. Most of them have a strong faith. They believe that they are best protected here and in case of an attack, they'd rather die in the house of God," explained Father Moses Peter, who now works as the Wau Diocese's emergency coordinator.
The area is protected by walls, a metal gate and police officers – no barrier to a determined intruder.
The grounds, with the red brick cathedral triumphing over the white makeshift tents, has turned into a functioning city with small businesses and clean water, but it barely makes up for the lives they have all lost.
"It is very sad. Families who lived in houses had to reduce to living in small tents. That can be frustrating and hard to understand," said Ben Lopidia of Oxfam, one of the organisations helping the camp's residents.
"We try to improve their lives through emergency response, but they are waiting for stability to return home. That's why the political situation here remains our biggest challenge."
As fighting outside the city continues and hunger prevails, the church sanctuary seems like a good bet.
"We walked 16 miles to come here and I barely made it," said Wijowek, a severely malnourished father of six. "I'm weak and hungry. Right now, while we wait for peace, living in the camp is our last hope." (Editing by Lyndsay Griffiths. Please credit the Thomson Reuters Foundation, the charitable arm of Thomson Reuters, that covers humanitarian news, women's rights, trafficking, property rights, climate change and resilience. Visit news.trust.org to see more stories.)
Our Standards: The Thomson Reuters Trust Principles.