Buthaina Muhammad Mansour is believed to be the only survivor in her family after an air strike flattened their home.
* Apartment building air strike killed at least 12 people
* Residents blame Saudi-led military coalition
* Aid agencies say Yemeni war a humanitarian disaster
By Khaled Abdullah
SANAA, Aug 26 (Reuters) - Her bruised eyes still swollen shut, Buthaina Muhammad Mansour, believed to be four or five, doesn't yet know that her parents, five siblings and uncle were killed when an air strike flattened their home in Yemen's capital.
Despite concussion and skull fractures, doctors think Buthaina will pull through -- her family's sole survivor of the Aug 25 attack on an apartment building that residents blame on a Saudi-led coalition fighting in Yemen since 2015.
The alliance said in a statement it would investigate the air strike, which killed at least 12 civilians.
Yemen's long war involving competing Yemeni factions and regional power struggles has killed at least 10,000 people. Millions more have been forced to leave their homes and face disease and hunger.
Aid agencies have called for a speedy resolution to the conflict, warning that the impoverished country is now victim to the world's greatest man-made humanitarian disaster.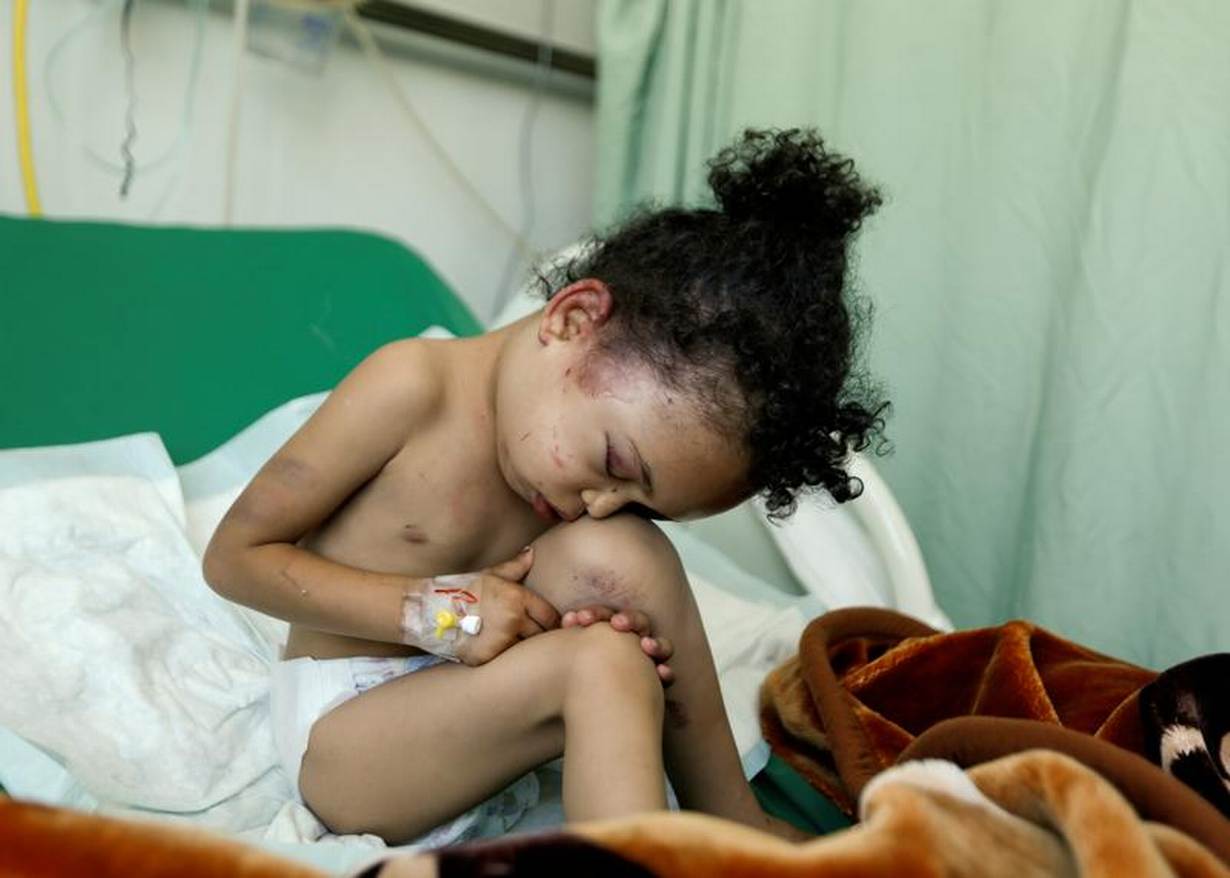 Lying disoriented in her hospital bed on Saturday, Buthaina called out for her uncle, Mounir, who was among those killed in the attack.
Another uncle, Saleh Muhammad Saad, told Reuters Mounir had rushed to the family's house when Buthaina's father called him at 2 a.m. to say war planes were bombing their neighbourhood in Sanaa's Faj Attan district. He never returned.
By the time Saleh got to the house, it was a ruin of broken concrete blocks and wooden planks. Hearing survivors groaning from beneath the rubble, he battled to free them.
"I could hear the shouts of one of their neighbors from under the rubble, and tried to remove the rubble from on top of (Buthaina's father) and his wife, but I couldn't. They died," he said.
"We lifted the rubble and saw first her brother Ammar, who was three, and her four sisters, all of them dead. I paused a little and just screamed out from the pain. But I pulled myself together, got back there and then heard Buthaina calling."
He said her survival had given him some solace as he mourned the rest of the family.
"Her sister Raghad always used to come up and hug me and kiss me when I visited. I used to say to her, 'Come on, that's enough.' And she would say 'Oh no it isn't!' and just keep hugging and kissing."
(Writing by Noah Browning; Editing by Helen Popper)
Our Standards: The Thomson Reuters Trust Principles.