An estimated 5 percent of deaths in Bangladesh are attributable to drinking water with high levels of arsenic, researchers say
By Thin Lei Win
BANGKOK, Aug 28 (Thomson Reuters Foundation) - Almost a quarter of a century after public health experts discovered mass public poisoning in Bangladesh caused by water contaminated with arsenic, the government is planning a new push to end the scourge, while researchers are designing an app to find safe sites for new wells.
About 20 million Bangladeshis, or one in eight, have been drinking water with arsenic levels higher than the government's limit of 50 microgrammes (μg) per litre, said Kazi Matin Uddin Ahmed, geology department chair at the University of Dhaka.
That limit is five times higher than the World Health Organization (WHO) guideline of 10 microgrammes per litre.
When the lower ceiling is used, the number affected jumps to 45 million people, according to a book published this month by the International Water Association.
Long-term exposure to the highly toxic substance - which is colourless, tasteless and odourless but found in millions of shallow wells across Bangladesh - leads to arsenicosis, which can cause skin lesions, cancer, cardiovascular disease and diabetes, as well as impaired cognitive function in children, according to the WHO.
In 2002, the U.N. agency described the Bangladesh crisis as "the largest mass poisoning of a population in history".
"It's been an emergency for the past 20 years," said Alexander van Geen, a professor at Columbia University's Lamont-Doherty Earth Observatory, who has worked with Ahmed since 2000 to find solutions.
An estimated 5 percent of deaths in Bangladesh are attributable to drinking water that is high in arsenic, he said.
Now the Bangladesh government is planning a four-year, $200-million programme to tackle the problem, according to officials at the Department of Public Health Engineering (DPHE).
Proposed activities include testing wells, raising awareness of the dangers, and installing site-specific solutions, said Md. Saifur Rahman, an executive engineer with the DPHE.
The plan is awaiting approval by a high-level government committee, and could start next year, officials said.
The sheer number of wells - around 10 million, 90 percent of which are privately owned - makes testing and maintaining them a huge task.
Between 1999 and 2006, donors and the government organised awareness-raising programmes and the testing of nearly 5 million wells, but efforts tapered off after that, according to a 2016 Human Rights Watch (HRW) report.
Paint marking safe and unsafe wells has worn off, while many new ones have been dug and people mistakenly believe the issue has largely been resolved.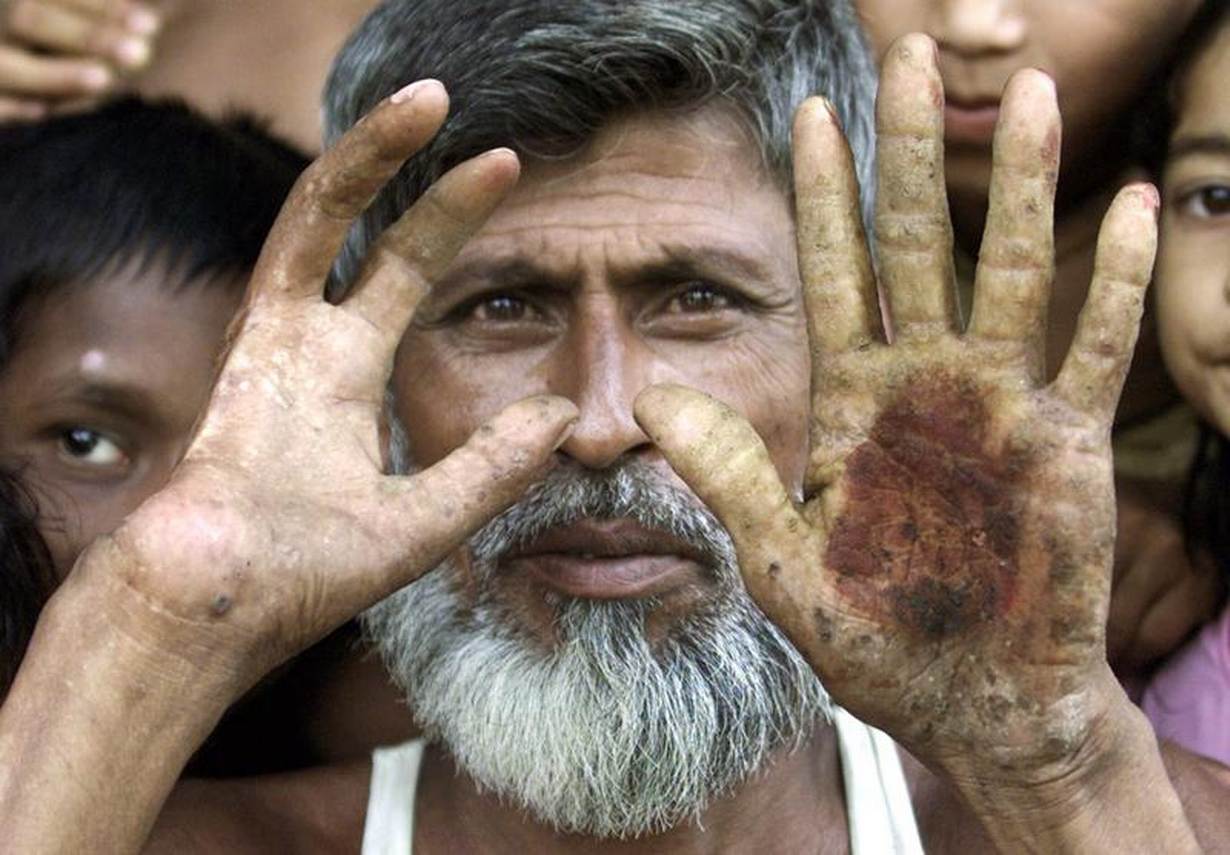 DIGGING DEEP
Bangladesh is the country most affected by arsenic poisoning, but naturally occurring arsenic is a problem in other parts of the world too.
Experts estimate that more than 150 million people are exposed to drinking water with arsenic levels higher than the WHO guideline, including in India, the United States, China, Vietnam, Myanmar and Argentina.
The most sustainable and cost-effective solution in Bangladesh is to sink deep tube wells 150 metres (492 ft) or more in the ground that can serve communities, said geology professor Ahmed.
In these wells, the water usually meets WHO standards, but they cost about $1,000 each to install - more if deeper. As that is beyond the reach of ordinary Bangladeshis, the government usually pays for them.
Other options like rainwater harvesting tend to be small-scale and seasonal, while treating surface or groundwater is expensive and requires regular maintenance, Ahmed said.
Some experts argue that solving the problem is more of a governance challenge than a technical issue.
The government did sink tens of thousands of deep tube wells across Bangladesh but they are not concentrated in areas that need them most, said Richard Pearshouse, author of the HRW report.
"A village that has 1 percent of its wells contaminated has as many deep tube wells as a village where 99 percent of its wells are contaminated," he said.
Researchers from HRW also found deep tube wells in the fenced compounds of politically influential people, blaming a government policy allowing members of parliament to allocate up to half of the well locations.
"After somebody gets elected, there's a greater likelihood for there to be a deep well within a 100-metre radius of that person," said Ahmed Mushfiq Mobarak, a Bangladesh-born economics professor at Yale, who plans to release the results of his work later this year.
Such political interference is "a large part" of why previous efforts have had limited impact, HRW's Pearshouse said.
A senior official, who did not want to be named, acknowledged the criticism, but said the government had now initiated its plan to tackle the arsenic problem.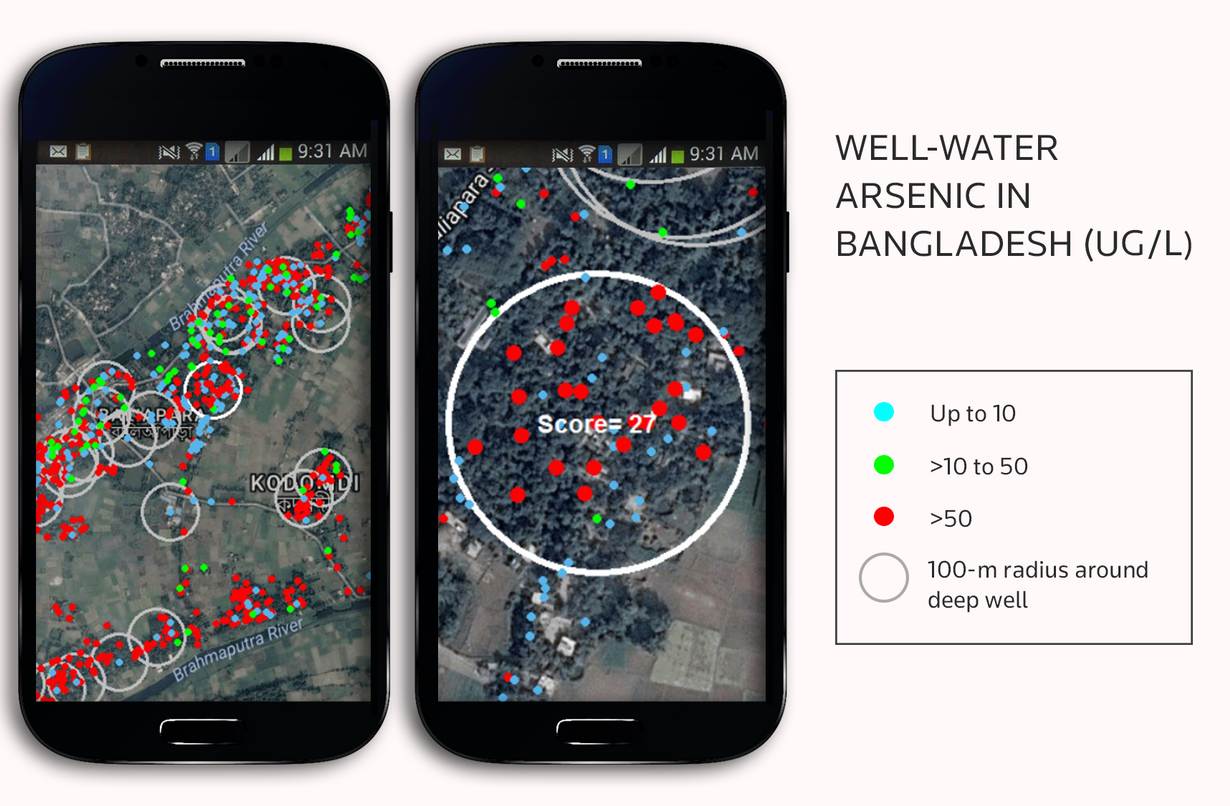 TECHNOLOGY TO THE RESCUE?
Pearshouse welcomed the new state-led programme but said it would need to eliminate political meddling to succeed.
Van Geen said Lamont researchers are developing a mobile-based mapping application to help DPHE employees collect and input data on wells using a smartphone or tablet.
The app will display a map of all tested wells and their status, and can assess the suitability of potential sites for deep wells, increasing the chances of more equitable distribution, van Geen said.
The maps should be displayed outside local government offices, he added. "This is not so much about technology ... but about making information available in a way that will affect local policy decisions," he told the Thomson Reuters Foundation.
The team has received funding from the U.S. National Institute of Environmental Health Sciences, but van Geen is looking for additional backing to launch the app in six months.
Yale's Mobarak, who also advises the Bangladesh government, said providing more information was "a good first step", but it would need to be paired with incentives for local governments to perform well in reducing arsenic levels in their water.
(Reporting by Thin Lei Win in Bangkok, additional reporting by Ruma Paul in Dhaka; editing by Megan Rowling; Please credit the Thomson Reuters Foundation, the charitable arm of Thomson Reuters, that covers humanitarian news, women's rights, corruption and climate change. Visit news.trust.org)
The Thomson Reuters Foundation is reporting on resilience as part of its work on zilient.org, an online platform building a global network of people interested in resilience, in partnership with the Rockefeller Foundation.
Our Standards: The Thomson Reuters Trust Principles.