In areas where trash pickup is challenging and accumulations of rubbish lead to flooding, a homegrown collection system is cutting risks
By Amindeh Blaise Atabong
YAOUNDE, Sept 6 (Thomson Reuters Foundation) - When frequent flooding became too much for the residents of Nkolbikok, a neighbourhood in Cameroon's capital, they decided to take matters into their own hands – with gloves and wheelbarrows.
Some of the 6,000 inhabitants now carry out daily trash pickups and monthly cleanups of the swampy area's once trash-choked wetlands and blocked drains, a measure they decided on themselves after failing to get outside help to solve the problem.
The push has been particularly important as climate change leads to more extreme downpours, some of which last five hours at a time in the capital's rainy season, from March to September.
"Residents no longer feel the need to throw their trash into the area's drainage ditches," said Yves Balla, a Nkolbikok resident, as he pointed out a rubbish collector at work in a neighbour's compound.
Across much of the world, drains and water courses blocked by household trash are struggling to carry away enough water, particularly at times of heavy rainfall, leading to worsening flooding and water-borne disease problems.
The problem can be particularly severe in poor areas, which often sit in low-lying areas and where services such as trash pickup can be weak or nonexistent.
In Yaounde, part of the problem is that HYSACAM, the city's waste management company, is already struggling to deal with the quantity of garbage the capital produces daily, Balla said.
HYSACAM officials declined to comment, though one of their workers on the streets said the huge volume of trash produced each day in the city is a challenge.
In addition, haphazard construction in neighbourhoods like Nkolbikok makes the area largely inaccessible to HYSACAM's dustcarts and rubbish collectors.
In response to the problem, residents started a daily rubbish collection system of their own, known as "Tam Tam Mobile".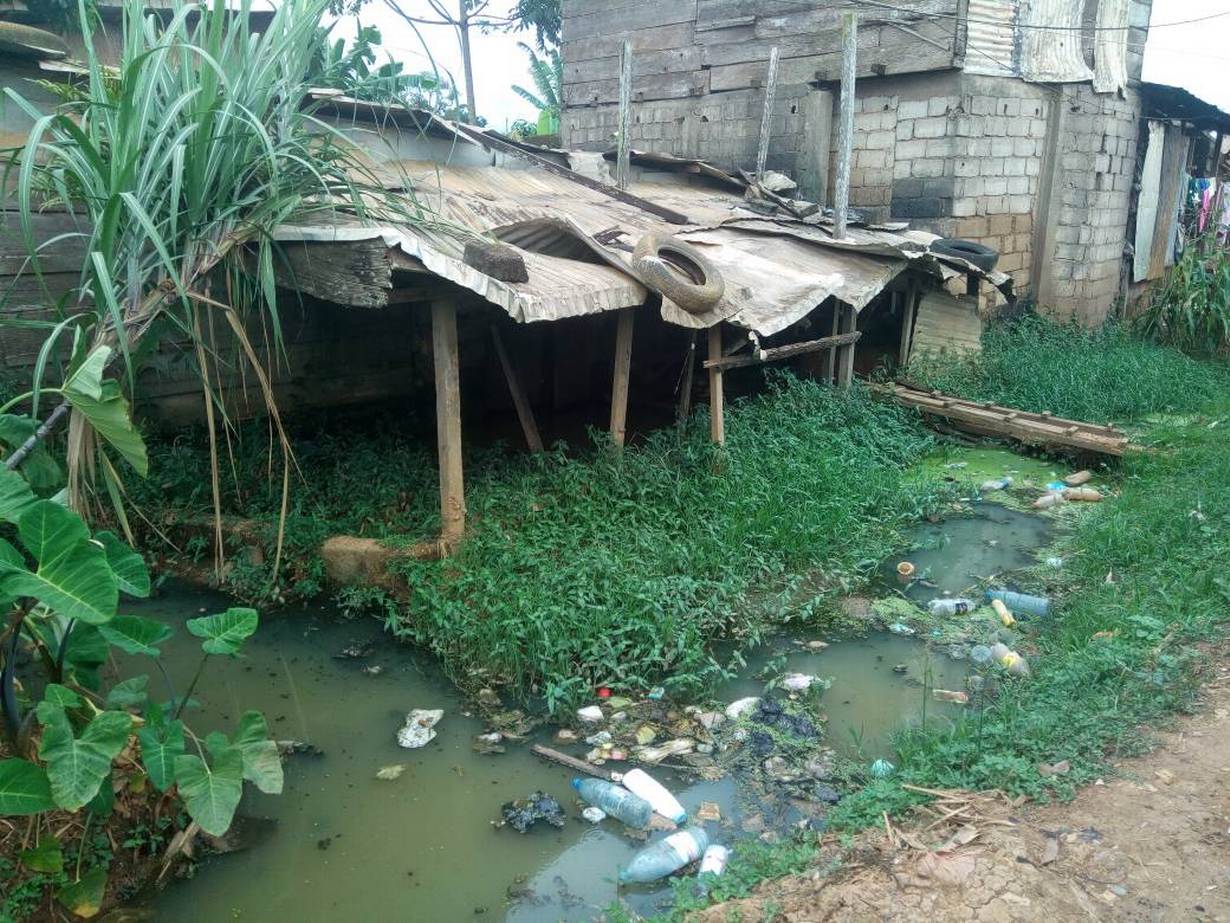 DO-IT-YOURSELF TRASH REMOVAL
Each day, collectors go door-to-door gathering household waste to dispose of at HYSACAM-approved points.
Each household is expected to pay a monthly fee of $2 to sustain the initiative. Those who find themselves temporarily unable to afford the sum still get their rubbish collected so as to keep the community as clean as possible.
Simon Pierre Etoga, coordinator of the scheme, said that with an 11-person team of three administrators and eight collectors, they are able to collect 21 tonnes of waste per month.
They have succeeded in reducing the rate of improper garbage disposal in Nkolbikok by 35 percent since the start of the programme, he said.
According to Etoga, this – combined with monthly clean-up expeditions to corral trash that does accumulate in drains and wetlands – has reduced the amount of flooding in the neighbourhood.
Since the effort began, occupants of 12 houses that had been abandoned entirely as a result of repeated flooding have returned, he said.
Jean Jules Nkengne, a risk prevention officer for the local district council, said the council supports the initiative by providing rain boots, gloves, wheelbarrows and small excavation tools.
"We have limited financial resources. The council is simply fighting to support the local community in avoiding danger," he said.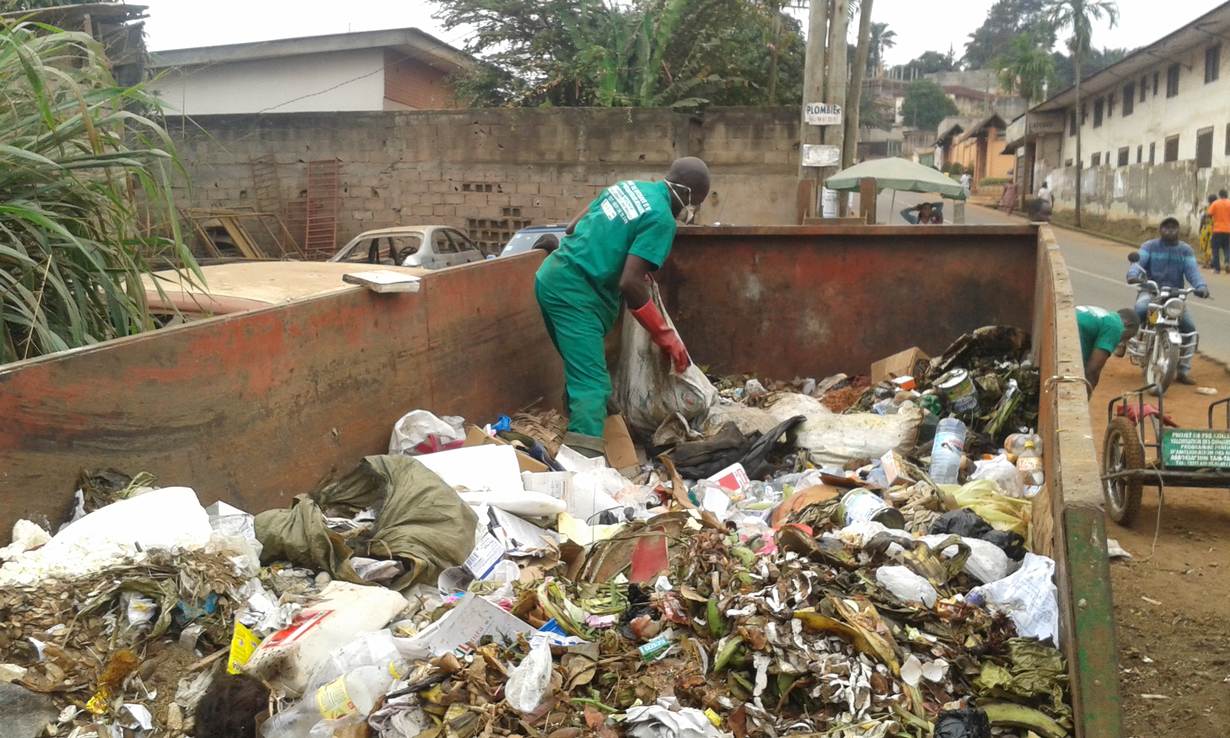 EDUCATION KEY
In addition to collecting waste, Tam Tam Mobile also works to educate residents about the environmental hazards posed by waste that is improperly disposed of, he said.
The programme teaches people not to burn trash and shows them how to sell or re-use items like plastic bottles. Used plastic bottles and cans account for 60 percent of the waste that clogs up drainage systems in the community, Etoga said.
The community project, which began in 2014, received a commendation last year from the United Nations Office for Disaster Risk Reduction.
Experts say that Cameroon's greatest challenge in implementing strategies to reduce the risk of environmental disasters is a lack of funding.
The country is faced with economic shocks – including falls in the prices of important commodities it produces, from oil to cocoa, as well as insecurity as a result of rebel activity in central Africa, including by Boko Haram and Central African Republic rebels.
The government secured funding in 2015 from the African Development Fund, French Development Agency and Global Environment Facility to extend the Mfuoundi canal in Yaounde by 2.6km (1.5 miles) in order to reduce flooding risks.
But the project is limited to the city centre and residents of Nkolbikok will not benefit from it.
Aboa Chantal, head of the Nkolbikok community, said that two local children died due to flooding in 2016.
A resident, Atangana Atangana Olivier, pointed to a pit toilet whose contents were emptying into a nearby stream, and said that there was a cholera outbreak around the area last year.
According to Olivier, one person died and at least five others were infected.
However, Etoga said that since Tam Tam Mobile began, the risk of water-related or mosquito-borne diseases such as typhoid, cholera and malaria has been lowered.
Pascaline Eloundou, an elderly resident of Nkolbikok, said that when her thatched house was built 20 years ago it was on dry land – but in the past few years it had become more vulnerable to worsening floods.
Now water no longer floods her home during the rainy season, she said.
"These days, when rain falls, no matter how heavy, I still sleep with both eyes closed," she said. "I no longer fear floodwaters can meet me on my bed."
(Reporting by Amindeh Blaise Atabong; editing by Laurie Goering :; Please credit the Thomson Reuters Foundation, the charitable arm of Thomson Reuters, that covers humanitarian news, climate change, resilience, women's rights, trafficking and property rights. Visit http://news.trust.org/climate)
Our Standards: The Thomson Reuters Trust Principles.