More than 60 percent of displaced people use digital tools like Facebook, camera phones and messaging apps to actively monitor the status of their properties
By Chris Arsenault
TORONTO, Sept 21 (Thomson Reuters Foundation) - In camps across northern Iraq, people forced from their homes by Islamic State militants are using their phones to track what is happening to their properties, according to researchers who say returning home is crucial for building a safe future in the war-torn nation.
More than three million Iraqis have been driven from their homes, land and farms, according to the United Nations, many of them by armed groups like Islamic State (IS).
As pro-government forces intensify the fight against IS, clearing militants from much of Mosul and other cities they once held, displaced people are hoping to return home soon.
Before leaving the camps, they are keeping a close eye on Facebook and digital messaging services to better understand what they will be returning to or who might be occupying their homes, said Nadia Siddiqui from Social Inquiry, a research group based in northern Iraq.
With conflicting land claims and weak property rights in parts of Iraq due to years of violence, establishing who rightfully owns what is crucial for reducing violence and building social trust, Siddiqui said.
Digital tools are helping establish ownership by allowing them to build dossiers of what belongs to them with photographic evidence, title deeds and other data which could be used in court to prove their claims.
"In the long-term, land and property issues are some of the root causes (of strife)," Siddiqui told the Thomson Reuters Foundation from Erbil, Iraq.
Disputes over property exacerbate communal or religious tensions, she said, and lingering issues over unclear ownership can fester for generations, making it difficult to build the economy and move past a history of violence.
"People remember these kinds of things," Siddiqui said of land disputes.
Clearing up ownership conflicts and creating arbitration processes for competing land claims can help ease social tensions, she said.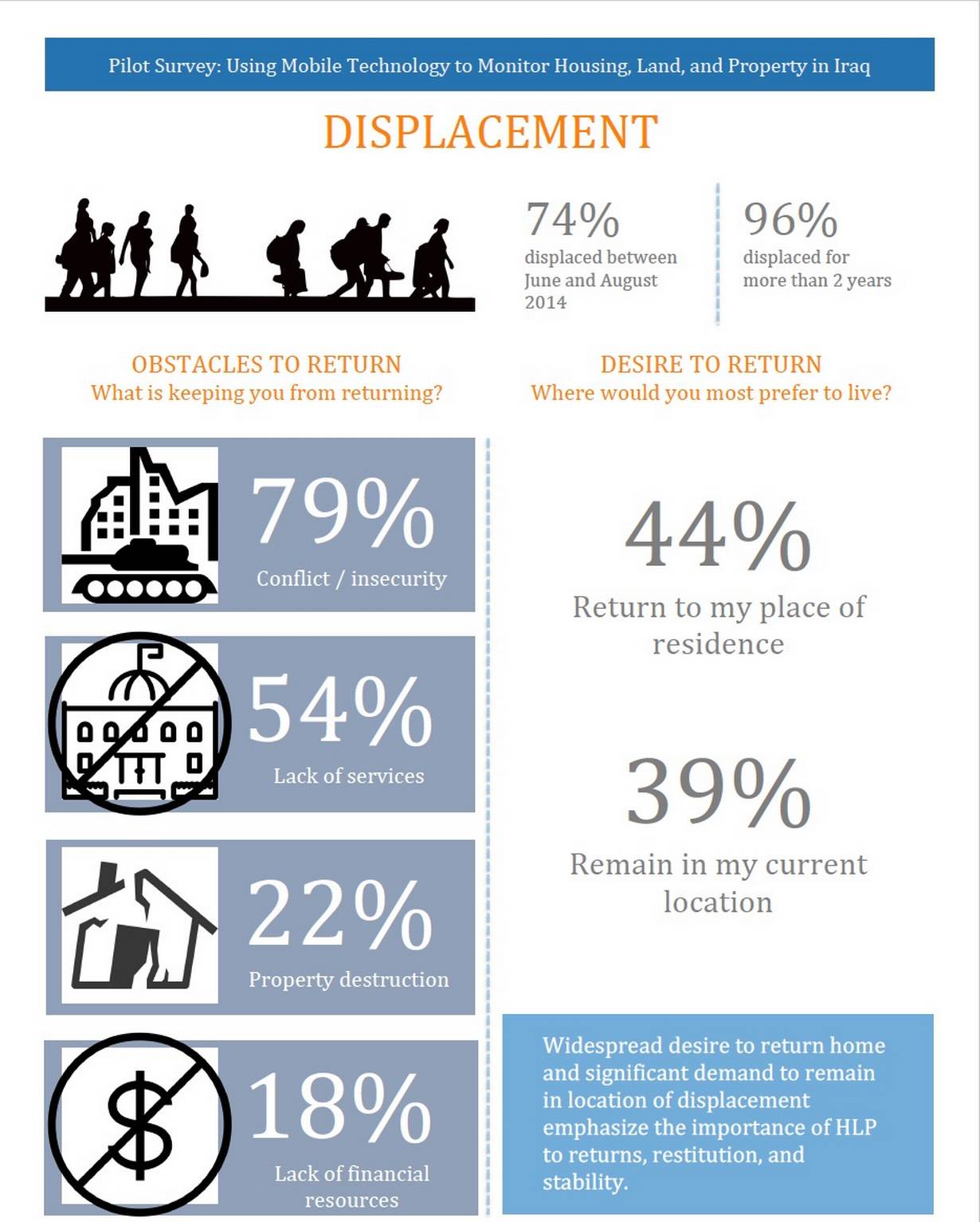 EVIDENCE
More than 60 percent of displaced people use digital tools like Facebook, camera phones and messaging apps to actively monitor the status of their properties, according to a July survey in Erbil supported by Social Inquiry.
The average household of displaced people has three mobile phones, the small survey said, meaning tools to collect data on properties are accessible even to those who fled their lands in the dead of night.
Thirty two percent of displaced people surveyed share information about the status of their properties on social media.
"What is so exciting about the process is that people have this evidence already on their phones or on their Facebook page," said Emily Frank, an anthropologist turned marketing executive in Montreal, Canada, who has monitored property rights in countries facing conflict.
Many people, however, do not realize these digital documents and photos of the land where they once lived can be used as evidence in court or a property restitution process once it is safe enough to return home, said Frank.
Along with helping individuals claim their homes from armed groups or others who have been occupying them, photos, videos and other digital data become increasingly powerful as more displaced people collect them, she said.
"If more people can submit evidence, it becomes more widely corroborated," Frank told the Thomson Reuters Foundation. "It will be a more just and transparent process."
DOMINO EFFECT
Jon Unruh, a professor at McGill University in Montreal who studies land rights, has watched the process happen in Iraq first hand.
Unruh interviewed a 76-year-old man in Erbil who, after fleeing an IS-controlled area, asked a relative still living near his home to walk around the property and take pictures to see who was living inside.
IS and its supporters had occupied homes in the area, and the militant group even issued its own property title deeds, so the displaced man used digital tools and family networks to try and gather information about his home to claim it upon return.
This kind of data could be presented before a government arbitration panel or via a transitional justice plan from the U.N. or a similar international agency when the man attempts to reclaim his property, Unruh said.
Iraqi government officials working on property restitution could not be reached for comment.
The International Organization for Migration (IOM) in Iraq, a U.N.-linked body working with the government on property restitution for refugees, was unavailable for comment.
Officials in Kurdistan, the northern semi-autonomous region of Iraq of which Erbil is the capital, are planning a referendum vote on independence for Sept. 25.
The move, opposed by Iraq's central government, could complicate efforts for displaced people living in the region to claim properties in other parts of Iraq once it is safe enough to leave camps in the Kurdish region.
It is unclear what moves Iraq's government will make on property rights in areas once controlled by IS based on digital data, Unruh said.
But officials in the capital Baghdad who he met recently understand the importance of property rights in reducing violence.
"The Iraqi government is most concerned people returning home to ISIS-held areas are going to default to armed kin to resolve their property disputes," Unruh told the Thomson Reuters Foundation.
"That returnee who finds their property destroyed moves into someone else's house. When that person returns there is a conflict… It creates a domino effect."
(Reporting by Chris Arsenault @chrisarsenaul, Editing by Astrid Zweynert @azweynert.; Please credit the Thomson Reuters Foundation, the charitable arm of Thomson Reuters, that covers humanitarian news, women's rights, trafficking, property rights, climate change and resilience. Visit http://news.trust.org)
Our Standards: The Thomson Reuters Trust Principles.