In an increasingly steamy city that lives on air conditioning, losses of power can be deadly
By Adriana Brasileiro
MIAMI, Sept 26 (Thomson Reuters Foundation) - Miami is a city that lives on air conditioning. When it fails, people can die.
After Hurricane Irma knocked down power lines and disconnected the cooling system at a nursing home north of Miami this month, 11 residents perished when temperatures inside soared.
This story is part of our special report Rising Heat: A warming planet braces for a sweltering future
Florida Governor Rick Scott blamed management at the facility for allowing patients to endure sweltering conditions as the heat index - a measure of combined heat and humidity - passed 100 degrees Fahrenheit.
But public outrage has also targeted the local utility company for not restoring electricity fast enough, and the city for not ordering and assisting with an evacuation.
In this often sweltering southern city, widespread use of air conditioning makes it easy to overlook the growing risks of extreme heat. But the risks are there - and they can be just one power failure away.
Around the world, a surge in extreme weather events, including storms, floods and droughts, has focused attention on the risks associated with global warming.
But one of the biggest threats - and a particularly serious one for already hot countries and cities - is worsening heatwaves, which remain an under-estimated risk, experts say.
In the United States, Florida is predicted to experience the greatest increase in the deadly combination of heat and humidity over the next decades.
The number of extreme heat days, when the heat index is above 105 degrees Fahrenheit (40.6 degrees Celsius), is expected to jump to 126 a year by 2030 and 151 by 2050 in Miami, according to a study by Climate Central, a U.S. non-profit science and media organisation.
In 2000, Miami saw just 24 such extreme heat days, the study noted.
Miami's sweating residents - particularly those who spend a lot of time outside - say they're noticing the difference already.
"I've been here all my life and working in construction, and I can tell you: it's getting hotter every year," said Rai Finalet, as he moved barriers along Little Havana's Flagler Street, which is being repaved.
On a summer day in early September, there was not even a hint of fall in the air. Instead it was 93 degrees, with a heat index of 107 degrees.
Finalet's long-sleeve shirt, which he needed to protect his skin from the scorching sun, had been soaked since he started his shift at 8 a.m., he said.
Taking frequent breaks and drinking "gallons" of water is his secret to surviving an outdoor job, even as most Miami residents try to avoid stepping out of air-conditioned spaces.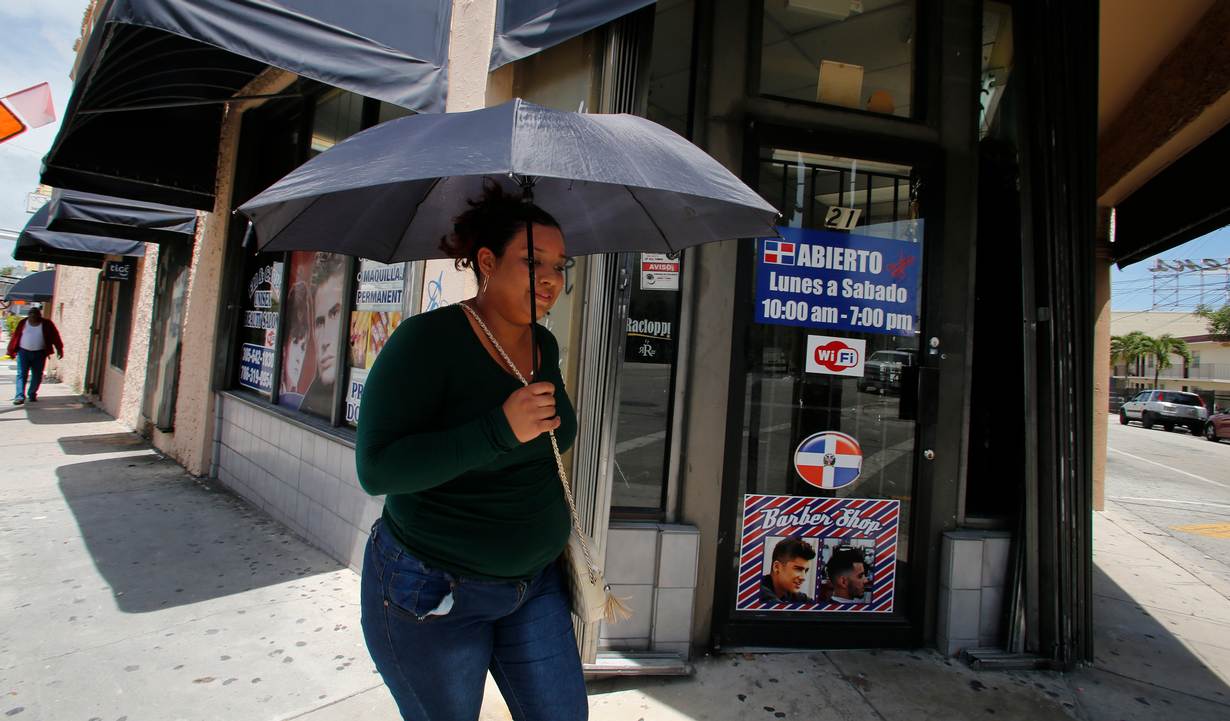 TOURISTS WILT
With only a thin canopy of trees and a location far from Miami's breezy shores, densely populated Little Havana often registers the city's hottest temperatures.
In the summer, which effectively lasts from April through October, the average temperature is often above 86 degrees and very few locals venture out on the streets around midday.
But Nolvia Hernandez, parasol in hand, had rushed out to pick up her son from school.
"I avoid going out during the hottest times of the day, and when I do, I take my umbrella," she said. Asked why she was wearing a long-sleeve shirt, she said the air conditioning is kept very cold at her workplace.
Tourists regularly brave the heat to experience iconic Little Havana, where hundreds of thousands of Cuban immigrants settled over the decades, opening quaint cigar shops, lively restaurants and salsa clubs.
At the Ball and Chain, a traditional bar with a live salsa band playing most days and evenings, a powerful misting system along the facade offers visitors an inviting respite from the heat.
Next door, the Azucar ice cream shop, with its powerful air conditioning, is another spot where tourists can take a break from suffocating temperatures outside.
Veronica Agudo, Lucia Beth Marcoleta and Tatiana Harder walk in and breathe a big sigh of relief as the cold air sweeps over them. The friends from Chile sit on a bench and slouch against the wall, sweat trickling down their faces.
"This humidity is killing us," said Marcoleta. "We want to walk around and see all the sights, but it's just so hot."
"It's better to stay on Miami Beach, in the water, for our entire vacation," Agudo joked.
One outdoors spot in the heart of Little Havana where temperatures are cooler is Maximo Gomez park, also known as Domino Park. It's a small green oasis with lush trees where residents play dominoes and chess on tables under gazebos fitted with ceiling fans.
Leo Diaz, one of the players, lives in a building with a new central air system, but prefers to spend time outdoors. He worries about Miami's future as climate change boosts temperatures.
"This city is building more, paving more areas, and we can all feel that the climate is changing. Soon we won't even be able to stand being here. I hope I don't see that in my lifetime," said the former radio announcer who arrived in Miami from Cuba almost 30 years ago.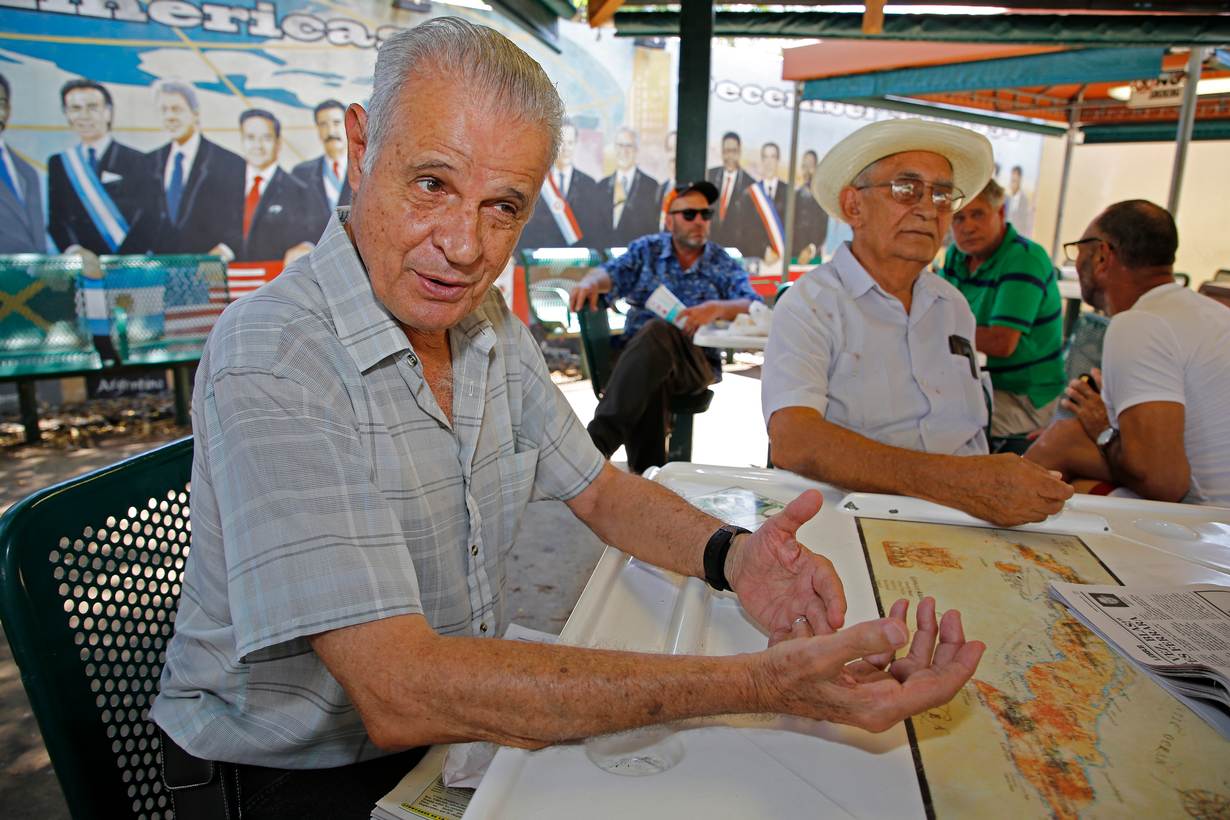 'IMMUNE' TO HEAT
Already heat is the top weather-related killer in the United States - but it is a silent one, with heat-linked illnesses often diagnosed as other disorders, said Laurence Kalkstein, a climatology professor at the University of Miami's Miller School of Medicine.
In places like Florida, there is low awareness of heat risks because people expect days to be hot, and the state is relatively well-equipped to deal with high temperatures, he said.
"Heat-related mortality isn't very common here, so most people believe they are immune to it," he noted. "But we have a growing vulnerable population - of aging people who don't sweat as efficiently, and others like the homeless, obese people, or those on certain medications."
In steamy Florida, high humidity makes it harder for sweat to evaporate, preventing the body from cooling off. That's what can cause heat exhaustion and potentially deadly heat stroke - and what may have contributed to the deaths at the nursing home.
Climate change has already given Florida a lot to worry about, with many officials so far more focused on dealing with rising sea level and worsening flooding than heat threats.
But cities in Florida also have created "resilience" offices to try to adapt to and plan for coming changes, including worsening monster storms - and rising heat.
"Heat is an issue for low-income communities and more vulnerable individuals, (such as) the elderly population," Jane Gilbert, the chief resilience officer for the city of Miami, said in an interview before Hurricane Irma.
"We want to understand better if there are places where people can't afford to have air conditioning, and to have an efficient plan for the more vulnerable groups to evacuate to shelters in case of power outages," she said.
Miami is also working to increase the number of trees in neighborhoods such as Little Havana, and to guarantee that key facilities, such as hospitals, gas stations and supermarkets, have alternative power sources when electricity fails, she said.
After Irma, more than 12 million people lost power. Many had already evacuated to other areas, fearing the aftermath of being stuck at home for days without air conditioning or working refrigerators.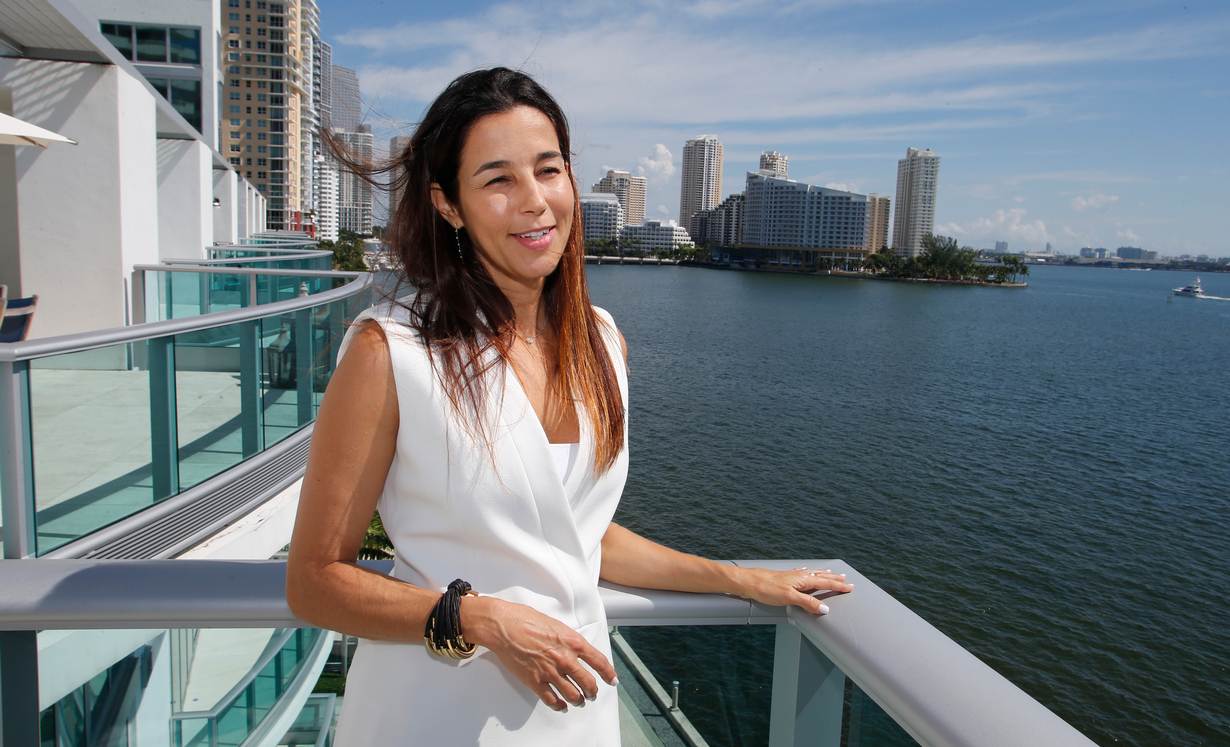 AIR CONDITIONING BOOM
The invention of air conditioning has in many ways made modern Florida possible, fueling a population boom after World War Two, according to a history book by the University of South Florida.
The state's famed tourism industry, its top revenue generator, for instance, only took off after most hotels invested hefty sums in efficient cooling systems by the 1960s.
Now nearly everyone relies on air conditioning - and plenty of it.
Silvana Giuffrida, an architect in Miami, has three units in her townhouse-style condo in the luxury Brickell neighborhood, one on each floor.
She keeps her home's remote-controlled shades down as much as possible to reduce the heat that floods into her sun-bathed home facing spectacular Biscayne Bay.
"I try to keep the temperature around 78 degrees, which is also the best level for energy efficiency," she said.
Drinking a lot of water, wearing light-colored clothes and avoiding going outside in peak temperature hours are also part of her routine to beat the heat, she said.
For the most vulnerable, however, state authorities have decided to step up protections after the nursing home tragedy exposed the dangers of extreme heat.
Governor Scott issued an emergency order requiring nursing homes to have generators that can keep air conditioners running for up to four days.
Kalkstein, of the University of Miami, said the deaths highlight the risk that heat poses for Miami - and for many more cities.
"What we all need to realize is that these excessive heat events will happen more and more often, all over the world, and we all need to be more aware of the potential health impacts," he said.
(Reporting by Adriana Brasileiro @AdriBras; editing by Laurie Goering and Megan Rowling; Please credit the Thomson Reuters Foundation, the charitable arm of Thomson Reuters, that covers humanitarian news, climate change, resilience, women's rights, trafficking and property rights. Visit http://news.trust.org/climate)
Our Standards: The Thomson Reuters Trust Principles.