Thousands of women are trafficked from in and around Kadiri town in Andhra Pradesh's Anantapur district to the brothels of Mumbai, New Delhi and Pune
By Anuradha Nagaraj
KADIRI, India, Oct 3 (Thomson Reuters Foundation) - Every day the medics quietly enter villages around Kadiri town in the southern Indian state of Andhra Pradesh and do their rounds.
They stop at village squares to say the occasional hello, before slipping into cramped two-room homes and closing the door behind them.
Behind these closed doors are their "priority patients" - mostly women who have been trafficked for sex and are now battling stigma to stay on course with their HIV/AIDS treatment.
For the medical teams from the Hospital of Infectious Diseases in Bathalapalli, the trips into the rural hinterland are the only way to check the pulse of their patients, many of whom are reluctant to talk about their health, refuse to go the hospitals and often stop treatment midway.
"There is no choice, we have to extend our vigil beyond the walls of the hospital," said Dr Gerardo Álvarez-Uría, the hospital's director.
"We have created a network of health workers to ensure that nobody is left out of the ambit of diagnosis and treatment. With so many women trafficked from here and the migrant population, there is an increasing case load."
Thousands of women are trafficked from in and around Kadiri town in Andhra Pradesh's Anantapur district to the brothels of Mumbai, New Delhi and Pune every year.
Agents and gangs prey on the poverty of thousands of women and girls in rural areas, promising them good jobs and decent wages in cities - but then selling them into the sex trade, activists say.
A 2016 survey by district officials in Anantapur - a densely populated district on the highway linking India's technology hubs of Bengaluru and Hyderabad - identified 6,200 women as "susceptible to trafficking" due to poverty, a lack of awareness about the risks, and drought in agriculture-dependent areas.
Many women are rescued or escape - only to return home and face a new struggle to overcome their past. As well as social stigma, among their biggest challenges is HIV/AIDS, contracted as sex workers.
RISK FACTOR
There are an estimated 2.1 million people living with HIV in India according to the National Aids Control Programme, with the southern states of Andhra Pradesh and Telangana having the highest numbers.
The clandestine status of trafficking victims makes them invisible and limits their access to health services, particularly those that focus on HIV/AIDS, campaigners say.
According to government data, Anantapur district has more than 25,000 HIV positive cases - out of a population of 4 million.
Campaigners say many more HIV cases are unrecorded due to frequent migration and social stigma.
In the last five years, 7,864 new HIV positive cases have been registered. Of these, more than half are women.
"Besides a high incidence of HIV due to trafficking and migration, there is also a high treatment default rate in the area," Anantapur district medical officer K Venkataramana told the Thomson Reuters Foundation.
"Group meetings and community awareness programmes don't work here so well, only a more personalised approach does."
Periodic health checks aim to ensure patients follow daily antiretrovirals treatment but nearly 16 percent of identified patients default on treatment, data shows.
"They just give wrong home addresses which makes it practically impossible to track them for follow-up checks," he said.
Sex work is viewed as "morally corrupt" and women forced into prostitution will go to great lengths to hide their past.
"They fear that if they test positive, the community will get to know and they will be ostracised," said Shakuntala Byalla, a counsellor in Kadiri.
"And in many cases they are so poor that they cannot even afford the bus fare to get to the hospital for check-ups."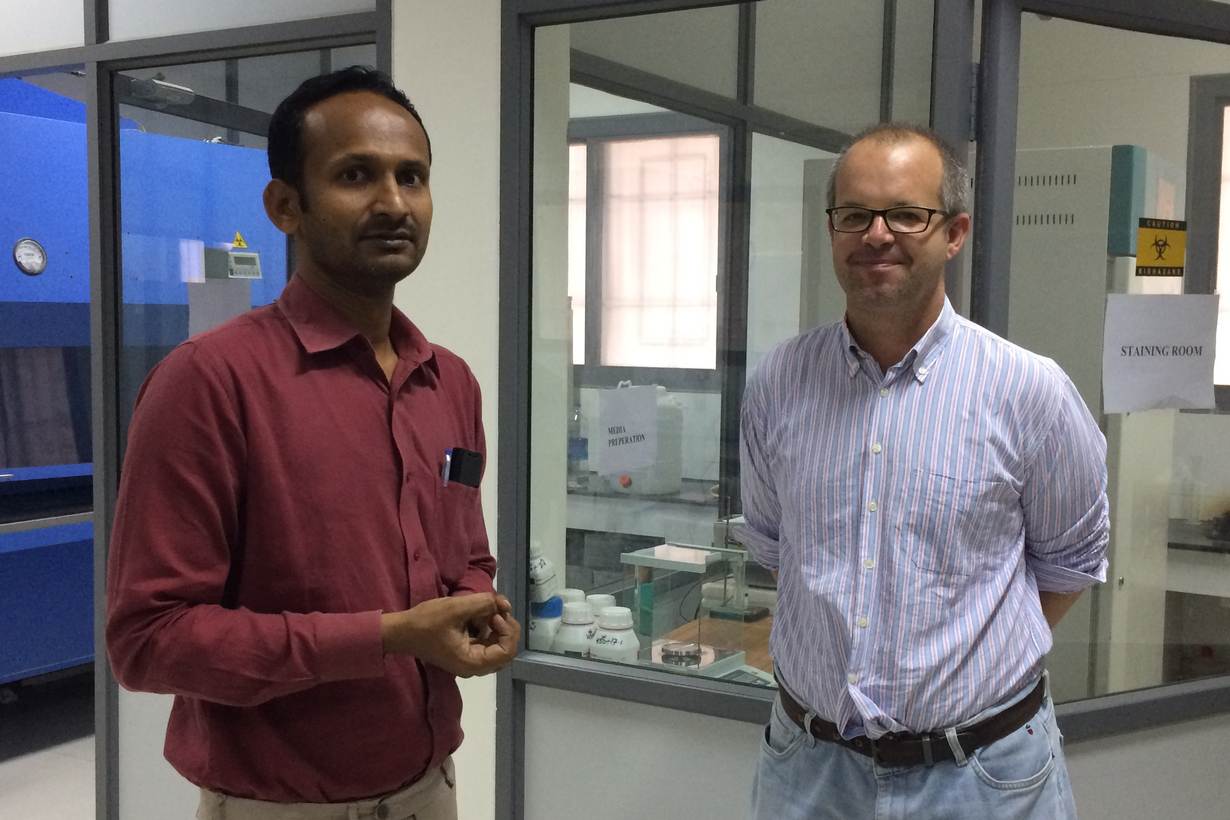 TREATING STIGMA
The Hospital of Infectious Diseases on the Bathalapalli-Kadiri road is easy to miss.
But it is its discreet location - away from the bustle of the Kadiri town and its big bus terminal - that ensures the steady flow of patients.
Run by non-profit Rural Development Trust, the 82-bed unit gets up to half of its patients from neighbouring districts, making it one of the key health service providers in the region, besides the government-run hospital in Anantapur.
"While the government provides the Trust hospital with free medicines, testing kits and frequent training, they also have an outreach that ensures patients get treated." said Anil Kumar, head of the government-run AIDS programme in the district.
The outreach programme has ensured that patients from this "trafficking hot spot" don't discontinue treatment.
The airy outpatient department of the hospital sees an average 300 people walk in for a consultation on any given day.
For many, it was their first visit and a first acknowledgement of the fact that they are sick.
"We are aware that the journey for our patients from their village homes to the hospital is difficult," said Álvarez-Uría, who has spent eight years at the hospital.
"Once they come, we want to make sure they stay on course with the treatment. So we are discreet, very discreet."
For the 642 new patients who were started on the anti- retroviral treatment last year, it is the "non judgmental approach" that has worked.
Teams of health workers, nurses, volunteers and sometimes doctors make sure that the treatment that is started at the hospital continues in the village.
"Counselling, health checks, providing nutritious diet - they all go hand-in-hand," Álvarez-Uría said.
"To get to that point, our outreach teams start with a conversation that tells the patients they matter. The rest follows."
(Reporting by Anuradha Nagaraj, Editing by Ros Russell; Please credit the Thomson Reuters Foundation, the charitable arm of Thomson Reuters, that covers humanitarian news, women's rights, trafficking and climate change. Visit www.trust.org)
Our Standards: The Thomson Reuters Trust Principles.