"The country has been besieged for three years, state employees have been unpaid for months, and people have no access to basic services such as water, electricity, health and food"
By Anastasia Moloney
BOGOTA, Oct 6 (Thomson Reuters Foundation) - Yemeni Nobel Peace Prize laureate Tawakkol Karman said the world is turning a blind eye to the plight of millions of people suffering in her war-torn nation plagued by hunger and disease.
Yemen has been torn apart by a two and-a-half year-old civil war which pits the internationally-recognized government of President Abd-Rabbu Mansour Hadi, supported by a Saudi-led military coalition, against those allied to the Iran-aligned Houthi rebel movement.
"The world doesn't pay enough attention to Yemen. It's the forgotten land. There's a lot of suffering in our country. There's a big famine and cholera there," Karman told the Thomson Reuters Foundation.
About 21 million Yemenis – about 80 percent of the population – need aid, and cholera has killed about 2,000 people and suspected cases have reached 750,000 in what aid agencies have described as the world's worst humanitarian crisis.
"The country has been besieged for three years, state employees have been unpaid for months, and people have no access to basic services such as water, electricity, health and food," said Karman, speaking on the sidelines of the One Young World summit in Bogota, which brings together global youth leaders.
The war in Yemen, one of the Arab world's poorest countries, has killed more than 10,000 people and fighting has forced two million people to flee their homes.
"Simply put, the Arab coalition led by the Emirates and Saudi Arabia has broken its commitment towards the humanitarian situation in the country," Karman said.
"Unfortunately, this coalition deals with this war just as a battle to fire bombs and throw missiles, ignoring the consequences," she said.
Saudi Arabia has said the military campaign it leads is aimed at shoring up President Hadi against the Houthi group and is being carefully conducted to avoid civilian casualties.
The coalition has launched thousands of air strikes in a bid to dislodge the Houthis from power and have imposed a near blockade on Yemen's ports, borders and airspace.
"We call for immediate cessation of air strikes because they offer nothing but shelling of residential areas and causing more civilian casualties," Karman said.
Karman, 38, won the 2011 Nobel Peace Prize for her role in leading protests against longtime former President Ali Abdullah Saleh during the Yemeni uprising.
She was the first Arab woman and second Muslim woman to win the Nobel Peace Prize.
She said the Saudi-led coalition should hand over what is in its control to pave the way for exiled Hadi to return to Yemen from Riyadh, Saudi Arabia's capital.
The coalition controls the southern port city of Aden and other areas in Yemen's south, while the Houthi rebels control Yemen's capital Sanaa and northern strongholds.
"We call upon the Arab coalition, represented by the United Arab Emirates and Saudi Arabia, to hand over Aden and the rest of the provinces under its control, including various airports and ports, to Yemen's legitimate authority represented by President Hadi and his government," Karman said. (Reporting by Anastasia Moloney @anastasiabogota, Editing by Ros Russell.; Please credit the Thomson Reuters Foundation, the charitable arm of Thomson Reuters, that covers humanitarian news, women's rights, trafficking, property rights, climate change and resilience. Visit http://news.trust.org)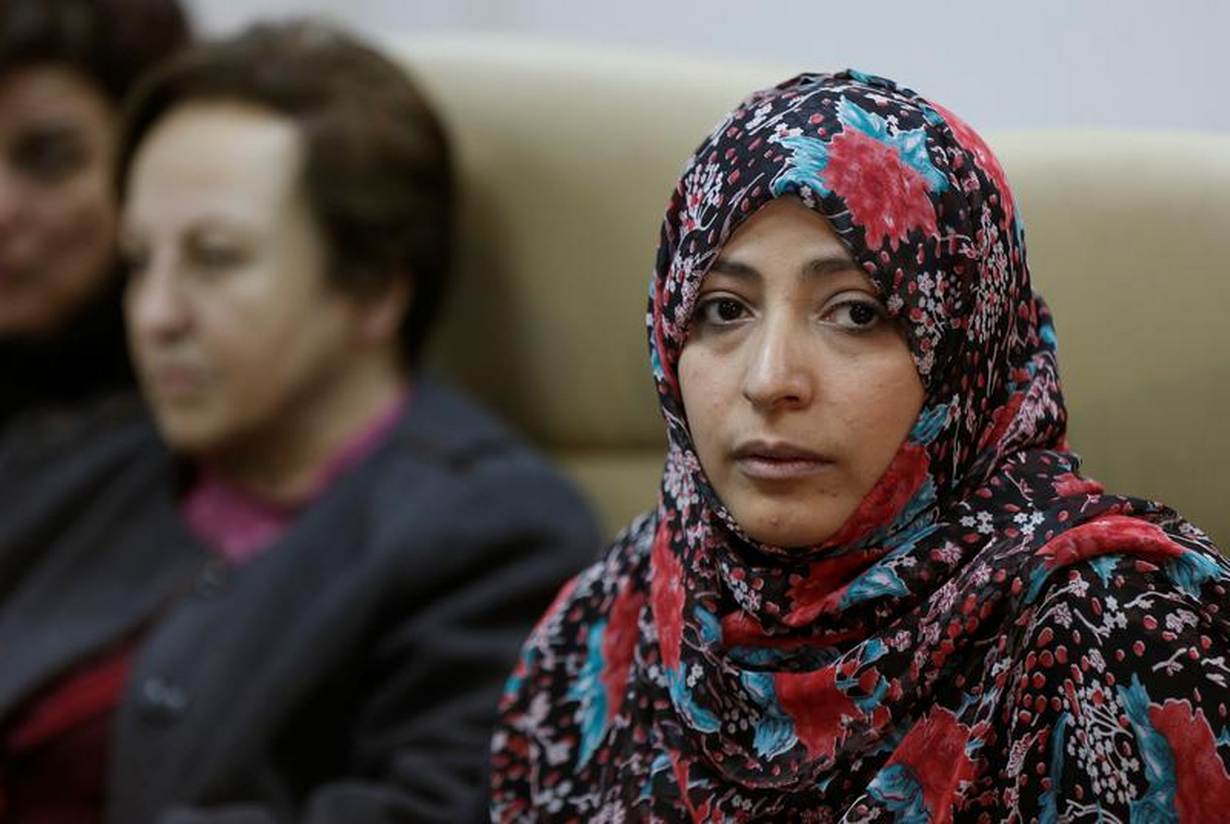 Our Standards: The Thomson Reuters Trust Principles.