"There are some officials who find it hard to take orders from me. But the villagers here don't care and are more interested in the work I do ... that's what matters"
* India's youngest female village leader says elected due to quota Chhavi Rajawat puts focus on roads, toilets, power, banking
* Calls for reserved seats for women at national level
By Nita Bhalla
SODA VILLAGE, India, Oct 24 (Thomson Reuters Foundation) - As the sun begins to set on the village of Soda in western India, Chhavi Rajawat walks through the dusty streets, stopping to chat with residents who emerge from the wooden doorways of their homes to greet her.
Folding their hands together and bending to touch 39-year-old Rajawat's feet, women in colourful saris and elderly moustached men with turbans seek her help on everything from family feuds to neighbourhood littering.
The scene is an unusual one for India's desert state of Rajasthan - a conservative patriarchal region known more for its high numbers of child brides than for empowering women - but Rajawat is accustomed to busting the traditional narrative.
The MBA holder has not only been head of the village for the last seven years, she quit her city job at a multinational firm to do it - and made history as India's youngest elected sarpanch, or village leader, in 2010.
"I know I don't fit the typical mould of sarpanch which is a man, and usually an elderly one," said Rajawat, dressed in leggings, a loose top and hiking boots in Soda village, 80 km (50 miles) from Jaipur, Rajasthan's main city.
"There are some officials who find it hard to take orders from me, not only because I am a woman, but also because I am younger than them. But the villagers here don't care and are more interested in the work I do ... that's what matters."
But Rajawat's story is more than just about shattering stereotypes.
As demands mount in the world's largest democracy for women to have more say at the highest levels of politics, her efforts at the lowest rung of governance make a compelling case of how effectively women can rule, if given the chance.
Since taking office, Rajawat's council has built roads, constructed toilets and brought water, power and even a bank to Soda's 7,000 residents, all thanks to a law which reserves at least one-third of village council seats for women.
"The villagers asked me to stand for elections as it was required that the sarpanch be a woman," she said.
"If it wasn't for the reservation policy, I don't know if I would be here and whether the development we've achieved would have happened."

FROM MULTINATIONAL TO MUD-AND-BRICK
Born in Jaipur - a tourist city known for its pink architecture and resplendent forts - and educated at private boarding schools and colleges across India, Rajawat's ancestral roots lie in Soda village.
Her grandfather, a retired decorated army officer, was Soda's sarpanch for 15 years until 1990, and Rajawat fondly remembers spending many of her summer holidays as a child in village with her parents and grandparents.
After finishing her MBA, she was working as a manager for the telecoms company Airtel when a group of Soda's elders approached her at the age of 32 to stand as sarpanch.
"The village had seen little development for many years and the residents knew me and my family well due to my grandfather previously being the village council head," she said.
"I understood the development challenges faced and wanted to help the village. Also knowing that government funds would be limited, I thought I could use my business background to get support from the private sector for Soda."
Leaving her corporate life in Jaipur, Rajawat moved to Soda - a collection of mud-and-brick hamlets built around two large reservoirs - to work as sarpanch, earning a monthly income of 3,500 rupees ($55), not even a fraction of her previous salary.
Since then, she has revived part of the reservoir - the only source of water for thousands of people - through an ambitious desilting project involving the community.
She has also constructed roads, built hundreds of toilets, improved power and piped water supplies and enlisted young volunteers to register the village's most needy inhabitants for social welfare schemes such as food subsidies.
Rajawat also managed to convince the country's biggest bank, State Bank of India, to open a branch in Soda, complete with a working ATM. It has so far opened savings accounts for over 20,000 people from Soda and neighbouring villages.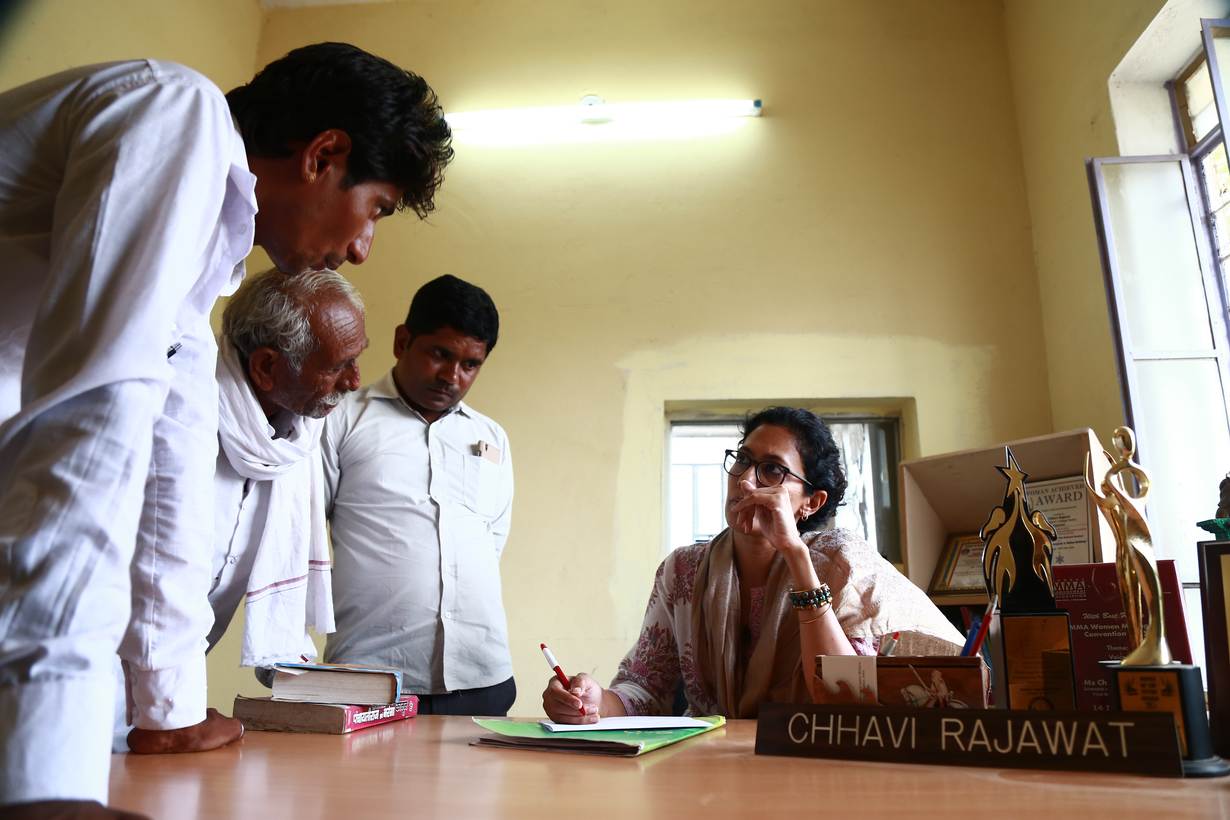 "THE CHANCE TO CHANGE THINGS"
Re-elected in 2015 and now almost halfway through her second term as sarpanch, Rajawat admits being a women in grassroots governance in India has not been easy.
Not only has she and her father faced a physical attack over a land dispute, but she has often had to deal with dismissive attitudes of low-ranking government officials, unaccustomed to dealing with women in senior roles.
Political opponents have also tried to disrupt her work - motivating residents to oppose decisions made by the village council such as a project to plant trees or to establish an computer literacy training centre.
"It's not been easy, but I have no regrets and still feel I have so much more to do," said Rajawat. "But it's one thing to have reserved seats for women at village level, women should also be given these chances at higher levels of politics."
Rajawat has a point.
Few women in India are encouraged to enter politics, and those who join political parties are rarely selected to stand as candidates in polls. Often they face abuse such as sexual harassment and character assasinations, yet few report it.
And while the law reserving seats for women in village councils has resulted in over one million women being elected, a similar draft law for state and federal parliament has been sidelined by successive governments for two decades.
As a result, women are barely represented in the highest echelons of power in India.
The Inter-Parliamentary Union (IPU) ranks India 147 out of 193 nations on female political representation, lower than nations such as Chad, Pakistan, Eritrea and Bangladesh.
Women hold only 12 percent of seats in India's lower and upper houses of parliament combined, compared to the global average of about 23 percent, said the IPU.
There are of course notable exceptions such as former Prime Minister Indira Gandhi and her daughter-in-law, Sonia Gandhi, who now heads the main opposition Congress Party.
India's foreign and defence ministers are also women and there are a string of strong female politicians in states from West Bengal in the east to Rajasthan in the west.
But these women are a minority.
Rajawat - living proof that opportunities for women in the politics can boost social and economic development - said this needs to change. "I think women leaders can make a significant difference. They are in better position to reach out to other women who for decades have never been asked or felt too shy to express their views to male leaders," she said.
"This is important as women - who are often the carers in family - understand social problems like health, nutrition and education. All we need is the chance to change things."
(Reporting by Nita Bhalla @nitabhalla, Editing by Belinda Goldsmith; Please credit the Thomson Reuters Foundation, the charitable arm of Thomson Reuters, that covers humanitarian news, women's rights, trafficking, property rights, climate change and resilience. Visit http://news.trust.org)
This project has been co-funded by the European Journalism Centre via its Innovation in Development Reporting Grant Programme.
Our Standards: The Thomson Reuters Trust Principles.